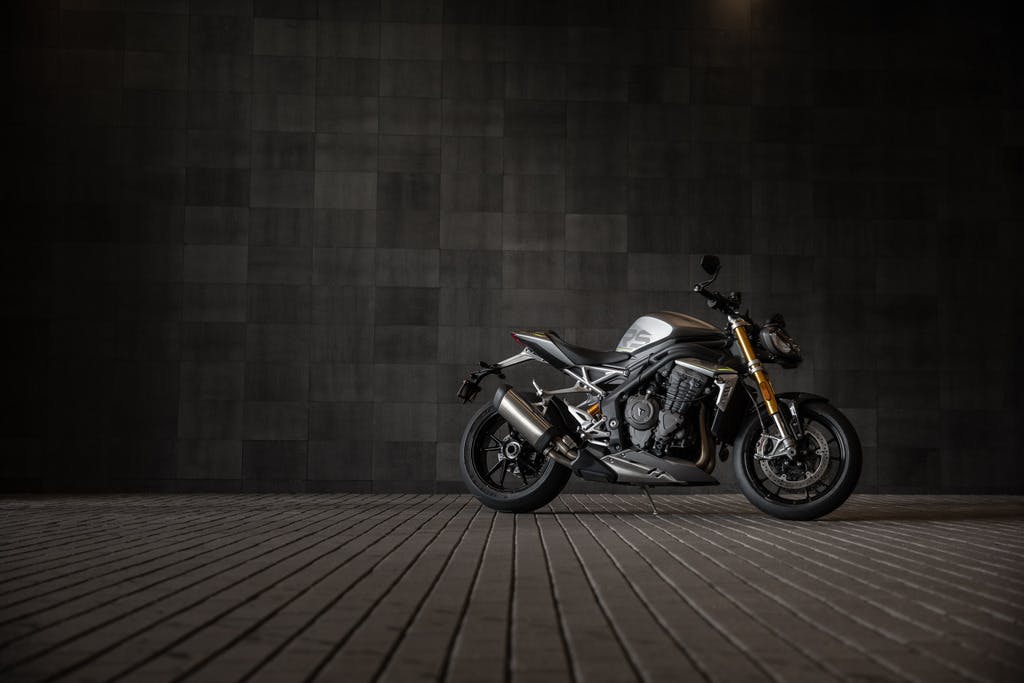 THE MOST POWERFUL, HIGHEST TORQUE AND FASTEST ACCELERATING SPEED TRIPLE EVER.
All-new in every dimension, the Speed Triple 1200RS has been purpose designed from the ground up to deliver an absolute revolution in terms of Speed Triple power, performance, handling and technology, giving the ultimate performance naked sports ride.
With an all-new higher capacity 1160cc triple engine developed with insight from our Moto2™ race engine programme, the new Speed Triple 1200RS delivers 180PS peak power at 10,750 rpm and 125NM peak torque at 9,000 rpm, giving an incredibly exhilarating ride. It's also more responsive, is 650rpm higher-revving, and comes with a new free-breathing intake and exhaust for a hair-raising new triple soundtrack.
IS THE NEW SPEED TRIPLE 1200 RS MORE POWERFUL?
You better believe it! The all-new 1160cc engine now pumps out an incredible 180ps peak power, 30ps up on the previous model. There's also more torque than ever at 125Nm, a higher rev ceiling and more of that signature Speed Triple sound. All from an engine that's significantly lighter, developed with insight gained from Triumph's Moto2 experience.
IS THE NEW SPEED TRIPLE 1200 RS FASTER?
The new Speed Triple 1200 RS is the fastest accelerating, most powerful and most torquey Speed Triple ever. The all-new engine provides thrilling performance that's focused right where the Speed Triple has always ruled, on the street.
DOES THE SPEED TRIPLE 1200 RS STILL HAVE THAT GREAT TRIPLE SOUND?
More so than ever! The new Speed Triple speaks through a low-slung single exhaust that's designed to be free breathing, just like the intake system. A new exhaust valve adds to the sporty nature of the ride and the whole system delivers a spine-tingling intake roar along with a bigger and more pronounced exhaust note than ever before. The soundtrack is pure Speed Triple, taken to a new level
WHAT SORT OF ELECTRONICS PACKAGE DOES THE NEW SPEED TRIPLE 1200 RS HAVE?
It starts with Triumph's advanced up-and-down quickshifter. There are five riding modes including Track Mode, and there's anti front wheel lift, too. Braking and grip are managed by Optimised Cornering ABS and Switchable Optimised Cornering Traction Control with IMU. This is an amazing package on the street with performance choices should you choose to take to the track.
IS THE NEW SPEED TRIPLE 1200 RS KEYLESS?
The big new Speed Triple has a full keyless system for security and ease of use. Once you're on the road, the standard My Triumph connectivity system makes it easy to integrate with your devices whether you wish to navigate or just communicate.
HAVE TRIUMPH RESTYLED THE NEW SPEED TRIPLE 1200 RS?
Yes, but it's still undeniably a Speed Triple, with that special muscular design DNA that shines through. The poise and presence are there along with cleaner, sharper lines that reflect leanness and light weight. Distinctive new head and tail light designs are instantly recognisable, with moody, aggressive light signatures that are unmistakably Speed Triple.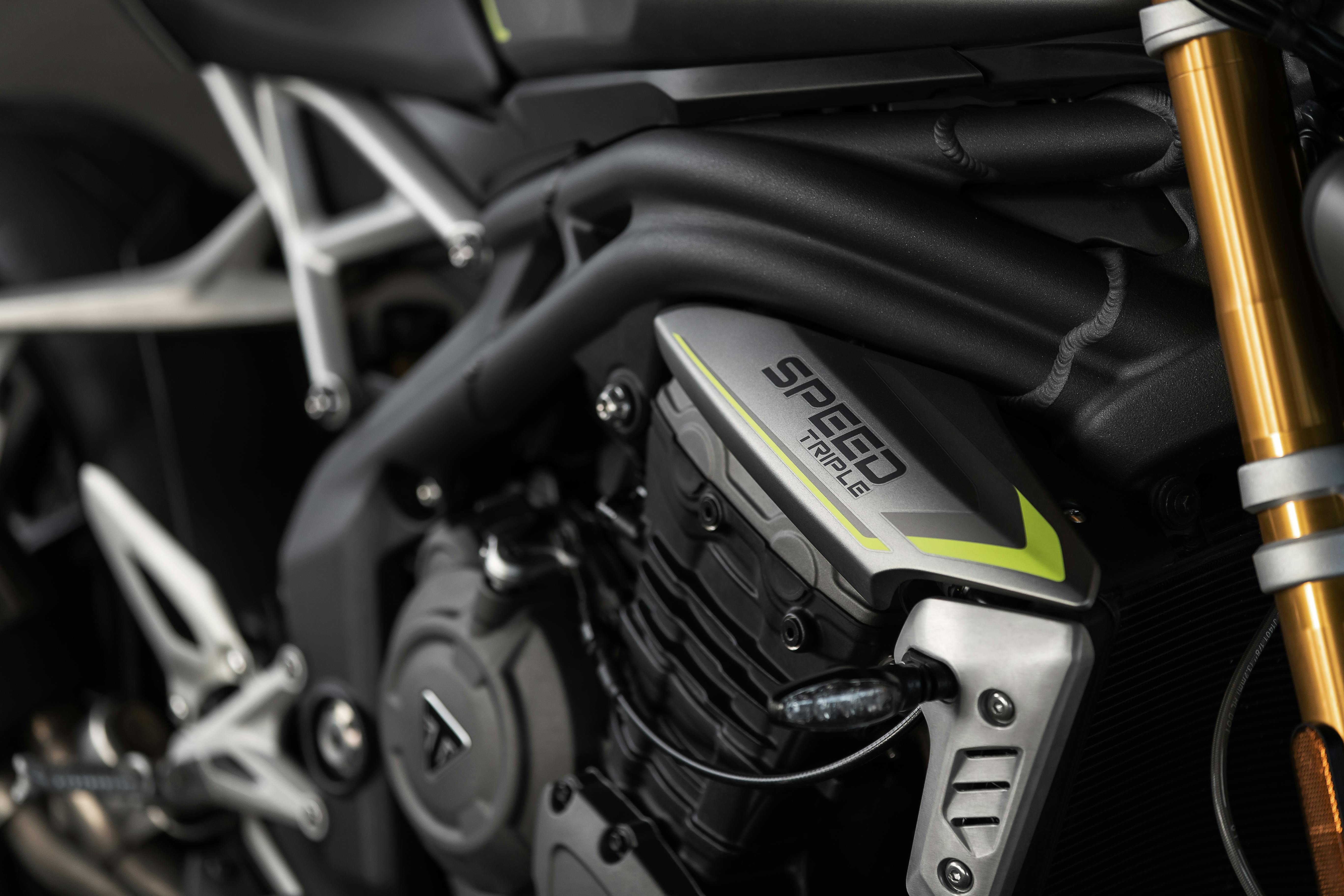 The new 1160cc engine, designed from the ground up, is lighter, more compact and boasts the most power and torque of any Speed Triple in history.
The Speed Triple 1200 RS is the best sounding Speed Triple ever, with free breathing exhaust and intake systems and a new exhaust valve for a sportier ride and a thrilling Speed Triple sound.
10 kilos lighter with a fully redesigned cast aluminium chassis and mass centralisation, the new Speed Triple 1200 RS has the agility to rule the street and tear up the track.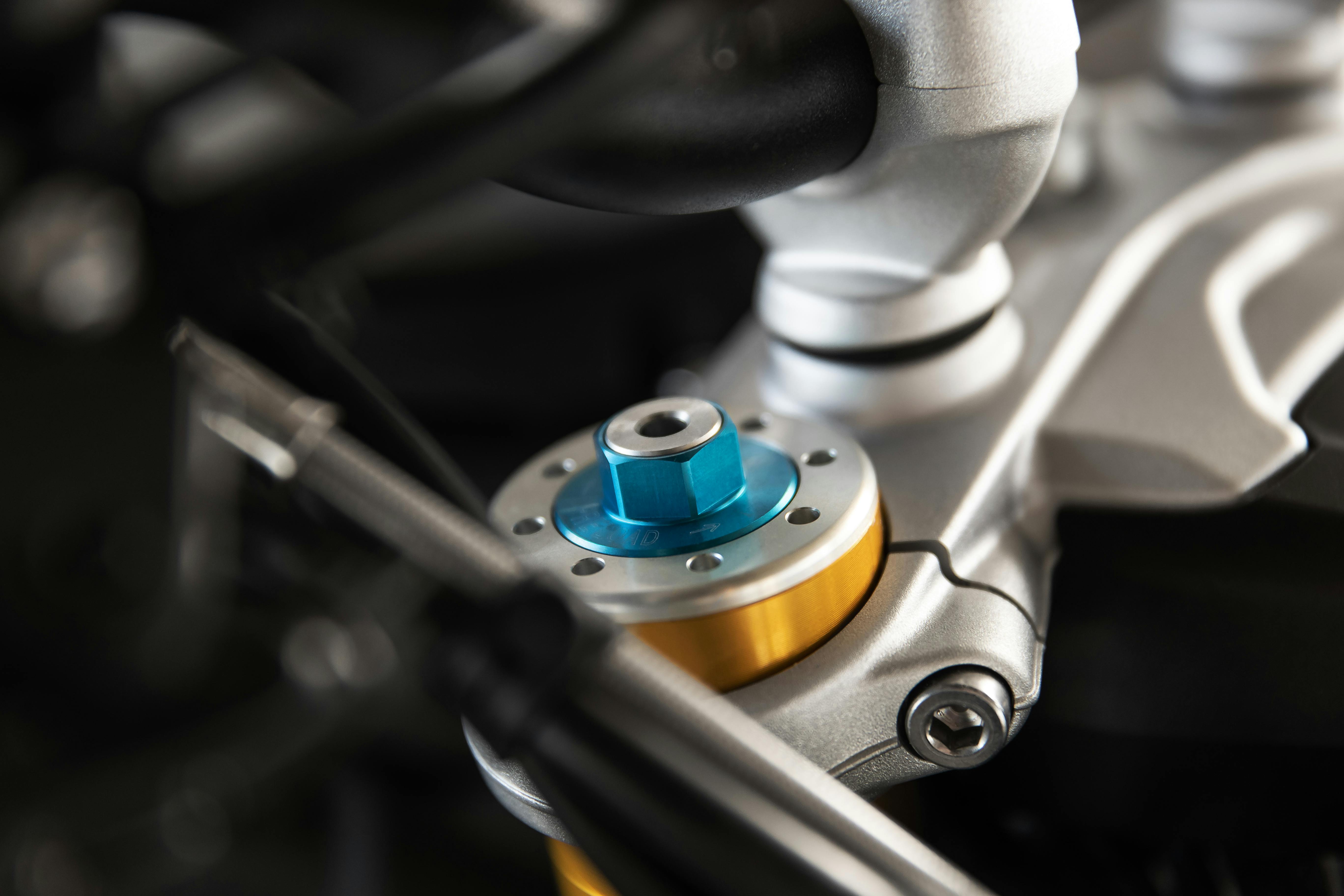 Fully adjustable premium suspension front and rear includes Ohlins NIX30 USD forks and an Ohlins TTX36 twin tune monoshock, all tuned for the new bikes geometry and focused on performance.
Arguably the best brakes on the street, the new Speed Triple 1200 RS has new lighter 320mm discs up front with premium Brembo Stylema radial monobloc calipers, plus span and ratio adjustable Brembo MCS brake lever.
Switchable, optimised cornering traction control is IMU supported for the very best slip rate and torque at any angle, improving both acceleration and control.
ALL-NEW TRIPLE ENGINE
The 1160cc triple engine is new from the ground up, developed using insight from our Moto2™ race engine programme, and significantly more compact, lighter and more responsive, giving an incredibly exhilarating ride.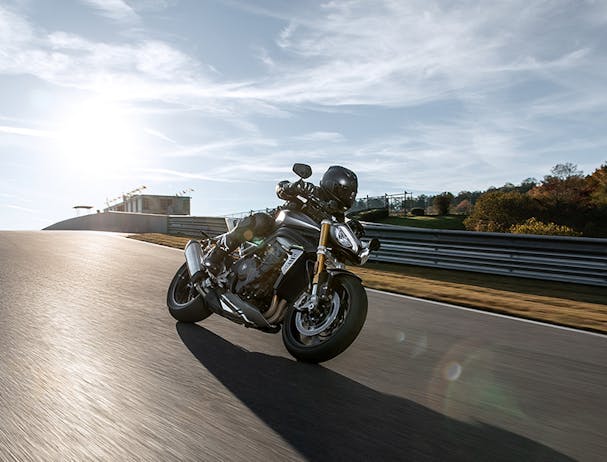 TRIPLE POWER
Delivering 180PS peak power, 30PS more than the previous generation, and 125Nm peak torque, the triple engine is more responsive and higher-revving, for a revolution in Speed Triple performance.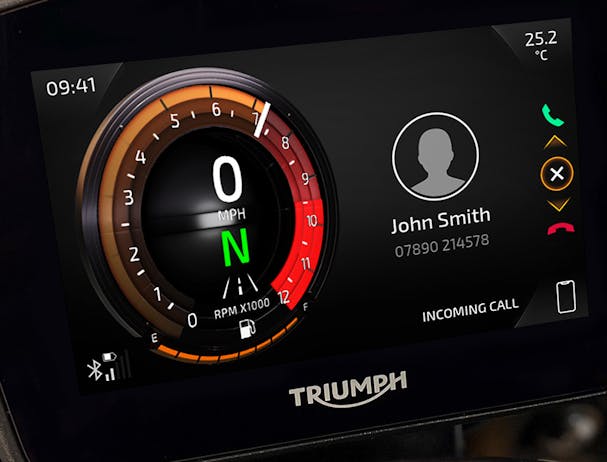 NEW 5" TFT DISPLAY
All-new 5" TFT instruments feature an optically bonded screen for excellent visibility, and an improved user interface for easy adjustment of key riding mode parameters while moving, plus a lap timer for track use.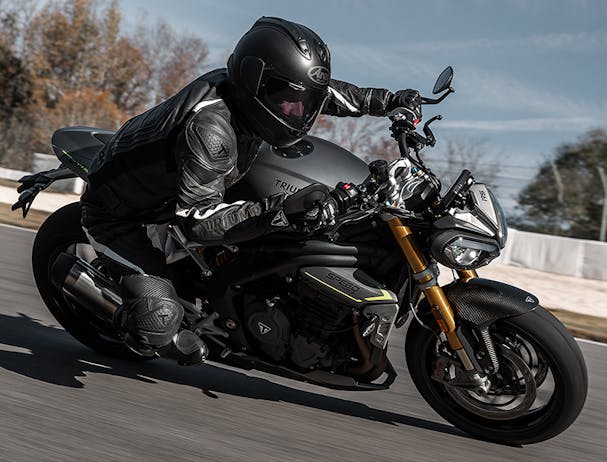 AGILE AND PRECISE HANDLING
The most agile, precise, and dynamic handling Speed Triple ever, with an all-new lightweight chassis, all-new rider ergonomics and a more dominant and purposeful riding position.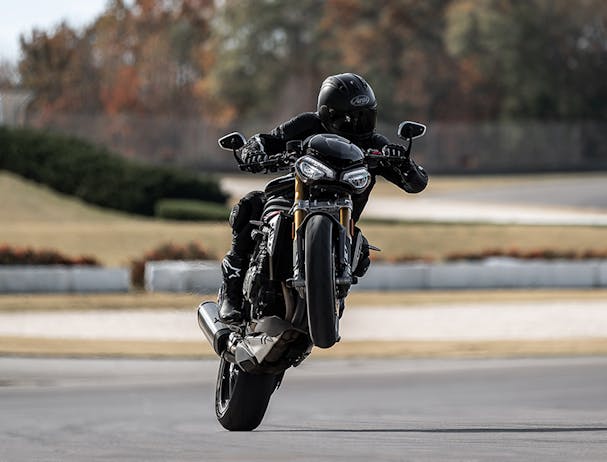 LIGHTEST SPEED TRIPLE EVER
With a wet weight of just 198kg, down 10kg thanks to an all-new chassis and significantly lighter engine, the new Speed Triple 1200 RS has been designed to feel just as agile and dynamic to ride as a Street Triple RS.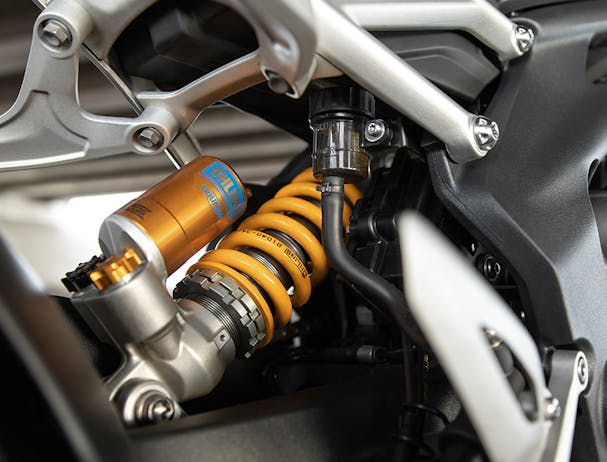 NEW PREMIUM COMPONENTS
Performance tuned fully adjustable Öhlins suspension, Brembo Stylema callipers and Metzeler Racetec RR tyres combine to deliver the optimum balance of performance and control.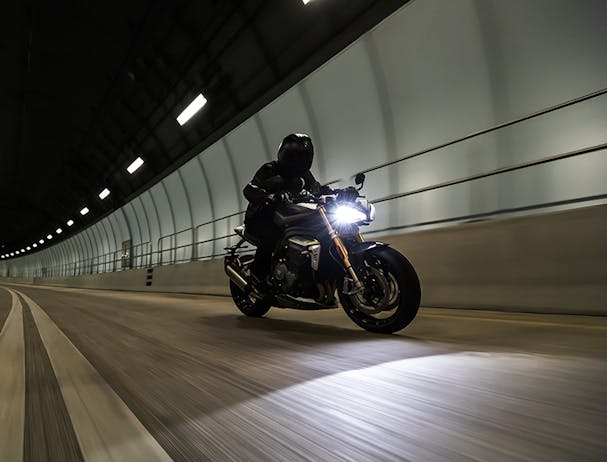 PURPOSEFUL RIDING POSITION
Wider handlebars and an all-new seat profile deliver a much more dynamic and natural riding position, while the footpegs are moved inboard to improve ground clearance without compromising legroom.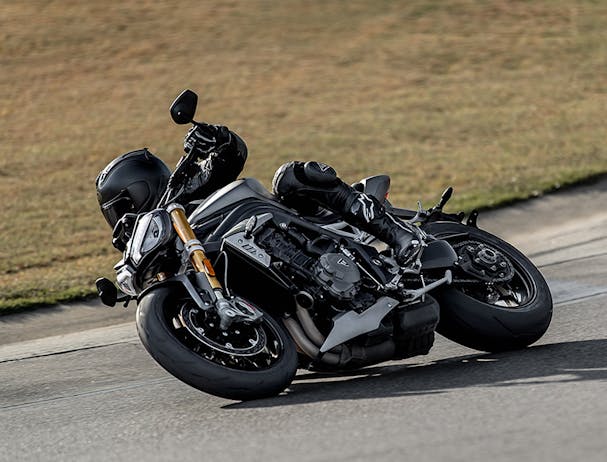 RIDER FOCUSSED TECHNOLOGY
With Triumph's latest generation switchable Optimised Cornering Traction Control, Optimised Cornering ABS, front wheel lift control, Shift Assist up and down quickshifter, 5 riding modes, and full keyless system.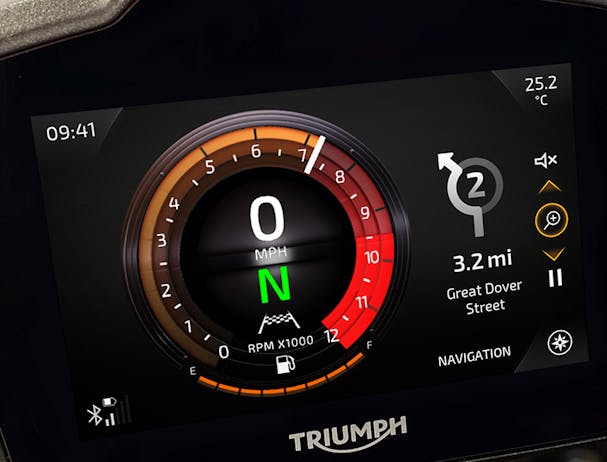 MY TRIUMPH CONNECTIVITY
Fitted as standard for the first time on a Speed Triple, the My Triumph Connectivity System allows smartphone integration for turn-by-turn navigation, GoPro control, phone control, and music operation.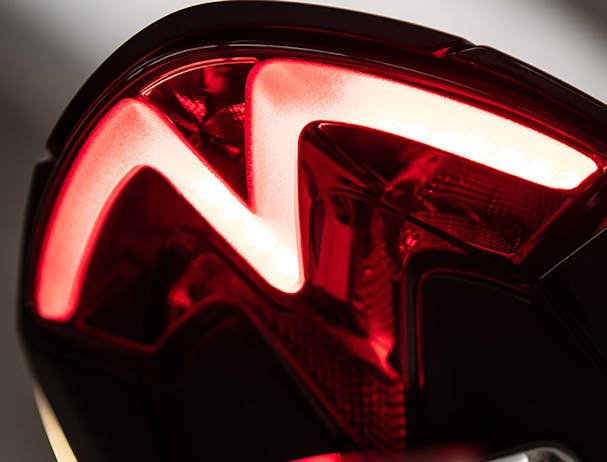 NEW LED LIGHTING
Stunning new distinctive lighting signatures in the twin LED headlights and LED tail light not only look great, but also increase visibility when riding. Slim, self-cancelling indicators are fitted as standard.