YAMAHA WR250F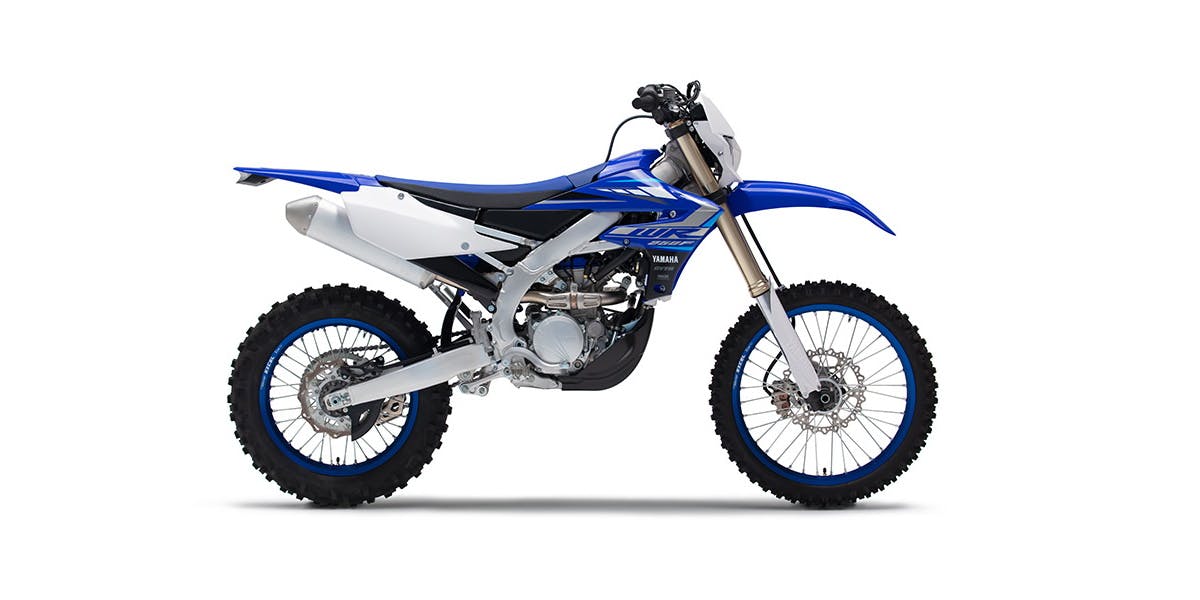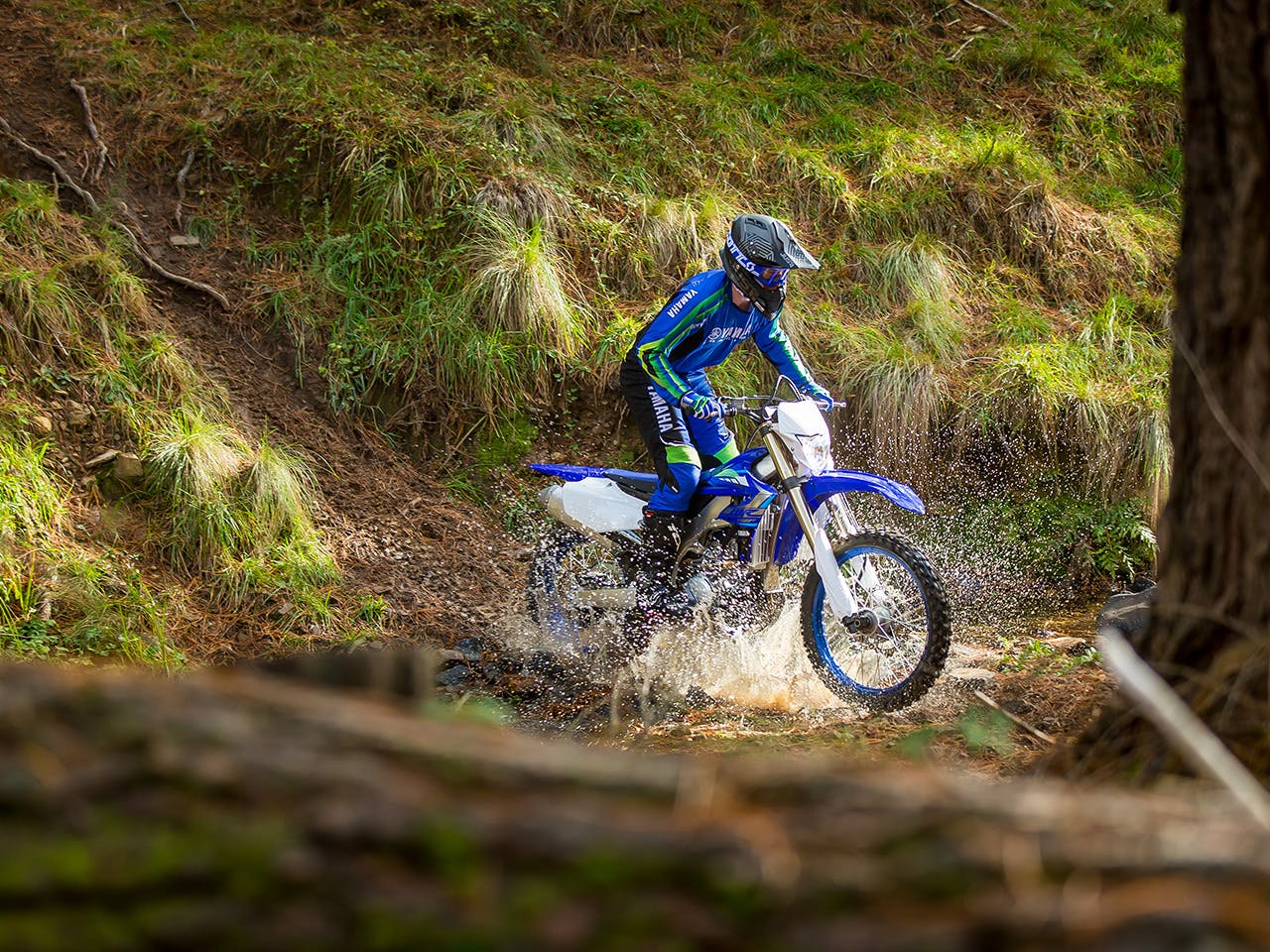 SLIMMER, LOWER, FASTER - THE YAMAHA WR250F, LAMS ELIGIBLE AT BIKEBIZ
Performance is all in the family. At a glance, it's hard to tell the difference between the new Yamaha WR250F at Bikebiz and its cousin, the fire-breathing YZ250F motocrosser. There's a good reason for that. This year Yamaha has taken the YZF competition platform and built the WR250F around it. Less weight. Lower seat height. Even more power. The result is a single track slingshot that rips on the dirt but can get you to work, too - because the LAMS compliant Yamaha WR250F is street registerable. You really can have it all!
BIKEBIZ EXPERT ADVICE - HOW SUITED TO THE ROAD IS YAMAHA'S WR250F DIRT RACER?
Any motorcycle designed primarily as an off-road racer is going to be at its absolute best in the dirt.
So if the WR250F is Yamaha's 'must-have' bike for you but you do most of your riding on the road, the experts at Bikebiz are ready to help you achieve the best possible ride and reliability with advice and assistance on everything from riding techniques to the best modifications that will make your WR250F really shine on the street.
DIRT DREAMS START HERE - BIKEBIZ HAVE YOUR YAMAHA WR250F.
If you were born to ride and you simply must have a bike with a competition edge, your Yamaha WR250F is waiting at the Bikebiz Parramatta showrooms. Bikebiz are your Sydney Yamaha experts, so if you're in Sydney, elsewhere in NSW or in fact anywhere in Australia and nothing but a WR250F will do it for you, we're the place with everything you need. Our people have a long relationship with the Yamaha brand and deep knowledge of everything Yamaha. Our team members include dedicated dirt riders who know and love the Yamaha WR250F. You simply can't beat learning all the facts from real riders.  
Your Yamaha WR250F journey starts at  Bikebiz Parramatta. See it, sit on it, learn all about its features and specifications from our Yamaha specialists and get to know more about this LAMS bike and how it could fit into your life. Can't wait to take it out into the dirt? We have Sydney's best WR250F prices and Yamaha Finance to get you onto your dream dirt ride in record time. 
At Bikebiz we're with you for the ride at every step, and expert Yamaha servicing is behind every bike we sell. Our team of Yamaha technicians is equipped with the latest technology and trained up-to-the-minute to keep your bike performing at its very best, whether it's scheduled servicing, warranty work or maybe just a new set of tyres.
Let's get started. It's time to get a feel for what this bike is all about. It begins with a test ride.  Get in touch right now and let's go big!
Is the WR250F fuel injected?
It sure is, and the system in use on the WR250F is refined, reliable and efficient, with rock-solid reliability on the road or out in the dirt.
What's the difference between the WR250F and the YZ250F?
The short answer is 'not much'. The YZ250F is a pure motocross race bike. The WR250F is based on the motocrosser but with refinements aimed at making it shine in enduro racing. It's also road registerable and LAMS compliant, which the YZF is not.
Does the WR250F have an electric start?
That's a big 'yes'. It's a feature that takes the sweat out of starting, whether you stall midway through a dirt race or just want to run down to the shops. 
Is the WR250F a good bike to start out on?
It can be if you are a dirt-focused rider with experience and possibly even a racing background. While the WR250F is a powerful dirt race bike, it's also road registerable and LAMS compliant. The Bikebiz expert team can advise you on the best way to make your WR250F a great road bike, and if you ride strictly on the street and never venture off-road, Bikebiz can show you a heap of other great Yamaha LAMS road bike options that'll make you smile. 
Is the WR250F street legal?
Yes, it is, but as a bike designed to race in the dirt it's a very focused choice that's undoubtedly more at home off-road. If what you want is a dirt-capable bike with great road manners and a sense of adventure, you might find the Yamaha WR250R at Bikebiz a great alternative.
What makes Yamaha a good choice?
Yamaha's blue competition bloodline is just one facet of a brand that's been delivering an amazing riding experience and legendary performance for many decades. Winning on road and dirt. Innovating and pushing boundaries with new technology and developments that inevitably filter down from competition to the bikes you can buy on the showroom floor. You're on a winner with Yamaha, and the combination of Yamaha and Bikebiz has kicked off a great biking journey for hundreds of riders over the years.
How fast is the Yamaha WR250F?
Very fast, in fact, one of the fastest enduro racers available. But 'fast' is a relative term in enduro racing and is more about point-to-point times, handling and rider skill than outright top speed. Bikebiz encourages safe and responsible riding, so if your focus is on dirt racing, let's talk - the WR250F is definitely the competitive choice.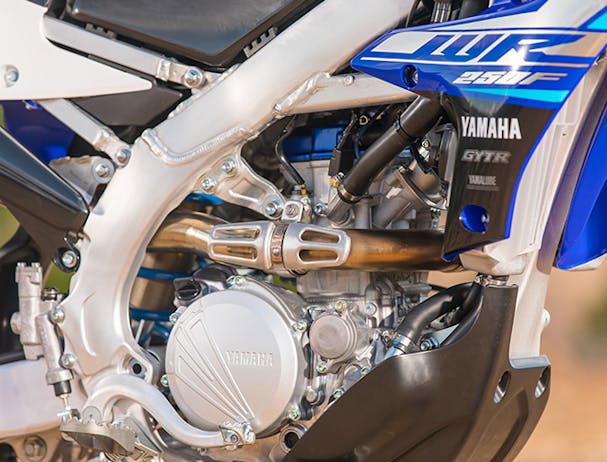 The WR250F engine - tough, free revving and compact.
Airbox out the front. Fuel tank in the middle of the bike. And a stonking, fuel-injected mill in between. Higher compression, forged piston, updated valve angles, new exhaust cam timing and a sorted balance factor add up to better breathing and more power. All delivered in a way that's usable, even at low revs for tight trails or simply threading through traffic.
Balanced flex, rigidity and feel - the WR250F bilateral beam frame.
It takes real design expertise to create the balance of flex and rigidity that results in great ride feel - that sensation of knowing precisely what's happening where the rubber meets the road or track. Adopting and adapting elements from the YZ250F, the WR250F's frame is a tough, lightweight creation that's at the heart of a bike that really communicates with its rider.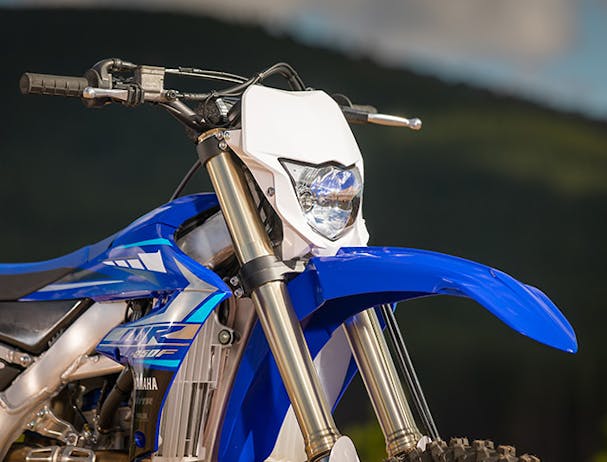 Newsflash - WR250F steals YZ250F forks!
What could possibly top the air/oil separate closed chamber inverted forks found on the YZ250F motocrosser? The same forks tuned for enduro riding. That's what you'll find on the WR250F, and they represent the industry's finest front suspension, featuring refined control and a beautiful feel all the way through the suspension stroke.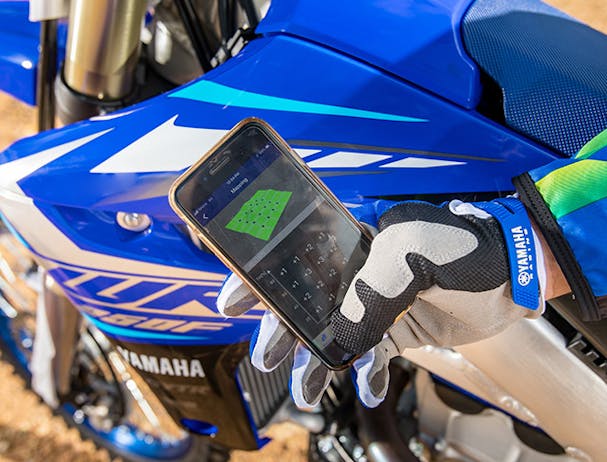 Onboard WIFI and smartphone tuning - instantly connect with custom power characteristics
Wherever you ride, the free Yamaha Power Tuner App for Android and IOS devices allows you to easily adjust your air/fuel ratio and ignition timing to create the perfect engine characteristics for your ride. Post-analysis is just as easy - the App can also record and monitor information and help with systems diagnosis.