YAMAHA MT-07LA (2021)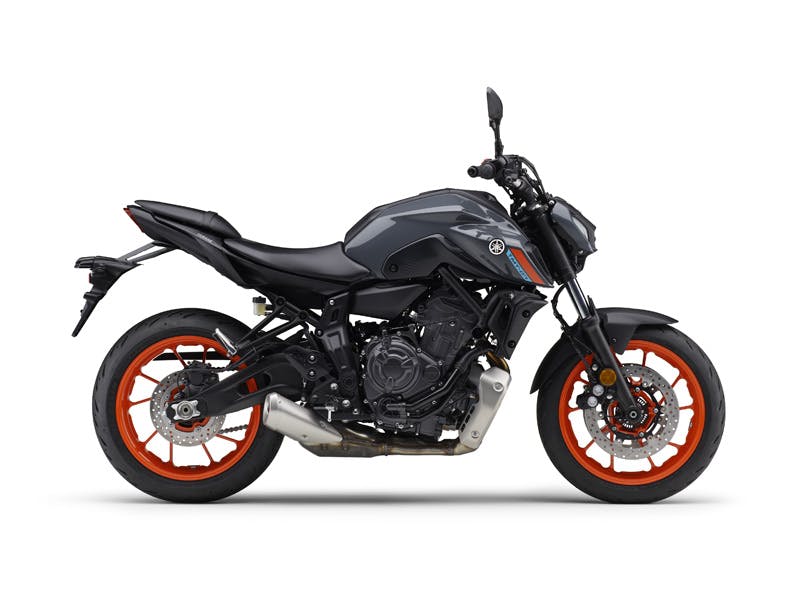 MAXIMUM POWER IN THE PERFECT LAMS PACKAGE - THE YAMAHA MT-07 FROM BIKEBIZ
For 2021, the next-generation MT-07 gets distinctive new bodywork with twin winglet-type air intakes and a compact new LED headlight that projects a futuristic Y-shape face – the signature style for the latest Hyper Naked models. And the refined 'Learner Approved' 655cc engine gives you an even more linear response with a gutsier exhaust note. New wider aluminium taper handlebars give easier turning and a more commanding riding position, while larger 298mm dual front discs deliver stronger braking – and the inverted LCD instruments, as well as black control levers and compact, LED flashers to underline the top specification and best-in-class value.
BIKEBIZ - YOUR NUMBER 1 CHOICE FOR YAMAHA'S MT-07
If you can't wait to get started, we don't blame you! You can see the Yamaha MT-07 for sale right now at the Bikebiz Parramatta showrooms. Bikebiz is your Sydney Yamaha expert, so if you're in Sydney, elsewhere in NSW, or in fact anywhere in Australia with your eye out for an MT-07, we're the place to go. Our team has a long relationship with the Yamaha brand and deep knowledge of everything Yamaha - and of course, that includes the incredible LAMS MT-07. 
What's so special about the Yamaha MT-07? There's real pedigree and bloodline to the whole MT range that the MT-07 is a proud part of. The entire Yamaha MT range of motorcycles oozes special, distinctive aggression that's visually unique and carves its own engineering niche, too, focused on big torque delivery to bring thrills to every ride.
Why should I choose a Yamaha? Because you don't settle for second best. All over the world, Yamaha is a name that means innovation, engineering excellence, and performance. Yamaha motorcycles are winners, proven over the decades in road and dirt racing, out on the highways and on city streets.
What makes the Yamaha MT-07 engine so unique? The 655cc fuel-injected inline twin at the heart of the MT-07 borrows cross-plane crank technology from Yamaha's race bikes. Its 270-degree crankshaft delivers distinctive power pulses that translate into torque, traction, smooth acceleration, and big grins. 
Does the Yamaha MT-07 have ABS brakes? You better believe it - on both ends. Safe braking performance is delivered by twin 282mm hydraulic discs up front and a single 245mm disc at the rear. That means plenty of stopping power to match all that go.
Is the MT-07 a good choice for beginner riders? For all the right reasons, the answer is yes. The Yamaha MT-07 from Bikebiz is compact and light for easy handling no matter what your size or stature. The handling is smooth and predictable, and that big, torquey twin-cylinder engine might sound like a beast, but it serves up all of its power in a way that's predictable and easy to master. If you feel the need to compare and see the entire Yamaha LAMS motorcycle range at Bikebiz, no problem. It's right here. 
I plan to ride every day. Is the Yamaha MT-07 comfortable? That's the magic of the Yamaha MT range - sharp looks, big power, and great handling served up in a package that's so comfortable you won't want to stop riding. The upright seated position combined with an ergonomically excellent handlebar and footpeg placement combines to make the Yamaha MT-07 a bike with really luxurious ride quality and comfort.
How do the Yamaha MT-07's features stack up to other bikes in the LAMS category? The simple fact that it's a Yamaha puts it streets ahead. Class-leading features like superb suspension and LCD instrumentation, distinctive styling, and an engine that is utterly unique means that the MT-07 from Bikebiz is out in front of the LAMS pack and a genuinely amazing bike for beginning riders who simply want the best.
Tell me about the colours the Yamaha MT-07 comes in?
There's a choice of three! The Yamaha MT-07 at Bikebiz comes in your choice of Storm Fluo, Icon Blue, or Tech Black. These are all colours that work beautifully with the bike's sharp lines to show off that special MT design.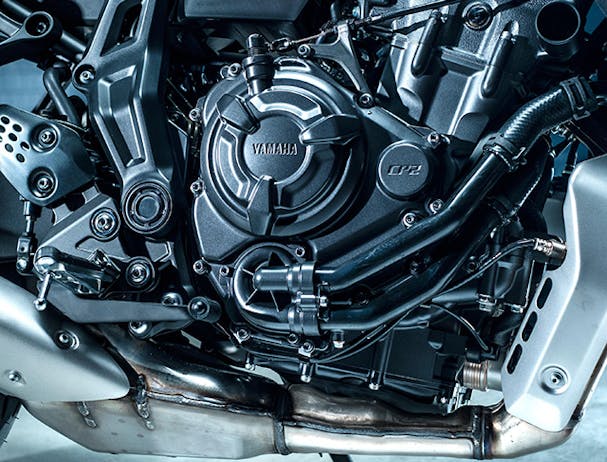 655cc parallel twin
The latest 'Learner approved' 655cc 2-cylinder CP2 engine features a revised air intake duct design and optimised fuel injector settings, as well as a new 2-into-1 exhaust and new ECU. These changes give the MT-07 a more linear engine response.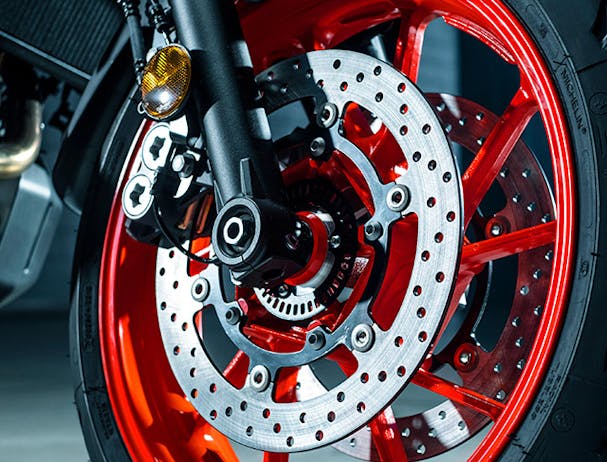 Larger front brakes
MT-07's front dual disc size is increased from 282mm on the previous model to 298mm on the new bike, giving more stopping power and greater controllability with no gain in weight. Together with the 245mm rear disc. The fitment of the new tyres, the increased stopping power is especially apparent in wet conditions.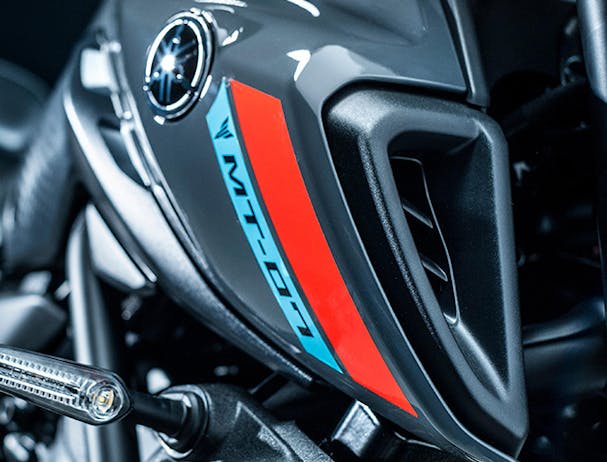 Next generation design
New winglets on the sides of the newly-designed 14-liter fuel tank give the bike a more dynamic stance. The new fuel tank covers are manufactured from injection-moulded plastic resin to reduce weight, and a 3D moulded texture is featured around the rider's knee grip area.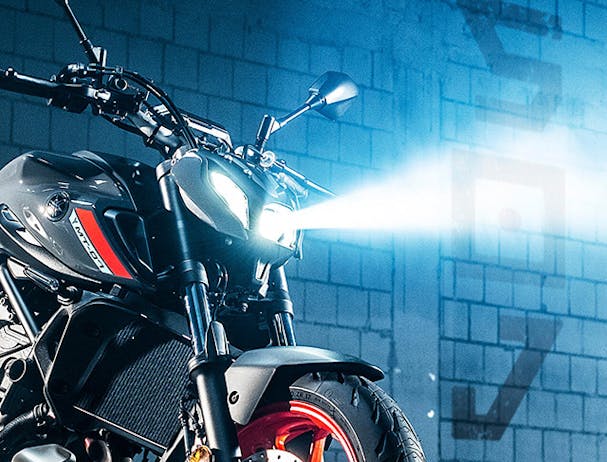 LED projector lighting
This compact projector headlight produces a powerful beam with well-defined edges that provide excellent visibility. New left and right side dual-layer LED position lights to give the MT-07 a signature Y-shape face that reaffirms its close family ties with the MT-09.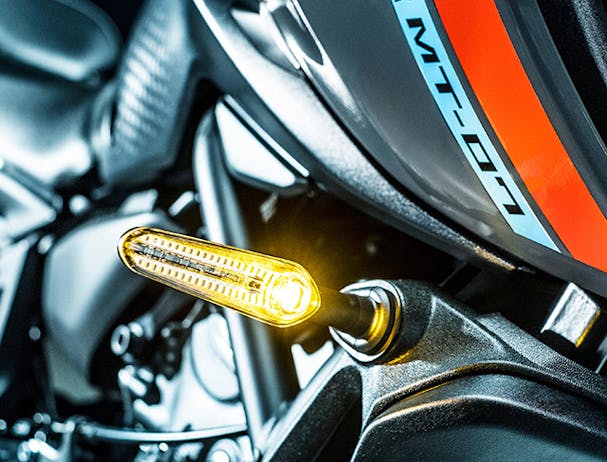 LED indicators
Along with the new LED headlight, the 2021 MT-07 is also equipped with new high-intensity indicators at the front and rear. Lighter and more compact, they complement the next generation style of the bike and reinforce the premium specification of this best-selling Hyper Naked.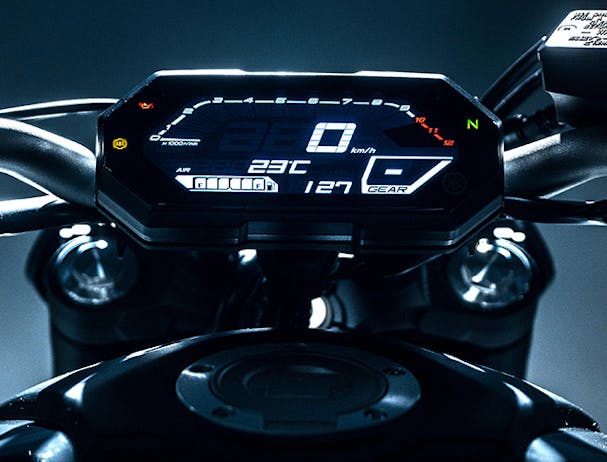 LCD Instrument
This new inverted dashboard is similar to the unit fitted to the Tracer 700, and its compact and lightweight multifunction display with larger displays for the clock, gear, tripmeters, and tachometer provides clear information.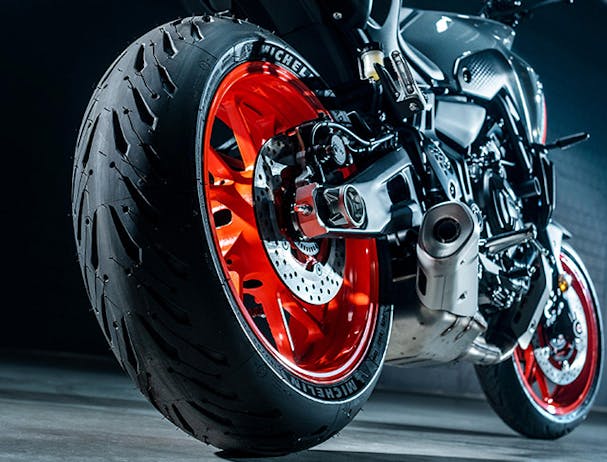 Latest generation tyres
New specification Michelin PR5 tyres – 180/55-17 at the rear and 120/70-17 at the front – provide excellent levels of traction, sporty handling performance and excellent wet weather handling qualities, making the MT-07 the ideal choice for new and experienced riders.