YAMAHA MT-07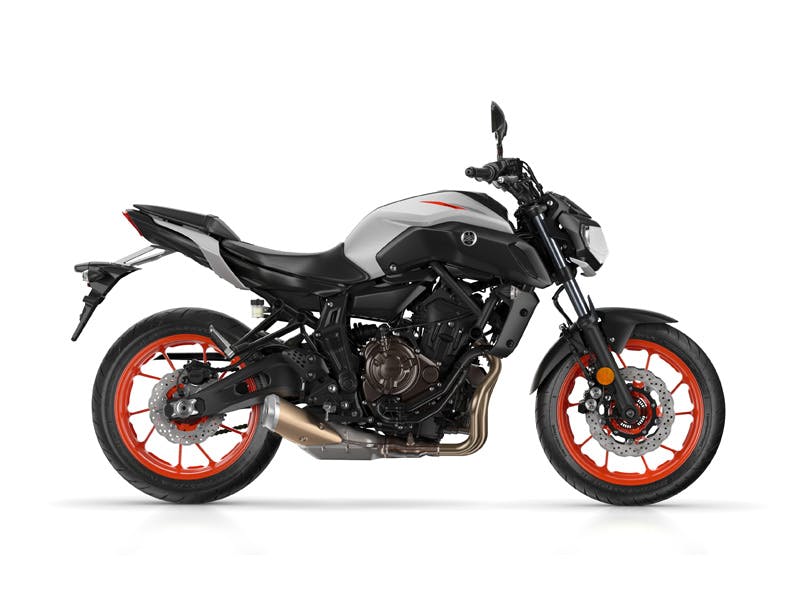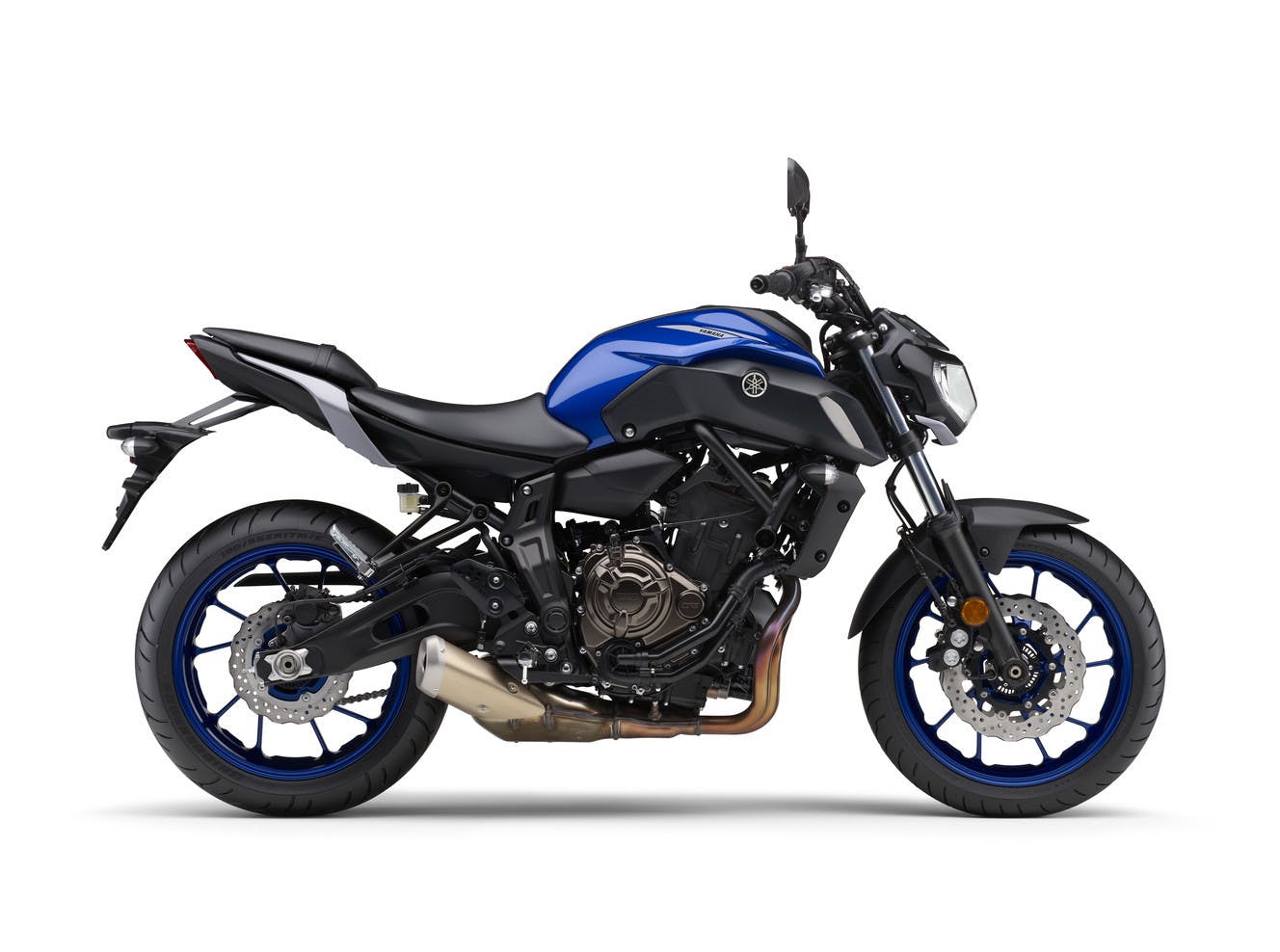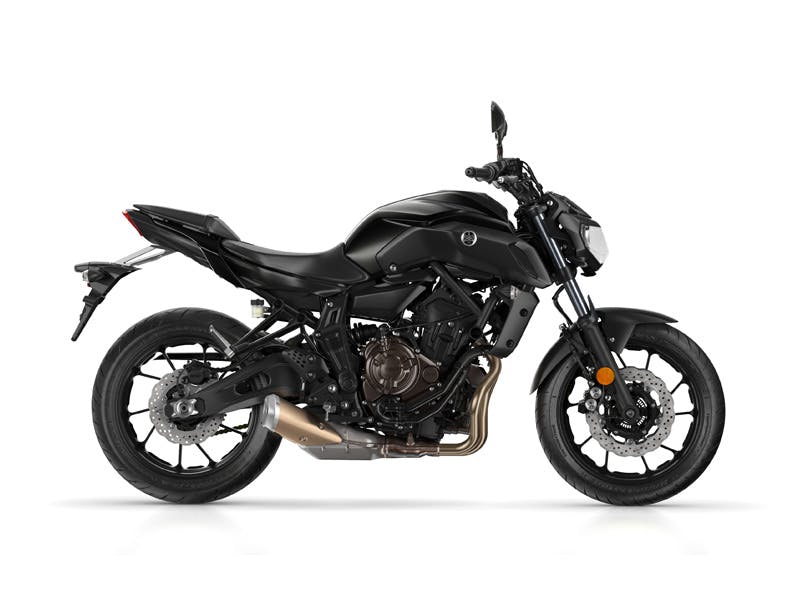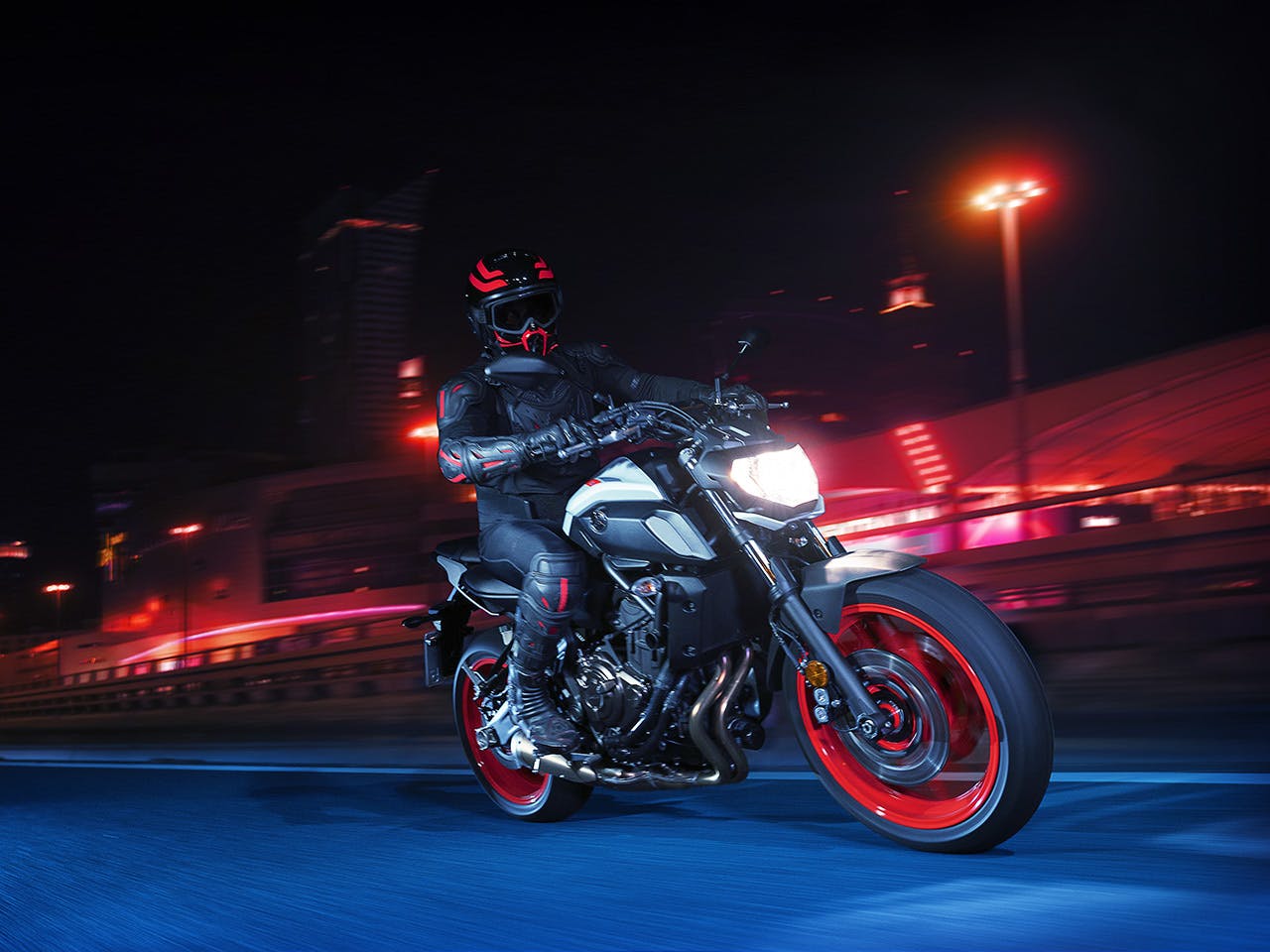 MAXIMUM POWER IN THE PERFECT LAMS PACKAGE - THE YAMAHA MT-07 FROM BIKEBIZ
You really can have it all with your first bike when you choose the Yamaha MT-07 at Bikebiz. Lean and lightweight. Poised and aggressive. Twin-cylinder punch delivered smoothly so you're always in control of the action. There's no substitute for capacity, and what's at the heart of the MT-07 is Yamaha engineering at its finest - an engine for every ride, wrapped in a special chassis to help you make use of every drop of torque on tap. Test ride the MT-07 today and take your riding journey to the next level.
BIKEBIZ - YOUR NUMBER 1 CHOICE FOR YAMAHA'S MT-07
If you can't wait to get started, we don't blame you! You can see the Yamaha MT-07 for sale right now at the Bikebiz Parramatta showrooms. Bikebiz are your Sydney Yamaha experts, so if you're in Sydney, elsewhere in NSW or in fact anywhere in Australia with your eye out for an MT-07, we're the place to go. Our team has a long relationship with the Yamaha brand and a deep knowledge of everything Yamaha - and of course that includes the incredible LAMS MT-07. 
What's so special about the Yamaha MT-07? There's real pedigree and bloodline to the whole MT range that the MT-07 is a proud part of. The entire Yamaha MT range of motorcycles oozes a special, distinctive aggression that's visually unique and carves its own engineering niche, too, focused on big torque delivery to bring thrills to every ride.
Why should I choose a Yamaha? Because you don't settle for second best. All over the world, Yamaha is a name that means innovation, engineering excellence and performance. Yamaha motorcycles are winners, proven over the decades in road and dirt racing, out on the highways and on city streets.
What makes the Yamaha MT-07 engine so unique? The 655cc fuel-injected inline twin at the heart of the MT-07 borrows crossplane crank technology from Yamaha's race bikes. Its 270 degree crankshaft delivers distinctive power pulses that translate into torque, traction, smooth acceleration and big grins. 
Does the Yamaha MT-07 have ABS brakes? You better believe it - on both ends. Safe braking performance is delivered by twin 282mm hydraulic discs up front and a single 245mm disc at the rear. That means plenty of stopping power to match all that go.
Is the MT-07 a good choice for beginner riders? For all the right reasons, the answer is yes. The Yamaha MT-07 from Bikebiz is compact and light for easy handling no matter what your size or stature. The handling is smooth and predictable, and that big, torquey twin cylinder engine might sound like a beast, but it serves up all of its power in a way that's predictable and easy to master. If you feel the need to compare and see the entire Yamaha LAMS motorcycle range at Bikebiz, no problem. It's right here. 
I plan to ride every day. Is the Yamaha MT-07 comfortable? That's the magic of the Yamaha MT range - sharp looks, big power and great handling served up in a package that's so comfortable you won't want to stop riding. The upright seated position combined with ergonomically excellent handlebar and footpeg placement combine to make the Yamaha MT-07 a bike with really luxurious ride quality and comfort.
How do the Yamaha MT-07's features stack up to other bikes in the LAMS category? The simple fact that it's a Yamaha puts it streets ahead. Class leading features like superb suspension and LCD instrumentation, distinctive styling and an engine that is utterly unique means that the MT-07 from Bikebiz is out in front of the LAMS pack and a genuinely amazing bike for beginning riders who simply want the best.
Tell me about the colours the Yamaha MT-07 comes in? There's a choice of three! The Yamaha MT-07 at Bikebiz comes in your choice of Ice Fluo, Icon Blue or Tech Black. These are all colours that work beautifully with the bike's sharp lines to show off that special MT design. See the colour range for yourself HERE
0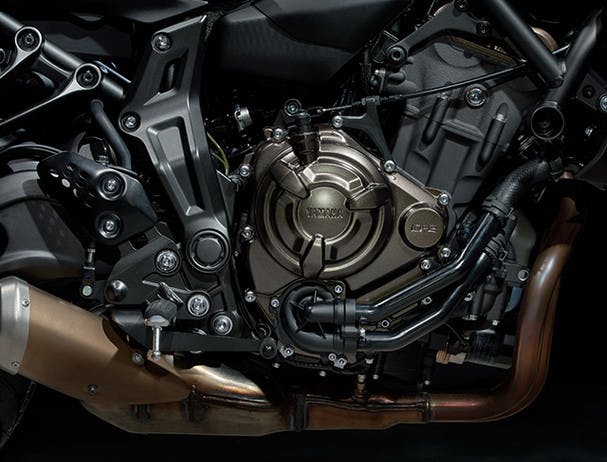 Two cylinders, one attitude - the MT-07 engine torques tough
It's a big 655cc inline twin that's learned a trick or two from Rossi's racebike, featuring Yamaha crossplane technology. The 270cc crankshaft creates a distinctive, offbeat firing angle, the pulse of an engine that delivers deep, positive torque to launch out of turns in a way that's strong, predictable and big on traction.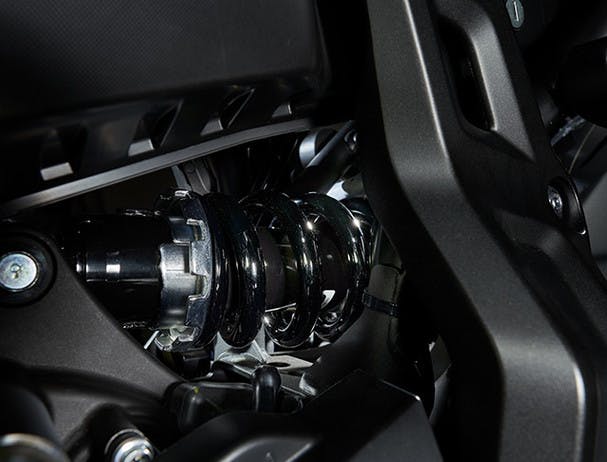 Refined, supple and adjustable - MT-07 serves up superb handling
Great handling just got even better with the Yamaha MT-07's revised front fork settings and a rear shock now adjustable for rebound damping, so setup couldn't be simpler, no matter how you ride. 130mm of travel at both ends irons out the bumps for a smooth, predictable ride, no matter what the road serves up.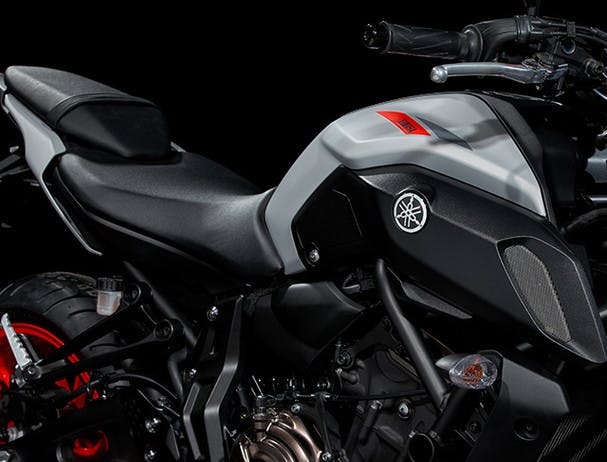 Compact looks
A newly designed fuel tank and bold air scoops give the MT-07 a sharper image and reinforce the MT family look.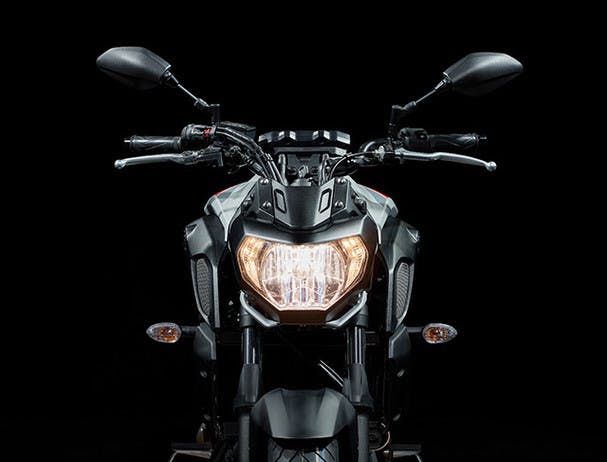 Compact, light and tough - the MT-07 is framed to fly
The light and slim steel backbone frame uses the engine as a stressed member, meaning everything works as one compact and rigid unit built to centralise its weight and maximise its handling and agility.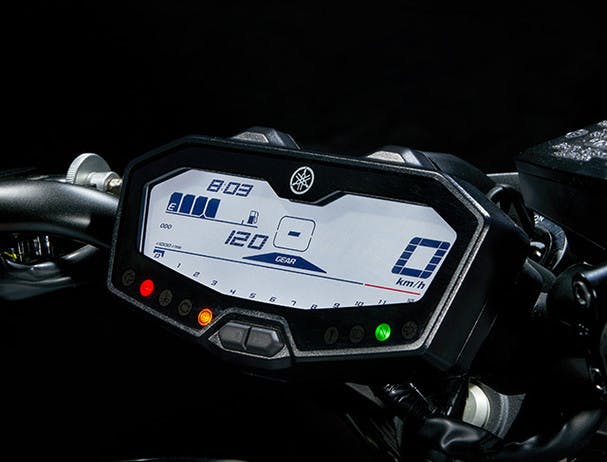 Light reading - a trick digital dash with all the info up front
Clear, simple, digital. The LCD dash on the Yamaha MT-07 is lightweight, easy to read and intuitive to use. On every ride you'll know everything you need to with just a glance.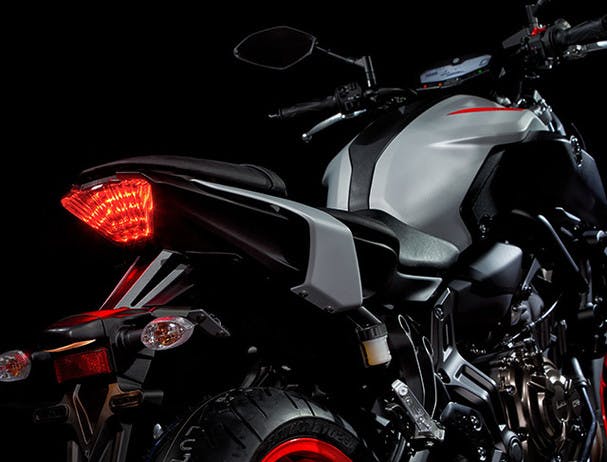 Yamaha MT-07. Mean, moody angles run in the family
All that muscle packed in right up front. Sharp, compact angles, those 10-spoke alloy wheels and that cool frontal slash formed by downpipes and intakes. The MT-07 is a bike big on style, and that style has come straight down the family line from the legendary MT-09, the bike that started it all.