SUZUKI RM-Z250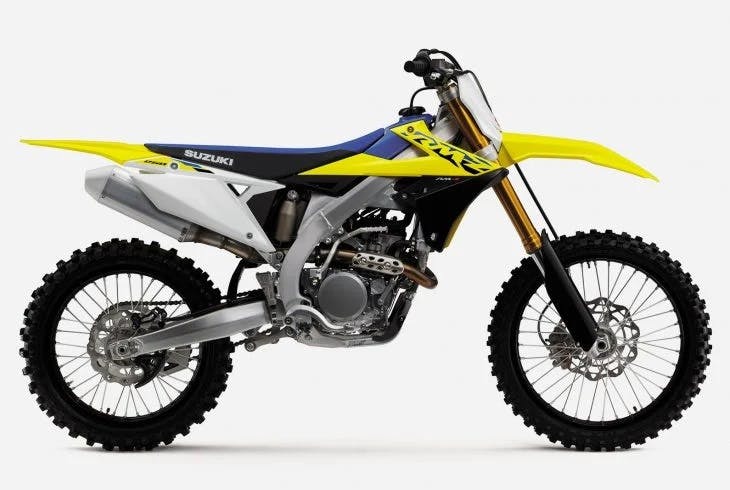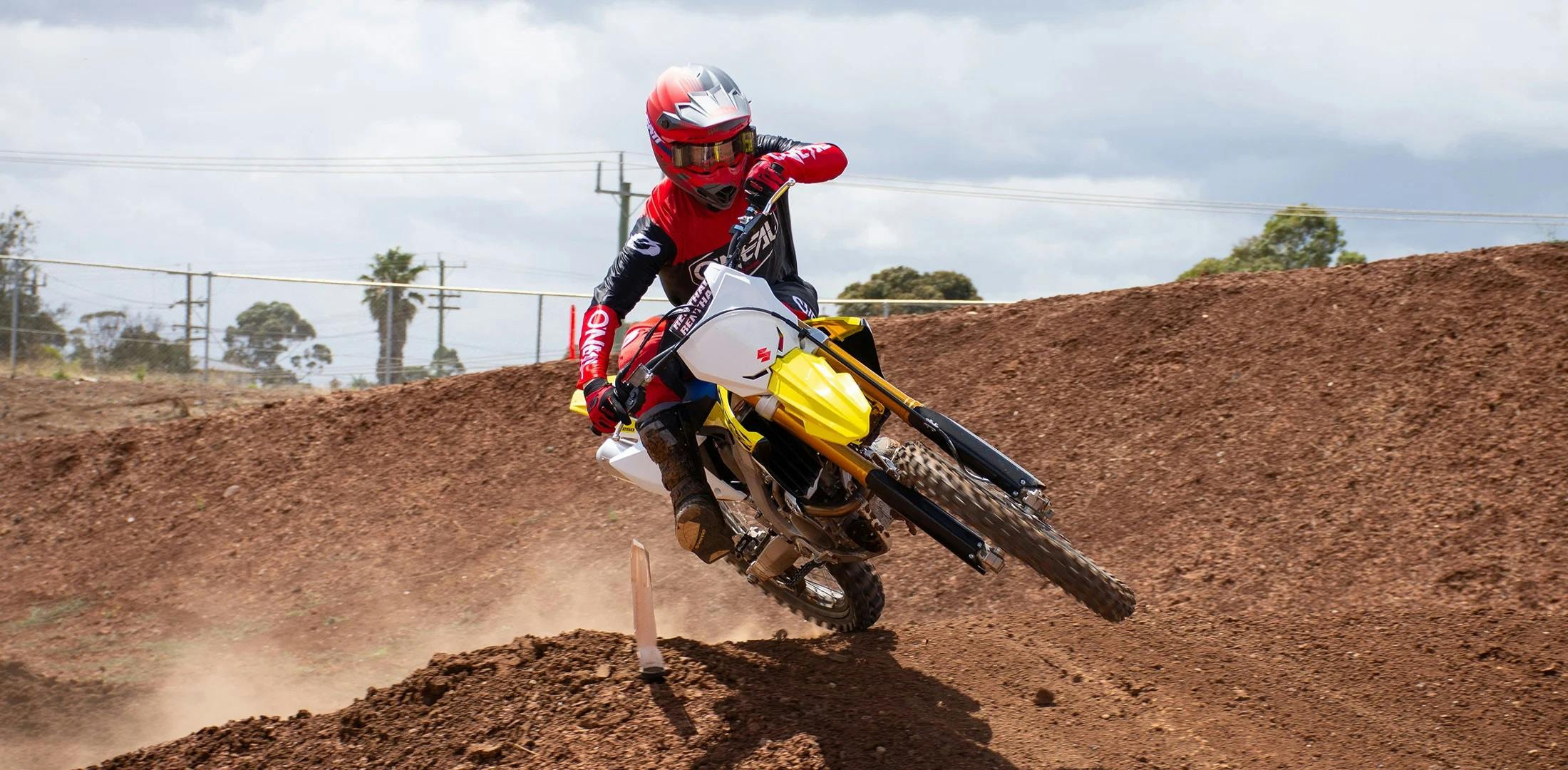 TAKE FULL CONTROL
The 250 class in motocross doesn't forgive the slightest weakness. That's why we completely redesigned the RM-Z250 to achieve a higher level of performance in "Acceleration, Turning, and Braking" necessary to win in this ultra-competitive arena.
Intensive work by our engineers has once again made the RM-Z250 the leader out of the gate, with the engine featuring increased power across the board and class-leading electronics including WiFi tuning capability, a lighter frame and swingarm plus updated KYB suspension for even better handling, modern styling design, and a laundry list of other updates to make it the most potent motocross bike in its class.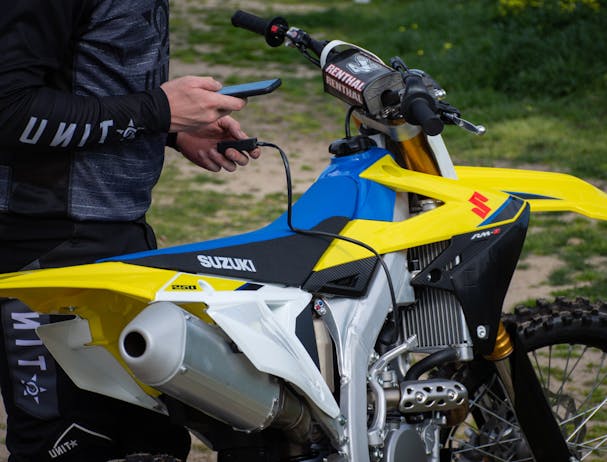 Suzuki MX WI-FI Tuner & App
The WiFi enabled 2020 RM-Z250 can be tuned using a phone app that changes the fuel and ignition mapping and performance of the motorcycle for various track conditions. Suzuki's RM-Z250 and MX Tuner takes full control of the track.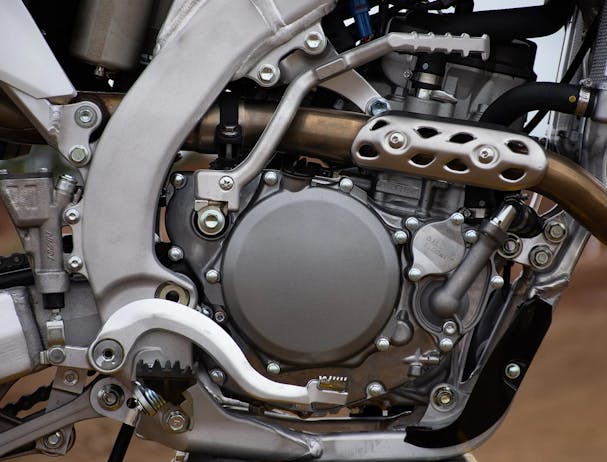 More Powerful Engine
Center-port cylinder head increases output and throttle response an approximate 5% increase in output.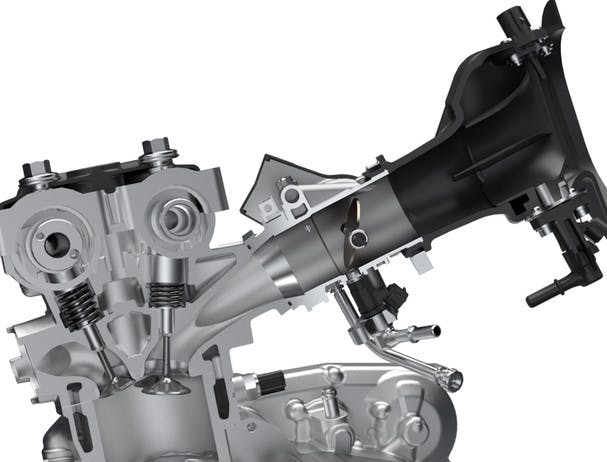 Dual Fuel Injection
The RM-Z250's fuel injection system now features two injectors. Instead of using a single injector that can compromise low-end fuelling in order to supply enough fuel for top-end power, the primary injector delivers precise low-rpm fuelling while a secondary injector at higher rpm provides the extra fuel needed.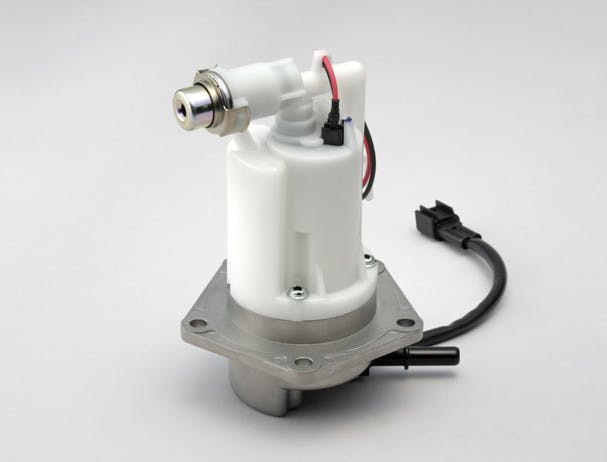 Increased Fuel Pressure
Fuel pressure is increased by 17% over the previous model and promotes the effective mixing of air and fuel, resulting in improved throttle response.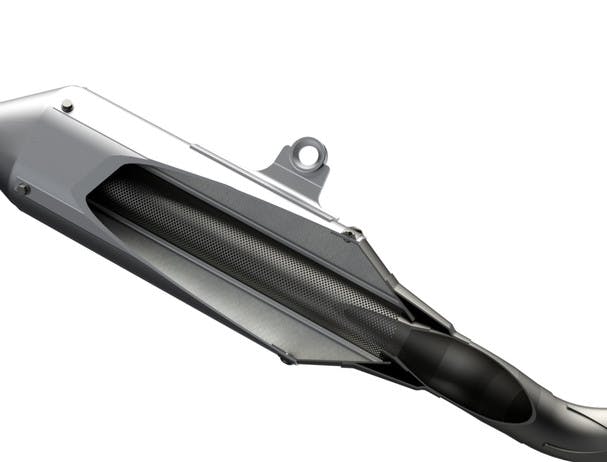 Longer Exhaust
The exhaust pipe was lengthened by 99mm, with the internal diameter tapering from 35mm at the cylinder head to 45mm at the muffler improving output throughout the RPM range, with bottom-end output most notably improved.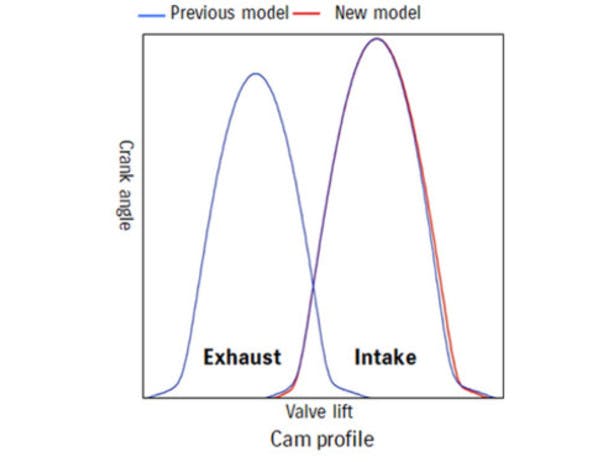 New Intake Camshaft
The Intake camshaft profile has increased lift for MY19 resulting in improved intake efficiency and increased power output.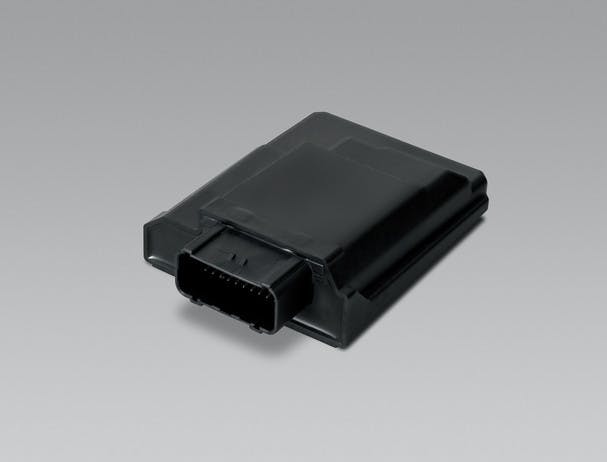 Evolved Traction Management
The RM-Z250's electronic systems work seamlessly with the rider to get the power to the ground. To maximise traction for conditions, the engine control module (ECM) automatically adjusts ignition timing and fuel injection based on throttle position, engine speed and gear position.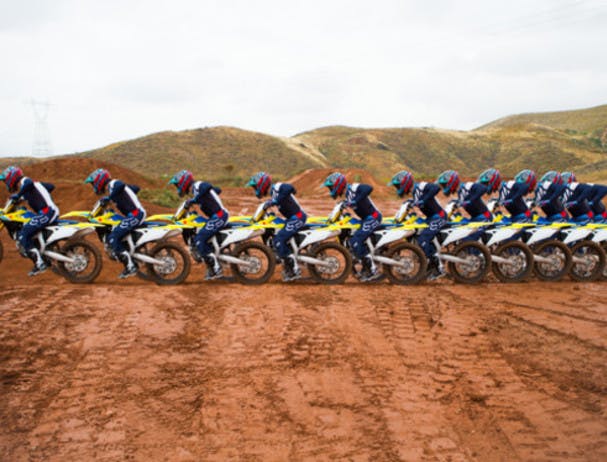 Get a Good Start
An integral part of the electronics package on the latest generation RM-Z motocross range, the updated 3-stage S-HAC system assesses throttle position and gear selection and then adjusts ignition timing to optimise engine output for fast launches. many models have them, ours works.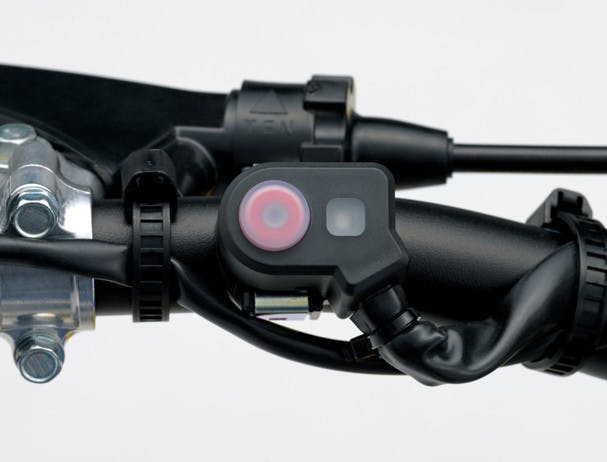 Updated S-HAC
Three settings are available, with A- mode intended for harder surfaces where controlling wheel spin is paramount, B- mode for normal dirt conditions with good traction, and an "off" setting.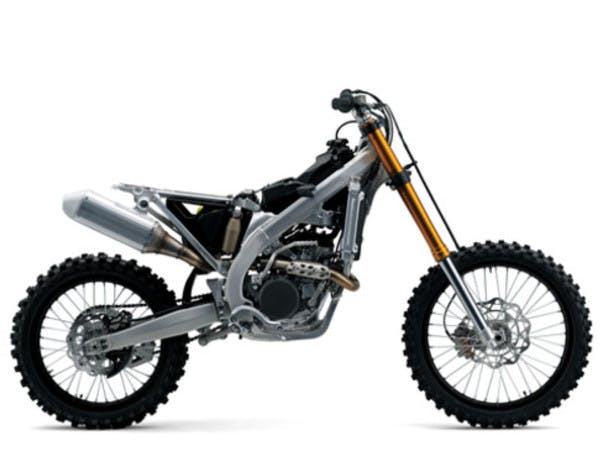 All-New Chassis
The frame and swingarm are all new, with the aluminium frame spars changing to a hollow square section that does away with an internal rib, shedding 370 grams while increasing torsional rigidity by 10 per cent for better stability and bump absorption.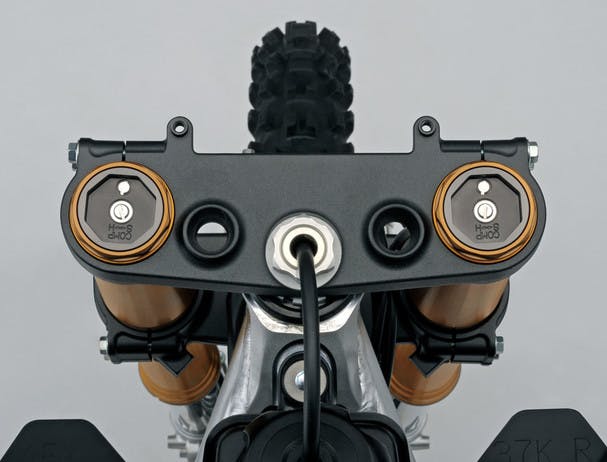 Premium KYB Spring Fork and Rear Shock
The new KYB coil spring fork replaces the previous model's PSF2 air fork. Featuring a unique design that provides a progressive damping setup offering excellent compliance over small bumps while firming up deeper into the stroke to handle bigger hits such as harsh jump landings.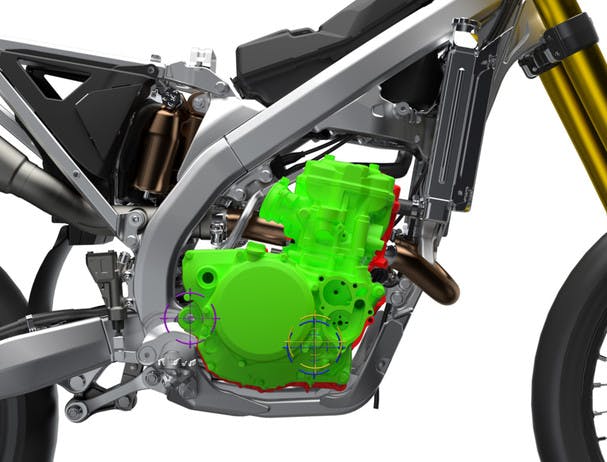 Centralised Mass
In order to increase the RM-Z250's agility, the engine position was pivoted upward at the rear engine mount by 8.5mm measured at the crankshaft centre. The upper engine mount brackets are now aluminium instead of steel.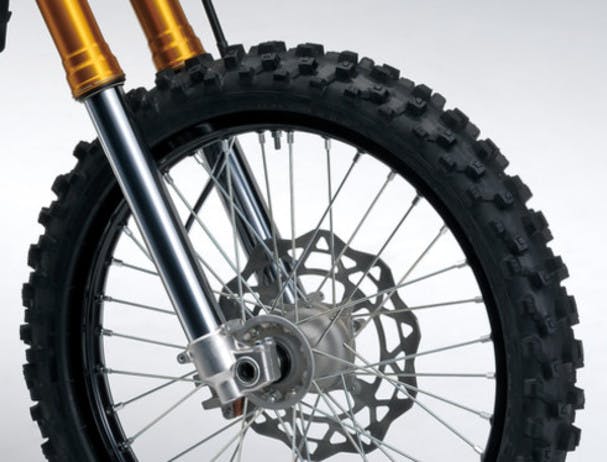 Dirtstar Rims, Dunlop MX33 Tyres & 270mm Front Wave Disc
New lighter Dirtstar wheels reduce all-important rotating mass by 40 grams upfront and 60 grams in the rear. For MY19, the RM-Z250 will be fitted with Dunlop's latest Geomax MX33 tyre which has generated rave reviews.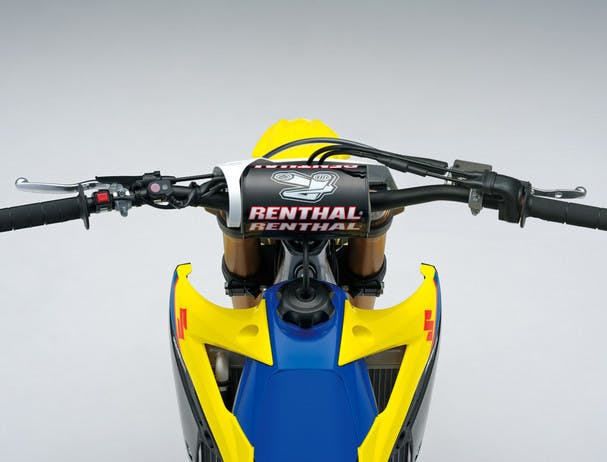 Renthal Aluminium Fatbar
Fitted as standard equipment , the top-shelf Renthal aluminium Fatbar offers more strength and less vibration than standard size aluminium handlebars.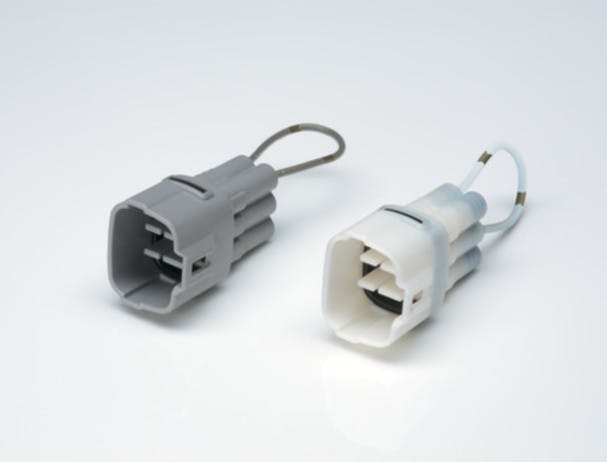 Rich & Lean Fuel Couplers
Riders can adjust the engine performance to suit varied track conditions. By plugging in either of two additional fuel-setting couplers, riders can opt for a richer-than-stock or leaner-than-stock fuel setting to make the most of any riding conditions. Included with the bike, these couplers can be easily plugged in trackside.