KAWASAKI Z650RS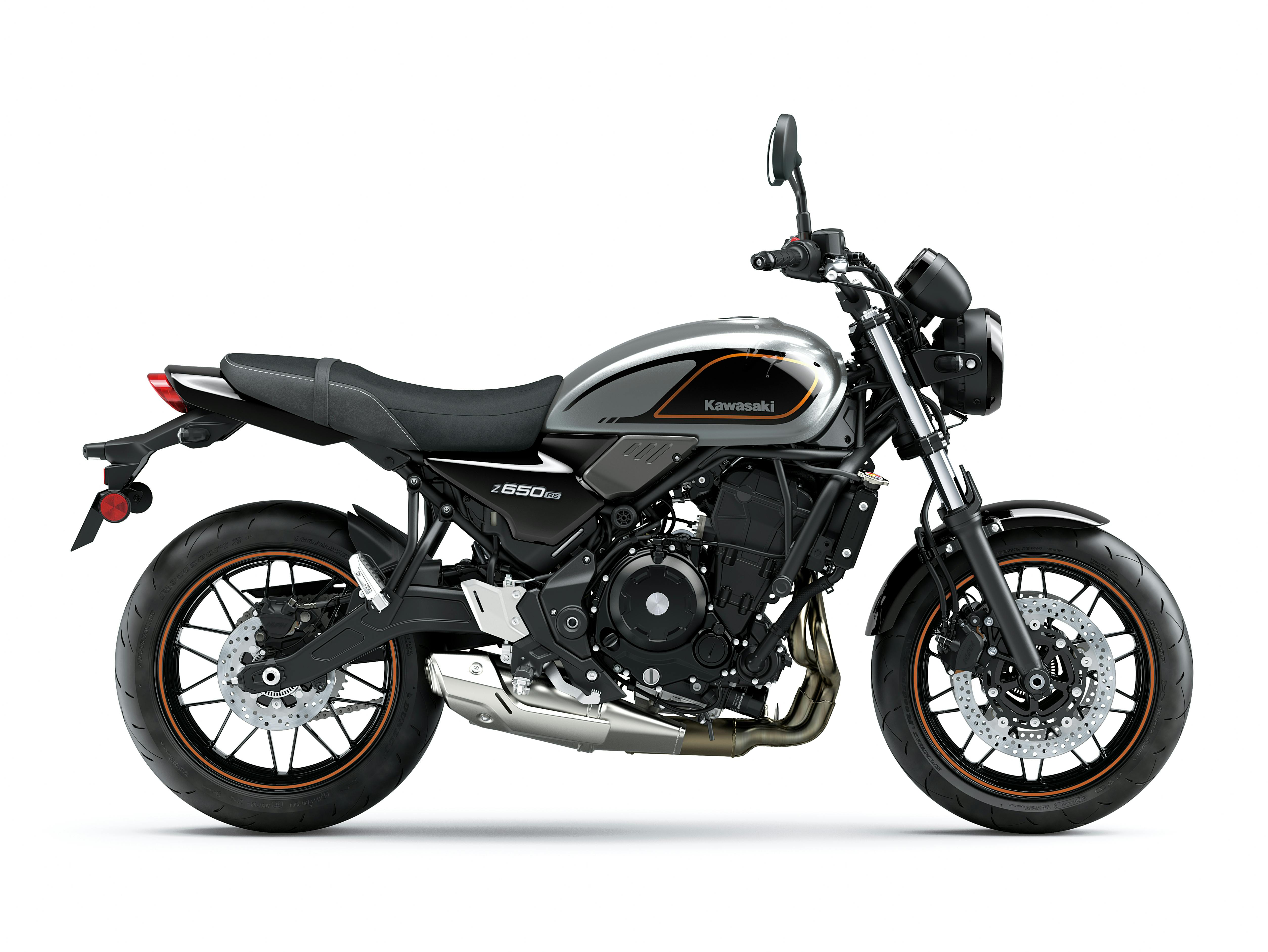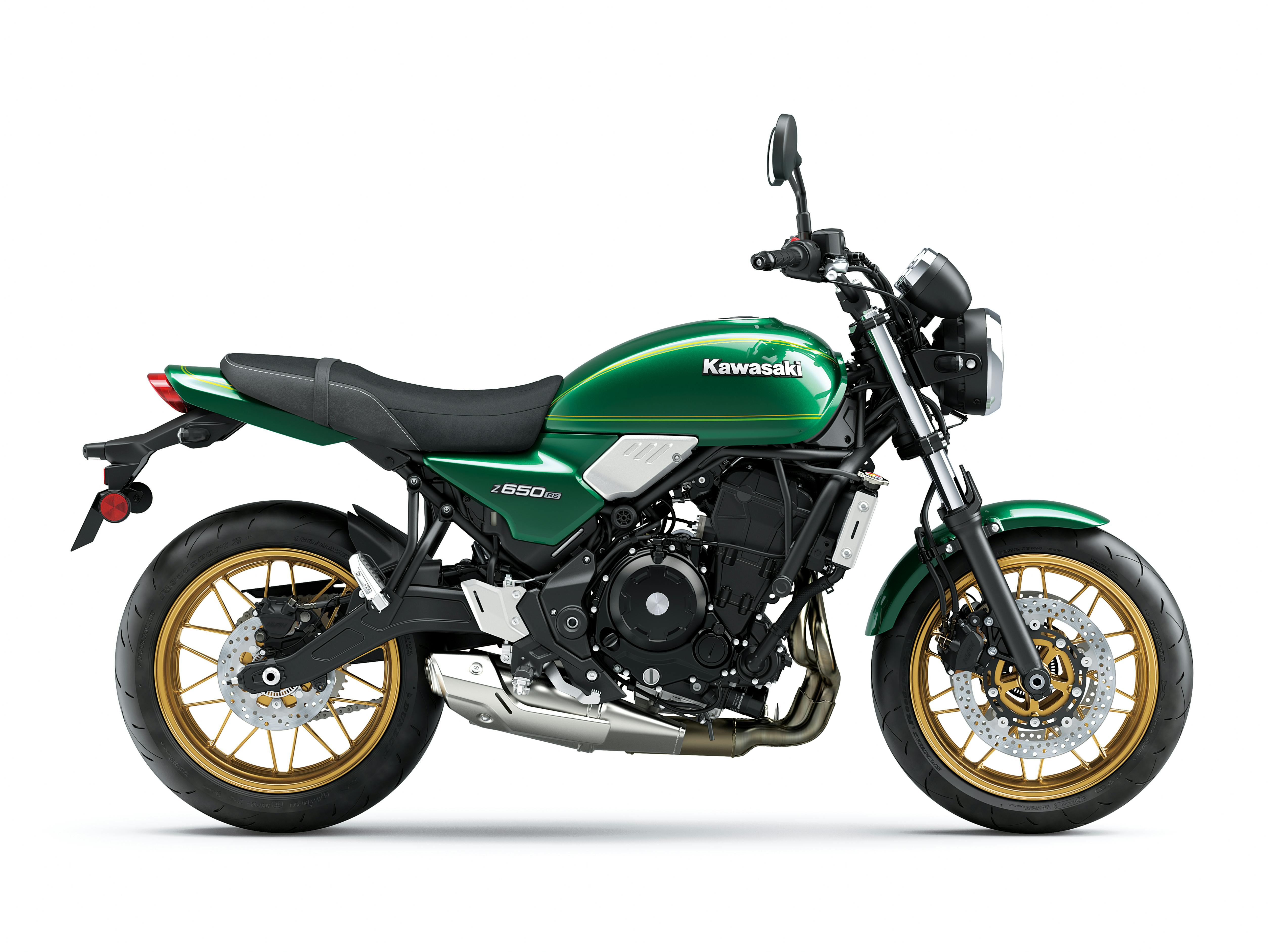 JOIN THE RETROVOLUTION
Kawasaki's new Z650RS mixes retro styling with cutting-edge sports technology. A traditional circular LED headlamp, needle instruments, bodywork and colours inspired by the 1970s, and a twin-cylinder engine combine to produce a beautiful neo-retro category reference point. With its meticulously distilled essence of RETROVOLUTION, the Kawasaki Z650RS is sure to please all riders.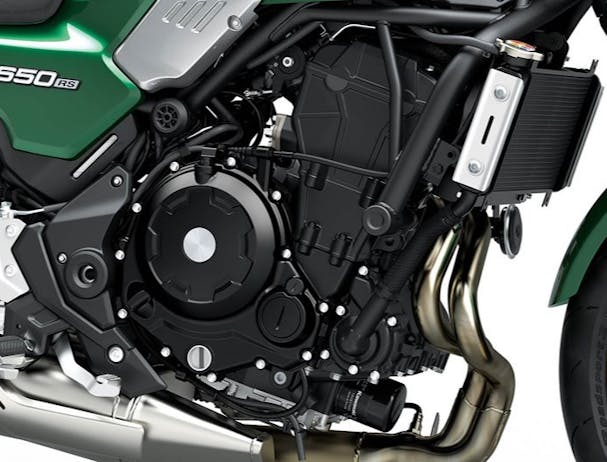 EXCITING PARALLEL TWIN ENGINE
The thrilling parallel-twin engine is designed for everyday riding and delivers a fast response, powerful low-mid range performance, and good fuel efficiency.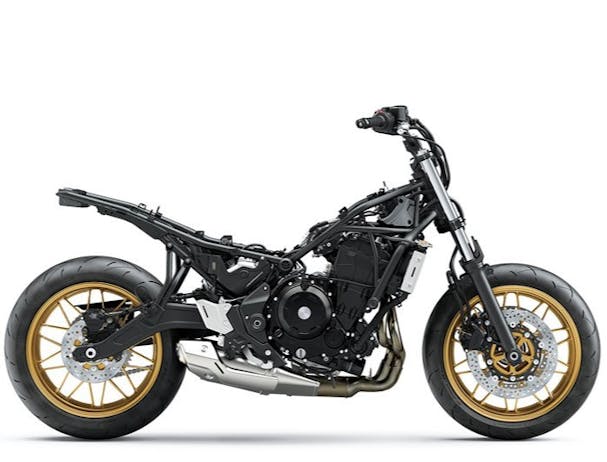 BALANCED HANDLING
The Z650RS has the balanced handling you'd expect from a vintage sports model owing to its low weight, thanks in large part to a 13.5 kg trellis frame and suspension settings optimized for light, natural response.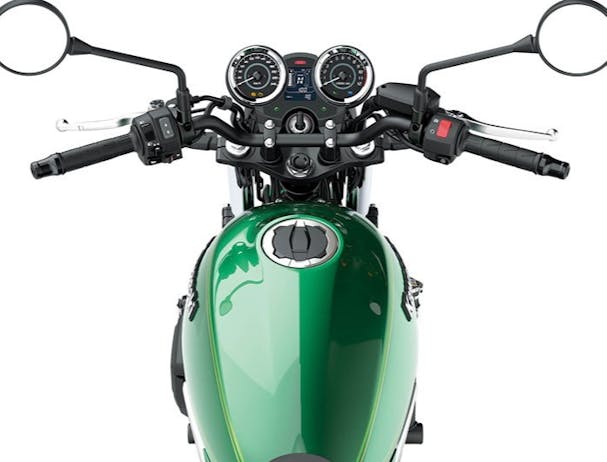 RELAXED & UPRIGHT
The Z650RS puts the rider in a natural, comfortable position that inspires confidence and enables control for a wide variety of riders, with a higher handlebar providing a more upright riding position and a little larger seat height allowing more legroom than the Supernaked Z650.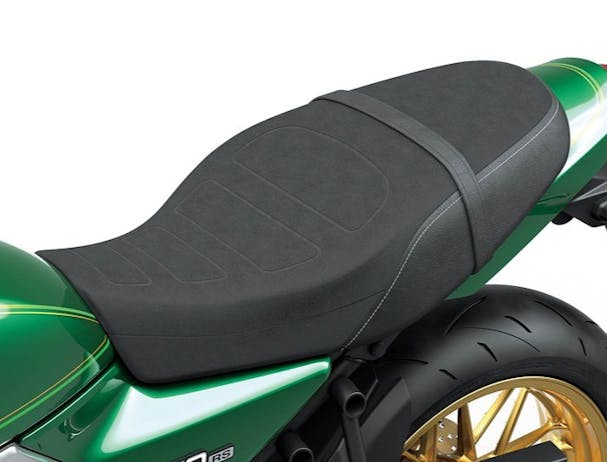 CONFIDENCE INSPIRING
A slim chassis and a low seat height of 800 mm that facilitate reaching the ground enable a wide range of riders to enjoy the Z650RS with confidence.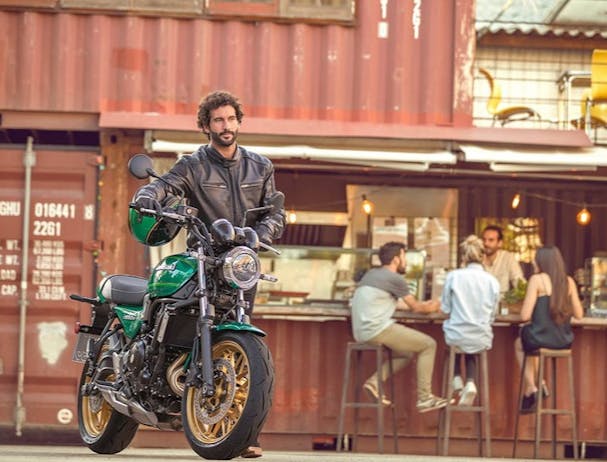 EASY MANOEUVRABILITY
The sleek shape, lightweight, and low seat height of the Z650RS all help with maneuverability, whether you're strolling beside the bike or paddling in a parking lot. Low-speed handling is made easier by the controlled power distribution and substantial low-end torque.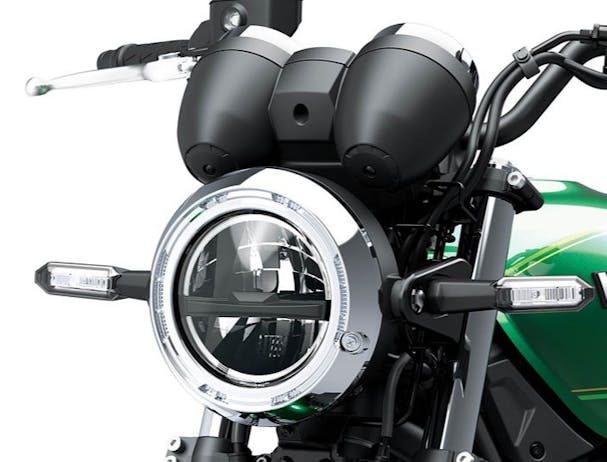 ROUND LED HEADLIGHT
A blend of retro and modern designs, the LED headlight features two chambers, both with position lamps to ensure the whole lamp appears lit, like a retro-style bulb headlight. The grooved design on the thick headlight ring adds a modern touch.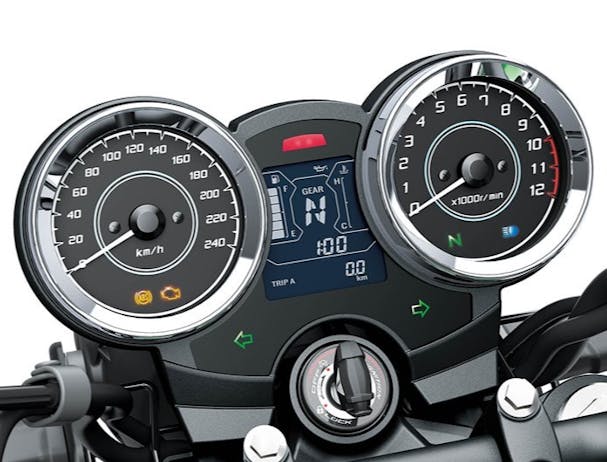 DUAL-DIAL INSTRUMENTATION WITH MULTI-FUNCTION LCD
Analogue-style speedometer and tachometer dials are complemented by a multi-functional LCD screen, balancing retro-style looks with modern functionality.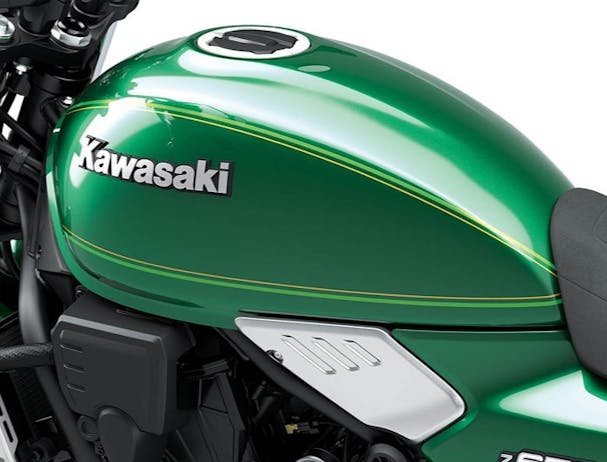 SLIM FUEL TANK
Retro-style fuel tank design uses edges dividing the top and sides of the tank to emphasise its compact size. With a volume of 12 litres, it is narrow between the knees, contributing to a slim ergonomic package.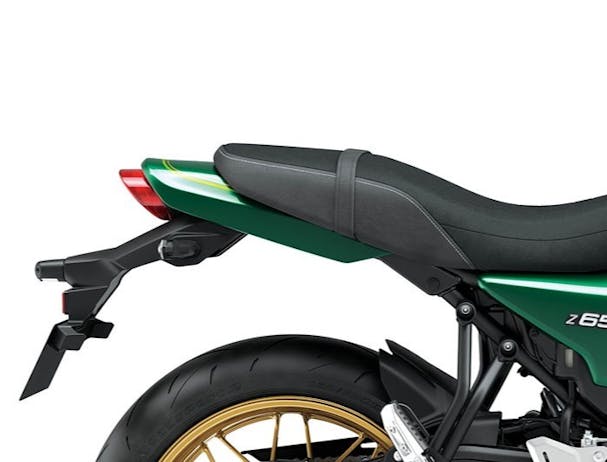 COMPACT, HORIZONTAL TAIL
Compared to the upswept tail of the Z650, the tail of the Z650RS traces a horizontal line, contributing to the bike's flat stance. The tail – shorter than that of the Z900RS, which reinforces the light, casual styling theme – is adorned with an LED taillight. An original-design seat adds to the retro-sport image.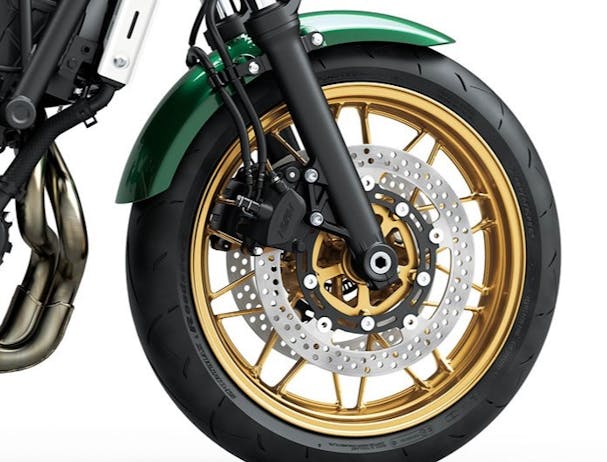 SPOKE-STYLE CAST WHEELS
Flat spokes meant to seem like traditional wire-spoked wheels are included on Kawasaki-original cast wheels, comparable to those found on the Z900RS. The wheels strike a mix between lightweight and attractive aesthetics, contributing to both handling and a retro-inspired style.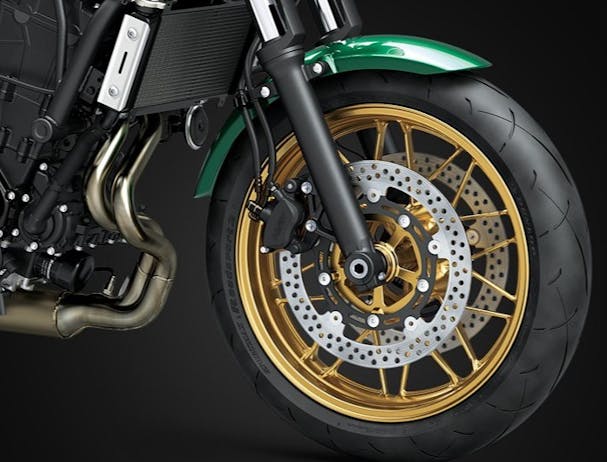 STOP WITH CONFIDENCE
Twin 300mm front disc brakes with dual-piston callipers and a 220mm rear disc brake provide ample stopping power, while round discs add to the retro-sport appearance of the bike. The Z650RS comes equipped with anti-lock brakes to give you even greater confidence while stopping.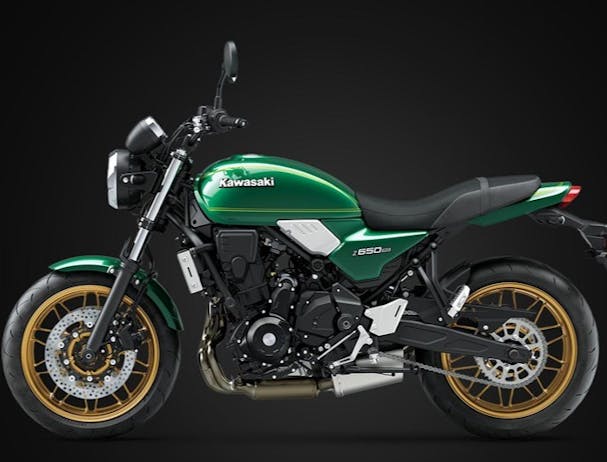 COMFORT FOR THE LONG HAUL
The progressive ride character is provided by a telescopic front fork and a horizontal back-link rear suspension. The end result is a smooth ride with robust athletic performance.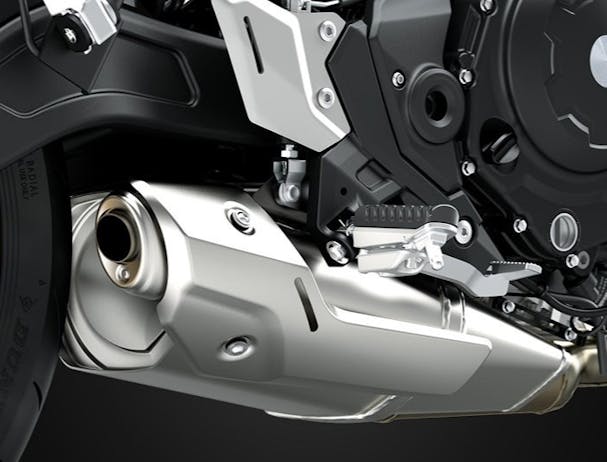 MORE THAN A MUFFLER
The bike's nimble handling performance and head-turning style are aided by the under-engine muffler, which enhances mass centralization and reduces the bike's centre of gravity.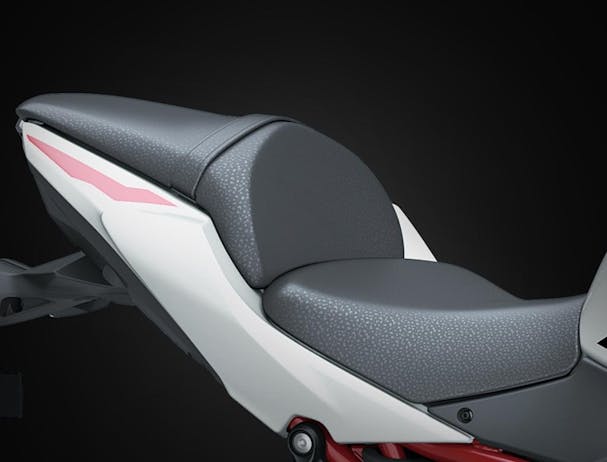 RIDE CONFIDENTLY
Low seat height and a tapered seat design allow for simple foot placement at stops, while upright seating gives a commanding riding position with heads-up sight for a safe ride.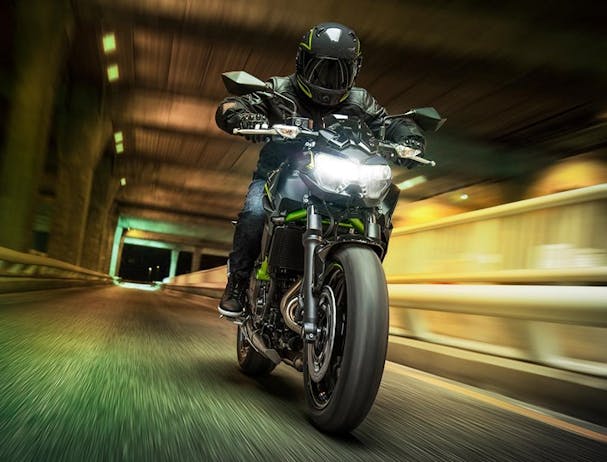 COMFORTABLE POSITIONING
A thoughtful footpeg position offers a relaxed knee bend for rider comfort.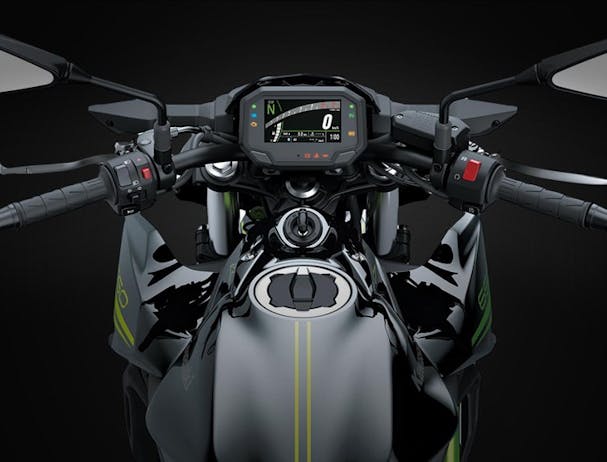 EASY MANEUVERABILITY
A wide handlebar contributes to easy low-speed maneuvering and better leverage for higher-speed cornering.2020 model shown.