KAWASAKI NINJA H2 SX SE (Demonstrator)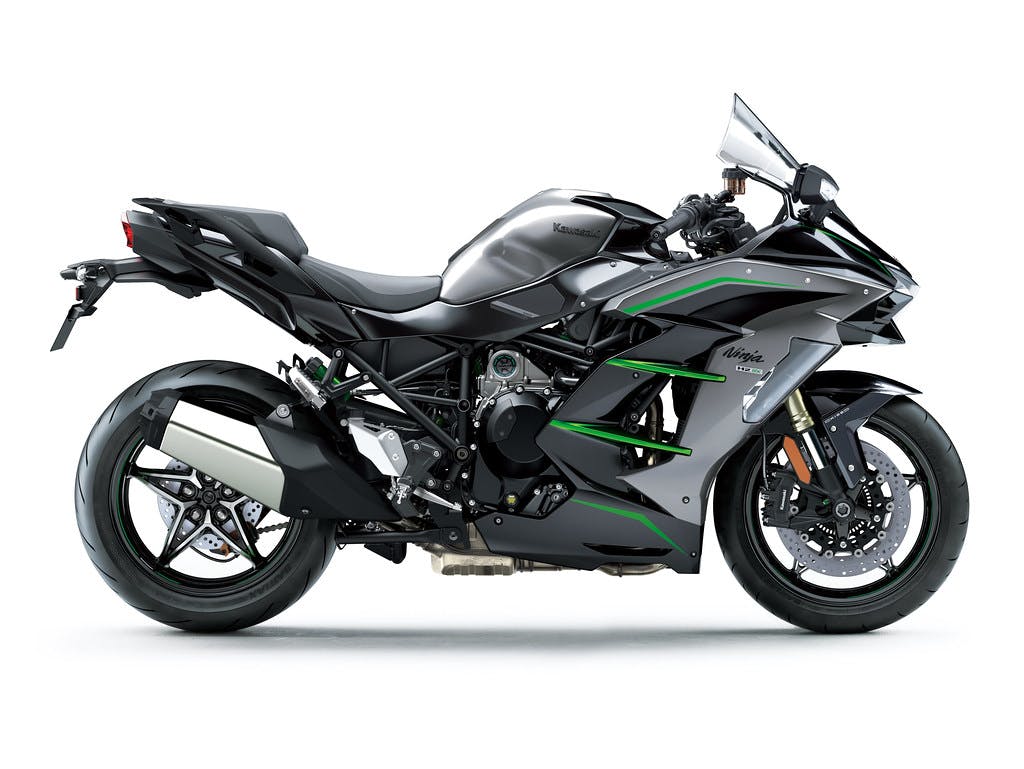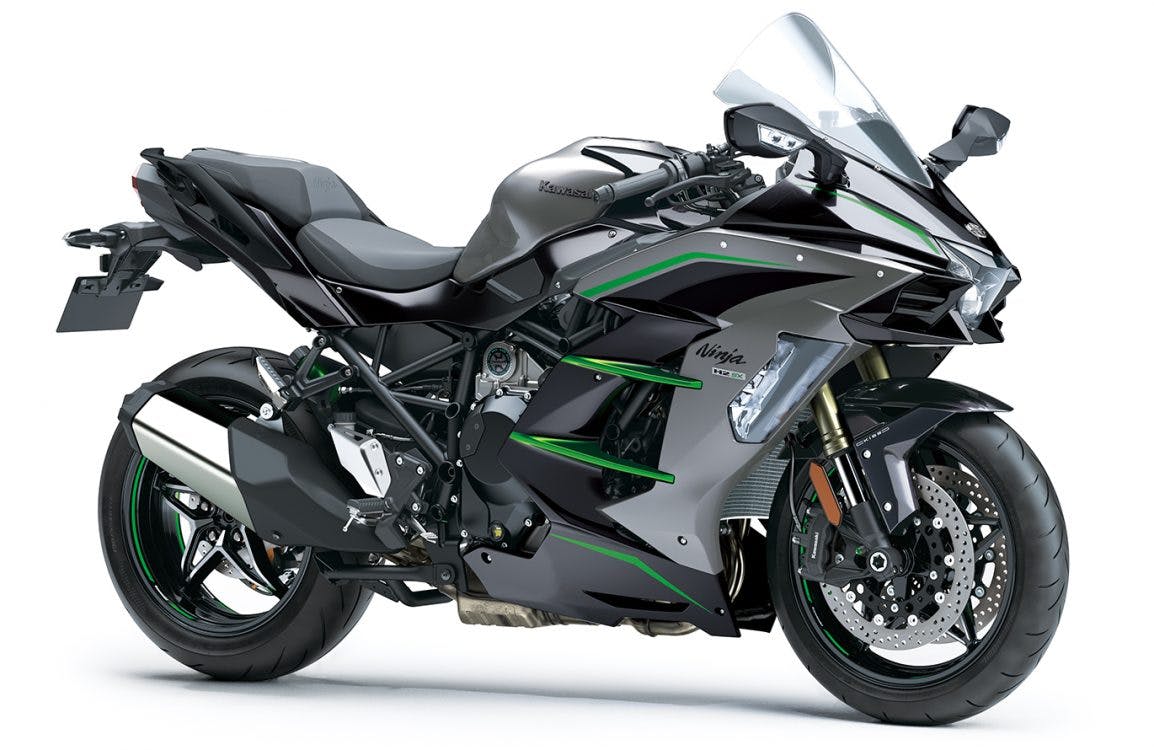 SUPERCHARGE THE JOURNEY
The Ninja H2 SX SE model in Kawasaki provides a new height of luxury and performance. For daily road scenarios, the balanced supercharged engine was designed to ensure comfortable, long distance drives, exciting acceleration and excellent fuel efficiencies. Enjoy your thrilling ride with innovative features that differentiate the supercarrier bike as an emblem of sport, comfort and style.
730km on demo model
1st service has been completed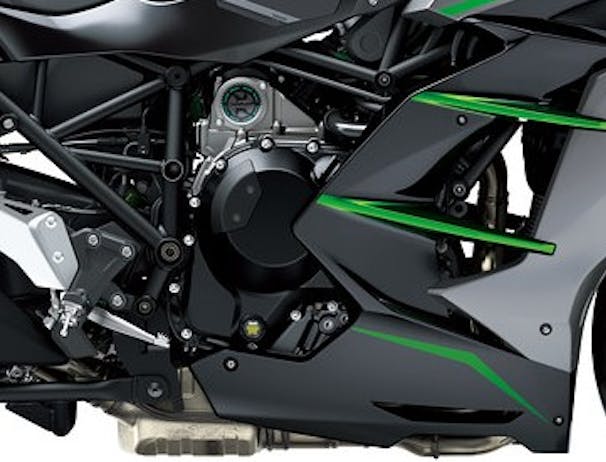 POWER FOR THE DISTANCE
The supercharged engine of the Ninja H2 SX SE produces incredible energy for extraordinary pace. The noisy rumble of the driven liter engine is a sound that the streets won't forget shortly.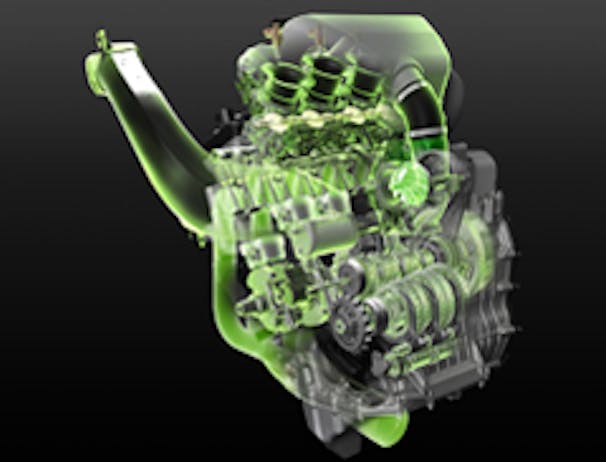 POWERFUL & EFFICIENT
The super-charger of the Ninja H2 SX SE has been designed to provide energy and strength. When the supercharger operates in combination with the engine, it allows the application of high-efficiency over a larger variety of conditions than any other.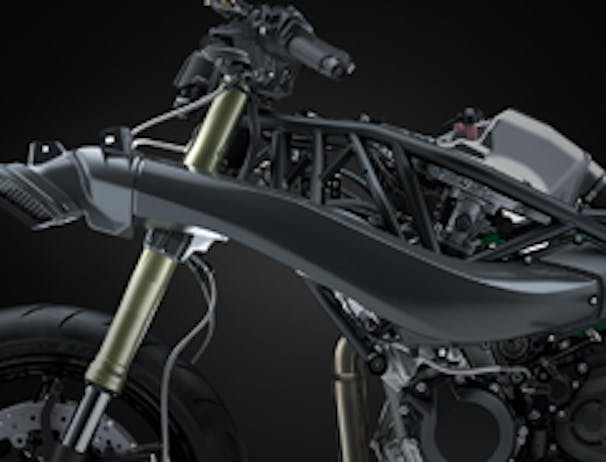 OPTIMAL AIRFLOW
The Ninja H2 SX SE engine was equipped with a Ram Air line which transmits fresh air to the surcharger in the straightest possible line to boost supercharger efficiency to satisfy the airflow requirement of the supercharging engine.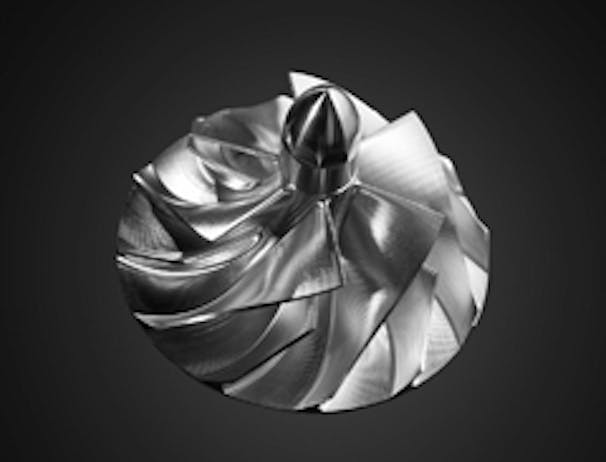 PRECISELY ENGINEERED
The structure and angle of the supercharger pads of the Ninja H2 SX SE motorcycle are tailored for a high performance engine. For accuracy and reliability, the complex impeller consists of a forged aluminum block with a 5-axis CNC machining core.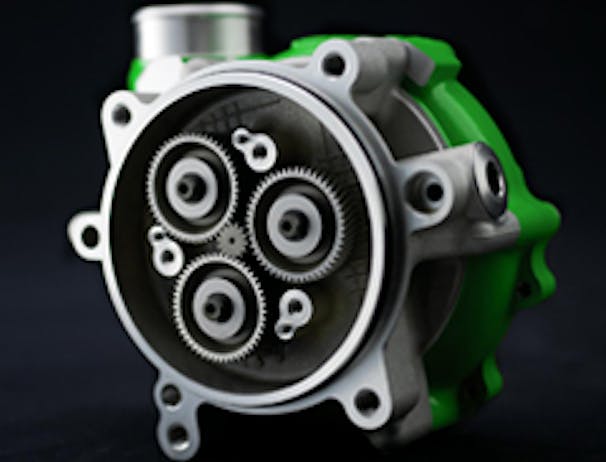 BUILT FOR PERFORMANCE
The planetary gear train runs off the crankshaft—with speed stepped up by an intermediary gear—ultimately producing an impeller rotation of 9.2x the crank speed, reaching maximum speeds of nearly 130,000 rpm, to produce optimal airflow.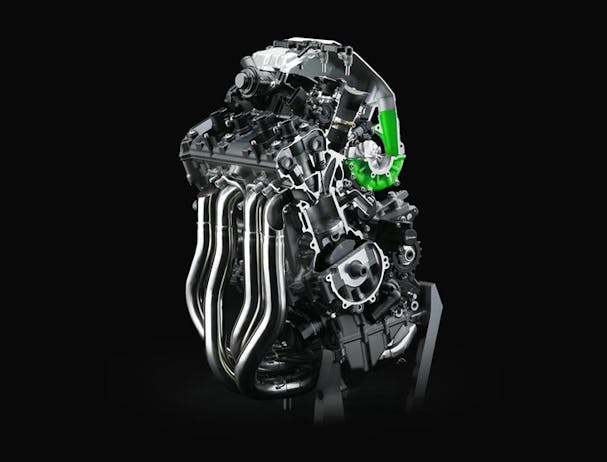 ABSOLUTE POWER
The balanced high-speed motor has been created for regular road driving and provides a flexible engine feature that facilitates comfortable long distance driving, simple handling at low speeds, exhilarating acceleration and excellent fuel efficiency.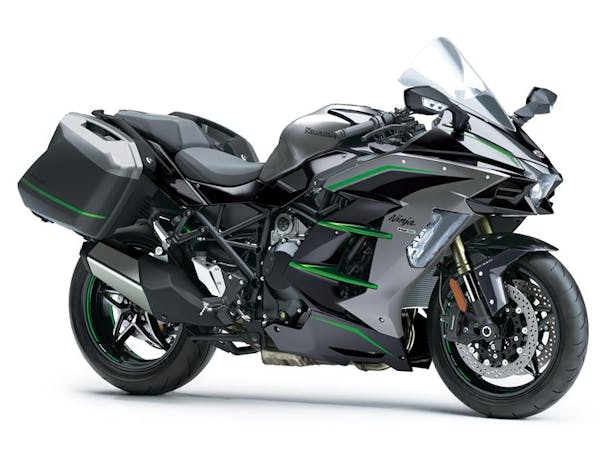 INTELLIGENT & HIGH-TECH
Key upgrades offer the Ninja H2 SX SE with Kawasaki's most sophisticated electronics control technologies culminating in a precise knowledge of the chassis orientation that allows a rider to adjoin a variety of roads and road conditions.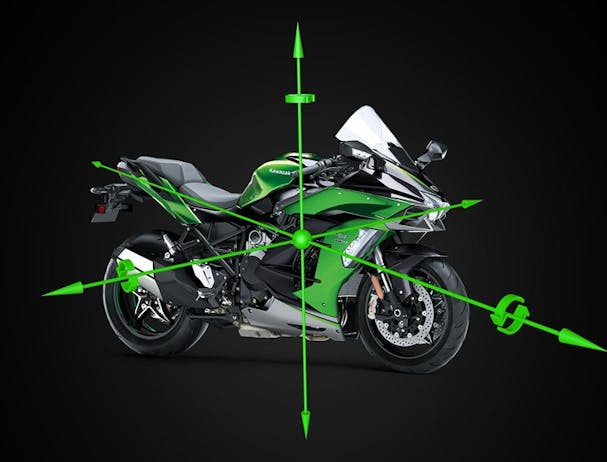 INTERTIAL MEASUREMENT UNIT
Compact IMU allows for monitoring of inertia over 6 degrees of freedom. Acceleration is measured along longitudinal, cross- and vertical axes plus rolling rate and pitch.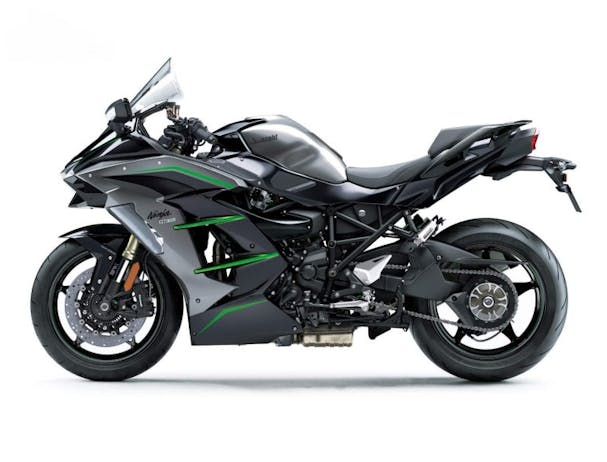 CORNERING MANAGEMENT FUNCTION
Kawasaki Cornering Management Function - KCMF - monitors engine and chassis parameters through the corner, modulating brake force and engine power for smooth transitions while assisting riders in tracing their intended line.
USEFUL INFORMATION AT A GLANCE
NEW all-digital TFT (thin-film transistor) color instrumentation gives the cockpit a high-tech, high-grade appearance and visibility. The screen's background color is selectable (black or white), and screen brightness adjusts automatically to suit available light.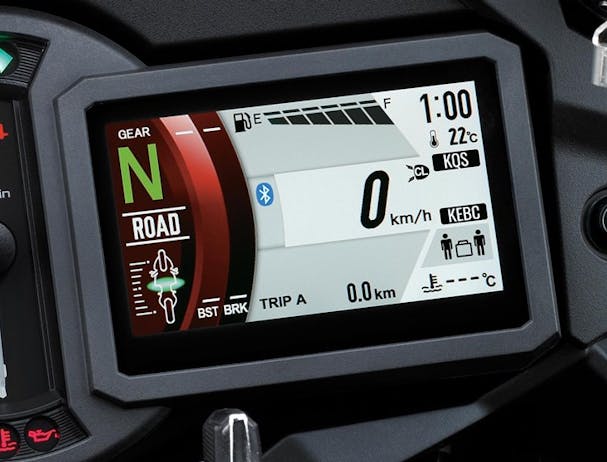 FULL, MIDDLE & LOW
The Ninja H2 SX SE motorcycle comes with three power modes: Full, Middle and Low, allowing riders to select power delivery to suit their preference and riding conditions.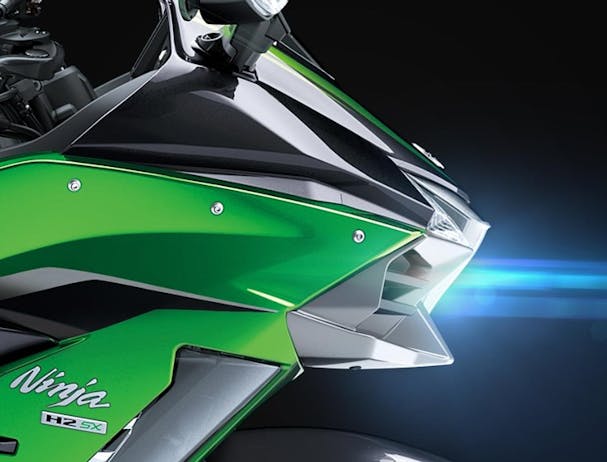 EXCELLENT VISIBILITY
The Ninja H2 SX SE motorcycle is equipped with LED lights from headlamp to taillight.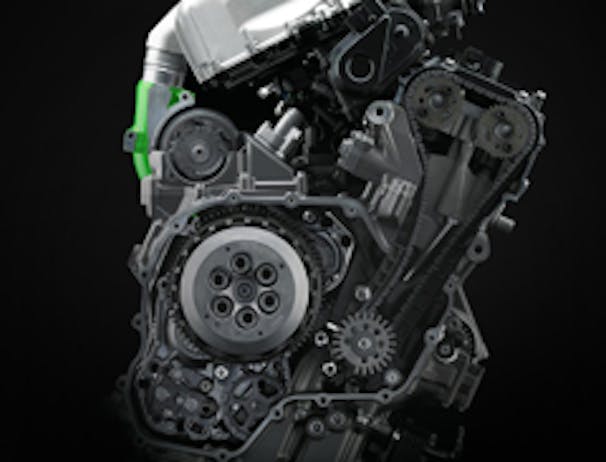 SUITED TO YOUR RIDE
This system allows riders to set engine braking according to preference. When the system is activated, the engine braking effect is reduced, providing less interference when sport riding.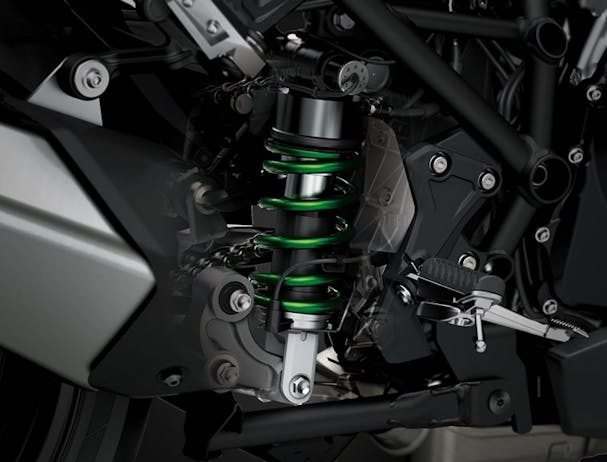 SUPERSPORT-GRADE
The fully adjustable Uni-Trak rear suspension delivers a balance of ride comfort and sport performance while the remote shock preload adjuster allows easy preload adjustment to better accommodate varying loads or riding styles.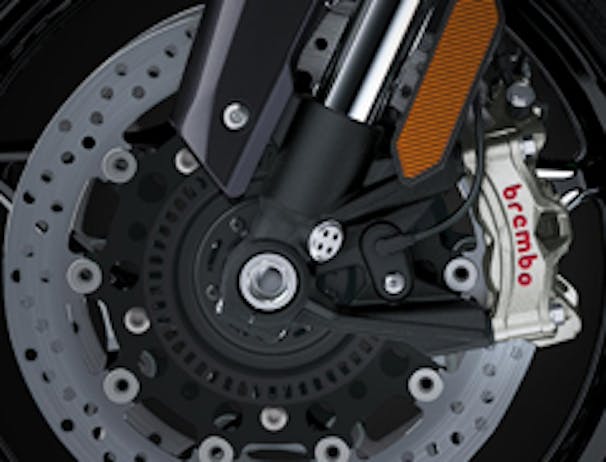 SUPERB STOPPING POWER
In the front, 2 massive 320mm semi-floating discs are gripped by dual radial-mount, opposed 4-piston, monobloc calipers, delivering strong braking force and superb feel. In the rear, a 250mm disc with twin-piston caliper provides strong braking performance.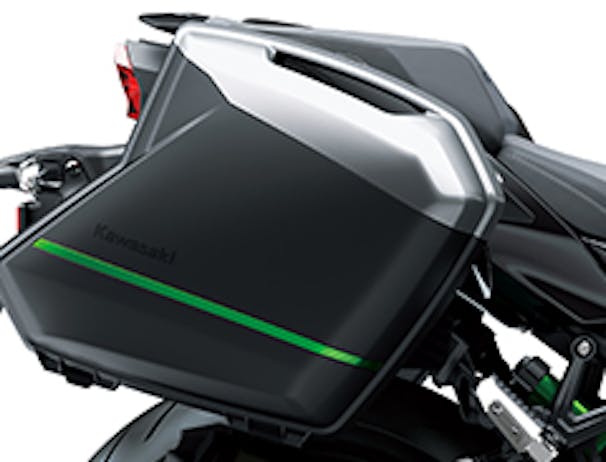 QUICK & CONVENIENT
The clean-mount saddlebag system allows for the optional Kawasaki Quick Release - KQR - 28 Litre Hard Saddlebag Set* to be easily attached and removed for increased convenience.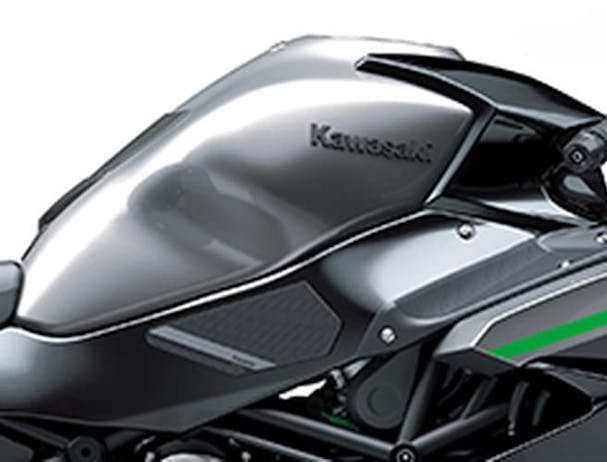 GO THE DISTANCE
The Ninja H2 SX SE motorcycle's superb fuel efficiency combined with a 19 litre fuel tank delivers outstanding cruising range. Added comfort comes thanks to a balance of wind protection and aerodynamics produced by the full-fairing bodywork.