ENGINEERED TO BE FREE
The new Kawasaki Ninja H2 SX is Kawasaki's most advanced sport-tourer ever; the ultimate integration of the highest standards of technology, performance and riding comfort.
New dedicated features like the ARAS system provide real-world benefits including adaptive cruise control and blind-spot detection. Integrated into the new 6.5" colour TFT instrumentation is Kawasaki's SPIN Infotainment system. Experience the exhilaration of the unique Balanced Supercharged Engine for both long-distance touring and daily riding.
The best technology is that which becomes a natural extension of ourselves and sets us free.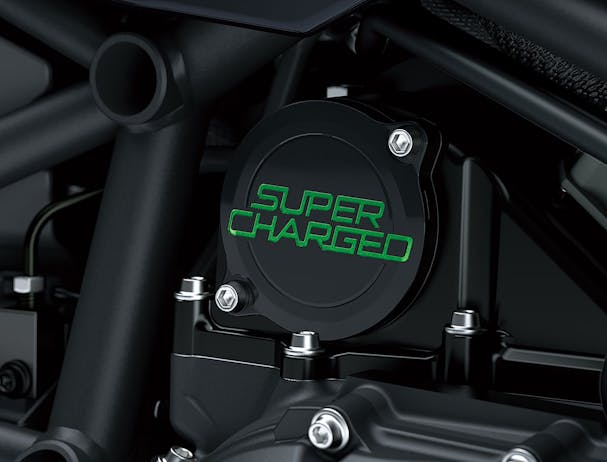 SUPERCHARGED ENGINE
Kawasaki's supercharged engine delivers high engine output while maintaining a compact design. The key to achieving this incredible performance lies in the engine's supercharger – a motorcycle-specific unit designed.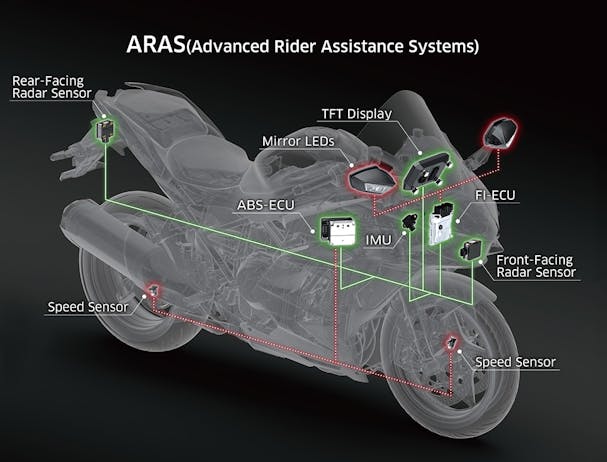 ACC (Adaptive Cruise Control)
A more advanced version of Electronic Cruise Control, ACC maintains the speed set by the rider but adjusts the vehicle speed to maintain a suitable following distance from the vehicle in front.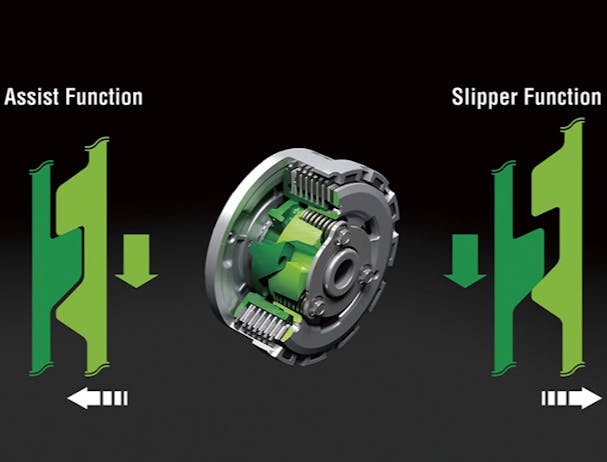 ASSIST & SLIPPER CLUTCH
Based on feedback from racing activities, the Assist & Slipper Clutch uses two types of cams (an assist cam and a slipper cam) to either drive the clutch hub and operating plate together or apart.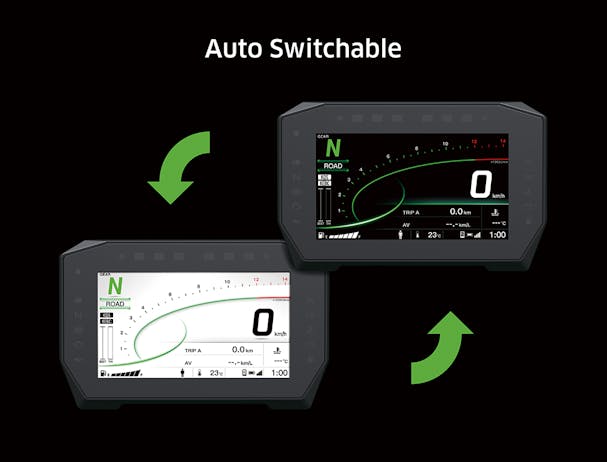 ECONOMICAL RIDING INDICATOR
The Economical Riding Indicator is a function that indicates when current riding conditions are consuming a low amount of fuel. The system continuously monitors fuel consumption, regardless of vehicle speed, engine speed, throttle position and other riding conditions.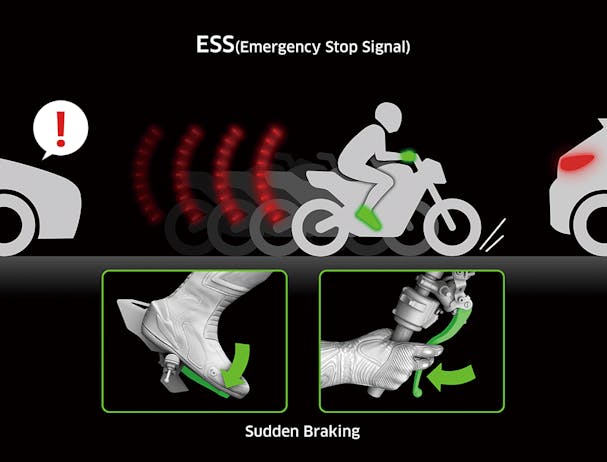 ESS (EMERGENCY STOP SIGNAL)
During hard braking, ESS causes the brake light to flash – a visual clue to following vehicles calling attention to the bike's quick deceleration.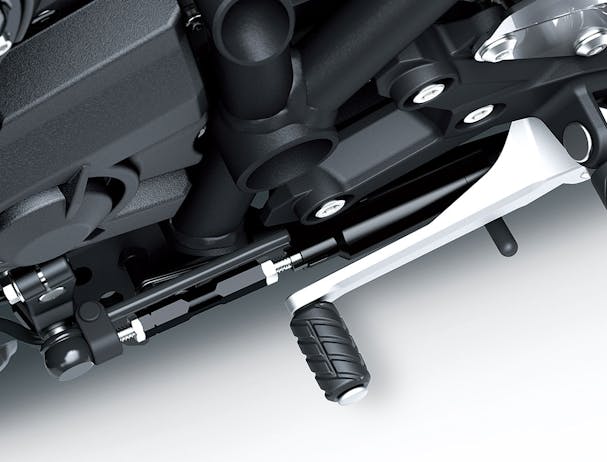 KQS (KAWASAKI QUICK SHIFTER)
Designed to help riders maximize their acceleration on the track by enabling clutchless upshifts with the throttle fully open, KQS detects that the shift lever has been actuated and sends a signal to the ECU to cut the ignition.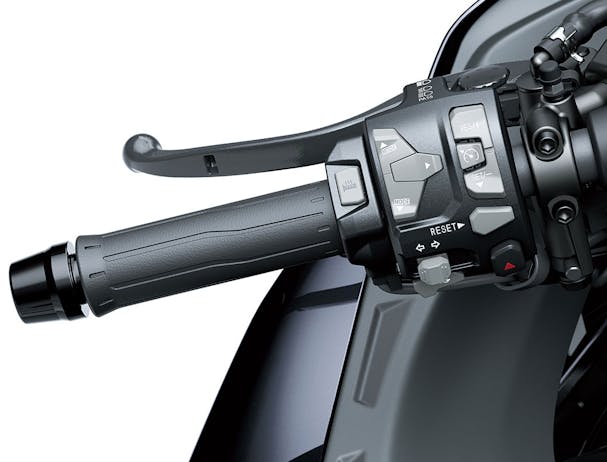 POWER MODES
Models equipped with multiple Power modes offer riders an easily selectable choice of engine power delivery to suit riding conditions or preferences. In addition to Full Power mode, one (Low) or two (Middle, Low) alternate mode(s) in which maximum power is limited.
SMARTPHONE CONNECTIVITY
Clever technology enables riders to connect to their motorcycle wirelessly. Using the smartphone application "RIDEOLOGY THE APP," a number of instrument functions can be accessed, contributing to an enhanced motorcycling experience.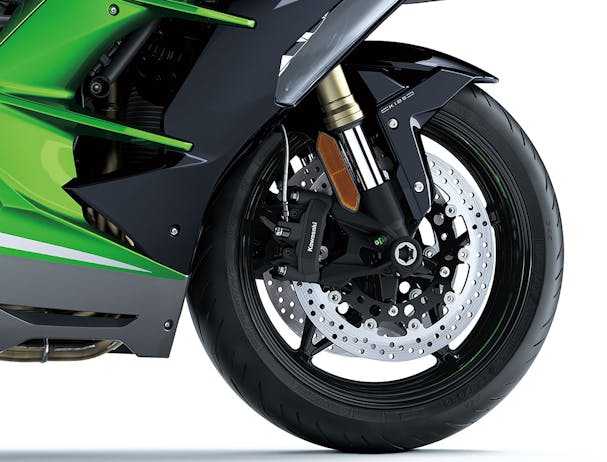 ABS (ANTI-LOCK BRAKE SYSTEM)
Should information from either of the sensors indicate that wheel lock has occurred, the ABS ECU directs the pump in the ABS unit to modulate brake fluid pressure (releasing and reapplying pressure so that traction can be regained) until normal operation resumes.
The Kawasaki Engine Brake Control system allows riders to select the amount of engine braking they prefer. When the system is activated, the engine braking effect is reduced, providing less interference when riding on the track.