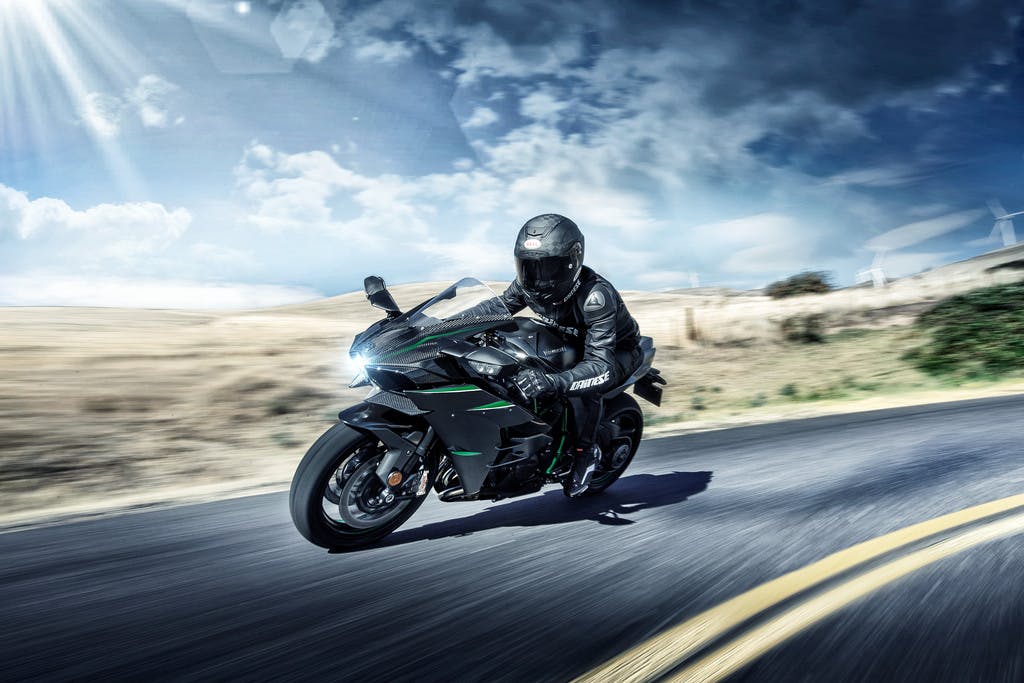 BUILT BEYOND BELIEF
An extension of the "Built Beyond Belief" concept of the original Ninja H2, the new Ninja H2 Carbon benefits from engine updates that increase maximum power to 231 PS† – making these supercharged supersport machines Kawasaki's most powerful street models ever. † This engine is rated in PS power units. Gross power is different from net power. Net power is generally less than gross, but varies with engine specifications. Gross power is a general measure to compare one engine to another, as to its overall capacity. Your specific engine net power rating will be different and most likely less than the rated power. As of August 2018 (per Kawasaki market research)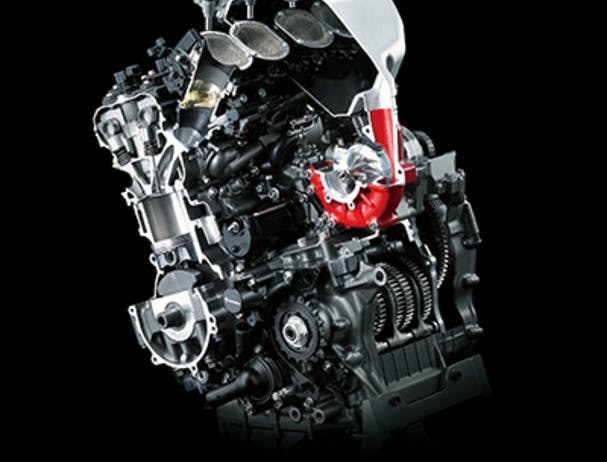 MORE POWERFUL ENGINE
Increased Power:  231PS! With its significantly increased power, the Ninja H2's supercharged acceleration is more exhilarating than ever.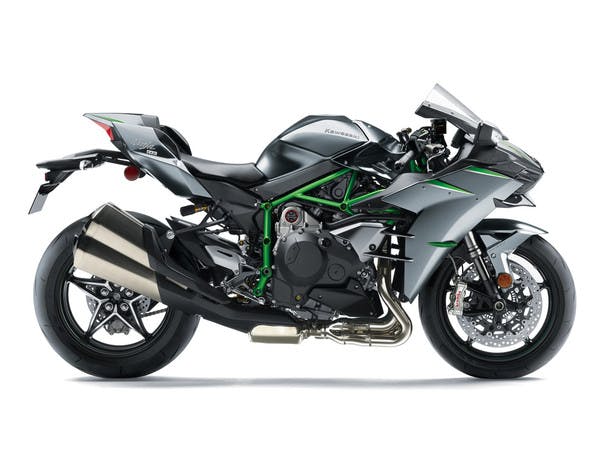 CHANGES FOR 2019MY
2019MY Ninja H2 Carbon has number of new and updated features, engine max power 231PS, Brembo Sylema front calipers, a Bluetooth chip built in the instrument panel enables riders to connect wirelessly to their smart phone.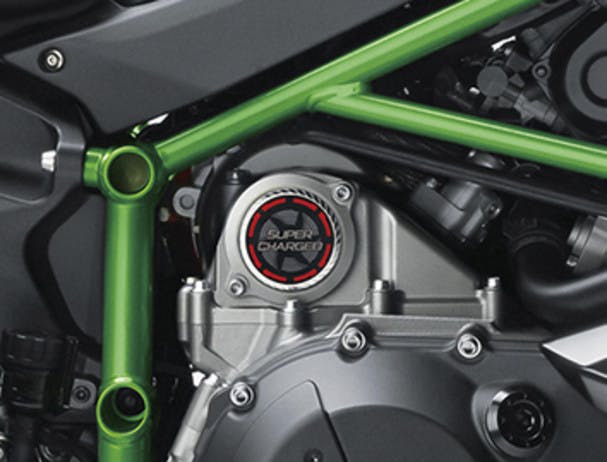 IN-HOUSE-DESIGNED SUPERCHARGER
The supercharger used in the Ninja H2 was designed by Kawasaki motorcycle engine designers with assistance from other companies within the KHI Group, namely the Gas Turbine & Machinery Company.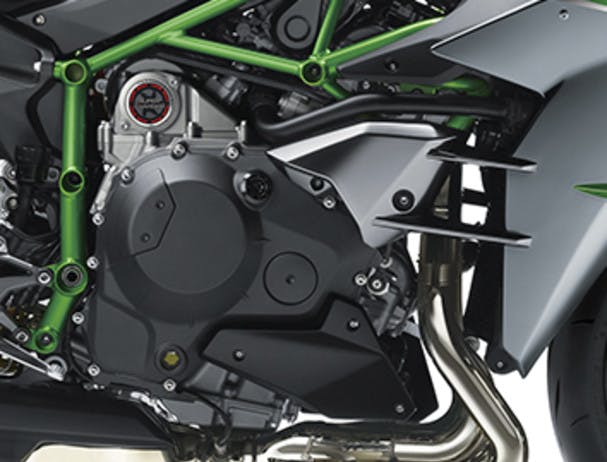 998CM³ INLINE 4-CYLINDER ENGINE
The engine was painstakingly crafted to accommodate the extreme air pressure created by a supercharger, Cast (rather than forged) through a unique process, the pistons of the Ninja H2 Carbon are lightweight - yet strong.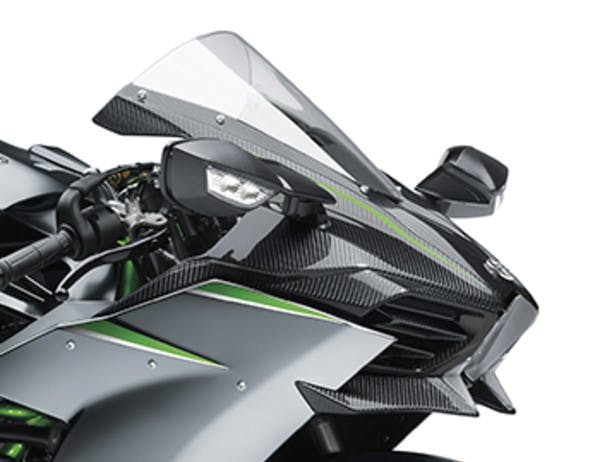 CARBON-FIBRE UPPER COWL
Constructed in highly rigid, lightweight CFRP (carbon-fibre reinforced polymer), the upper cowl instantly distinguishes the Ninja H2 Carbon from the standard Ninja H2.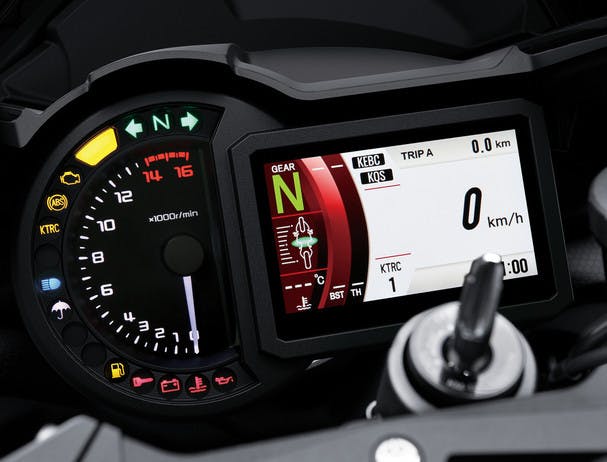 TFT INSTRUMENTATION
A Bluetooth chip built into the instrument panel enables riders to connect to their motorcycle wirelessly.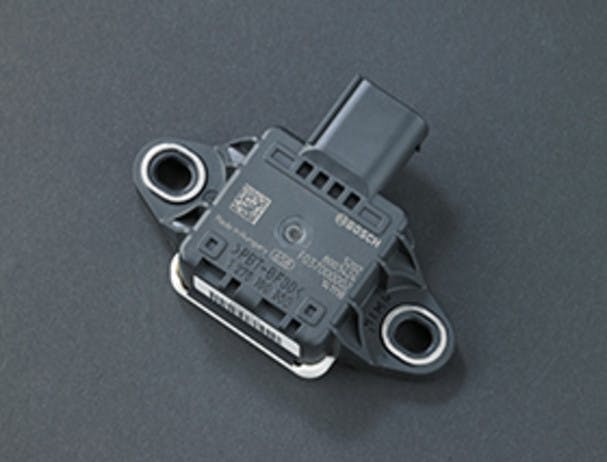 BOSCH IMU (INERTIAL MEASUREMENT UNIT)
The Ninja H2 Carbon compact IMU operates in 6 DOF (degrees of freedom): 5 measured + 1 calculated.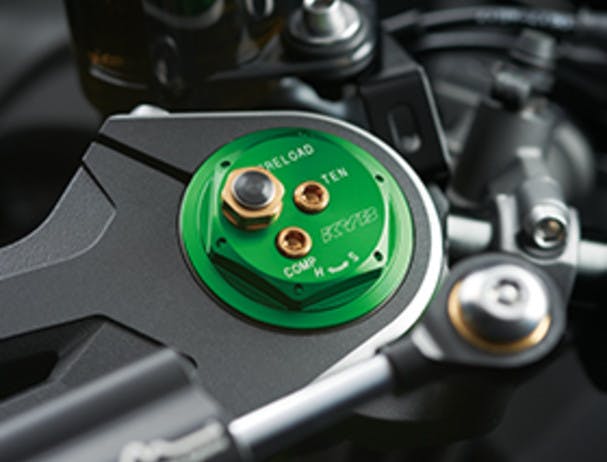 FRONT SUSPENSION
KYB AOS-II high quality racing suspension is fitted to the Ninja H2 Carbon. Based on the Air-Oil Separate cartridge fork developed for motocross racing.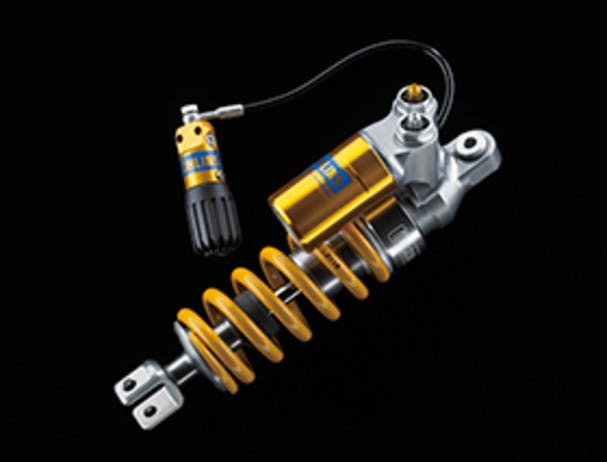 ÖHLINS TTX36 REAR SUSPENSION
The addition of Öhlins' highly acclaimed TTX shock offers numerous rider benefits is Increased rear stability, enhanced cornering performance and Increased rider confidence on circuit.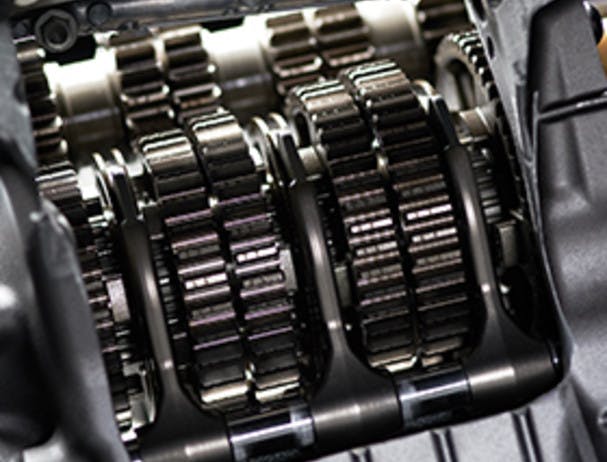 THE TRANSMISSION
To facilitate smooth, quick shifting, a dog-ring type transmission was selected. This is the kind of transmission commonly found in MotoGP or Formula 1, and was developed with feedback from the Kawasaki Racing Team.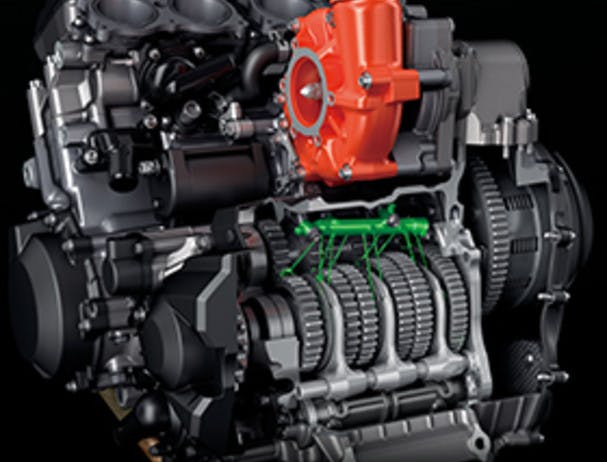 OIL JETS
In the interest of keeping the engine compact and simple, a single lubrication system provides cooling oil for the engine components, supercharger and transmission.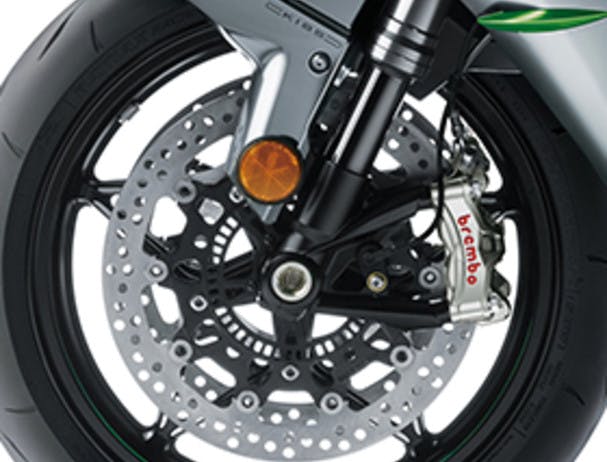 BRAKES
A pair of massive ø330 mm Brembo semi-floating discs with a thickness of t5.5 mm deliver superb braking force. Combined with Brembo's Stylema monobloc calipers which are the company's latest high-spec street-use calipers.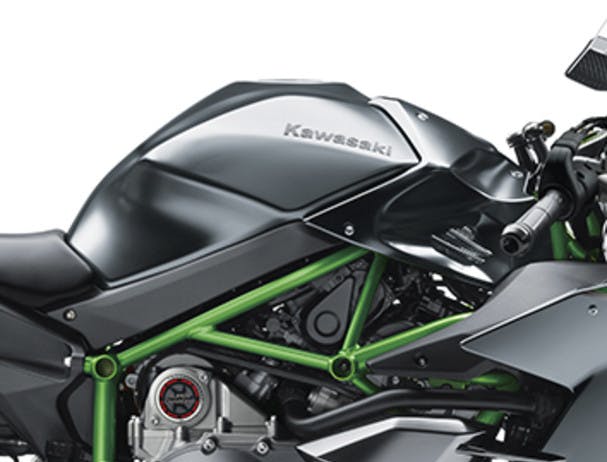 HIGHLY DURABLE PAINT
Kawasaki's new Highly Durable paint features a special coat that allows scratches to repair themselves, enabling the paint to maintain its high-quality finish†.  * Soft and hard segments in the coat work together like a chemical spring.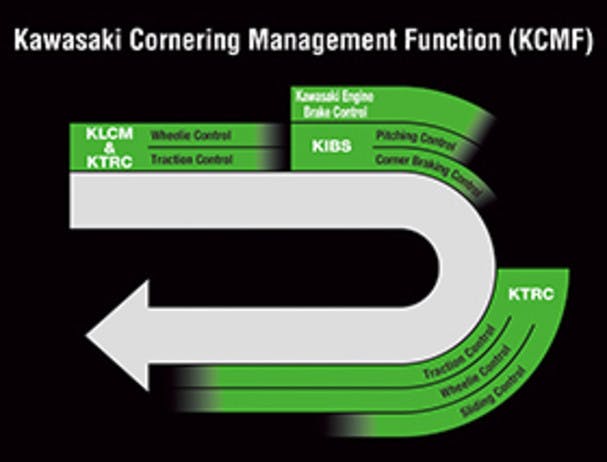 KCMF (KAWASAKI CORNERING MANAGEMENT FUNCTION)
KCMF monitors engine and chassis parameters throughout the corner—from entry, through the apex, to corner exit—modulating brake force and engine power to facilitate smooth transition from acceleration to braking and back again.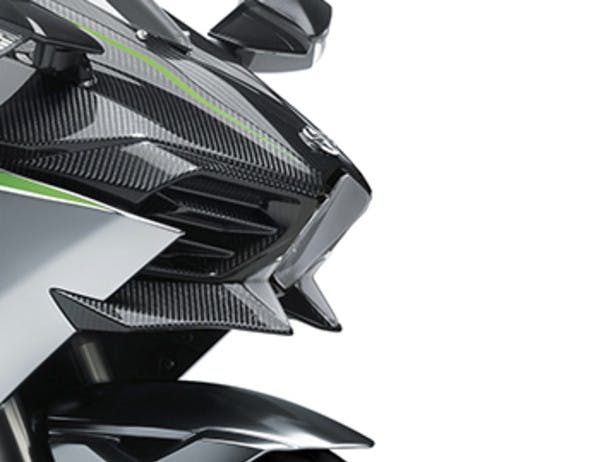 ALL-LED LIGHTING
A change to a LED-type license plate lamp means that all lighting equipment (headlamp, position lamps, taillight, turn signals and license plate lamp) on the Ninja H2 Carbon is now LED.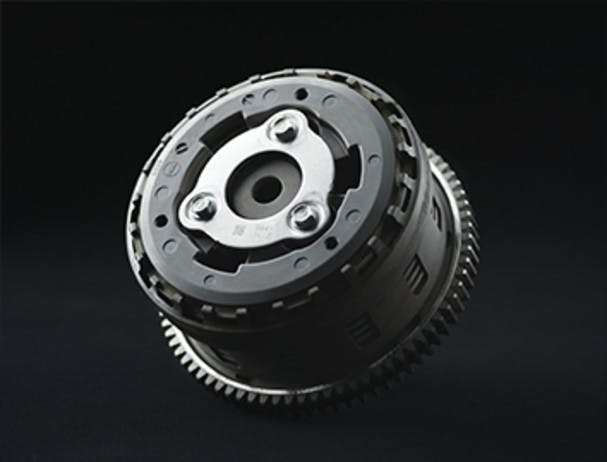 ASSIST & SLIPPER CLUTCH: LIGHTER LEVER OPERATION
A high-quality hydraulic clutch offers less maintenance, ensuring the initial touch condition can be maintained. And with Brembo components, superb linearity and smooth actuation are also benefits.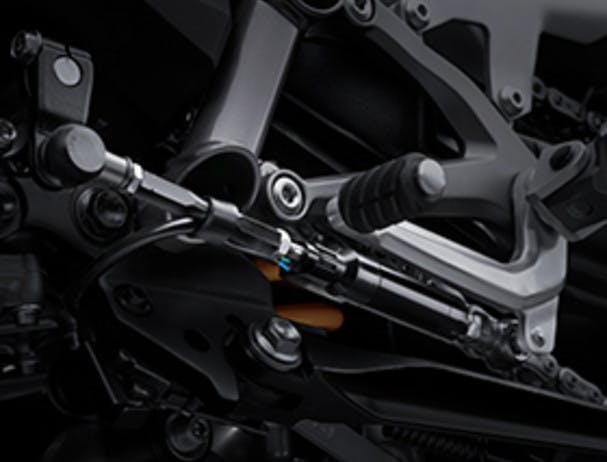 KQS (KAWASAKI QUICK SHIFTER)
With the Ninja H2 Carbon engine's strong power and the superb dog-ring transmission, a contactless-type quick shifter enables quick up-shifts and down-shifts for seamless acceleration.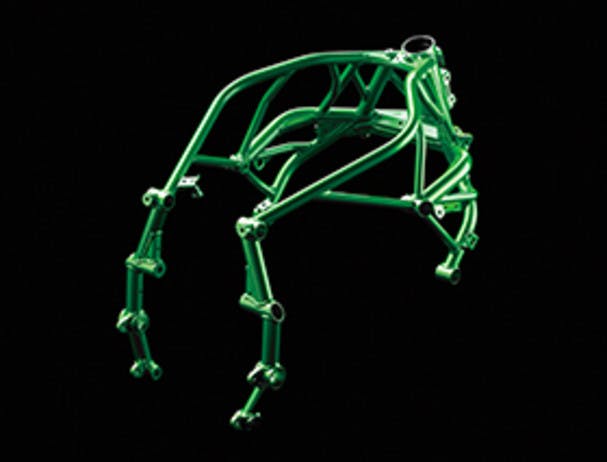 GREEN TRELLIS FRAME
The green trellis frame is retained for Ninja H2 Carbon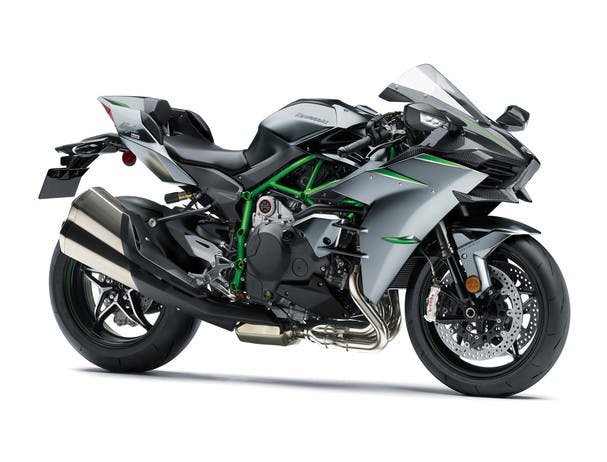 AERODYNAMICALLY-DESIGNED BODYWORK
It is no accident that when viewed from the side, the Ninja H2 Carbon does not seem to have the aggressive forward-canted stance of most modern supersport models.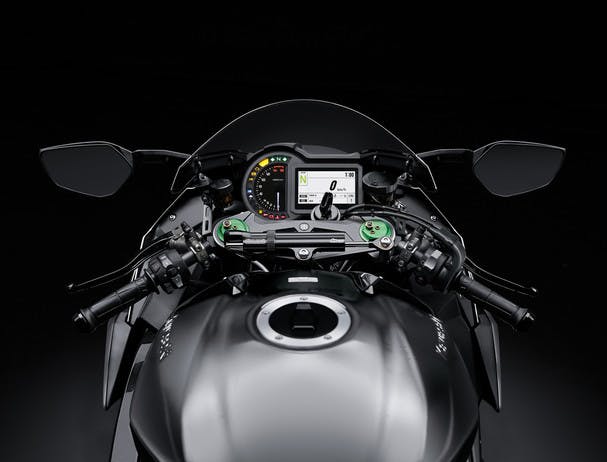 MAN-MACHINE INTERFACE
Although the Ninja H2 Carbon's high performance cannot be denied, since it was not intended to be a race bike designed to turn quick lap times as efficiently as possible, it did not need the spartan accommodation.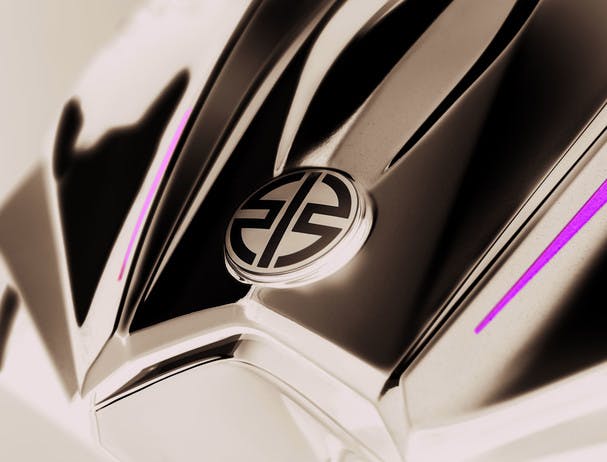 THE KAWASAKI RIVER MARK
Special permission was obtained to use the River Mark on the Ninja H2 Carbon. Usually, its use on a product is reserved for models of historical significance.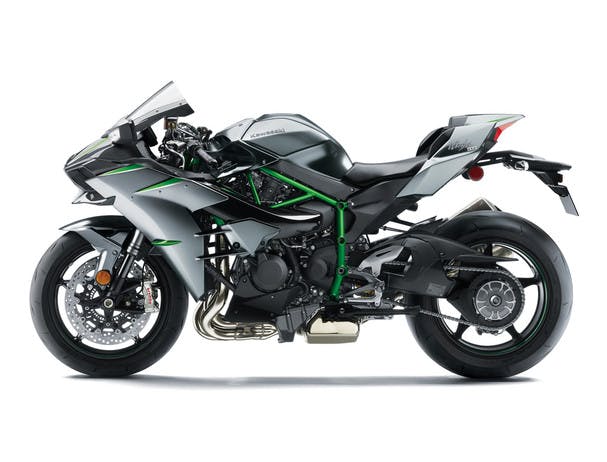 HIGH PRECISION PRODUCTION
Unlike a standard mass-production model, the high-precision production of the Ninja H2 Carbon requires greater hands-on participation by skilled Kawasaki craftsmen.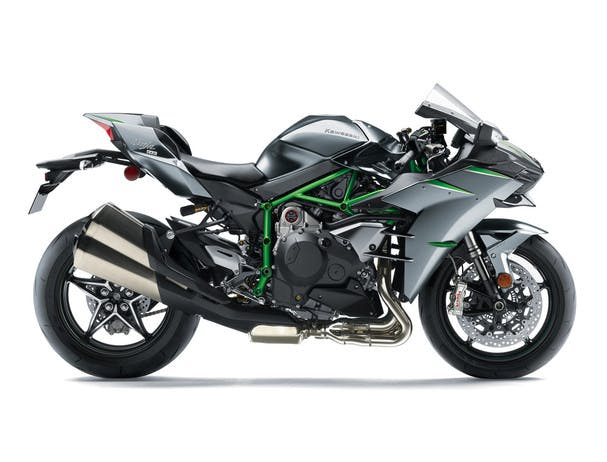 NINJA H2 CARBON BOTTOM LINE
The 2019 Ninja H2 Carbon is a road registerable mass production model available in limited numbers for the Australian Market.