KAWASAKI NINJA 650L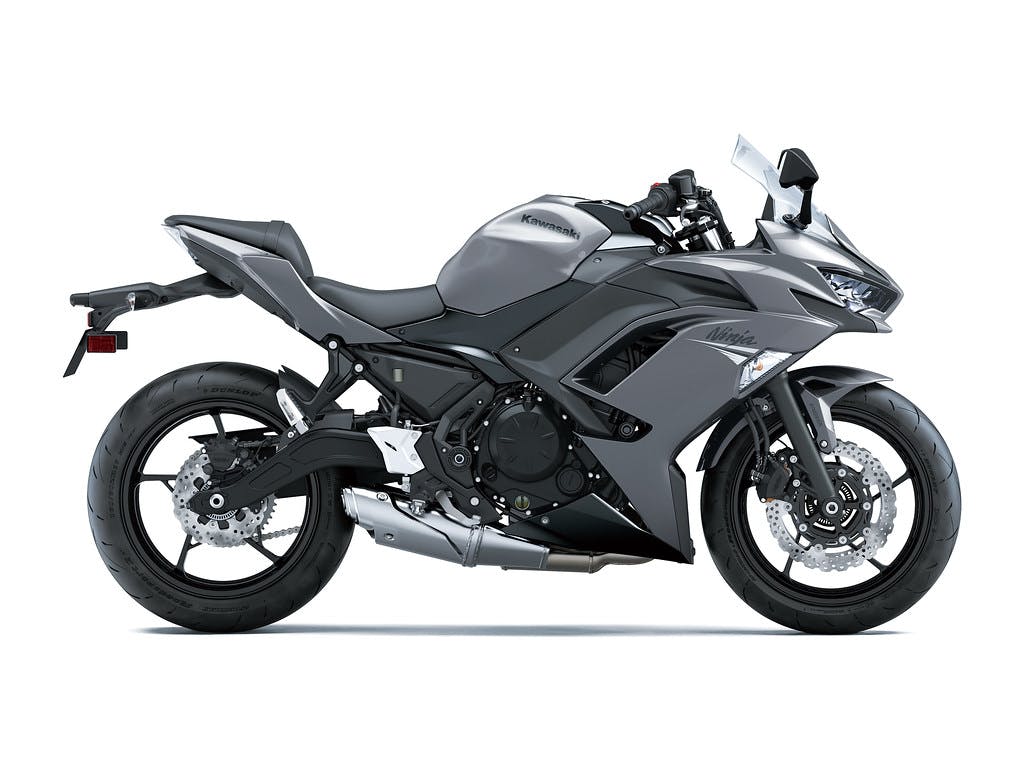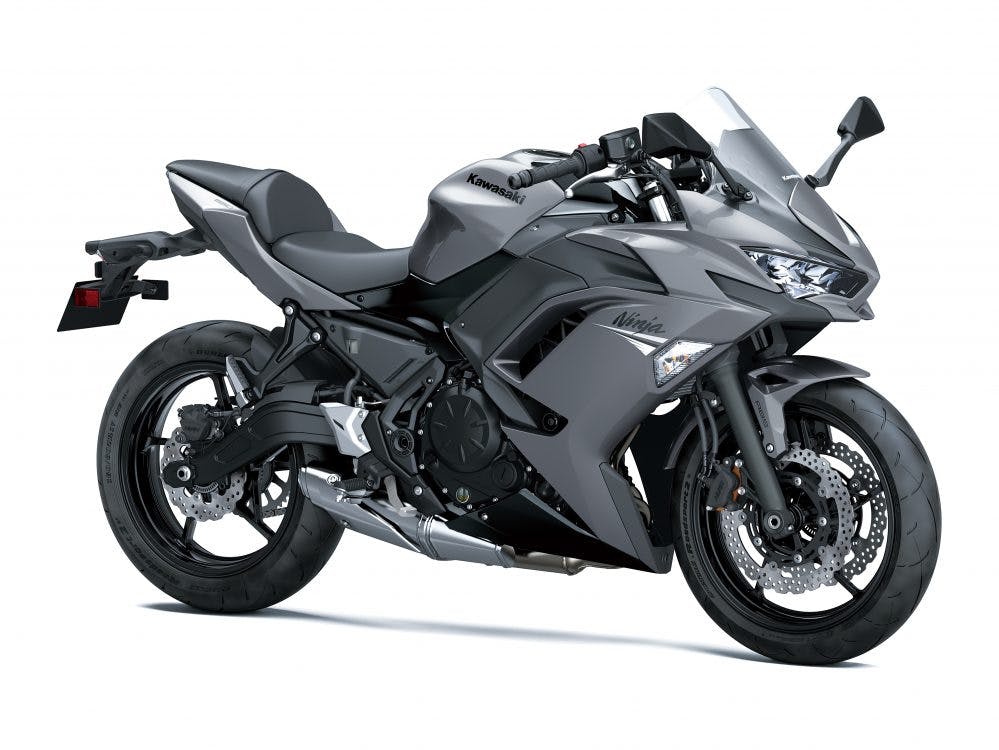 LEARNER APPROVED NINJA
Maintaining the "Fun, Style, Easy" concept, the superbly balanced and extremely exciting Ninja 650L features a 650cc Parallel Twin engine with a strong low-mid range focus and a lightweight chassis in a slim, middleweight package. The 2021 model includes a host of features; superb comfort, TFT colour instrumentation, smartphone connectivity, LED lighting, Dunlop Tyres, and ABS.
A Learner Approved 650cc motorcycle to take you through your Learner and Provisional licensing in style and with confidence.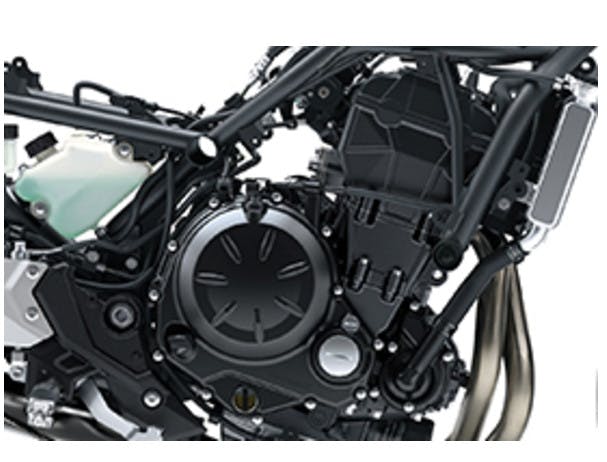 PARALLEL-TWIN ENGINE
The Parallel Twin engine has strong low-mid range performance and excellent fuel economy. Liquid-cooled, DOHC, 8-valve 649 cm³ Parallel Twin with fuel injection delivers smooth, responsive performance, especially in the low and medium rpm ranges.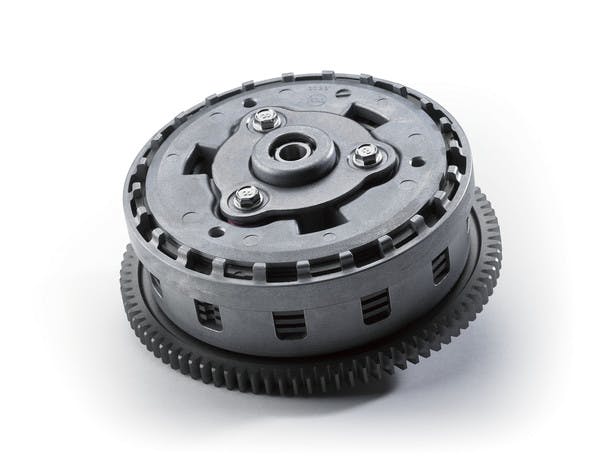 ASSIST & SLIPPER CLUTCH
The clutch uses two types of cams (an assist cam and a slipper cam), offering new functions not available on a standard clutch. This allows the total clutch spring load to be reduced, resulting in a lighter clutch lever pull when operating the clutch.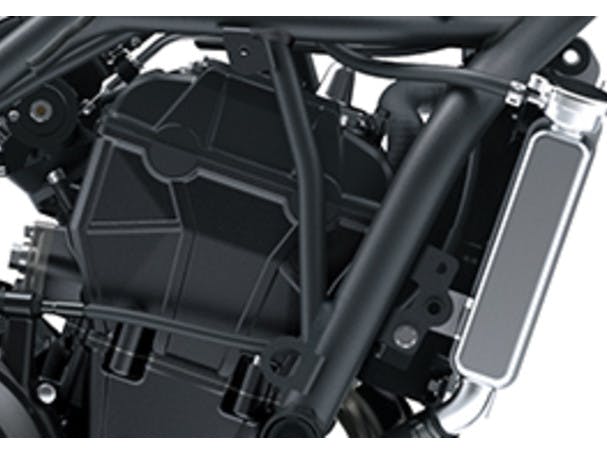 COOL RIDING
The radiator fan cover directs hot air down and away from the rider, increasing comfort when riding in traffic. Redirecting the heated air helps keep the tank, frame, and other parts that contact the rider cooler.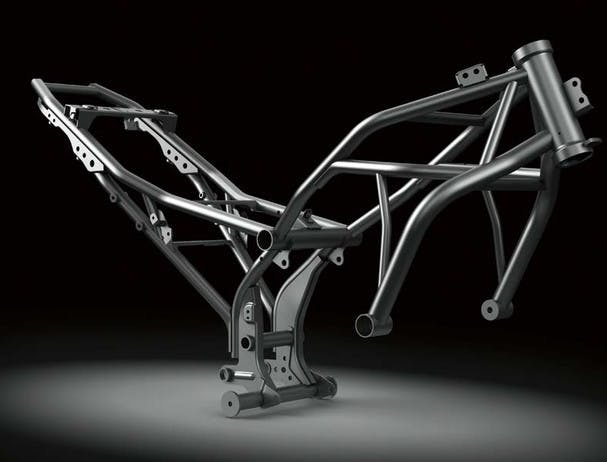 TRELLIS FRAME
The frame weighs only 15 kg, delivers the thrills with a perfected trellis frame design for agile handling and maneuverability.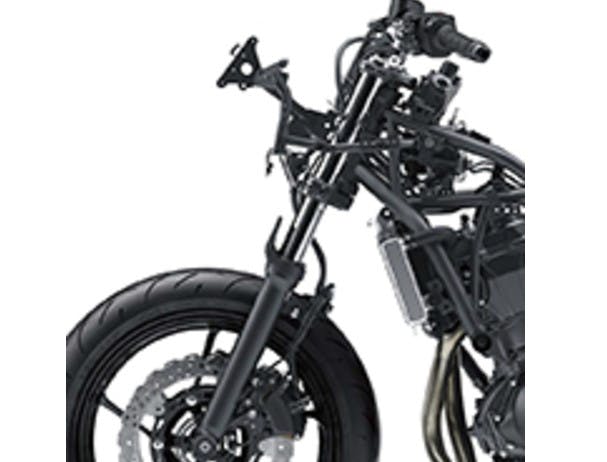 TELESCOPIC FORKS
41 mm telescopic front forks handle the suspension duties up front.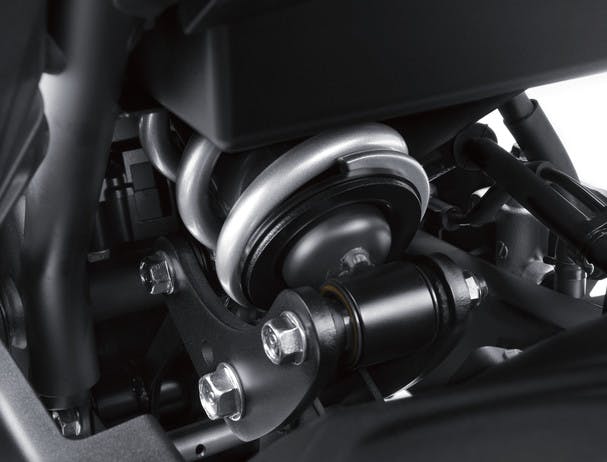 REAR SUSPENSION
Horizontal Back-link rear suspension offers a progressive character. It delivers a balance of sporty performance and rides comfort.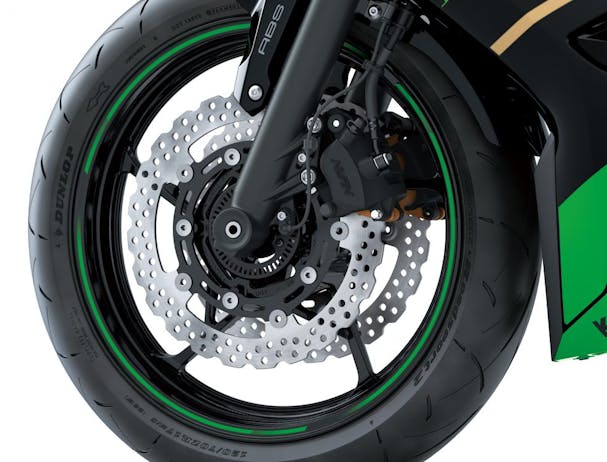 FRONT BRAKES
Dual 300 mm front petal disc brakes deliver plenty of braking power. Dual-piston front calipers, master cylinder, and brake pads offer superb brake touch.*previous model colour shown in image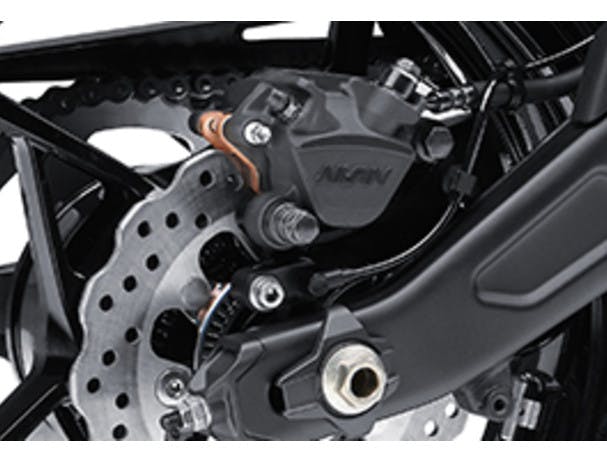 REAR BRAKE
The rear 220 mm diameter petal disc brake combines with the dual front petal disc brakes to enhances the overall braking performance and sporty appearance.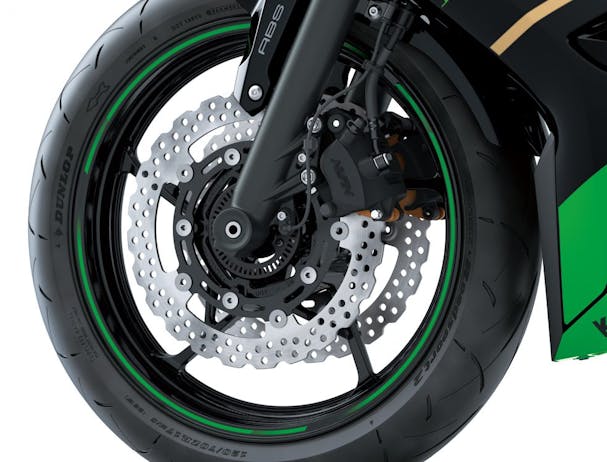 STYLISH 5-SPOKE WHEELS
Stylish star-pattern 5-spoke wheels contribute to a lightweight, while their high rigidity benefits handling. They also contribute to the bike's light looks.*previous model colour shown in image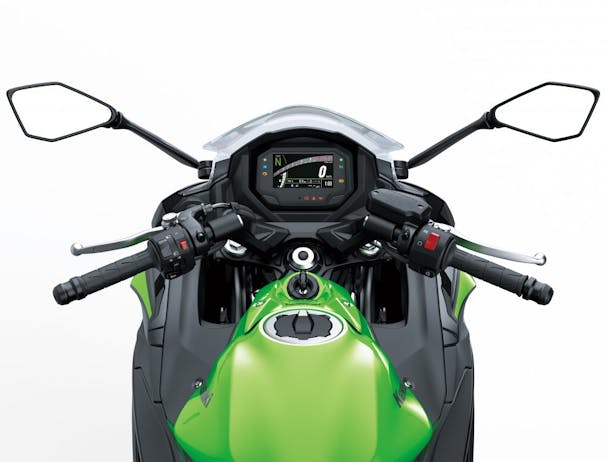 ERGONOMICS
The Ninja 650's fine-tuned rider triangle provides both control and comfort. The low seat (790mm) and the bike's overall design ensure it is easy to reach the ground.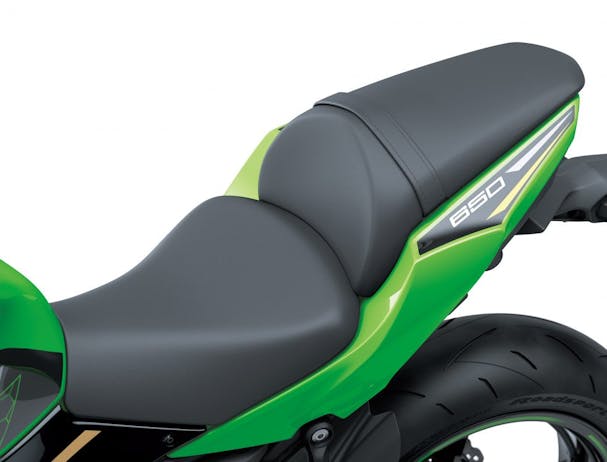 NARROW SEAT
The footpeg position offers a relaxed knee bend, contributing to rider comfort. The narrow frame and engine create a narrow overall package, allowing the rider to keep his or her knees and feet close together.*previous model colour shown in image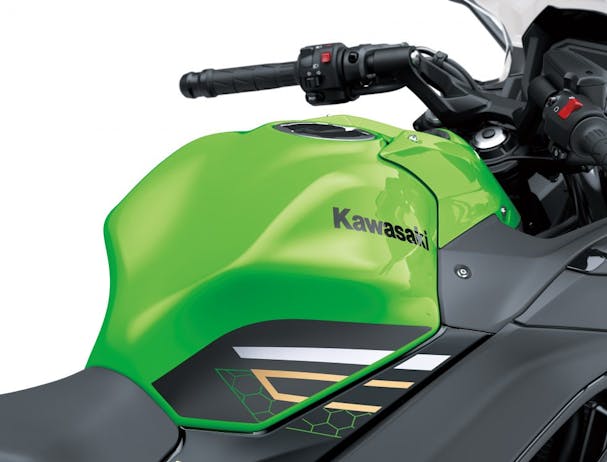 SLIM FUEL TANK
The slim fuel tank is positioned low in the chassis. In addition to contributing to the light, dynamic styling, the shape is easy to grip with the knees. The resin fuel tank cap has no visible bolts. The stylish design also contributes to weight reduction.*previous model colour shown in image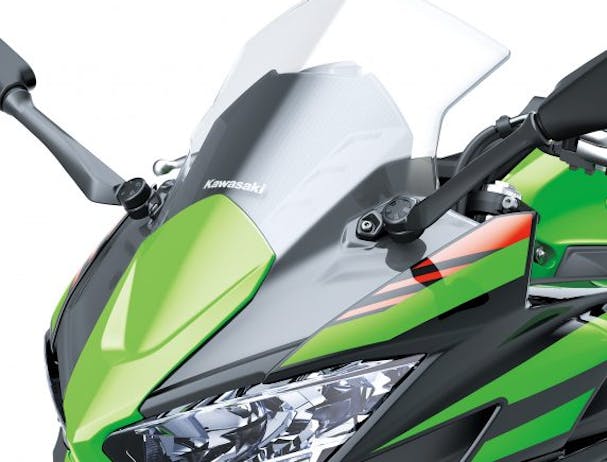 NINJA STYLING
The aggressive visage is complemented by slim, close-fitting bodywork designed to give the bike a light, nimble image that reflects its sporty performance.*previous model colour shown in image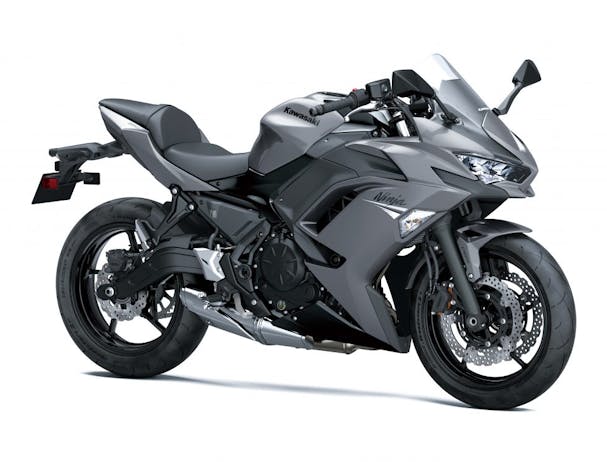 COWLING
Fairings use black pieces to draw the eye in a horizontal line, emphasising the length of the bike to strengthen its supersport image. Compact front turn signals are built into the fairings.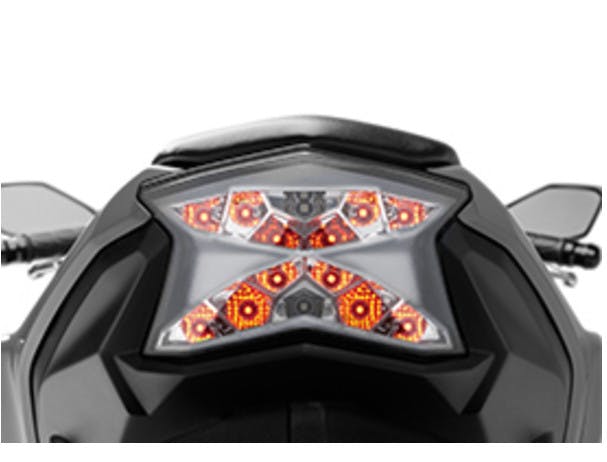 BACK END
A Compact, upswept tail. Slim rear seat and under-seat storage with space for a U-lock. LED taillights form "X" pattern when activated. Luggage hooks are built into the passenger footpeg stays, providing convenient tie-down points.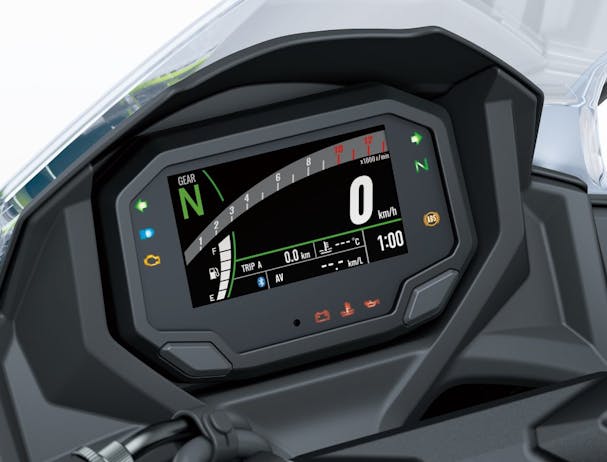 TFT COLOUR DISPLAY
TFT color instrumentation and Bluetooth smartphone connectivity add high-tech elements to the ride and allow you to connect to the Ninja 650 motorcycle like never before.