KAWASAKI KX450 (XC)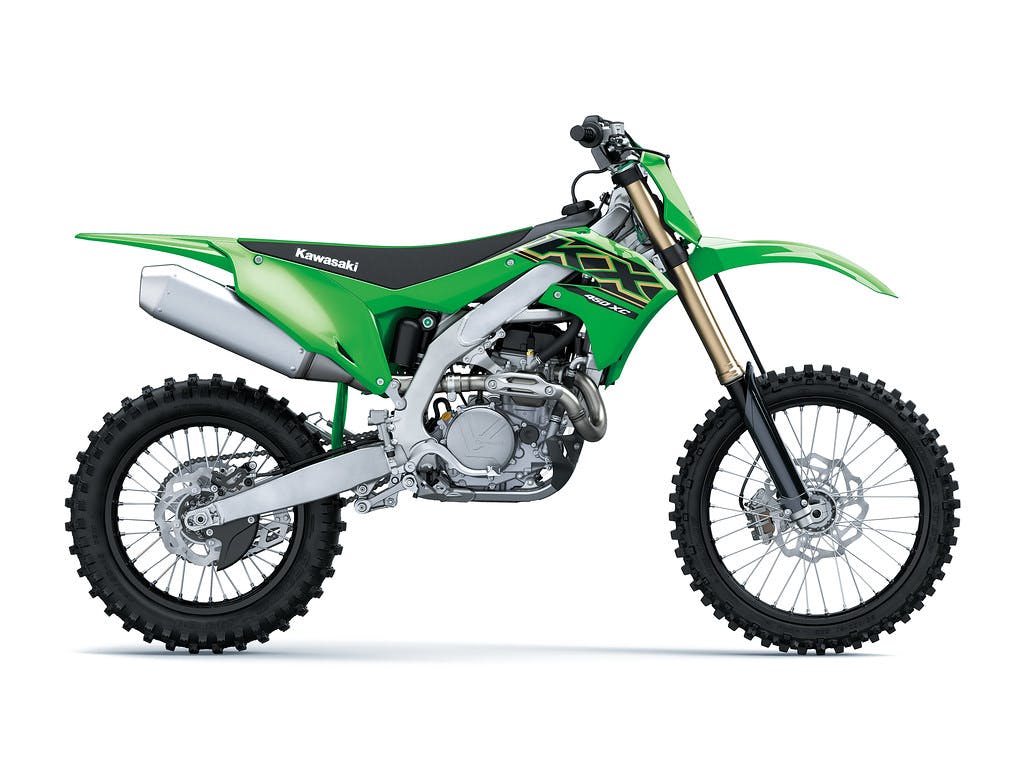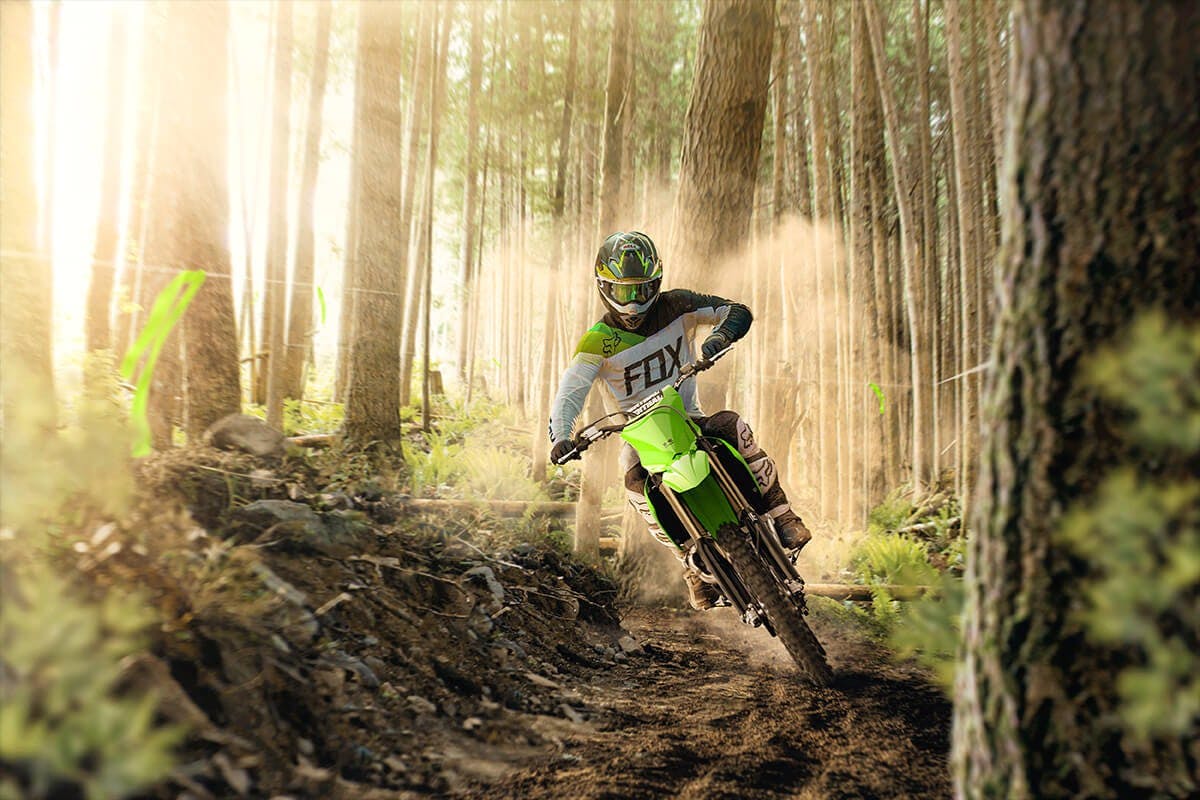 CROSS-COUNTRY RACER
Capitalizing on the 2020 dirt bike sales boom, Kawasaki is jumping into the cross-country motorcycle racing market with the all-new 2021 Kawasaki KX450XC and KX250XC.
Based on the championship-winning KX450 motocrosses, the new cross-country racer boasts an arsenal of factory-style features. XC-specific tuning for the engine, suspension, and brakes, complemented by a 21"/18" wheel combination fitted with enduro-type tyres, and convenient standard features like a side stand and skid plate make the new KX450XC even more attractive for cross-country competitors.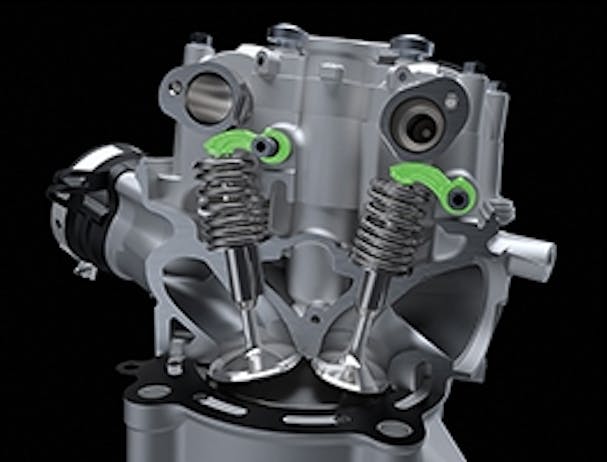 ENGINE DESIGN
KX450XC features a valve train designed by Kawasaki's World Superbike engineers. Finger-follower valve actuation enables the use of large-diameter valves and aggressive cam profiles.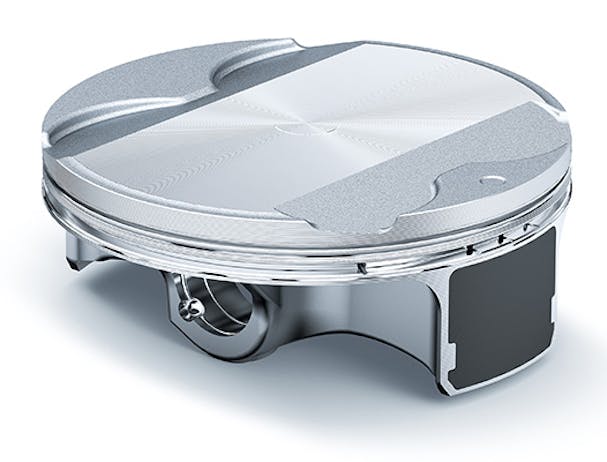 HIGH PERFORMANCE PISTON
A short skirt, reinforced external ribs and the use of a bridged-box bottom, featuring internal bracing, contributes to a light, strong piston design. A light piston (243 g) reduces the reciprocating weight and enhances the engine's performance.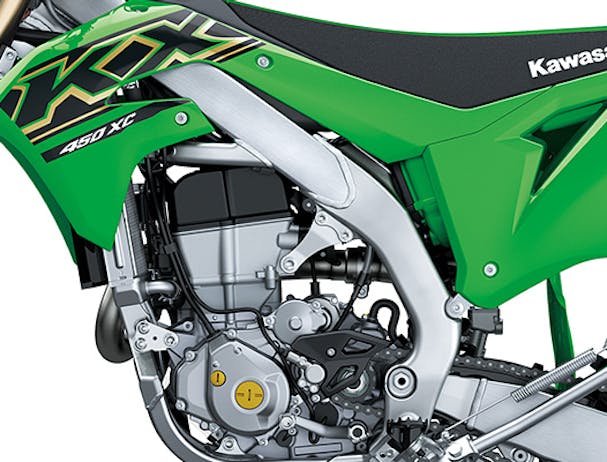 ALUMINIUM FRAME
Light and nimble handling is achieved thanks to the use of the lean, lightweight chassis of the legendary KX450 motocross bike. A well-balanced, slim aluminum perimeter frame helps keep the overall weight down and allows for light handling and slim ergonomics.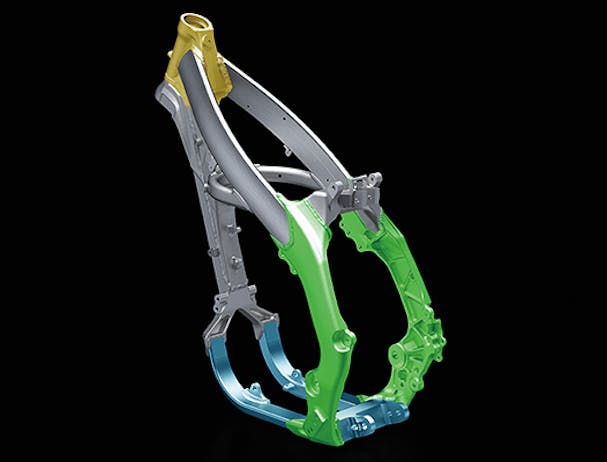 CHASSIS
Slim aluminium perimeter frame is a lightweight construction composed of forged, extruded and cast parts. Overall rigidity balance was optimised to deliver both light handling and excellent traction.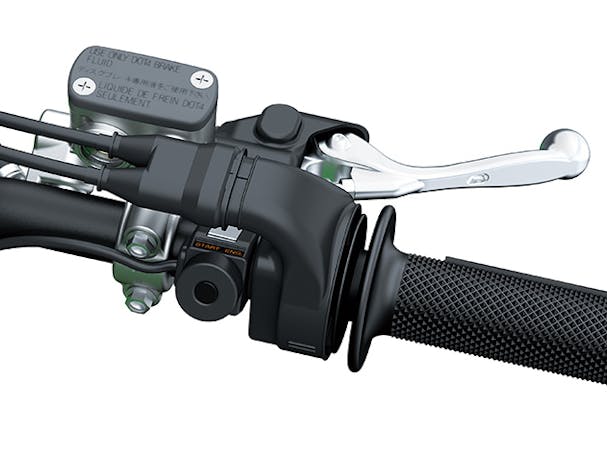 ELECTRIC START
Kawasaki's electric start on a motocrosser makes restarting the engine as easy as pushing a button on the right grip.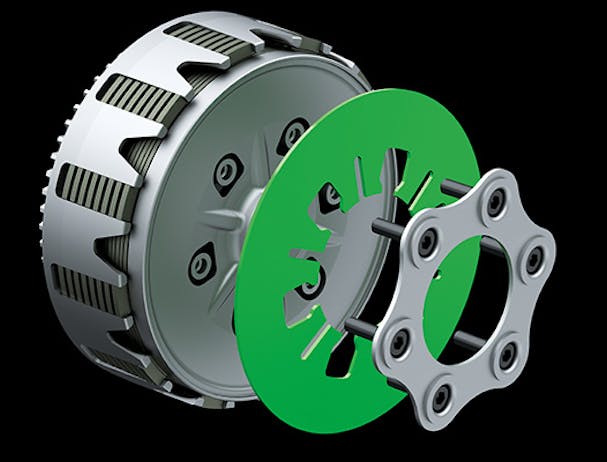 HYDRAULIC CLUTCH
The use of coned-disc springs lightens the clutch actuation when the lever has been pulled in, and a wider clutch engagement range for rider control.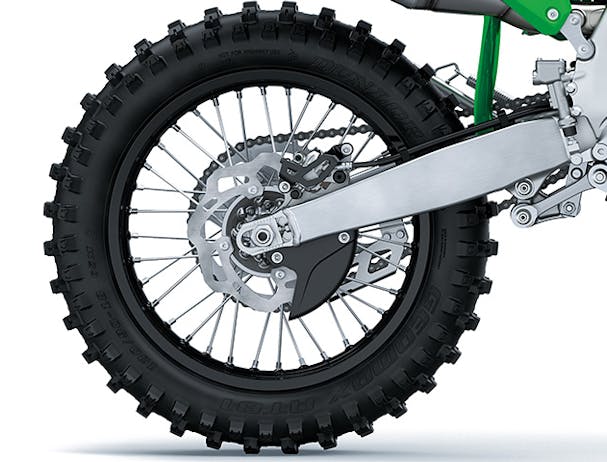 XC WHEEL & TYRES
With a 21" front and 18" rear wheels encased in Dunlop Geomax AT81 enduro-type tyres, these are well-suited to situations encountered in XC riding ensuring that you get the KX450XC's power to the ground.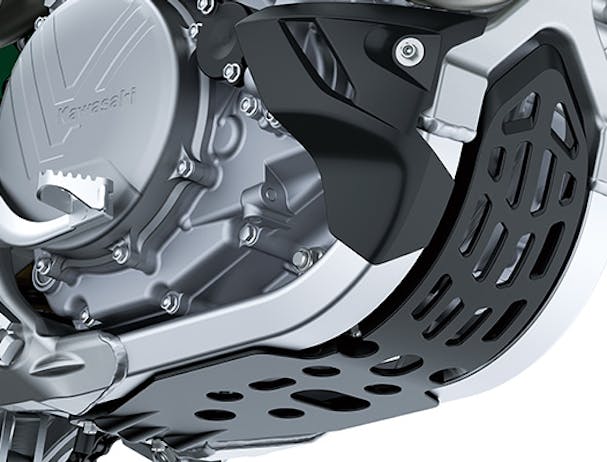 XC EQUIPMENT
Convenient side stand comes in handy when stopping away from the paddock area.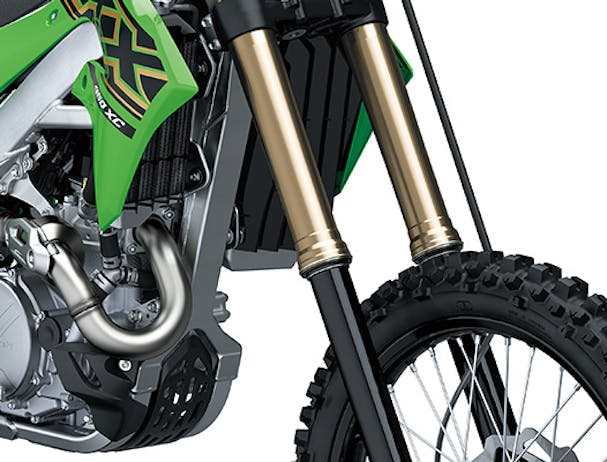 FRONT SUSPENSION
High-performance ø49 mm inverted coil-spring fork. Super-hard titanium coating on the outer surface of the fork inner tubes helps prevent wear abrasion. Kashima Coat creates a hard, low-friction surface on the outer tubes.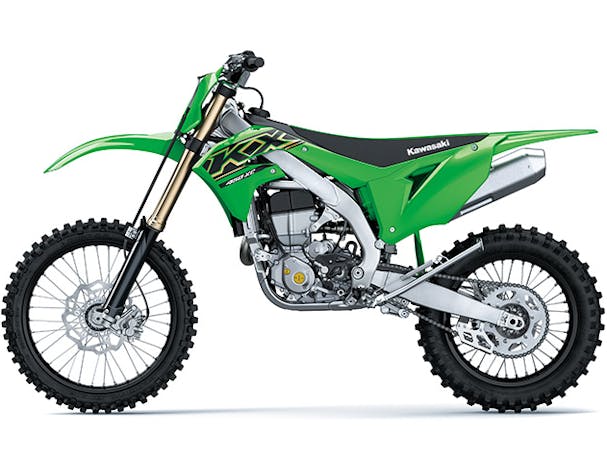 REAR SUSPENSION
The New Uni Trak rear suspension system mounts the suspension arm below the swingarm, allowing a longer rear suspension stroke. The rear shock features dual compression adjustability.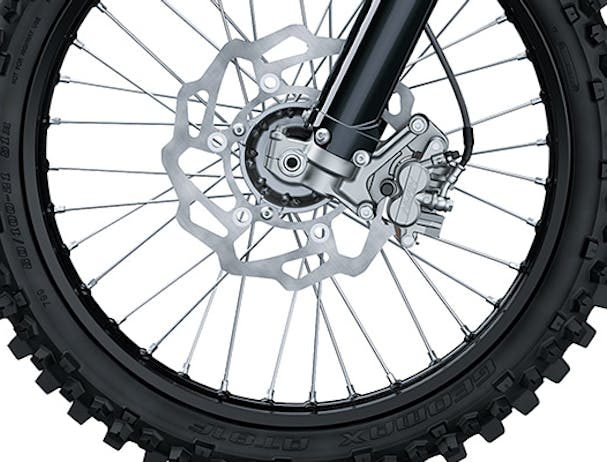 BRAKES
KX450 brake package optimised for XC riding delivers strong stopping power and a high level of control. ø240 mm rear petal disc and ø270 mm front petal disc.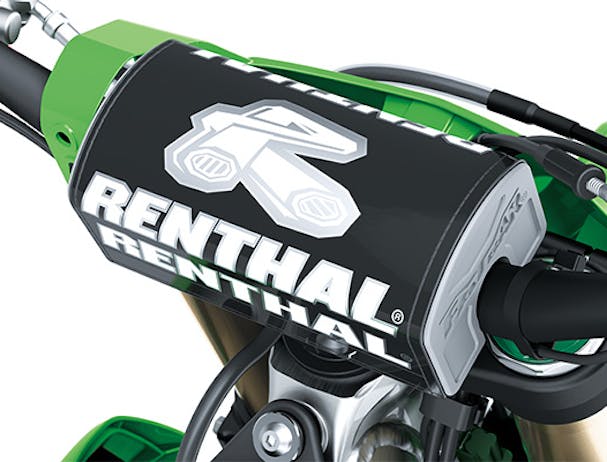 FAT BARS
Factory-style ø28.6 mm (1-1/8") Renthal aluminium Fatbar, is the standard equipment. The thick handlebar helps reduce vibration and shocks transmitted to the rider.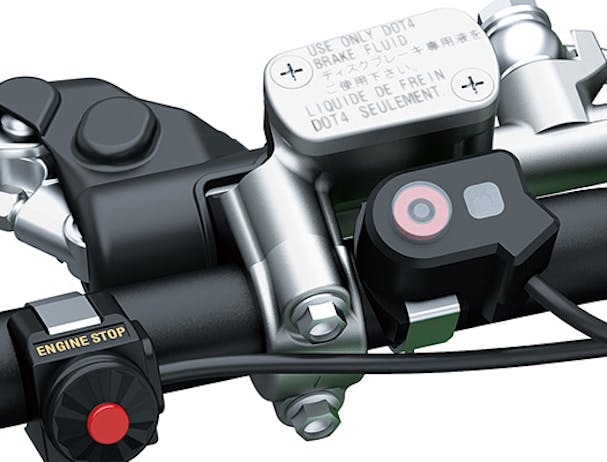 LAUNCH CONTROL
The Launch Control Mode map retards ignition timing, allowing tyres to gain grip, and allowing riders to focus on their lines.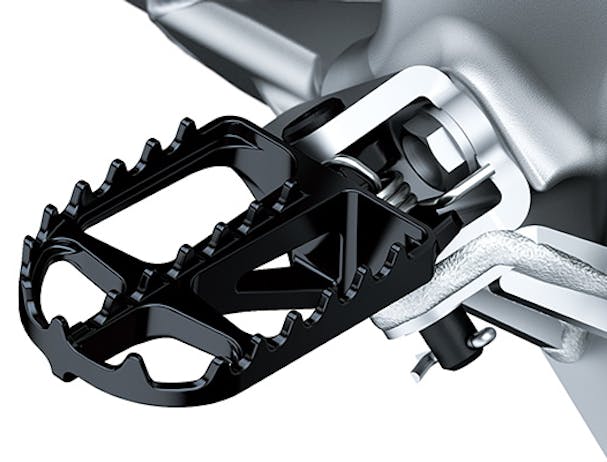 ADJUSTABLE FOOTPEGS
The footpeg bracket can be lowered 5mm from the standard position. Lightweight, wide-style footpeg design for excellent grip and superb control.
ADJUSTABLE HANDLE MOUNT
Upper triple clamp with two sets of handle mount slots and reversible handle mounts offers riders a choice of four handle positions: 25 mm forward, 15 mm forward, STD and 10 mm back.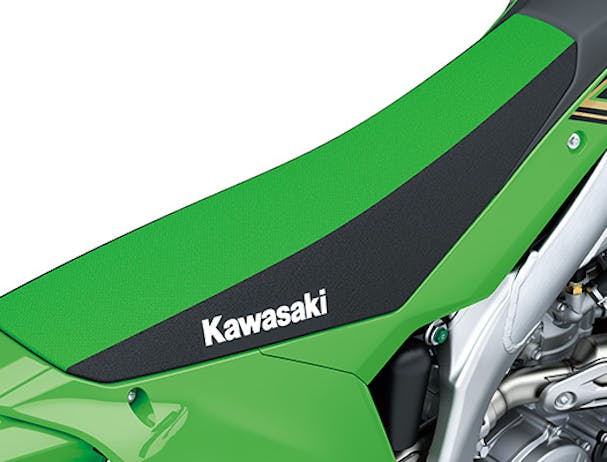 FLAT LINES
Top of the fuel tank is designed to allow a flat progression from the seat to the tank, which gives the rider greater freedom of movement when changing riding position.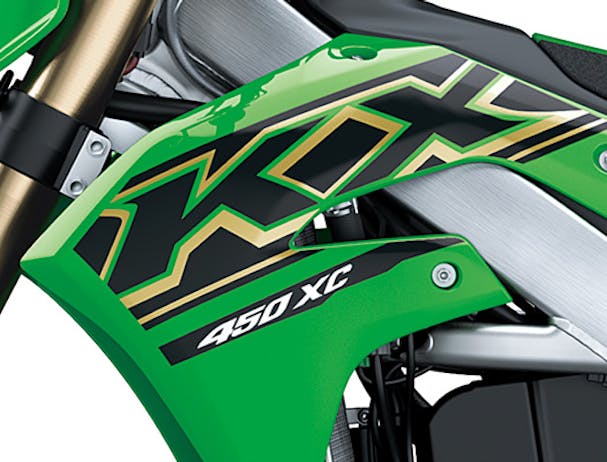 SMOOTH SURFACES
Bodywork on the KX450XC features long, smooth surfaces that make it easy to slide. Seams between the shrouds, seat and side covers are flush for moving around on the bike. In-mould graphics on the shrouds are ultra-smooth and ensure the race-style graphics are not easily damaged.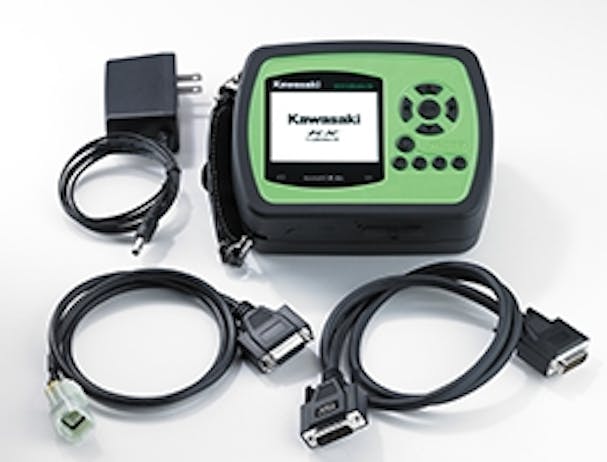 KX FI CALIBRATION CONTROLLER (ACCESSORY)
KX FI Calibration Controller enables riders to make changes to engine maps by plugging into the ECU without a PC or battery. Comes equipped with seven preset map settings, a built in colour LCD screen, transfer and diagnostic cable SD card, user manual and carry case.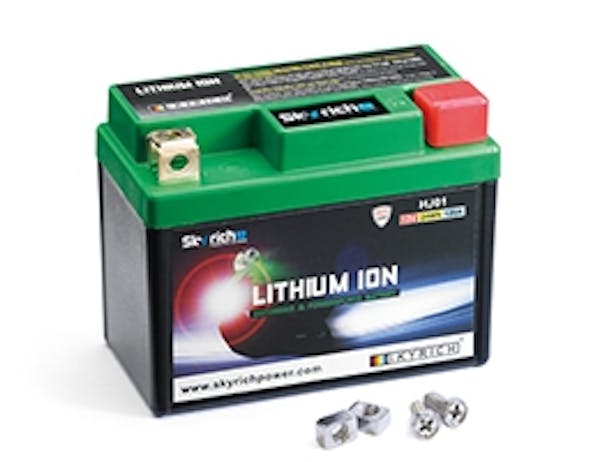 BATTERY
Lightweight and compact the proven Li-ion Battery helps keep the weight minimal.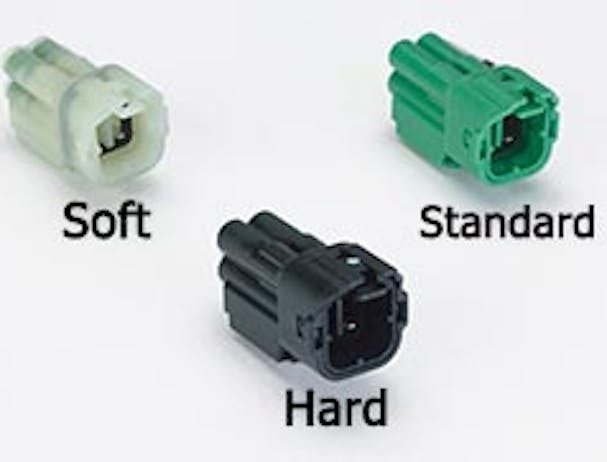 ENGINE TUNING
Plug-and-play style system is quick, easy, and stress-free. Each of the three maps can be reprogrammed using the optional KX FI Calibration Kit. MX Hard conditions (default), MX Standard conditions, and MX Soft conditions.