KAWASAKI KLX450R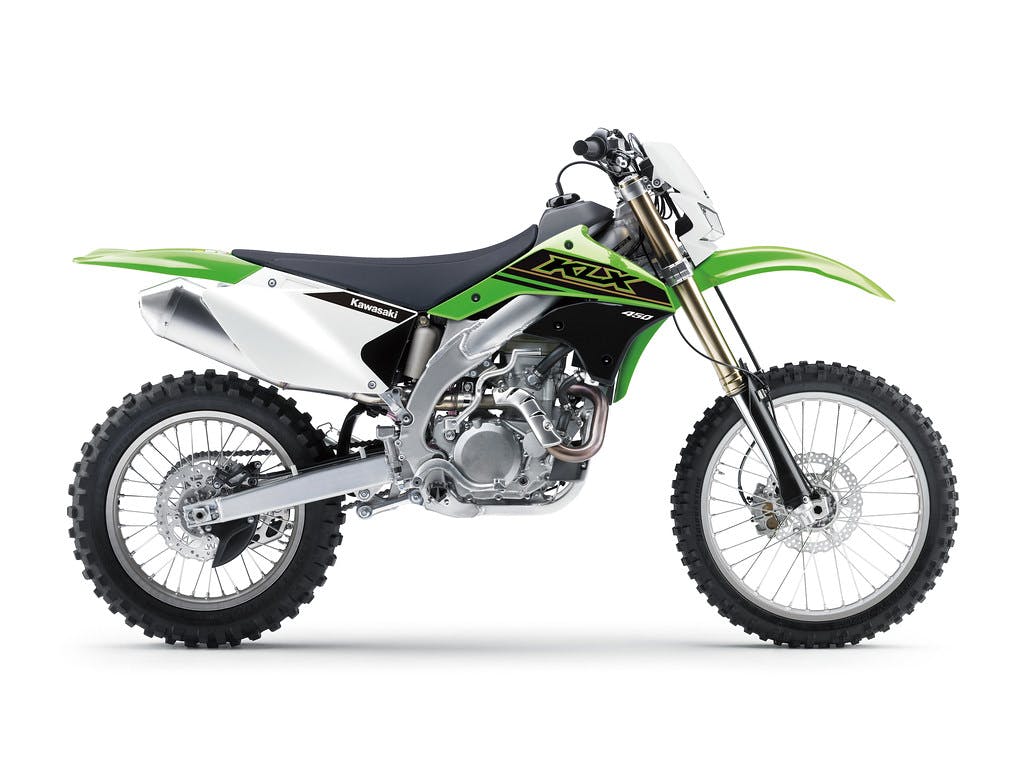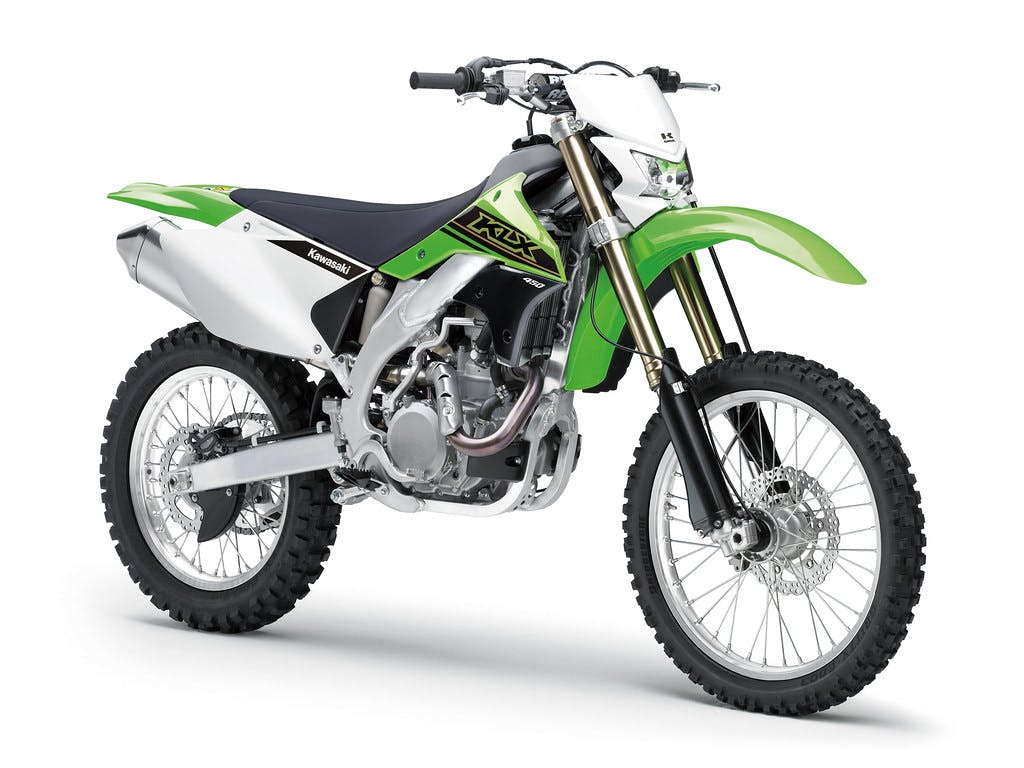 OFF-ROAD PERFORMANCE
Enduro riders who value true four-stroke off-road performance will choose the KLX450R.
Power and control over the entire ride. Electric start and race-derived components combine to deliver a well-known and loved trail weapon. The KLX450R can be registered to comply with local bush riding regulations.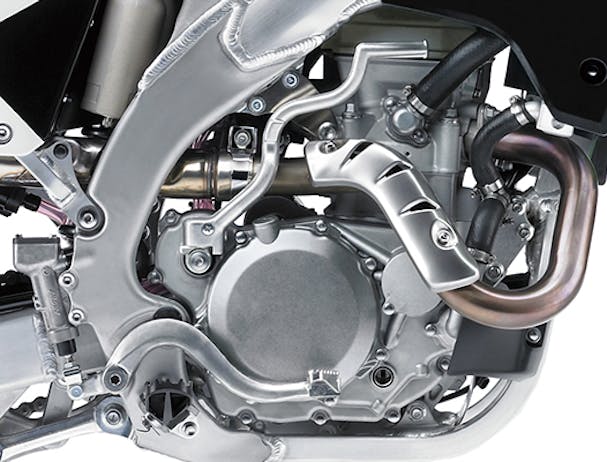 4-STROKE ENGINE
The KLX450R is Kawasaki's capable big-bore 4-stroke off-road Enduro model. Easy to handle, friendly rider, road-registerable, lawful learner, trail explorer, enduro racing KX-derived motorcycle with a low torque stump. Electric start and performance components combine to deliver a fast and usable total package built for off-road use.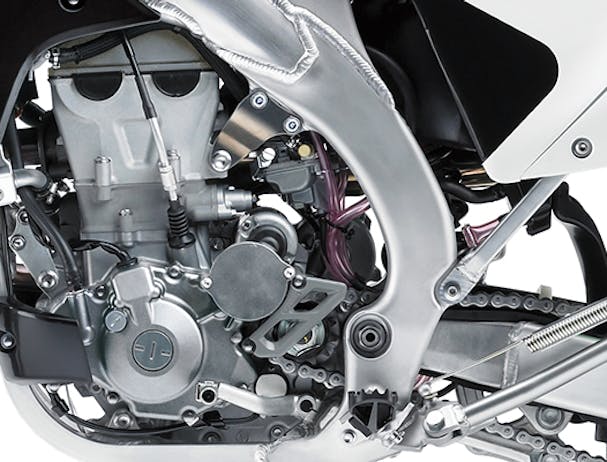 ELECTRIC STARTING
A lightweight, highly reliable electrical start system is used for quick, easy, and trouble-free start-ups. A manual kick starter is kept as a backup. Having both an electric and a kick starter means that the bike can be quickly restarted if the engine stops or has to be stopped.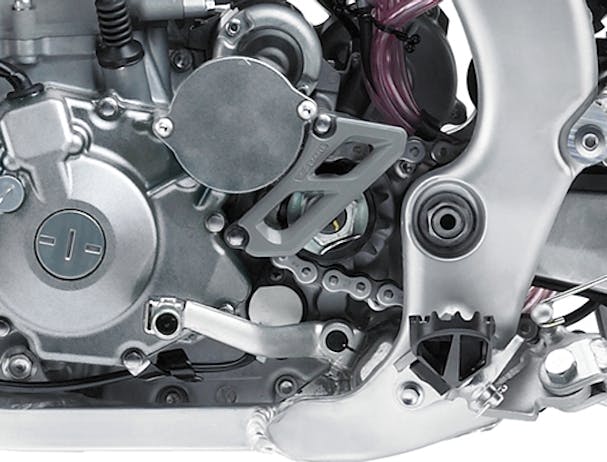 5-SPEED TRANSMISSION
The gear ratios of the KLX450R have been selected to specifically suit off-road riding. The engine is tuned to provide a wide range of power to optimize gear ratios. The gear sets and center cases are very compact, allowing the frame to be narrower at the rider's ankles.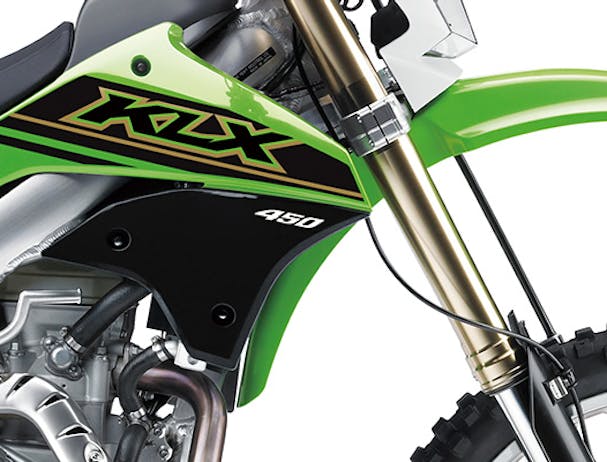 FRONT SUSPENSION
The KX450F inverted Kayaba AOS (Air-Oil-Separate) fork offers superb damping and steering precision. Oil and air are stored in separate chambers for stable damping performance.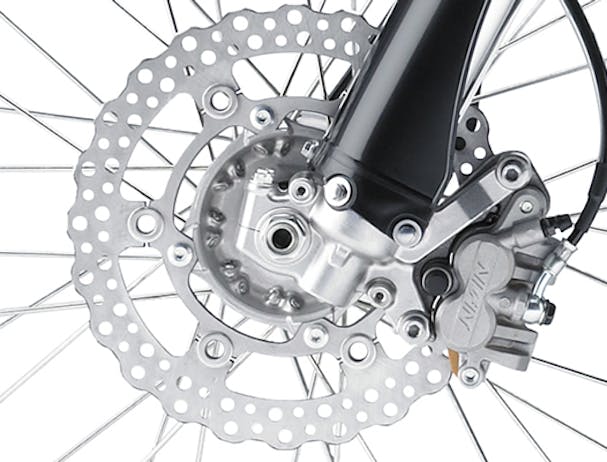 DISC BRAKES
Petal brake disks at the front and rear reduce the unwrapped weight and help clean the brake pads for more efficient braking. The forged aluminium rear brake pedal has a heavy-duty mounting bolt and a large "foot" with sharp teeth to provide a solid feel. The integrated rear brake fluid reservoir ensures increased reliability.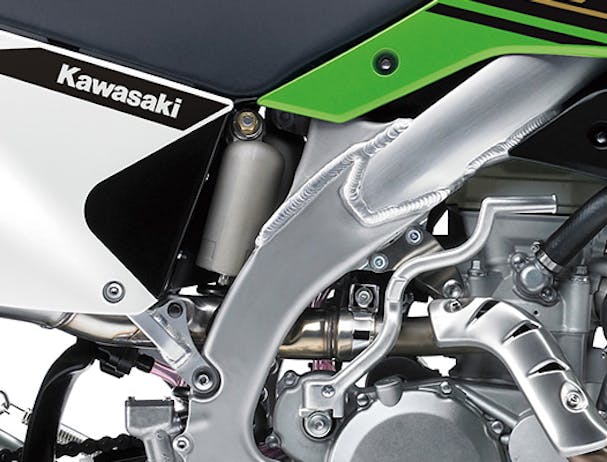 REAR SUSPENSION
The Uni-Trak rear suspension system holds the suspension arm under the swing arm for a longer stroke. The rear shock features dual compression adjustment, allowing high-speed and low-speed damping to be tuned separately.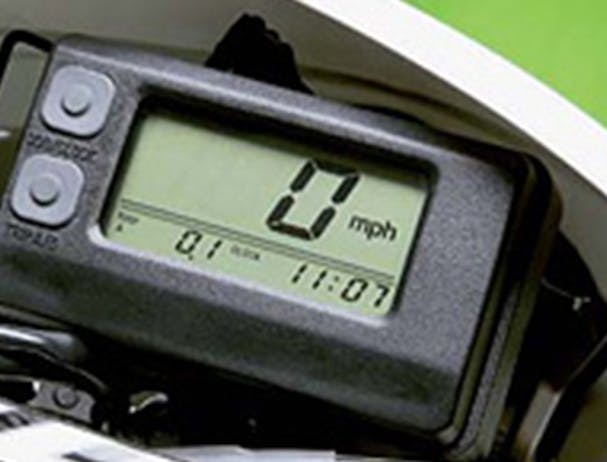 DIGITAL INSTRUMENTATION
Equipped for off-road competition, the KLX450R instrument panel lets the rider see what the bike is doing right now. This lightweight digital instrumentation includes a speedometer, twin tripmeter, odometer, clock and warning light.