HONDA CB300R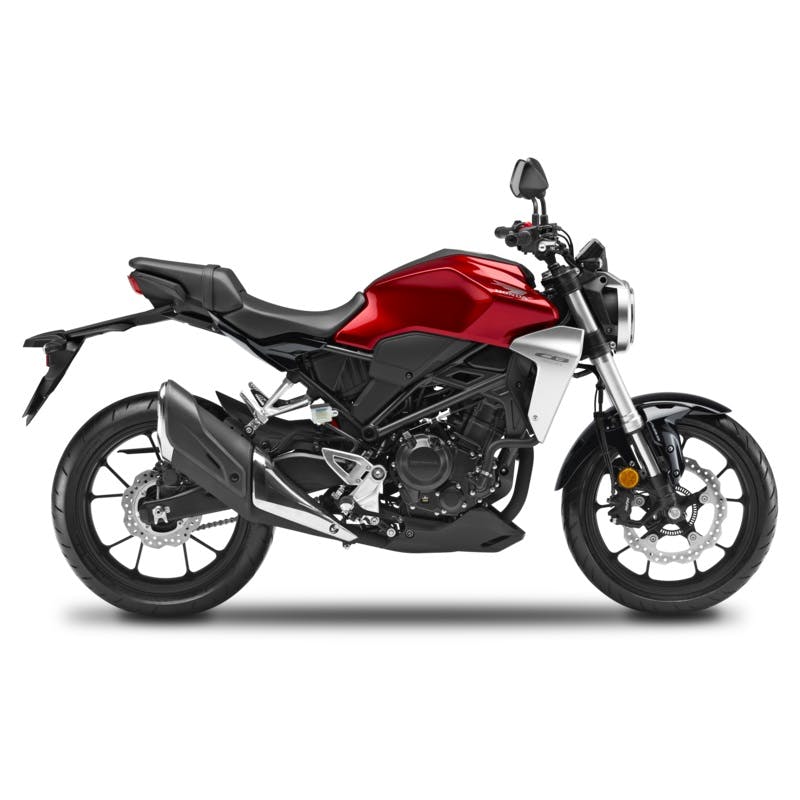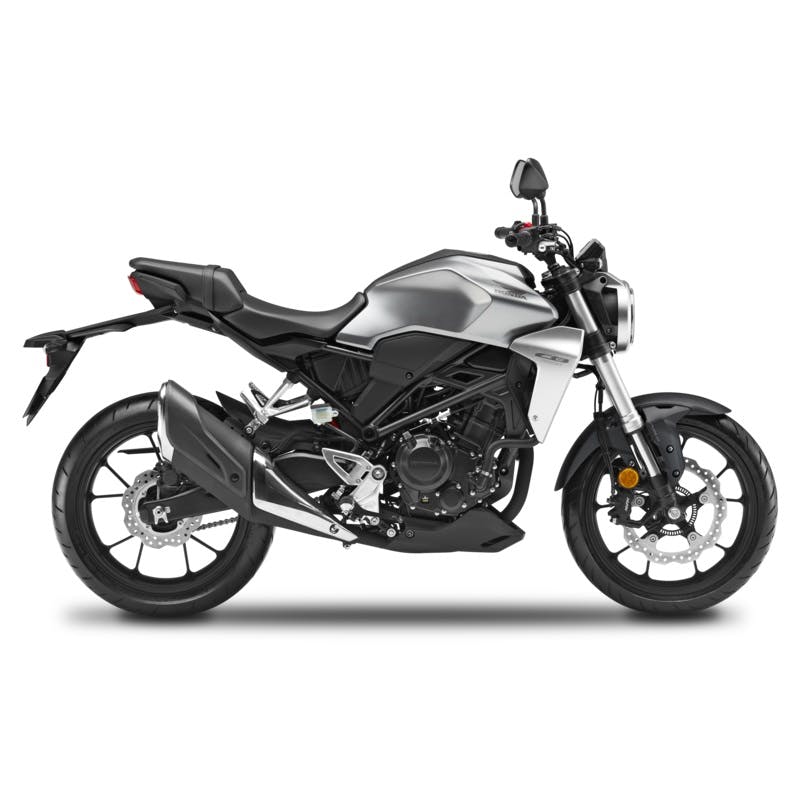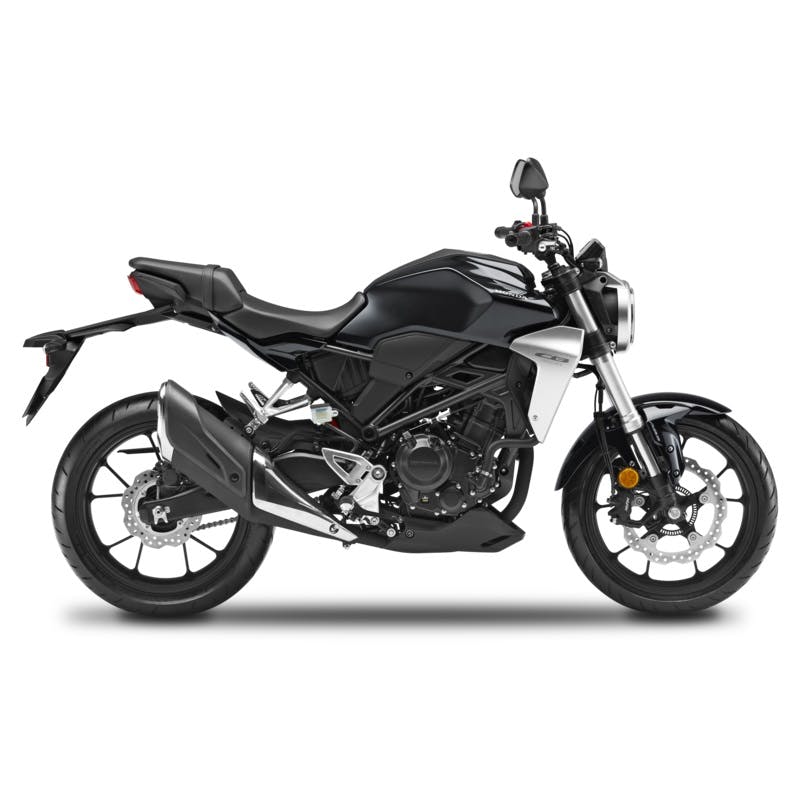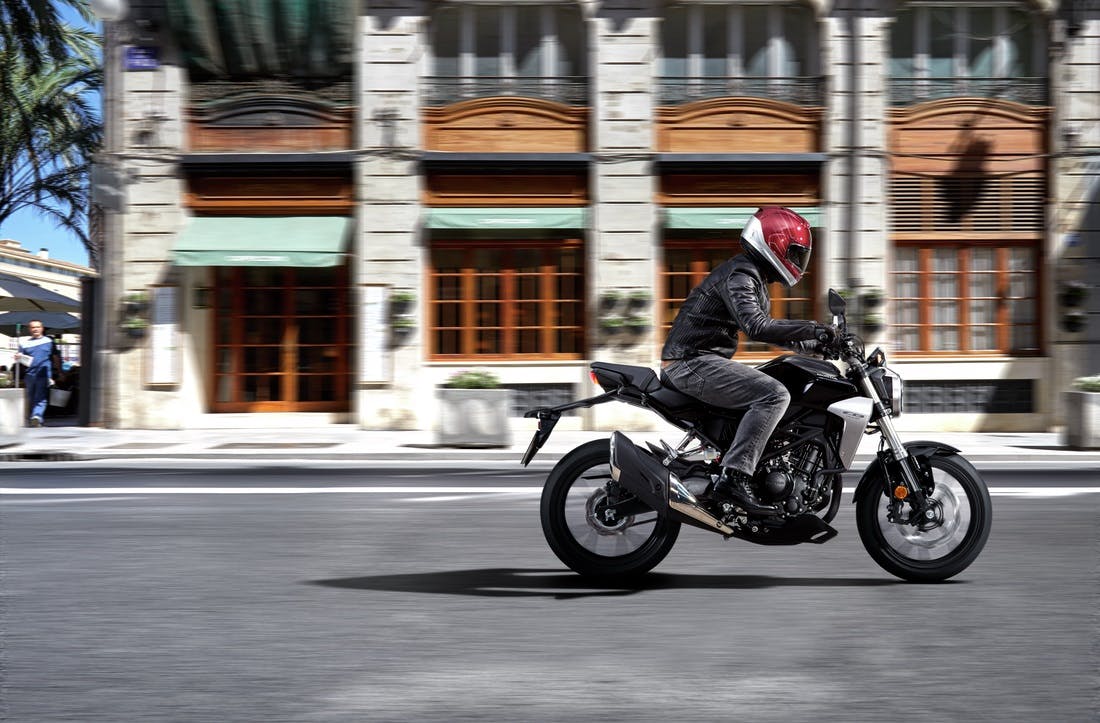 PREMIUM, LIGHTWEIGHT AND RESPONSIVE
This lightweight bike is not a full-length sports bike, nor is it a normal bare-bike. This is what we call the Neo-Sports Café: it's a motorcycle made for the way we race now. Friendly to ride, a delight to drive, the CB300R has all of the luxuries features seen on its larger capacity relatives, but in an ultra-lightweight and portable shape, tipping the scales at only 143 kg moist. This is our lightweight star with an efficiency edge. The pressed and tubular steel frame has a balanced rigidity balance that provides positive feedback. The tapered rubber-mounted aluminum handlebar, LCD instrument monitor and full LED lighting exude efficiency and contribute to the sense of ownership. The CB300R definitely places the full power of Honda's technical expertise, design philosophy, and high-quality production squarely on show.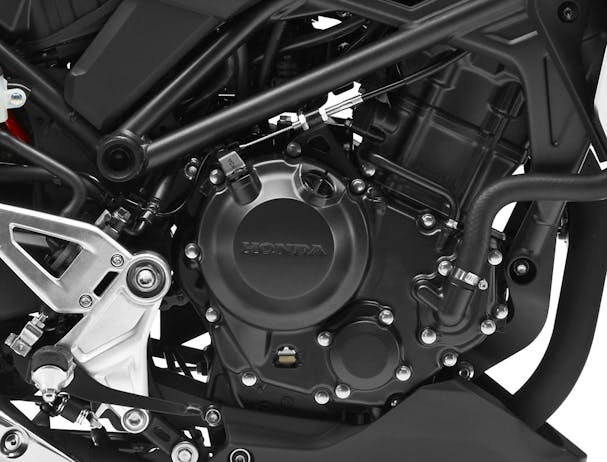 COMPACT ENGINE
The lightweight 286cc DOHC four-valve, liquid-cooled, single-cylinder engine of the CB300R is a gem of a free-living, receptive design. It performs incredibly well under real-world road-riding conditions, delivering plenty of power all across the city and on the highway.
LIGHT, STRONG STEEL CHASSIS
The idea behind the Neo-Sports Café system attempts a great balance of handling, strength, and athletic comfort. Great handling begins with a superior structure, which is why the CB300R uses special frame construction engineered to be both light and heavy.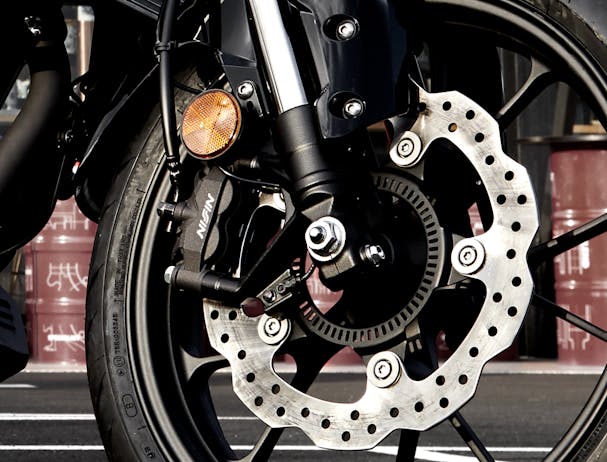 INVERTED FRONT FORK
The 41 mm inverted fork of the CB300R provides a smooth ride with compliant damping. The versatile spring rate is just right for a bike of this size.
LIGHTWEIGHT ALUMINIUM WHEELS
The weight of tyres, wheels, and brakes is super significant in sports bikes. The lightweight alloy wheels of the CB300R are a vital part of the versatile handling of the vehicle.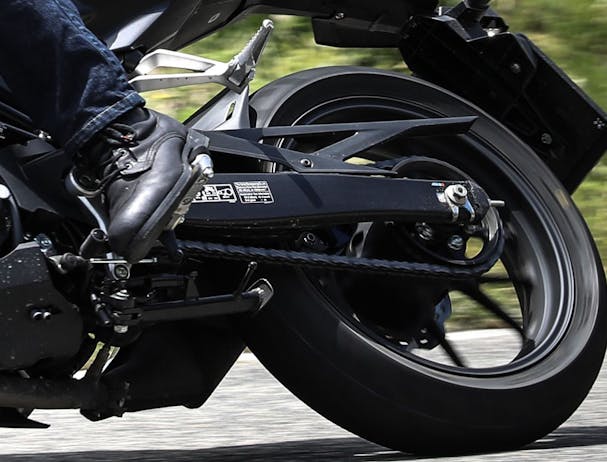 TUNED STEEL SWINGARM
The steel swingarm is built to have high longitudinal rigidity and torsion strength without being rugged or strong. This means that you get a trust-inspiring feeling and input, particularly when cornering.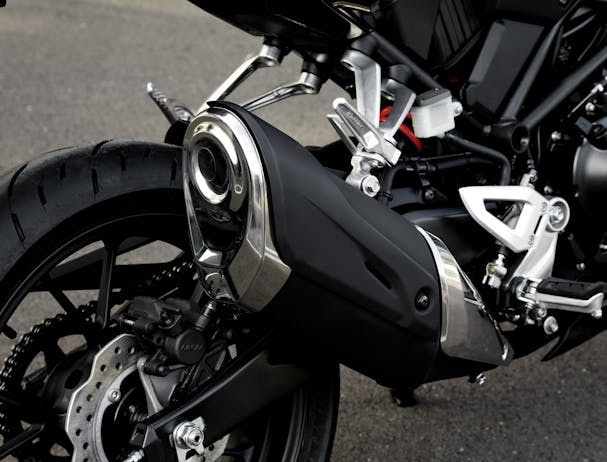 UNDERSLUNG EXHAUST
CB300R underslung exhaust system features a dual-chamber configuration with the outlet on the right. The high-flow architecture contributes to the ultra-linear response of the throttle. Engine of the it uses an intake and exhaust system engineered to minimize air resistance.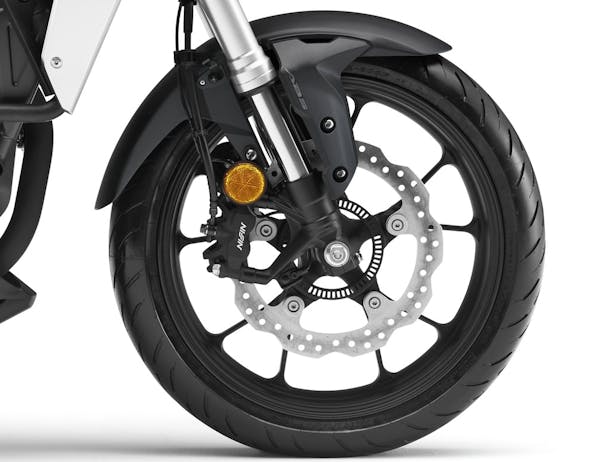 ANTI-LOCK BRAKING SYSTEM
Our Anti-Lock Braking System can be a great benefit in making safe stops in less-than-ideal situations, such as on wet pavements or other damaged surfaces. It's a perfect decision whether you use your new bike as a commuter or simply use it for fun.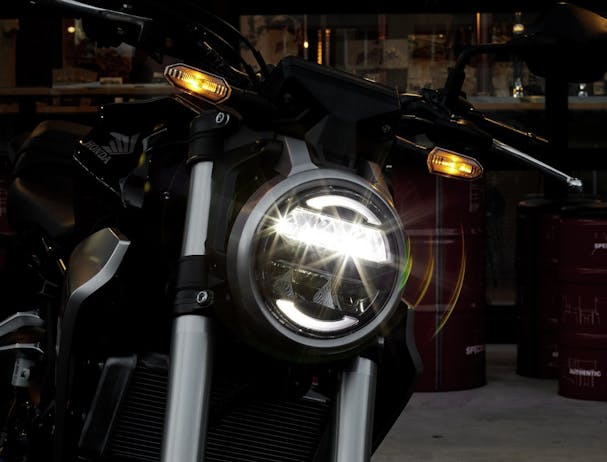 LED LIGHTING PACKAGE
A fine example of traditional style with a contemporary touch, the CB300R offers an all-LED lighting kit, and also offers a timeless round headlight frame. The LED taillight is the thinnest one ever installed on a Honda motorcycle.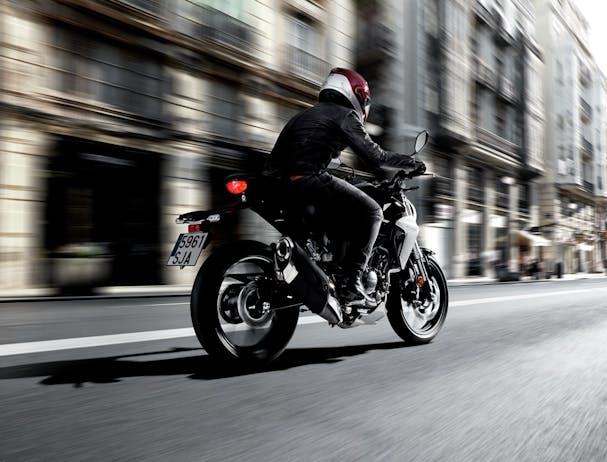 HIGH-REVVING PERFORMANCE
The bore and stroke was set at 76 x 63 mm, with a compression ratio of 10.7:1. PGM-FI fuel injection, with a 38 mm throttle bore and a clean, straight-intake path, delivers a crisp throttle response throughout the throttle range.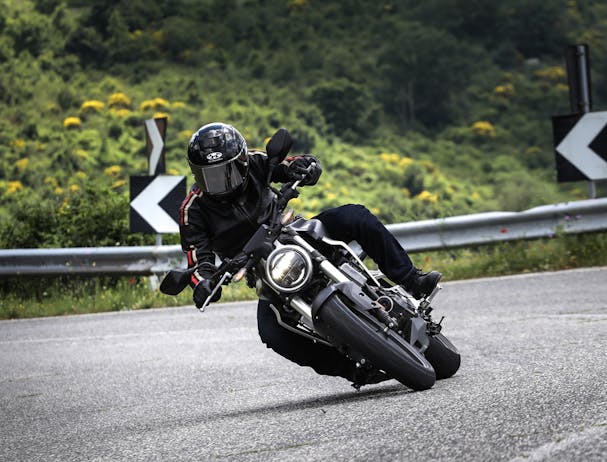 EFFICIENT DESIGN
The engine of the CB300R is built with a small number of moving parts. Information such as low-friction piston rings, high-density core radiator, and iridium spark plug help improve fuel efficiency.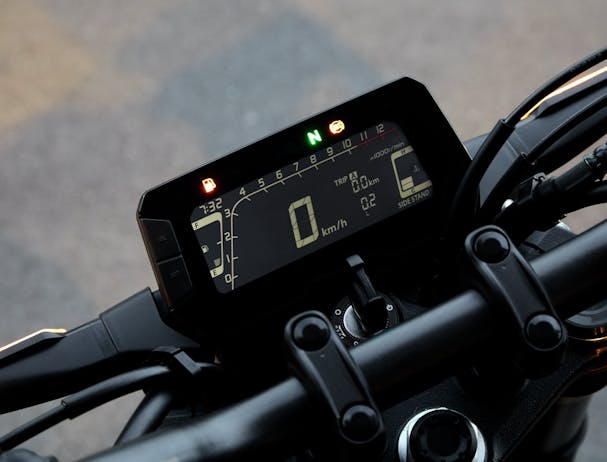 LCD INSTRUMENTS
The lightweight, full-function LCD monitor of the CB300R provides a luxury feel, giving you readouts for engine rpm, speed, and fuel level.