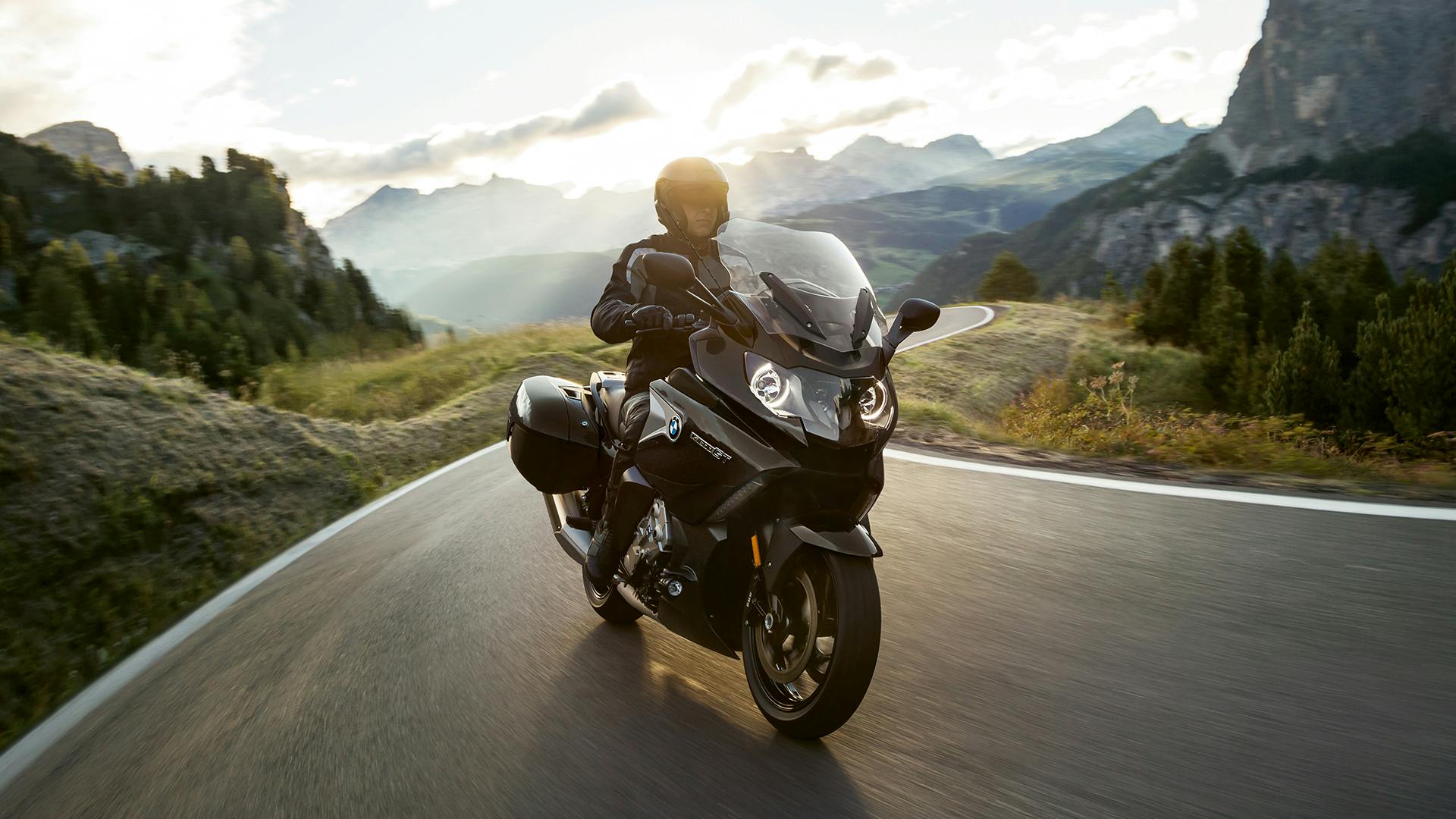 MAGIC ON TWO WHEELS
The new BMW K 1600 GT with its 6-cylinder in-line engine is already considered an icon with its power delivery and running smoothness. Added to this is the absolute long-distance suitability with wind and weather protection and equipment which makes you want to ride right away. You can be assured that you will leave quite an impression whether you are at a standstill or on the move.
Available in Option 719 Stardust Metallic or Option 719 Blue Planet Metallic / Ivory - BMW Motorrad ABS Pro (Cornering ABS) - Audio System with Radio and Bluetooth Interface, Adaptive Headlight - Xenon Headlight, Daytime Riding Light, Hill Start Control, Tyre Pressure Monitoring - Keyless Ride, Quick Shift Assist Pro, Central Locking - LED Additional Fog Light, Anti-Theft Alarm System, Two Power Sockets - Dynamic ESA, Navigation Preparation, Heated Seats - Cruise Control, Riding Mode Pro (Rain, Road, Dynamic)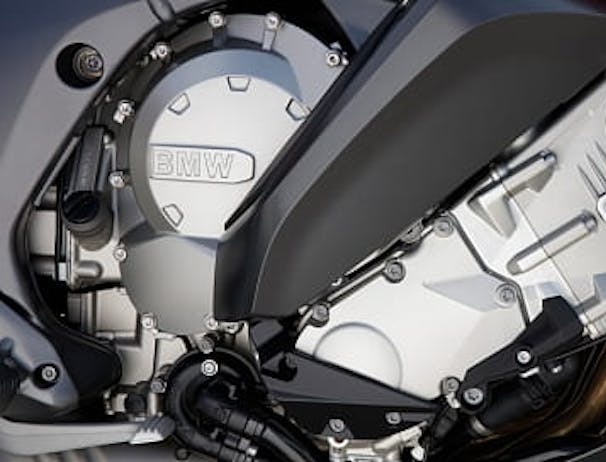 First-class six-pack.
The six-cylinder in-line engine. With this, every ride is a pleasure. With its unmatched running smoothness and power delivery, it reliably ensures the desired dynamics. Its 118 kW (160 HP) and maximum torque of 175 Nm develop an incomparable and effortless push force. In doing so, 70% of the torque is already available at 1,500 rpm.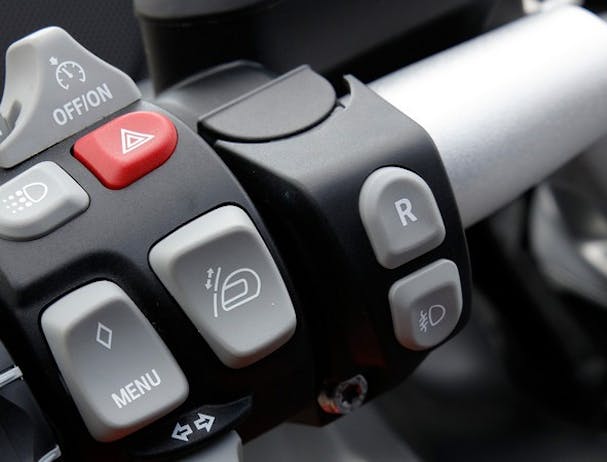 Reverse assistant: Simply reverse.
Activate the reverse assist by putting the bike into neutral and activating the assist function using the button on the left handlebar. As soon as the R is shown on the display and started by pressing it, you can glide out of your parking space with ease and get going on to your next destination with ample momentum.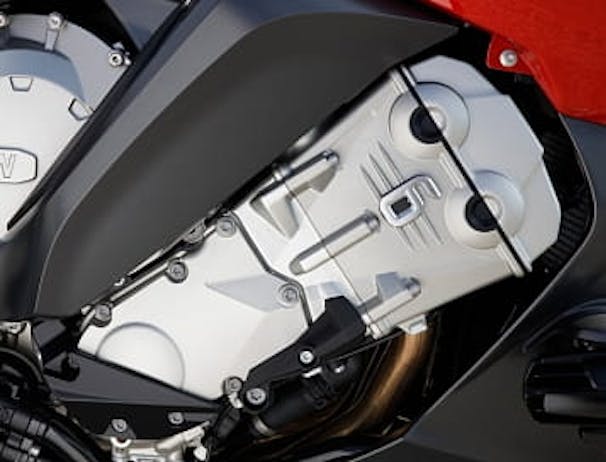 Dynamic ESA: unevenness ironed flat.
The standard Dynamic ESA once again significantly increases the first-class riding comfort of the K 1600 GT. It ensures ideal traction, safety and the highest level of comfort: spring travel sensors at the front and back record, in particular, the vertical movement of the wheel alignment.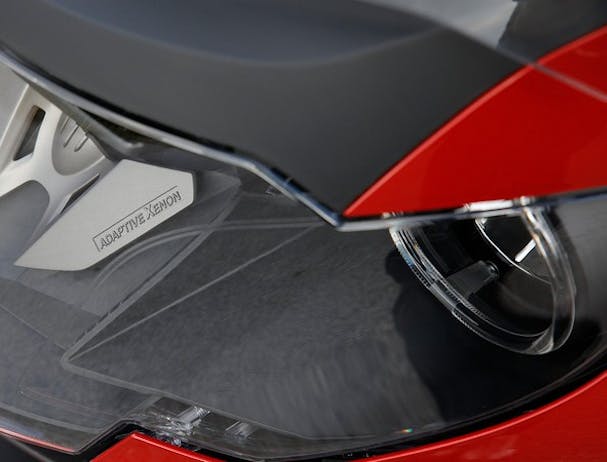 Xenon headlight: puts everything into the right light.
The standard xenon headlights are double as bright and consume 30% less power than conventional halogen headlamps. They ensure consistent illumination of the road surface - particularly at night and with poor visibility. At the same time, they make you easier to be seen as well. A cylindrical bulb shield on the reflector prevents the light bulb from dazzling other road users.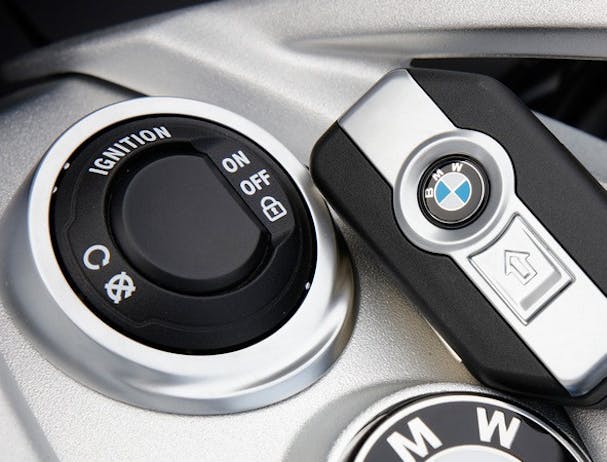 Keyless ride and central locking.
Keyless ride and central locking make your life easier and quickly become companions you won't want to do without. That awkward searching before the journey simply goes away and carrying your key in your jacket pocket is sufficient to unlock and start up your motorcycle.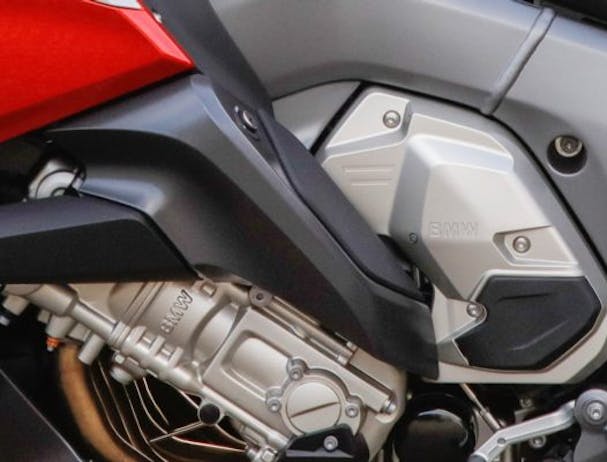 Shift like in racing.
The pro shift assistant, which was adapted for use in the touring sector, allows you to shift gears without using the clutch in almost any load or engine speed range. During acceleration, the throttle grip remains open and ensures swift and relaxed shifting. When downshifting with closed throttle grip, the system automatically provides double-declutching and uses this to downshift perfectly.