YAMAHA YZF-R3 WGP (60TH ANNIVERSARY EDITION)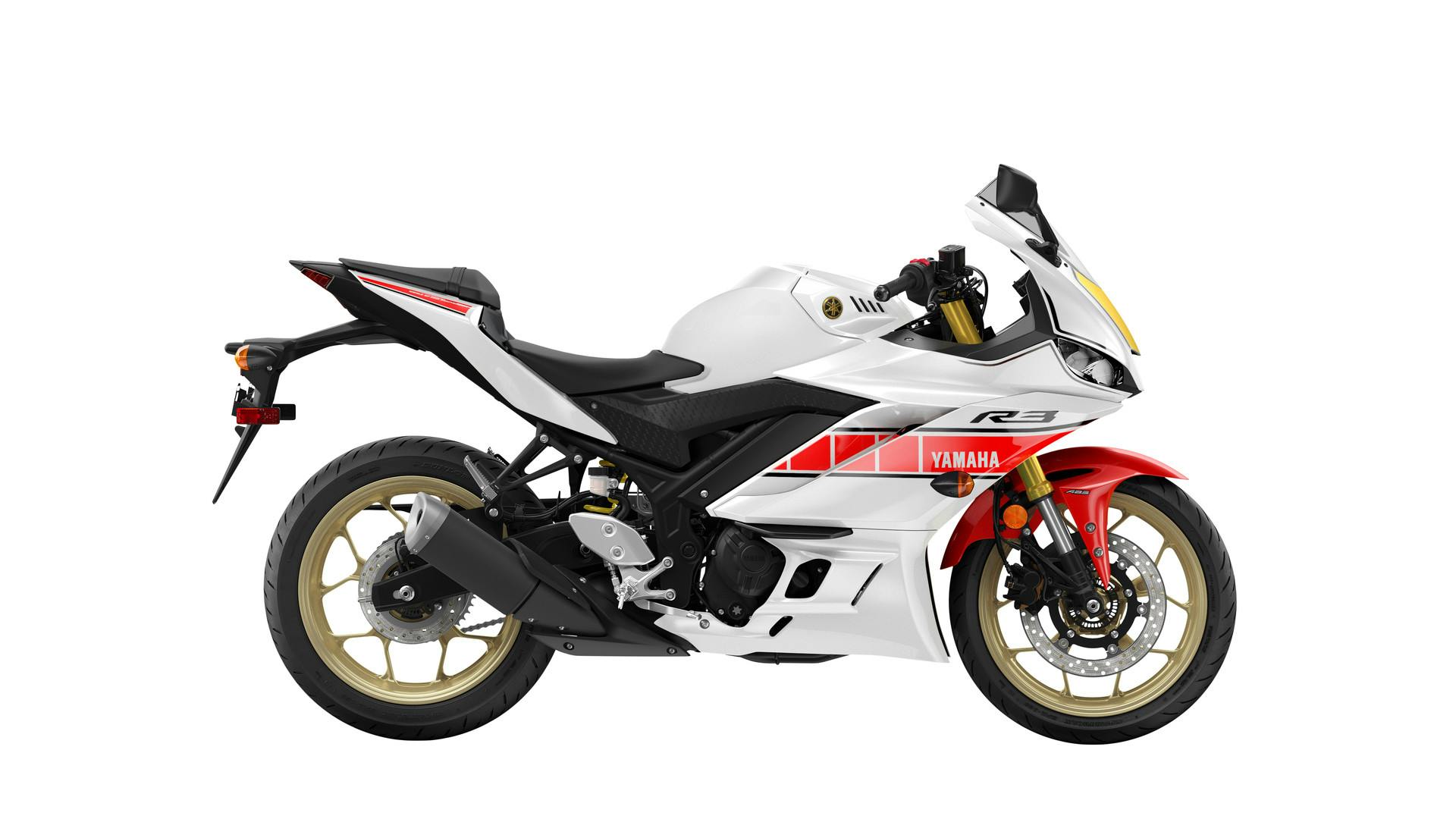 CELEBRATE 60 YEARS OF R HISTORY
Same advanced twin cylinder engine, same ultra‑lightweight flickable chassis, now with brilliant World GP 60th Anniversary Edition styling.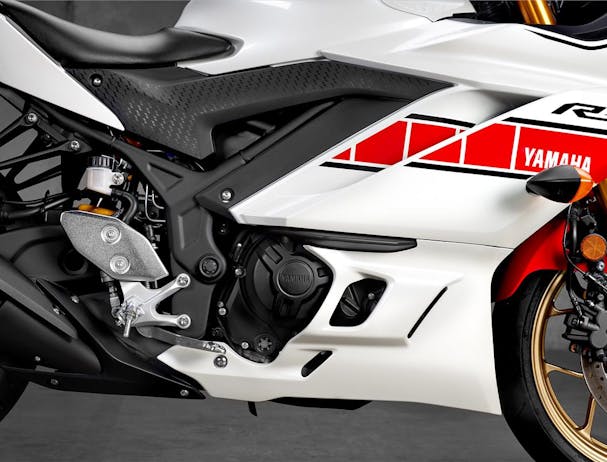 High-Revving Supersport Engine
Yamaha's championship-winning technology gives the YZF-R3 a broad spread of power with exciting high-rpm performance.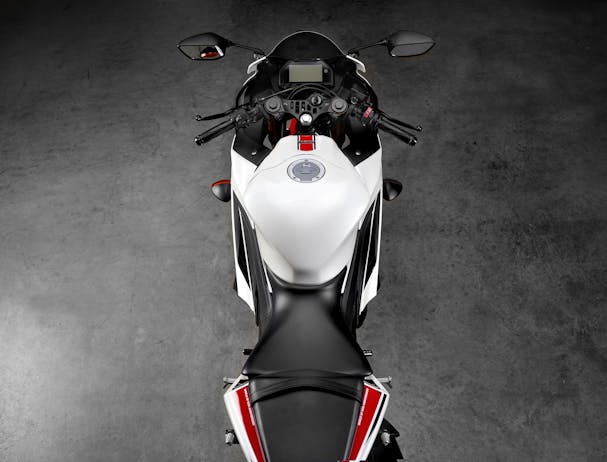 Compact Chassis
With a fully-fueled weight of only 375 pounds and a seat height of only 30.7 inches, the YZF-R3 is ultra-light, nimble and confidence-inspiring on everything from tight city streets to wide-open racetracks.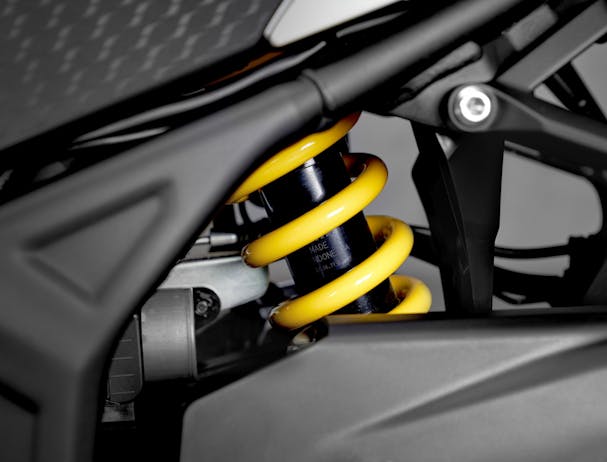 Inverted Front Fork
The YZF-R3 features an inverted fork with optimized spring and damping settings, significantly improving fork rigidity, front-end feedback and control feel. The design also includes a YZR-M1-inspired top clamp for improved supersport style.
LED Lighting
Light Emitted Diode (LED) elements are used for both the taillight unit and headlights. Not only do LEDs offer long life with minimal power draw, they provide brilliant illumination for confidence and visibility day or night.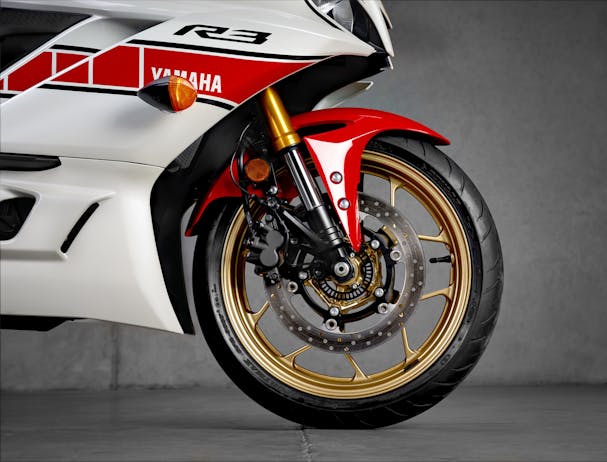 Sportbike-Spec Wheels & Tires
Stylish 10-spoke cast aluminum wheels minimize unsprung weight for improved suspension responsiveness and refined handling. Grippy Dunlop® radial tires offer enhanced traction and feedback for sporty riding too.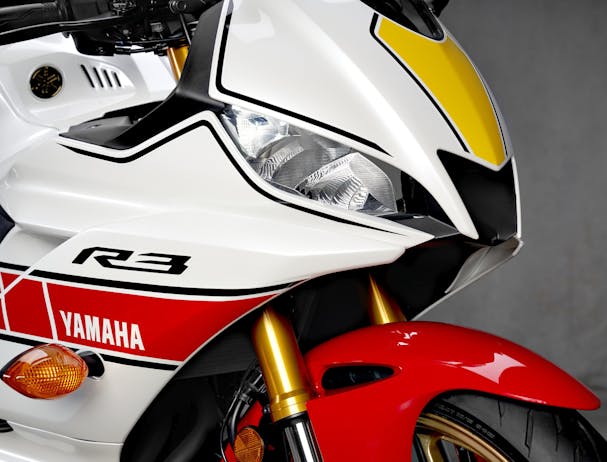 Strong, Lightweight Pistons
Forged aluminum pistons—the same technology used for the YZF- R1—mean lighter weight and excellent strength at extreme temperatures, ensuring reliability at higher rpm.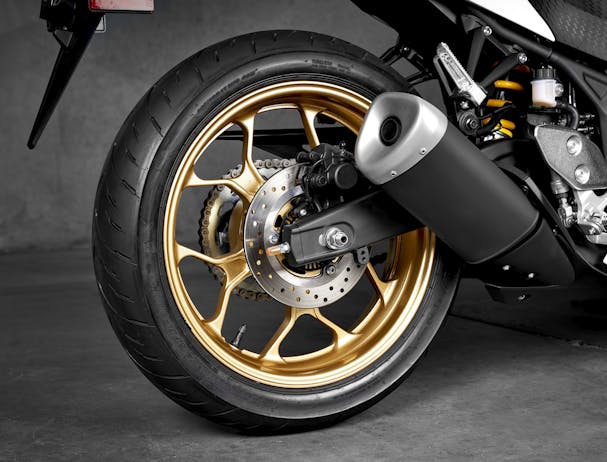 Monocross Rear Shock
The single-shock design further centralizes mass and is tuned to strike a balance between ride comfort and sporty performance, for capability across a wide range of uses, from urban commuting to track days. It's also adjustable for spring preload which accounts for passengers or cargo.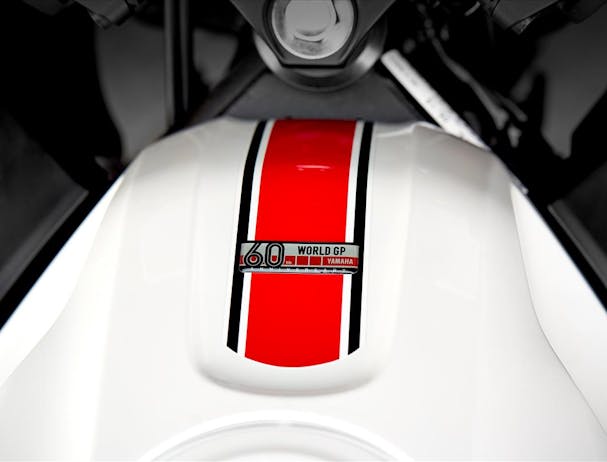 Refined Sportbike Ergonomics
Thanks to the low-profile fuel tank design and relatively compact handlebar position, the rider is able to naturally grip the machine for confidence, especially when tucking aggressively behind the windscreen on the racetrack.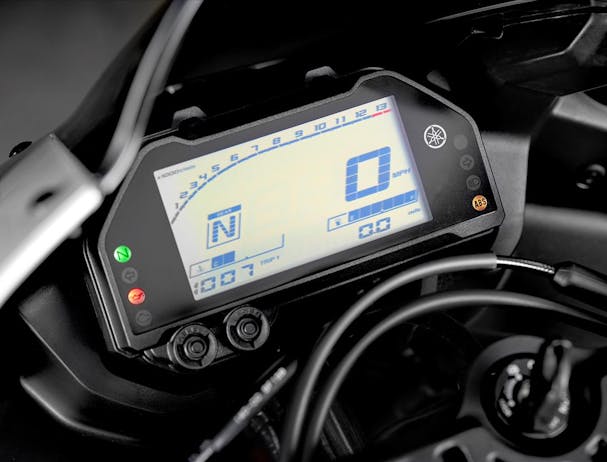 Digital Instrumentation
The compact multi-function meter informs the rider of gear position, fuel capacity, real time and average fuel economy, water temp, clock, and an oil change trip meter—all presented in a clean, modern layout.