YAMAHA YZF-R3 (2021)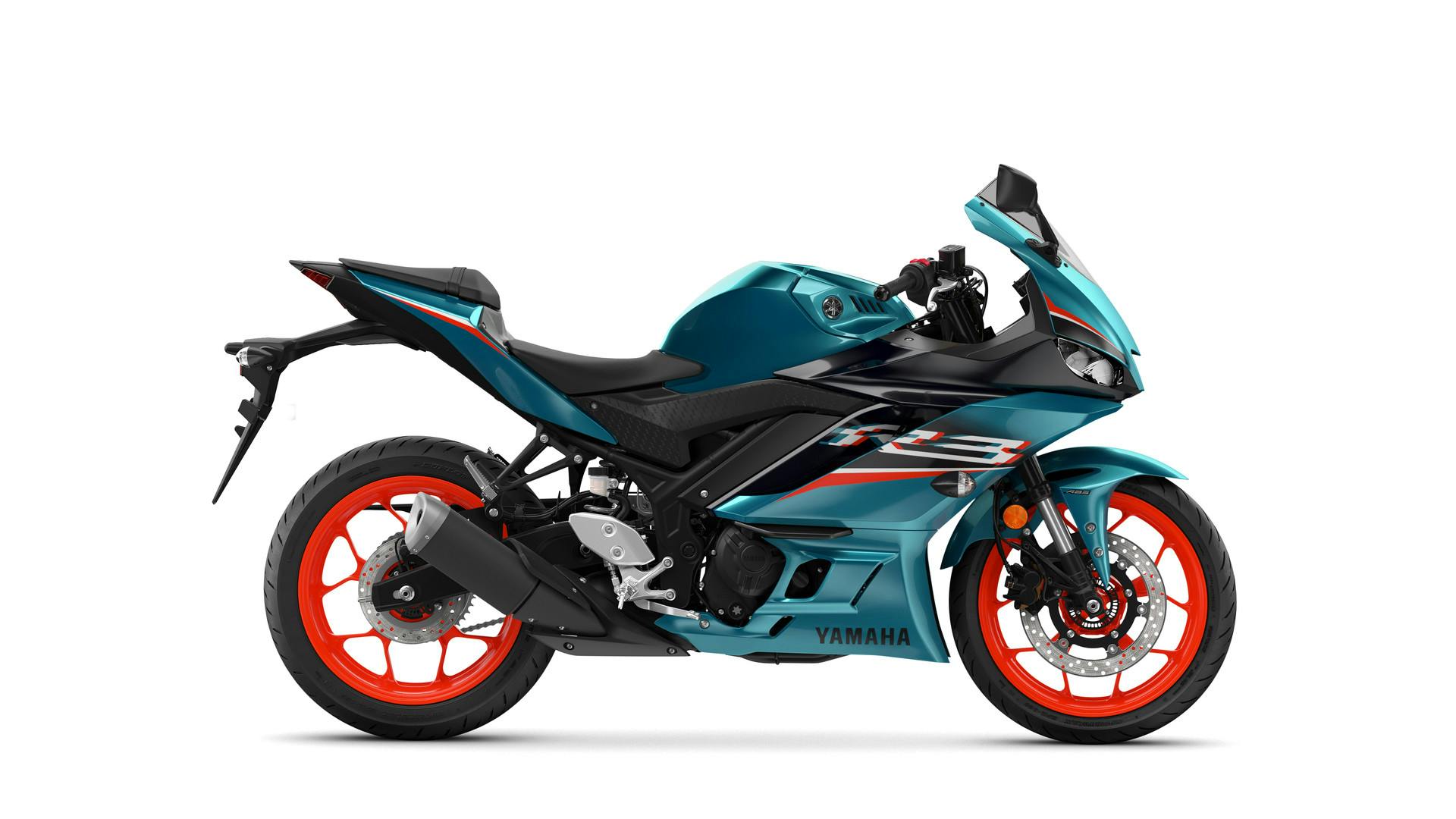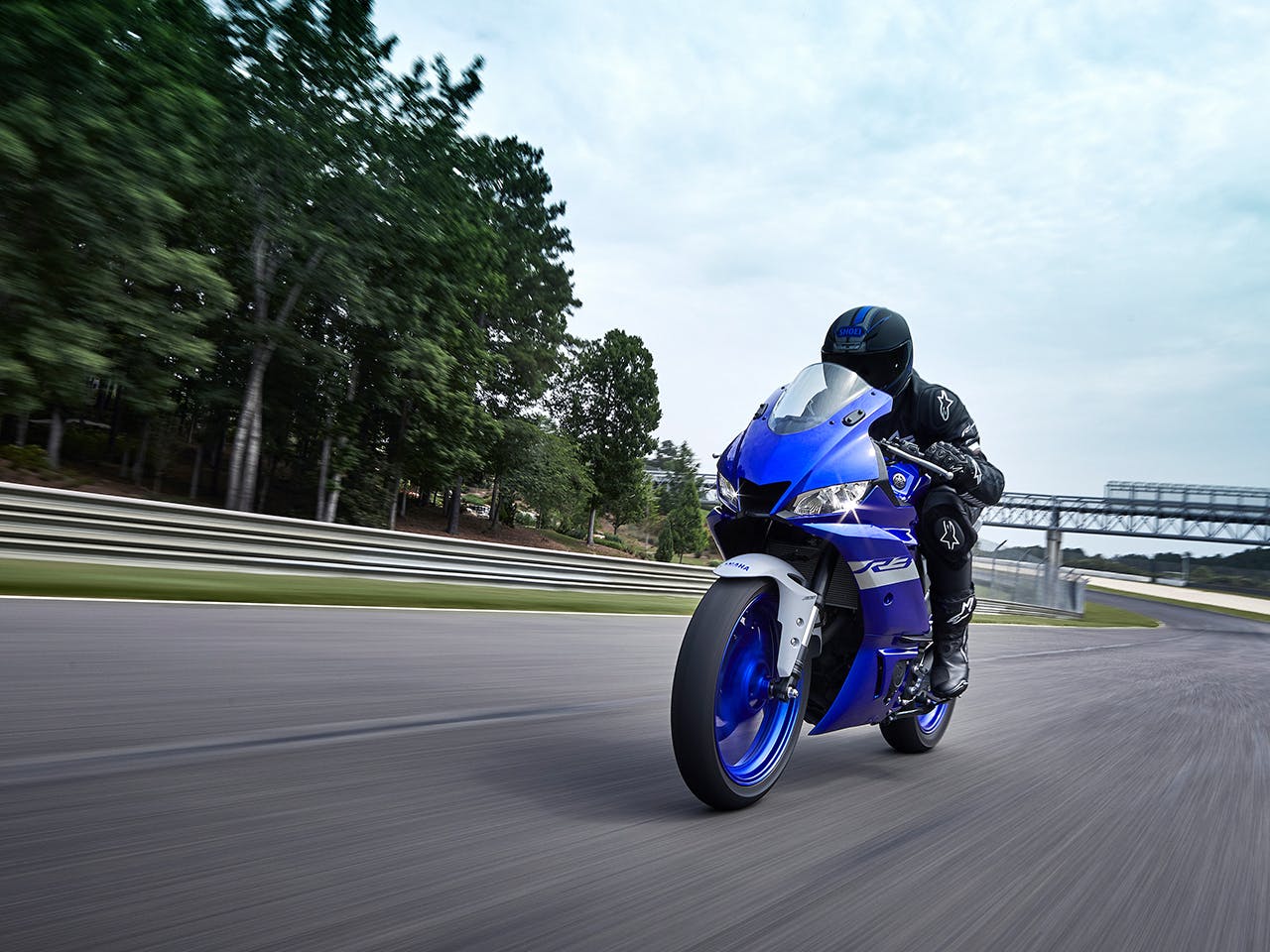 THE ONLY LAMS CHOICE WITH PURE RACE DNA - STEP UP TO THE YAMAHA YZF R3 AT BIKEBIZ
Some of us are drawn to track style and race heritage, even in the bike we choose for the road. For those people there's just one bike to be seen on and that's Yamaha's YZF R3 from Bikebiz. It doesn't just look the part, its light weight, agile handling, high-spec suspension and free-revving twin cylinder engine are all pure supersport, designed for riders who demand performance in a beginner-friendly ride. So forget compromises and go with the only LAMS bike that delivers on road and track alike - the incomparable YZF R3.
LOOK NO FURTHER FOR YOUR YAMAHA YZF R3 - BIKEBIZ HAVE IT
When everything about Yamaha's YZF R3 screams 'fast', we can understand why you'd be in a hurry to see one in the flesh! You can get up close to the YZF R3 right now at the Bikebiz Parramatta showrooms. Bikebiz are your Sydney Yamaha experts, so if you're in Sydney, elsewhere in NSW or in fact anywhere in Australia and you have your heart set on a YZF R3, we're the smart choice. Our team has a long relationship with the Yamaha brand and a deep knowledge of everything Yamaha - in fact our own Dealer Principal loves Yamaha's YZF R3 so much that he regularly takes his own to the track!
The adrenalin-charged YZF R3 journey begins at  Bikebiz Parramatta. See the bike for yourself, learn all about its features and specifications from our Yamaha specialists and get to know more about this LAMS bike and its special R heritage. And just in case you find yourself head over heels, we have Sydney's best YZF R3 prices and Yamaha Finance to get you onto your dream bike fast. 
At Bikebiz we're with you for the ride at every step, and expert Yamaha servicing is behind every bike we sell. Our team of Yamaha technicians is equipped with the latest technology and trained up-to-the minute to keep your Yamaha performing at its very best, whether it's scheduled servicing, warranty work or maybe just a new set of tyres.
So don't wait a moment longer. It's time to get a feel for what this bike is all about by taking to the road. It starts with a test ride.  Get in touch right now and let's rev your heart right away!
So what really sets apart Yamaha YZF R3? A racetrack heritage and a bloodline of big brother bikes that are consistent winners are a good start. That 321cc engine is another factor - punchy, powerful and proven, yet so easy to use. There are many LAMS bikes that carry a hint of the supersport look but only the YZF R3 backs it up with track-worthy features and a history of victory where it counts.
What makes Yamaha a good choice? There's an international history of winning and of innovation that's right at the soul of the Yamaha brand. Decades of quality and reliability delivered in all types of motorcycling. And there's no denying that the Bikebiz team's long relationship with Yamaha goes a long way towards contributing to a choice you can really trust.
What makes the Yamaha YZF R3 engine special? The 321cc twin cylinder liquid-cooled engine in the YZF R3 is not a derivative of any other engine, it was purpose-designed to represent the peak of performance for its capacity in a supersport bike. It delivers its smooth-revving power in a way that's eager yet easy to use for riders of all experience levels. It's what gives the YZF R3 the soul of a superbike.
Can I really have all that power with great reliability? Yes you can. In fact it's the YZF R3's track credentials that drove an evolution of reliable performance. There's no tougher test of an engine's reliability than season after season riding at the limit on track, and that's just where the 321cc twin has been proven. So ride it to work. Take to the hills. Get your kicks at a track day. This is one engine built to take it.
Can a performance bike like the YZF R3 make a great beginner bike? Along with a performance engine that's also easy to use, a lot of the factors that make the YZF R3 great on the track serve up benefits for beginners, too. A compact chassis and light weight mean easy handling for riders of all sizes. Great handling translates to big confidence. Strong brakes with ABS make sense for safety on the road. Of course there's more than one LAMS bike in the Yamaha range at Bikebiz, so if you're in the mood to compare that's easy. It's right here. 
The YZF R3 is a great looking bike - show me the colours! Yamaha's YZF R3 is a stunner and it's available at Bikebiz in three colourways that make it look fast standing still. There's Yamaha Team Blue, Electric Teal and Black.  See the colour range for yourself HERE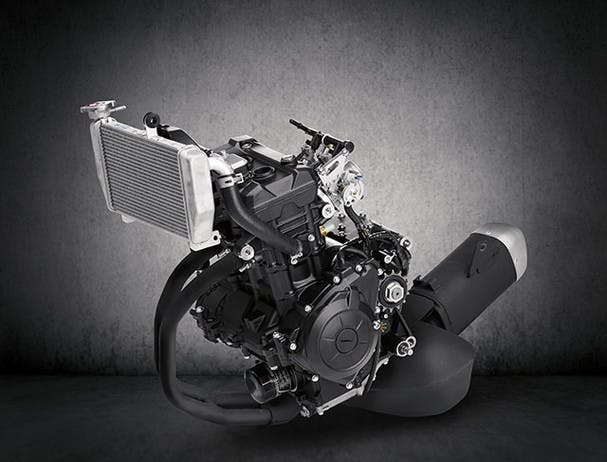 321cc Inline Twin Cylinder Engine
Featuring the latest combustion technology together with lightweight forged aluminium pistons and all-aluminium DiASil cylinders with an offset design, the smooth-running and quick-revving YZF-R3 engine produces easy-to-manage power.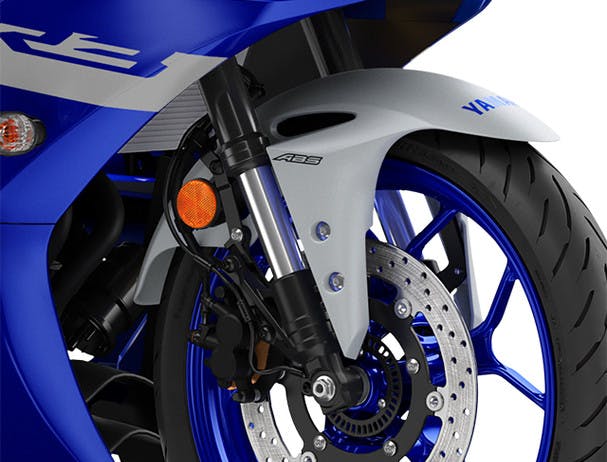 Inverted forks for feedback that sets the YZF R3 apart
Just a short test ride will tell you that the inverted 37mm KYB fork on the YZF-R3 is something special. Stiff and free of flex, the travel is smooth and supple thanks to greater surface area where the fork outers and sliding stanchions meet. Responsive yet comfortable, this is supersport suspension on a LAMS bike.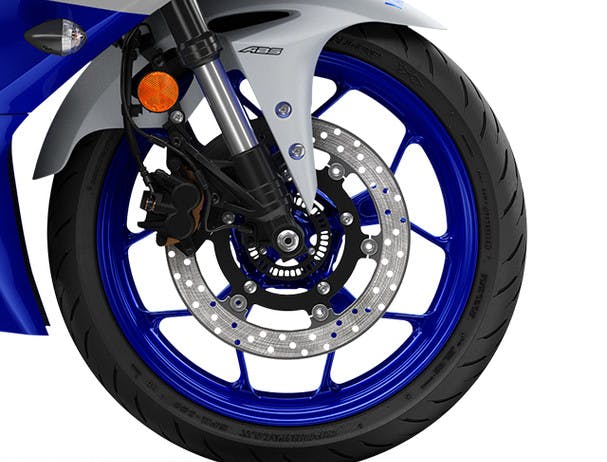 Stunning wheels. Amazing ABS brakes. Total confidence.
The gorgeous 10-spoke aluminium wheels on the YZF R3 are distinctive and lightweight. One big 298mm disc with a free-floating twin piston caliper provide ample stopping power from any speed, backed up by ABS braking as standard for an extra level of safety.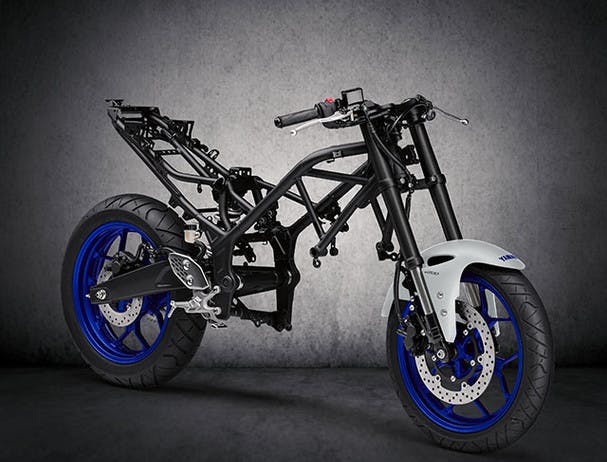 Light, long and strong - YZF R3 chassis and swingarm
The YZF R3's lightweight steel tube chassis uses the engine as a stressed member for rigidity and sharp handling. The swingarm is asymmetrical and long, assisting efficient power transfer and traction at the rear wheel. Sharp yet stable, the chassis is one more area where the R-series DNA is obvious.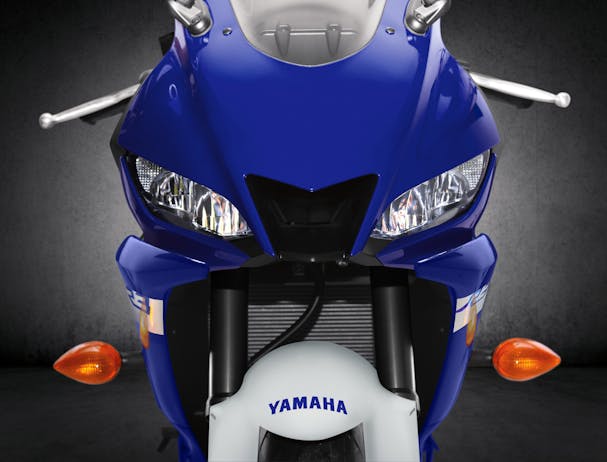 Distinctive R-Series Styling
The YZF-R3 features a front fairing and windscreen design that pays homage to Yamaha's flagship MotoGP race bike, the YZR-M1.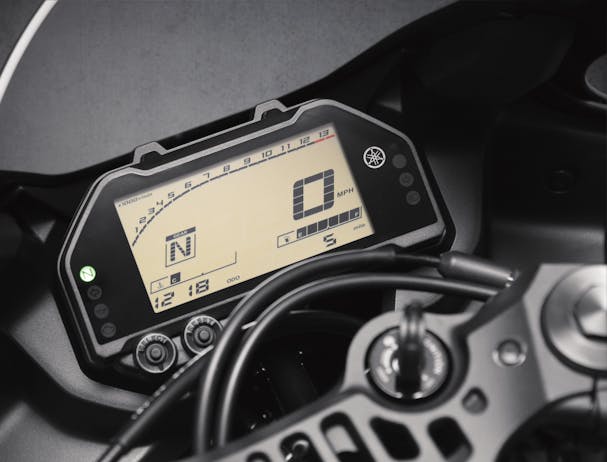 LCD instruments with shift light. A beautiful dash that's straight from the track.
The linear graph tachometer and analogue speedo are pure class. And as though an amazing multi-function LCD instrument panel with a wealth of rider information wasn't enough, the YZF R3's dash is also sprinkled with track magic like a shift timing indicator light and gear position indicator, too.