YAMAHA TMAX 560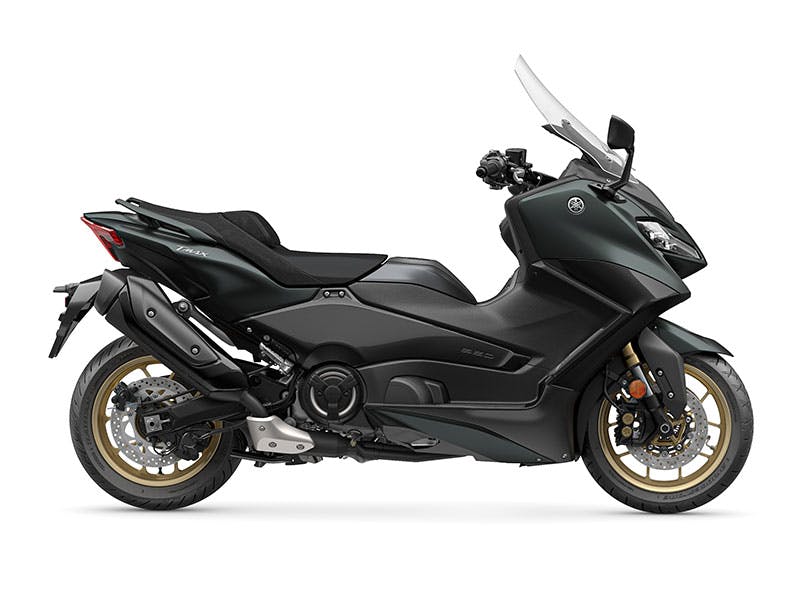 Yamaha TMAX 560
For 2022, the TMAX has been radically uprated with a best-in-class 7-inch colour TFT screen with full smartphone connectivity – enabling you to keep in touch on every ride. Full-map Garmin Navigation* makes sure you get there on time – and with a heated seat, heated grips, electric screen and cruise control, you can enjoy business class comfort through the year.
The newest TMAX Tech MAX also comes with an all-new compact body with a longer seat and footboards that give an even more comfortable ride. Its aggressive new face and aerodynamic front wings project a supersport-inspired look, taking the TMAX Tech MAX one step closer to the motorcycle world. And premium components and a class-leading finish confirm what you probably already knew about this iconic machine.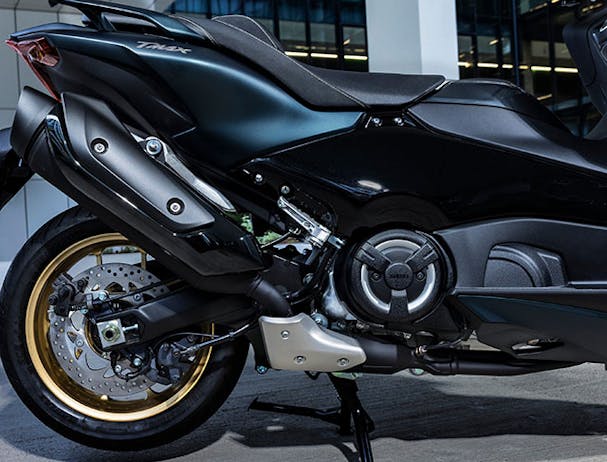 Powerful 560cc Engine
The new TMAX gets a major boost in performance with the fitment of a more powerful larger-capacity 560cc, 2-cylinder engine that is equipped with new lightweight aluminium forged pistons and newly-designed con rods.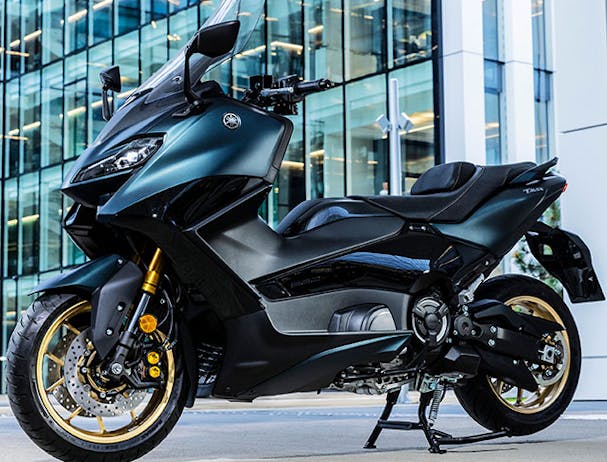 Lightweight Chassis
At the heart of the TMAX 560 is a lightweight die-cast aluminium twin-spar frame, with optimised rigidity balance, that lets riders enjoy the full effect of the 560cc engine and CVT transmission.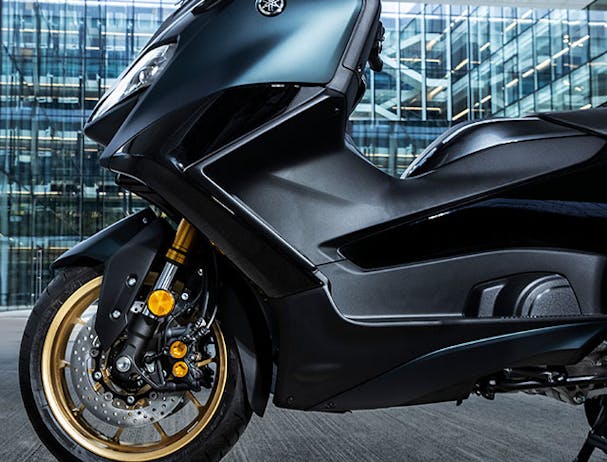 New Look
The TMAX Tech MAX's slimmer waist gives improved leg reach to the ground, and the shape of the newly forged aluminium handlebars contributes towards a slightly more forward-leaning position for improved feedback.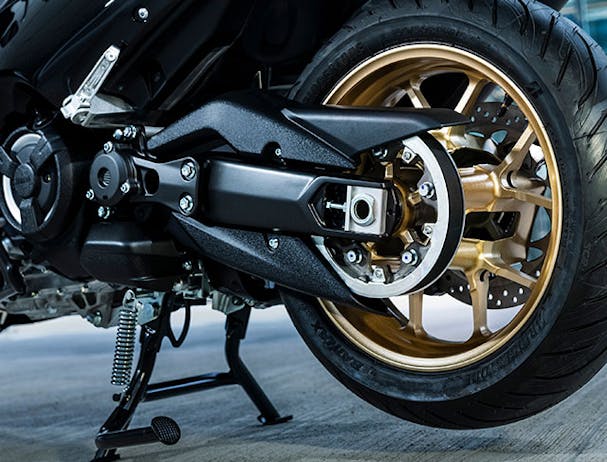 Sophisticated Electronics
The new TMAX Tech MAX is equipped with a state-of-the-art Yamaha Chip Controlled Throttle (YCC-T) for the finest level of engine controllability – and for improved feeling and reduced weight, a new fly-by-wire Accelerator Position Sensor Grip (APSG) is fitted.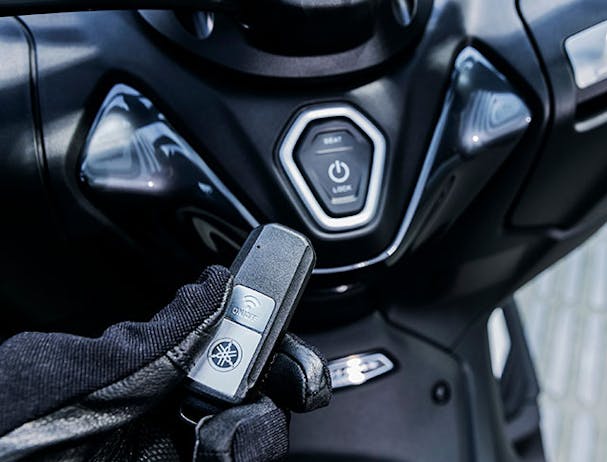 Smartkey Keyless Ignition
This keyless technology enables you to start the engine, unlock the seat and release the centre stand easily and quickly – and you can even unlock the stylish new flush-fitting aero-style fuel cap.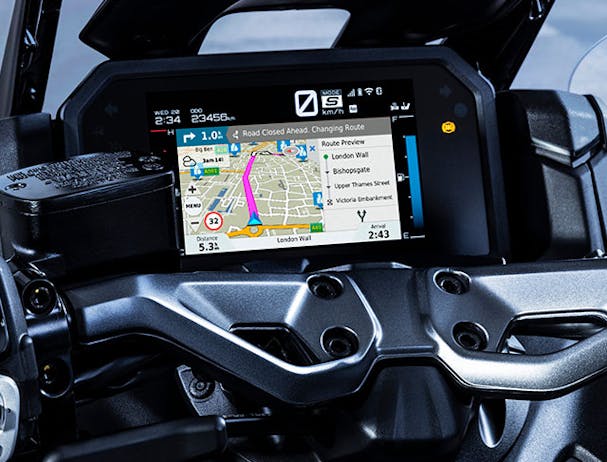 TFT Instruments
Operated by a simple joystick, the sophisticated new connected full-colour 7-inch TFT screen features a choice of three display styles. Through Yamaha's MyRide App you can access MyRide – Link that enables the connection with the vehicle.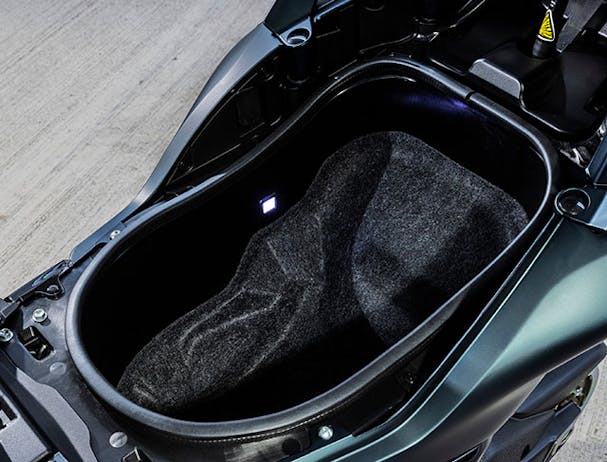 Large Storage Space
With easy keyless access, the large under-seat storage space can accommodate one full-face helmet when you're parked – and when you're on the move it's the ideal weatherproof space to safely carry a briefcase, laptop or gym kit.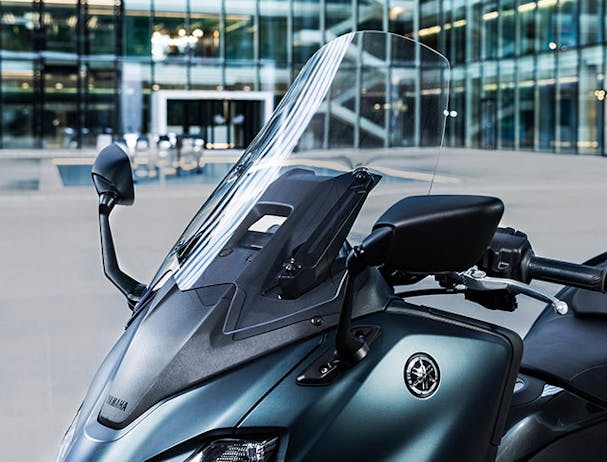 Electrically Adjustable Screen
The newly styled adjustable windscreen features a centre air intake duct that contributes towards the increased level of comfort by reducing pressure on your upper body, especially at higher speeds.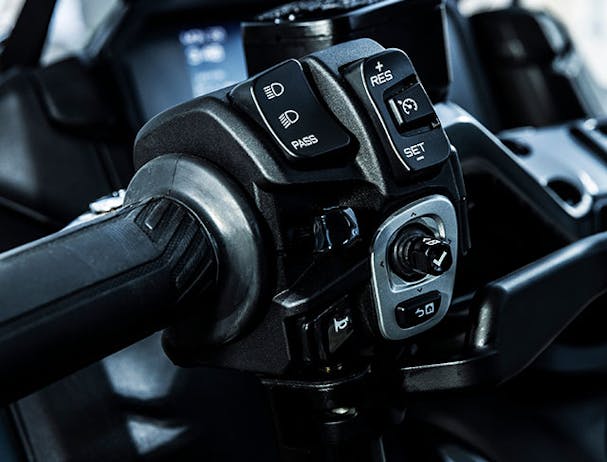 Cruise Control
Cruise control is a standard feature on the TMAX Tech MAX, and also serves as a useful way to stay under the speed limit. The system works in conjunction with the YCC-T Yamaha Chip Controlled Throttle and can be selected at speeds of 50 kph and above.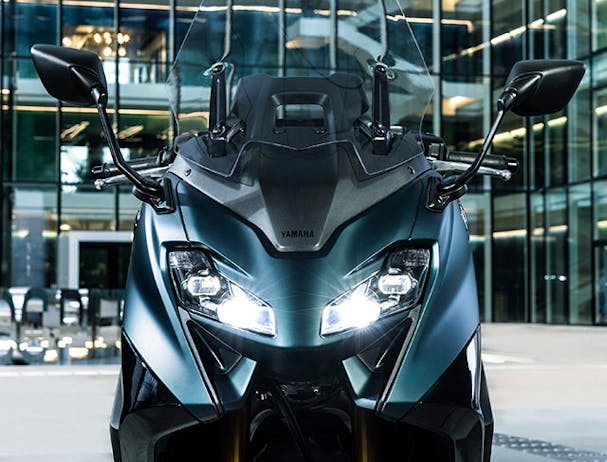 Projector Headlights
Take one look at the new face and you'll know that this could only ever be TMAX Tech MAX! Its slimmer dual headlights with integrated flashers give a more aggressive look, while the new projector design with a mono-focus lens generates a powerful beam.