SUZUKI KINGQUAD 500AXI 4X4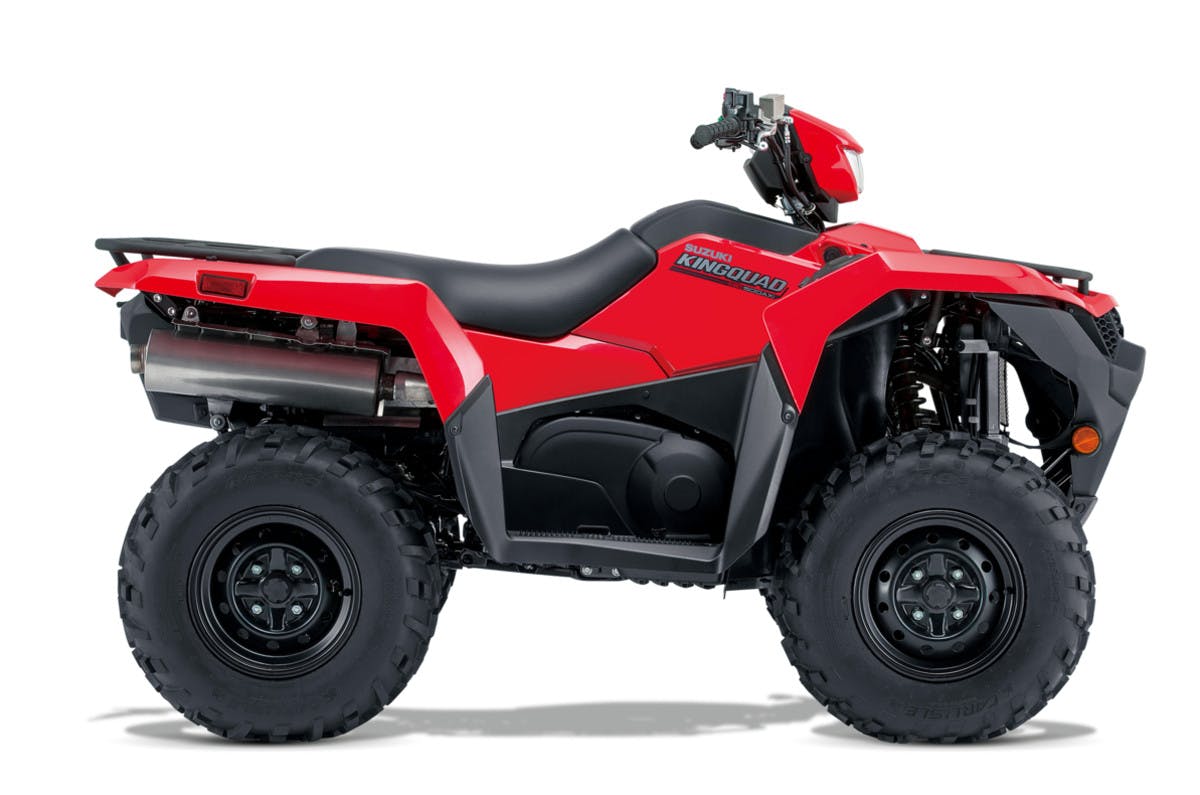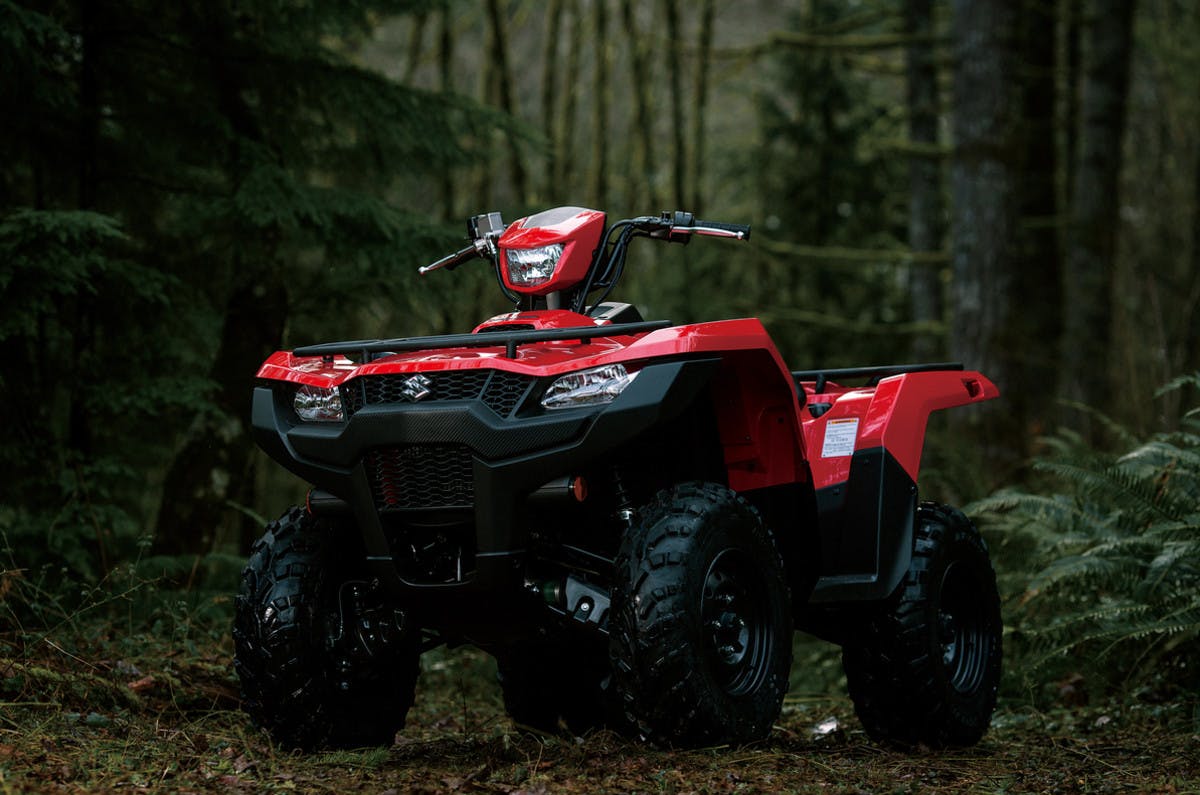 NOTHING'S BUILT LIKE A KINGQUAD
For MY19 the best value 500cc Farm ATV just got even better. The new generation KingQuad range has been developed utilising feedback from Australian & New Zealand farmers to produce the toughest, best performing and most reliable workhorse on the market.  The new edgy and dynamic bodywork surrounds an impressive list of updates to the New King. The updated stronger frame with 25% thicker tubing, helps this ATV tackle just about any riding terrain. Towing capacity has been boosted to 600kg and now features a receiver type trailer hitch as standard. The fully-independent suspension is fitted with new, gas-charged shock absorbers that feature 5-way pre-load adjustment to match the spring rate to the cargo load. The rear brake features a sealed oil-bathed multi-disc system which delivers strong and consistent stopping performance and is virtually maintenance free. A gate-styler lever makes it easy to select between L-H-N-R, simplified servicing and over 10 litres of storage make the new KingQuad 500AXi the best value 500cc ATV for Australian Farms.
0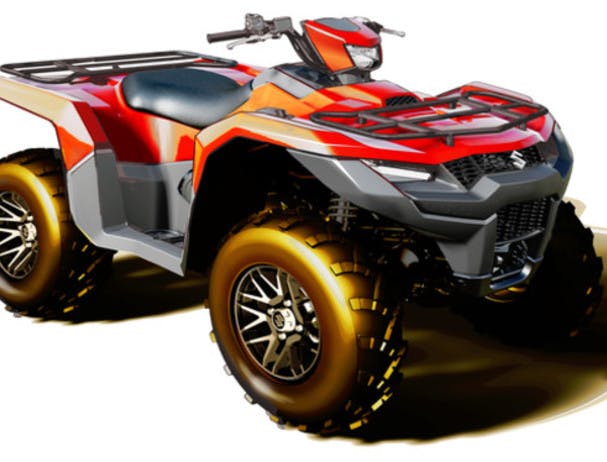 Solid, Edge & Dynamic Styling Design
All new bodywork and styling featuring sharper lines with well-defined angles. The high-clearance fenders offer great protection for the rider from flying debris.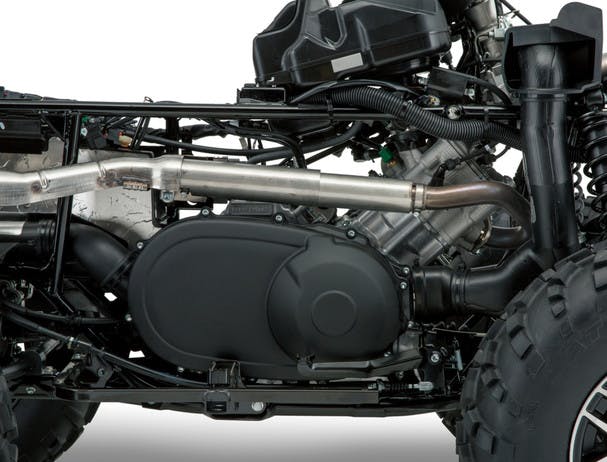 Quadmatic™ CVT
Suzuki's class-leading Quadmatic™ CVT-type automatic transmission provides versatility and convenience with a fender-mounted gate-type shifter for L-H-N-R selection.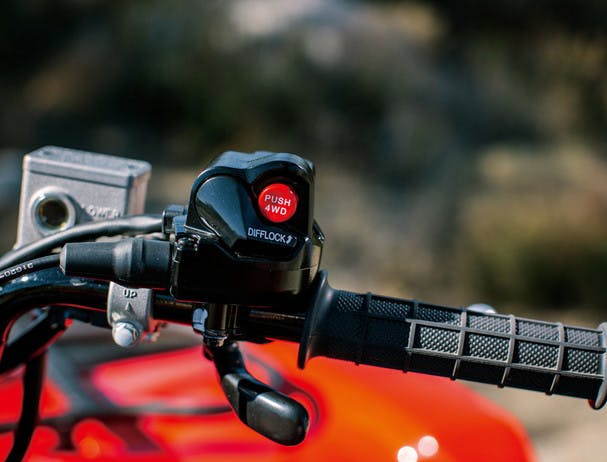 Push Button 4WD
A handlebar-mounted push-button allows easy selection between 2WD, 4WD and differential-lock 4WD. An override button on the left handlebar can be used to override the normal speed limiter when stuck in the mud.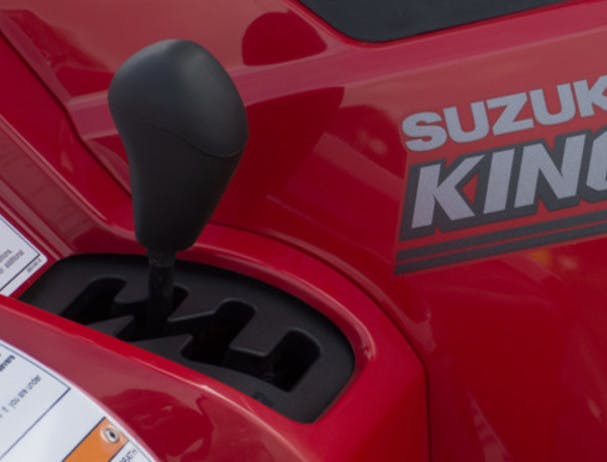 Gate-style lever
Gate-style drive mode selector lever lets the rider easily and securely select between Low, High, Neutral or Reverse setting. Unlike some of its competitors the KingQuad features In-gear starting ability for user convenience.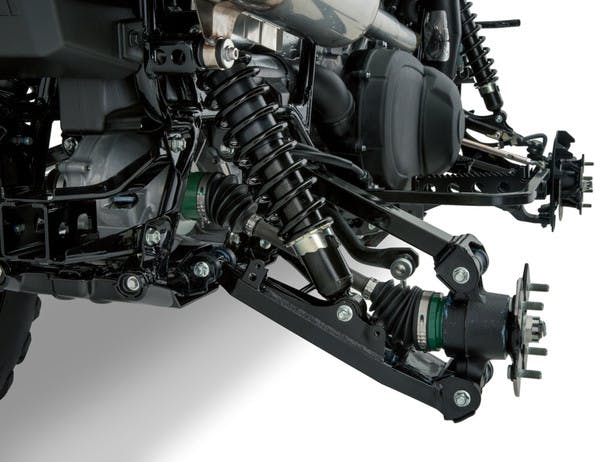 Nitrogen Charged Shock Absorbers
Ride quality and manoeuvrability especially over rough terrain has been improved with the addition of nitrogen charged shock absorbers, featuring 5-way spring preload adjustment all round.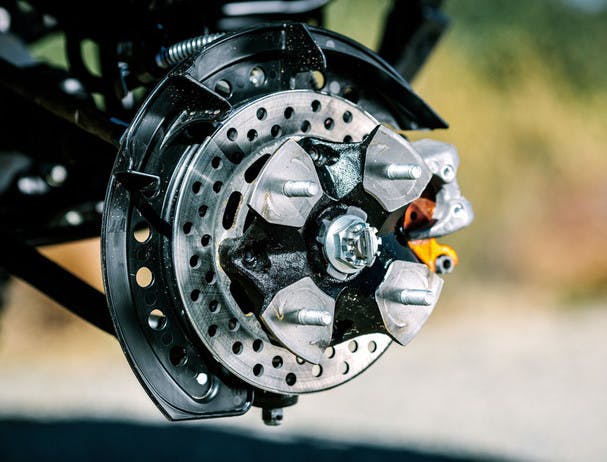 Optimised braking
The brake pad material, brake lines, rear brake pedal and lever ratio have all been optimised to result in excellent feedback and stronger overall braking performance.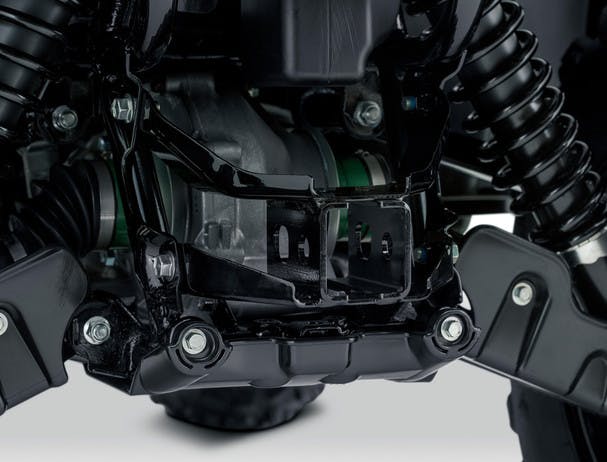 600kg Towing Capacity & Receiver Type Trailer Hitch
Towing capacity has been increased by 33% from 450kg to 600kg. Additionally the trailer hitch mount has been changed from a plate type to a receiver type allowing customers to easily change hitch and ball types when required.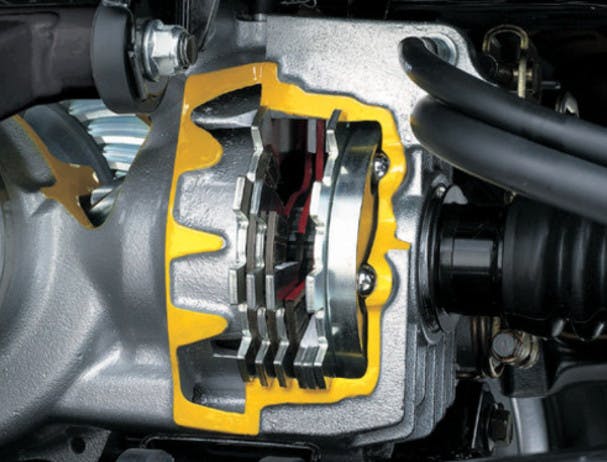 Sealed multi-plate rear brake
Dual front hydraulic disc brakes with large 200mm discs and lightweight calipers provide maximum brake pad surface area for increased stopping power and outstanding durability.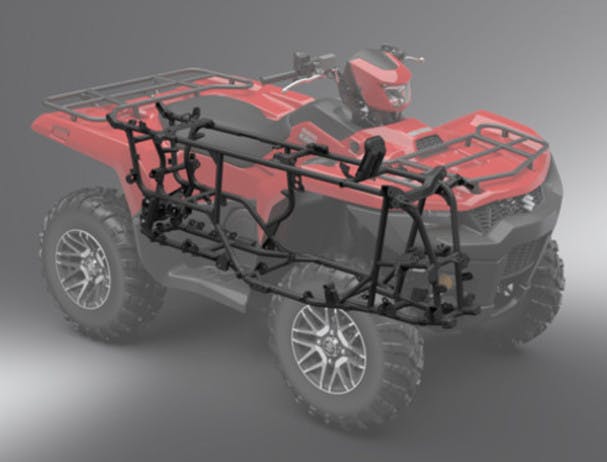 Updated, Stronger frame
The thickness of the main frame tubes have been increased by 25% from 1.6mm thick to 2.0mm thick resulting in increased frame rigidity.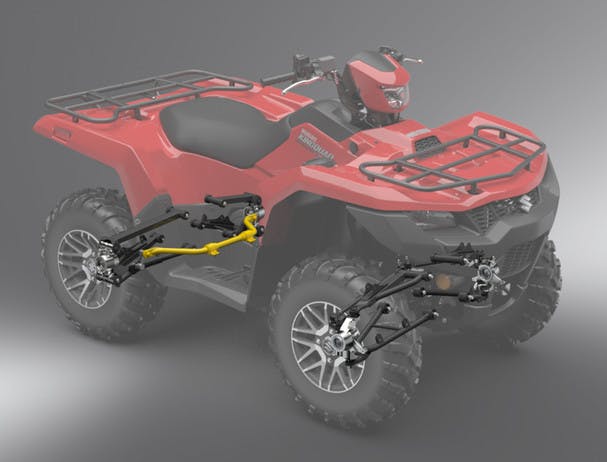 Updated Rear Stabiliser Bar
The rigidity of the rear stabiliser bar has been increased and a softer material has been used for the bushes to dampen vibration and improve ride compliance, comfort and handling.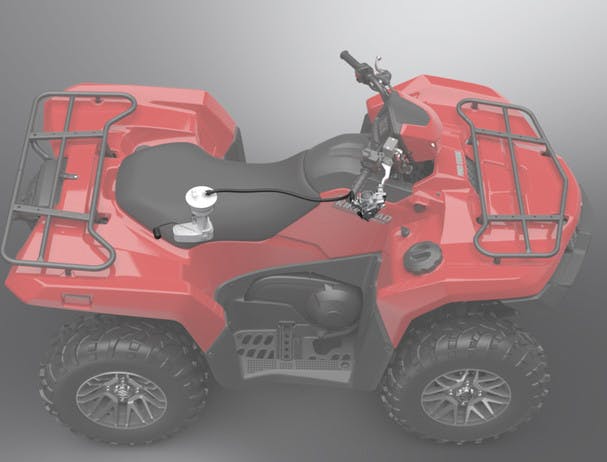 Simplified Servicing
The fuel filter, can now be accessed underneath the seat for servicing without having to remove the rear fender.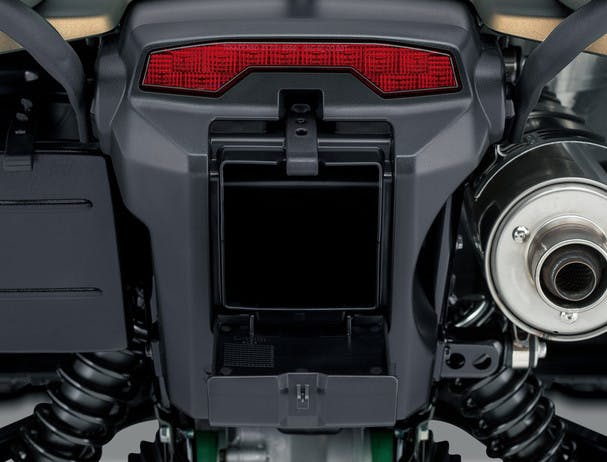 Over 10 Litres of Storage
The new KingQuad 500AXi & 750AXi models now feature three storage compartments for added convenience.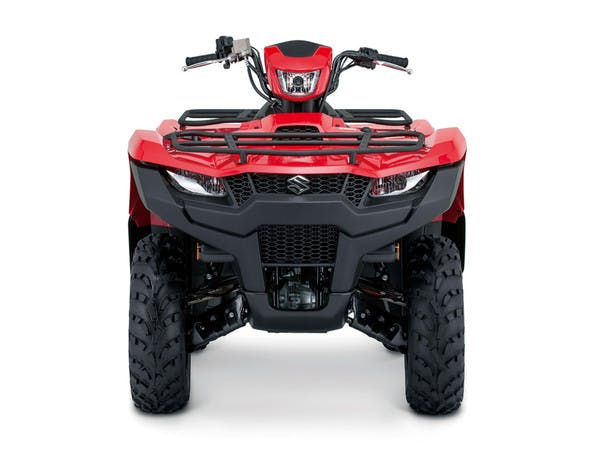 Handlebar Mounted Headlight
A 35W handlebar-mounted headlight illuminates the path in the direction the ATV is being steered. Dual 35W headlights (with high and low beam) are also part of the new KingQuad's distinctive bodywork.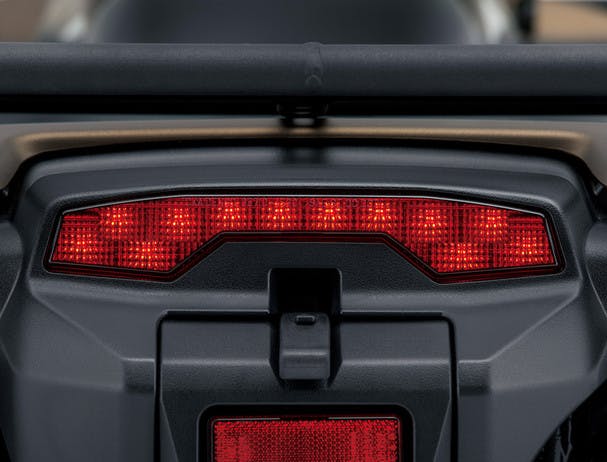 LED Taillight
The new LED taillight provides excellent visibility and draws less electrical current and requires less maintenance than a conventional bulb taillight.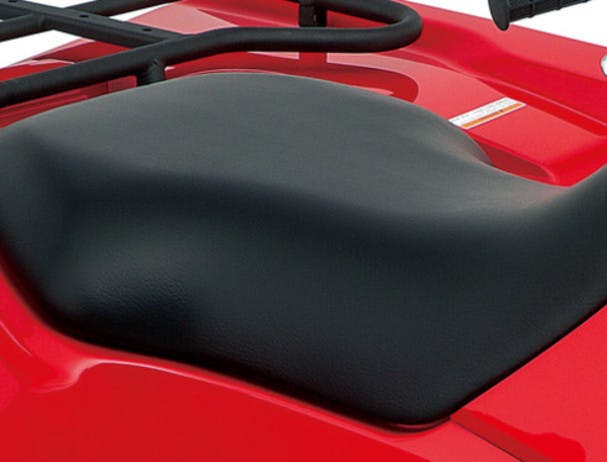 Suzuki's Exclusive T-Shaped Seat
The Suzuki exclusive T-shaped seat was designed with the rider's mobility in mind for all-day riding comfort and easier body­weight transition.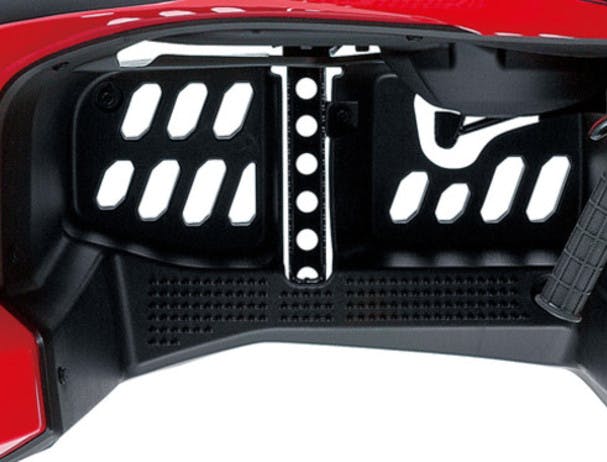 Roomy Floorboards
The roomy floor boards feature raised motorcycle style foot pegs that allow for increased rider comfort and control.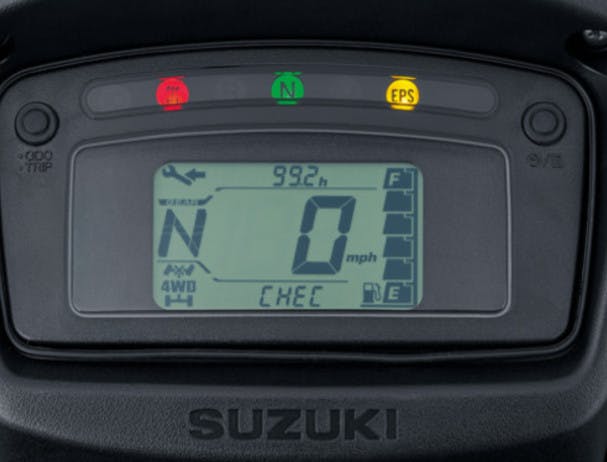 Updated Multifunction Instrument Panel
A new, fully redesigned multi-function instrument panel has improved appearance and visibility and now provides service reminders based on running time or kilometres.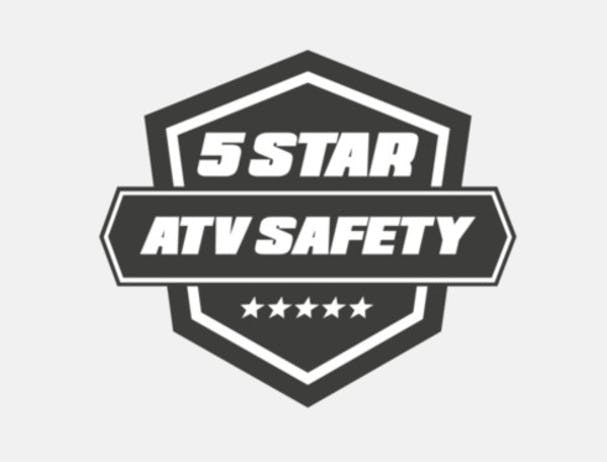 5 Star ATV Safety
As a leading manufacturer of ATVs, Suzuki is serious about improving safety outcomes and endorses the official 5 Star Safe ATV User Guide to assist riders to improve their own safety outcomes: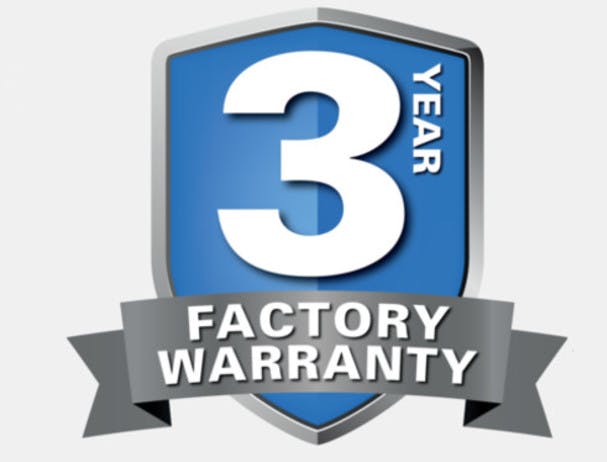 3 Year Factory Warranty
At Suzuki we back our entire range of hard-working Farm ATV products with a full 3 year factory Suzuki warranty. It's our show of commitment to you.