SUZUKI GSX-S125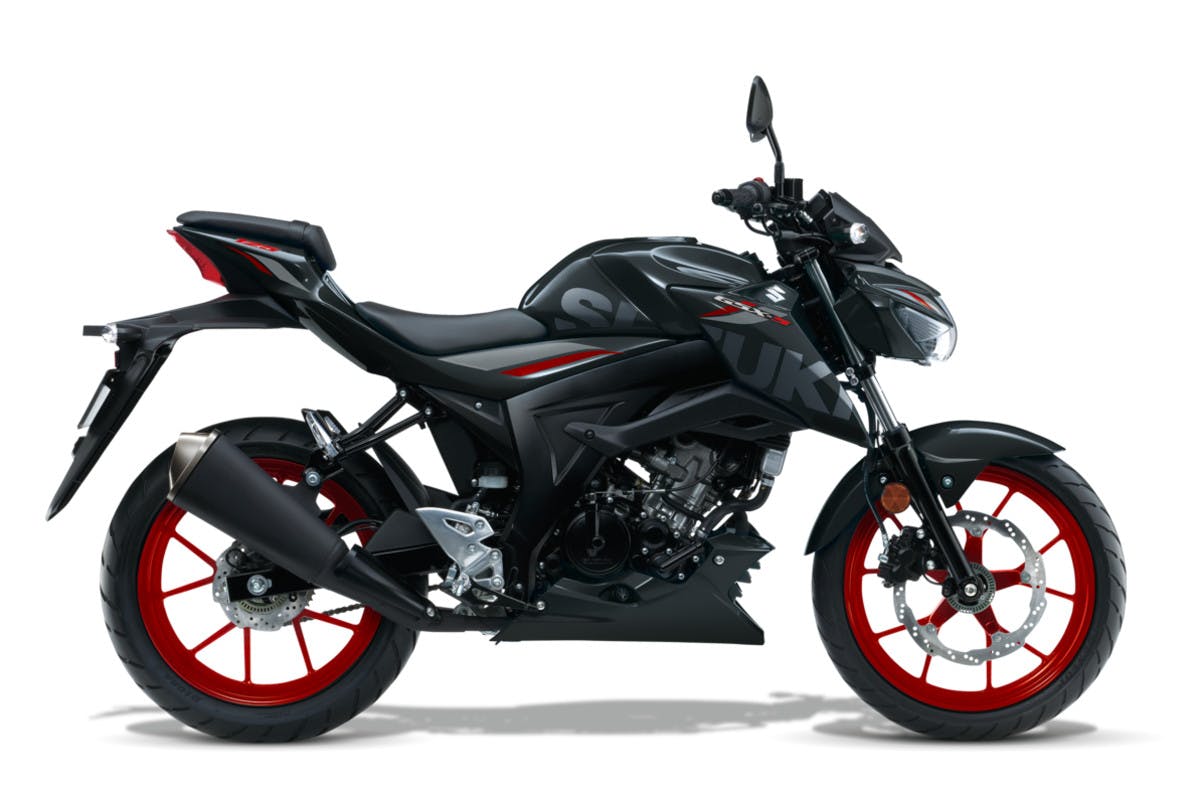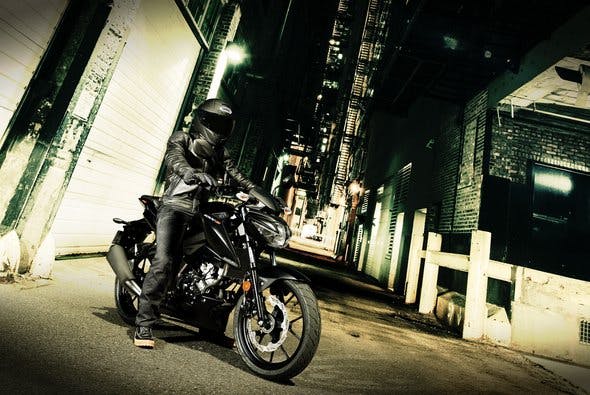 GSX-S FOR THE NEWCOMER
Meet the new lightweight king of the streets, the Suzuki GSX-S125. It has the best power-to-weight ratio and acceleration in the 125cm3 naked class, plus nimble handling and great fuel economy. It also has exciting, modern, innovative bodywork, with traditional handlebars and a low seat height for a comfortable ride. Along with a multi-function LCD instrument and vertically stacked LED headlights in a stylish cowl. It is a dependable, comfortable, nimble motorcycle that also delivers genuine Suzuki high-performance. It is made to handle city traffic jams while commuting to school or work during the week. And it is also an exciting motorcycle ready for fun rides into the countryside—or even a track ride—on weekends. The GSX-S125 is a motorcycle that's easy to ride. And it is easy to be proud of, with a genuine supersport engine and the latest technology, plus high-quality fit and finish, and beautiful paint and graphics
0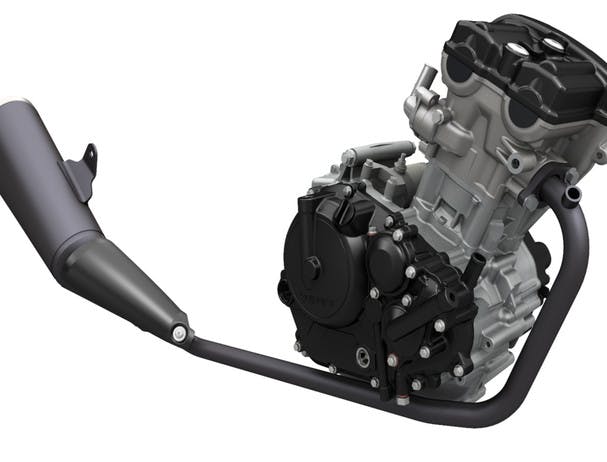 The Science of Engine Design
There is a science to building high-performance engines, and the GSX-S125's DOHC engine could be used in a university textbook as an example of how to make a lot of power out of a very efficient and compact powerplant.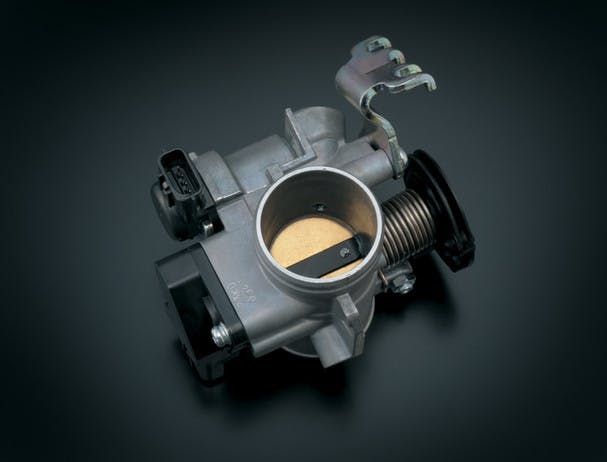 Advanced Electronic Fuel Injection
The GSX-S125 features advanced electronic fuel injection, which delivers fuel based on what the rider is doing with the throttle as well as input from sensors monitoring engine rpm, intake air pressure and temperature.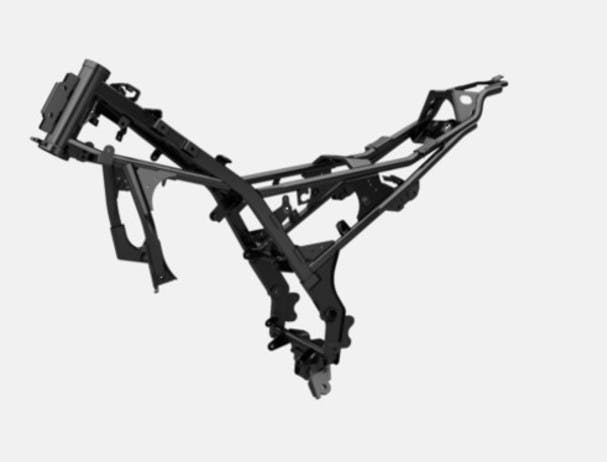 Modern Backbone Frame and Chassis
The GSX-S125's confidence-inspiring stability on the freeway, nimble handling in corners, and easy maneuverability through traffic starts with a modern chassis. A steel-tube backbone frame combines optimal torsional rigidity with light weight.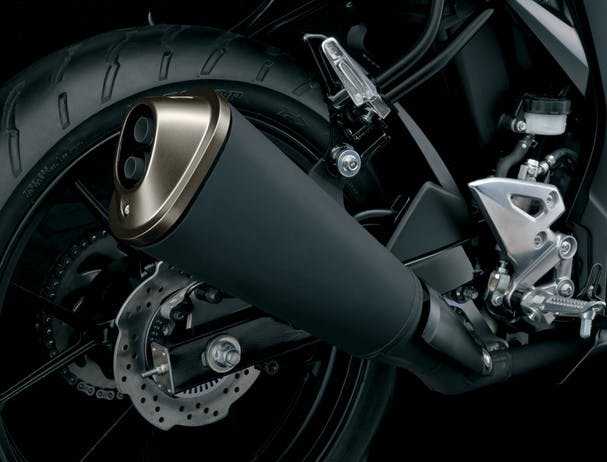 High Performance Exhaust System
The high-performance exhaust system includes a dual-exit muffler. A catalytic converter helps the GSX-S125 meet the Euro4 emission standards, letting everyone breathe a little easier.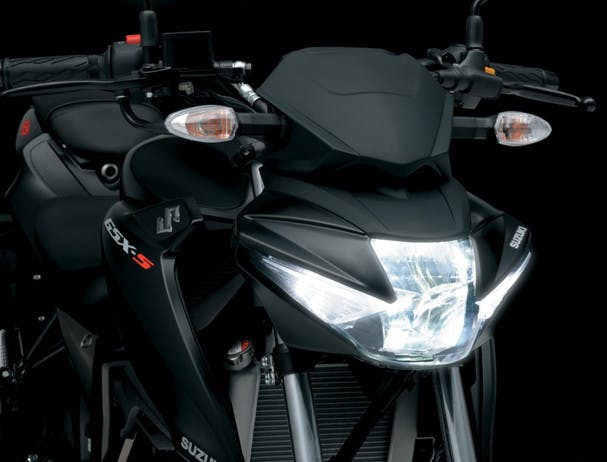 LED Lighting
Reflecting its GSX-S heritage, the GSX-S125 features vertically stacked LED headlights, with the low beam above the high beam, and position lights on each side of the headlight.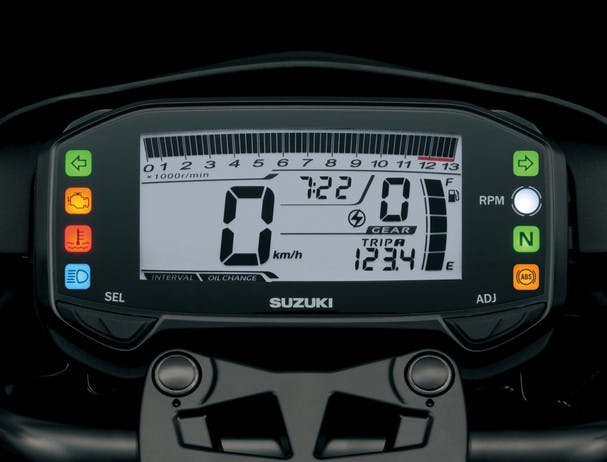 Multi-Function, Full LCD Instrument Cluster
The Suzuki GSX-S125 has a full LCD instrument panel set in a modern dashboard, framed by turn signal, neutral, hi-beam, coolant temperature, malfunction indicator lamp (MIL), ABS, and programmable engine-RPM indicator lights.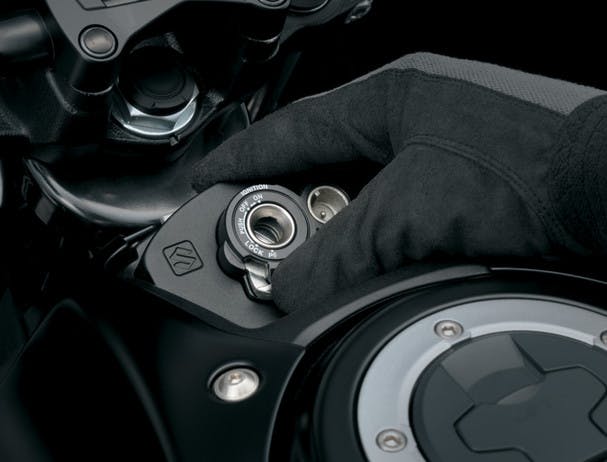 Suzuki Easy Start System with Shutter-Key Lock
The GSX-S125 features a convenient easy start ignition system with a shutter-key lock system.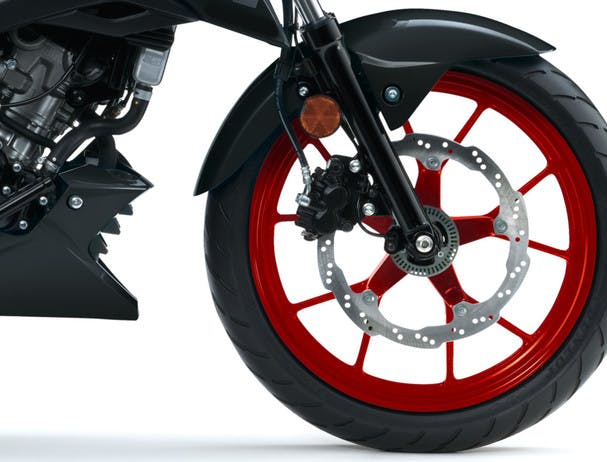 10-Spoke Wheels, Dunlop Tyres, and Lightweight ABS with Petal Discs
The GSX-S125's lightweight, sporty 10-spoke cast aluminium wheels carry Dunlop D102 tyres. The Anti-lock Brake System (ABS) is the latest Bosch ABS 10 base unit, which is the lightest and most compact two-channel ABS system on the market.