KAWASAKI Z650L (2020)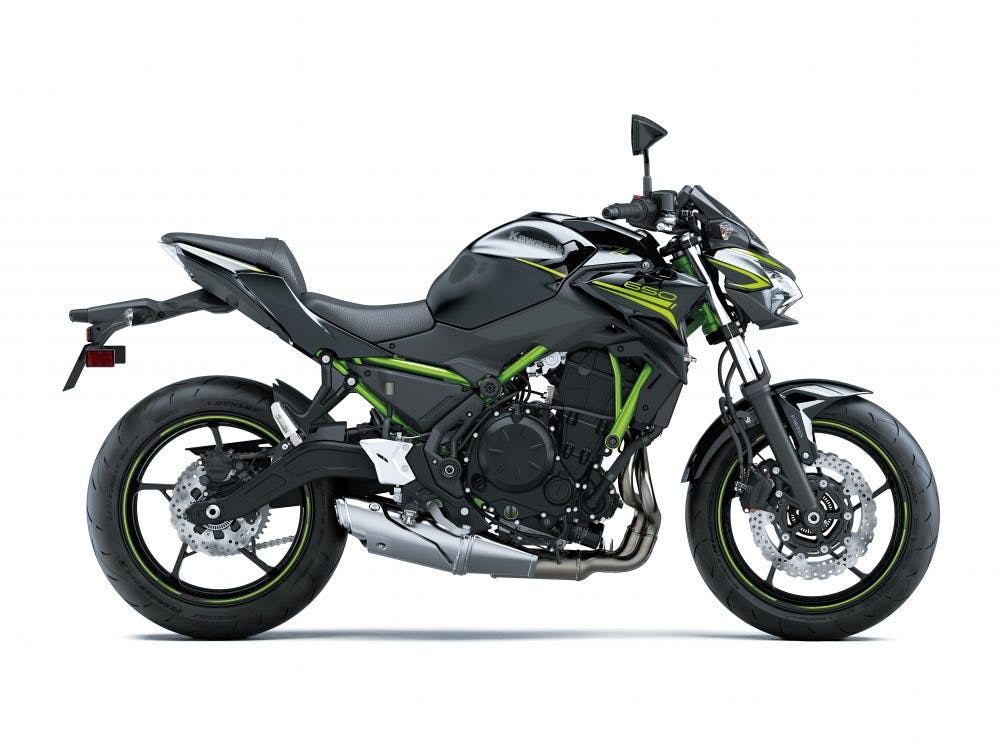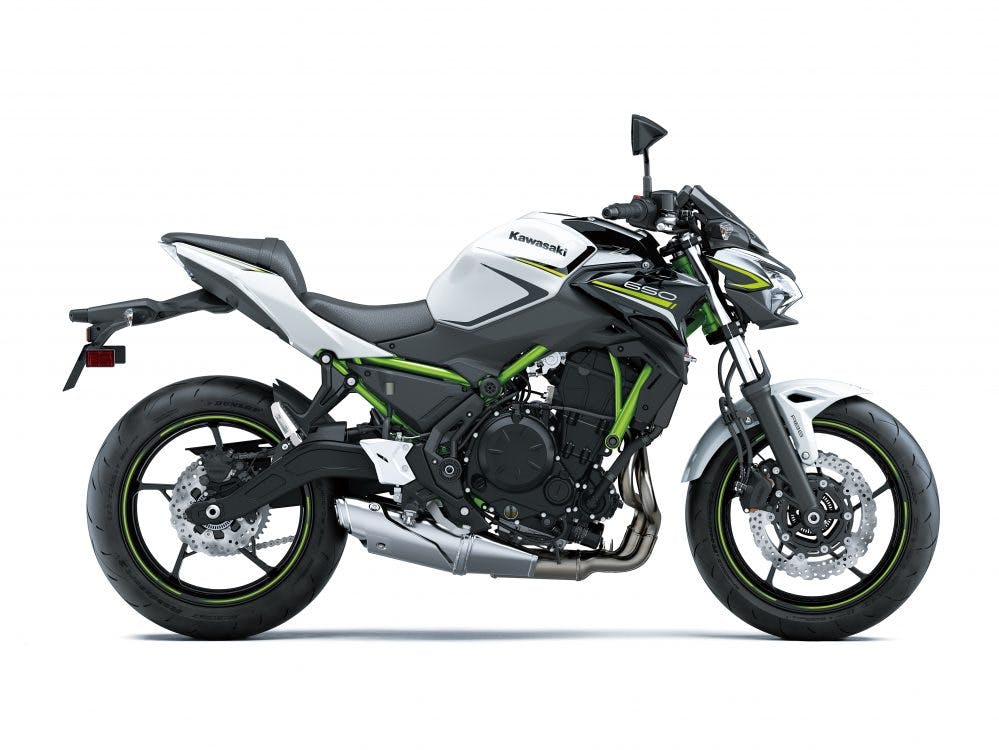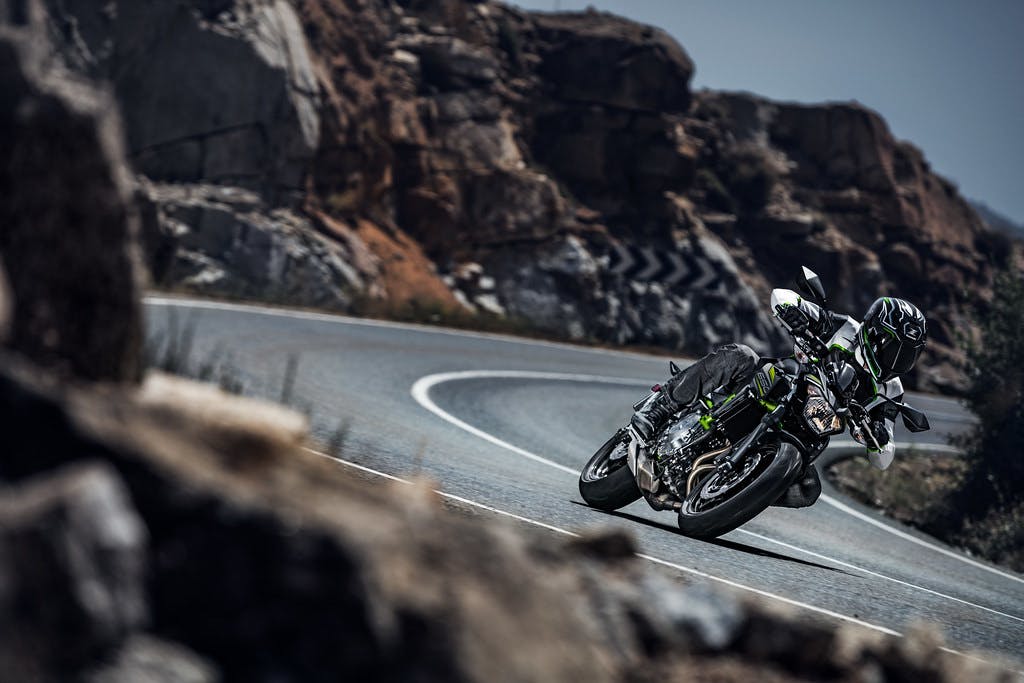 SUGOMI PERFORMANCE
Sugomi performance ensures that riding the Z650L is a treat for the senses. A responsive, torqueful engine character and nimble, lightweight chassis offer sporty riding excitement that new and more experienced riders alike will enjoy. Tuning of the 649 cm³ Parallel Twin engine focused on achieving a throttle response that balanced a powerful feeling and a quick-revving character. To optimise performance for everyday riding, care was taken to maximise low-mid range torque. When opening the throttle, riders will notice an extremely smooth and powerful engine character that offers both a high level of control when making minute throttle adjustments and a gratifying rush of acceleration in the lower rpm ranges. This tuning also benefits fuel economy.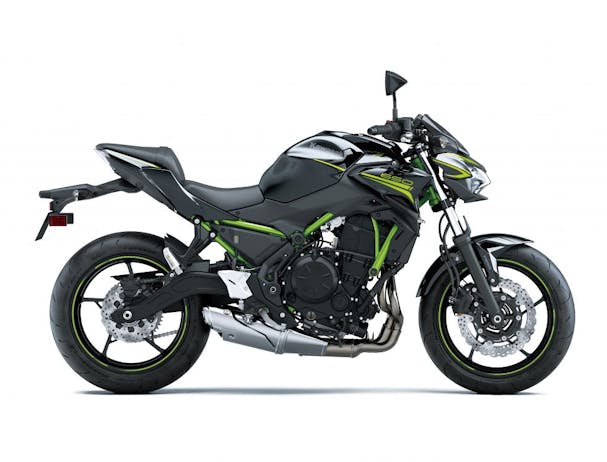 PARALLEL TWIN ENGINE
Performance and feel were optimised for the mid-range (3,000-6,000 min-1). However, in the low-rpm range (below 3,000 min-1) power delivery is very smooth.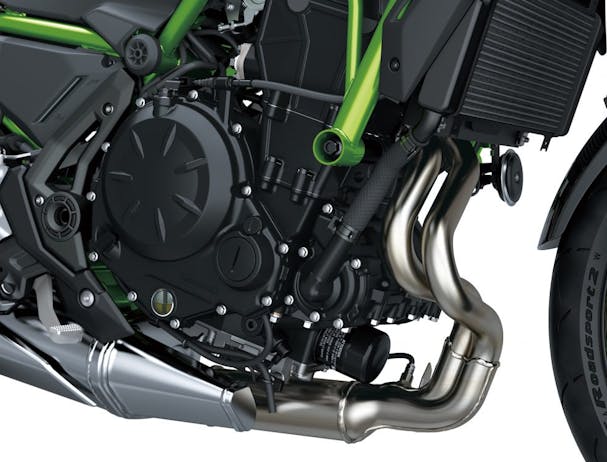 DIGITAL FUEL INJECTION
Liquid-cooled, DOHC, 8-valve 649 cm³ Parallel Twin with fuel injection delivers smooth, responsive performance, especially in the low and medium rpm ranges.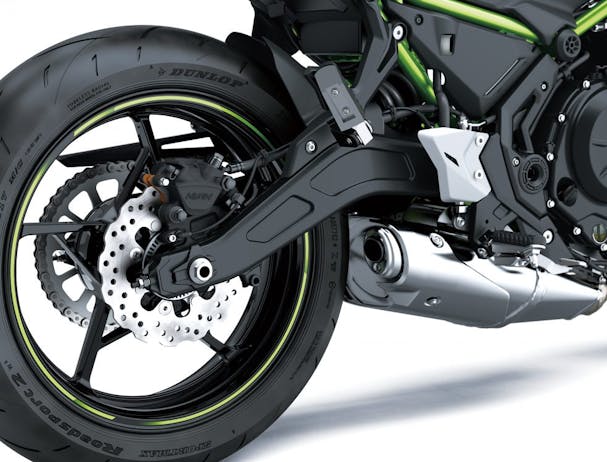 UNDER ENGINE MUFFLER
Simple, sleek silencer design adds to the bikes's overall slim design. Under-engine muffler improves mass centralisation and lowers the bike's centre of gravity.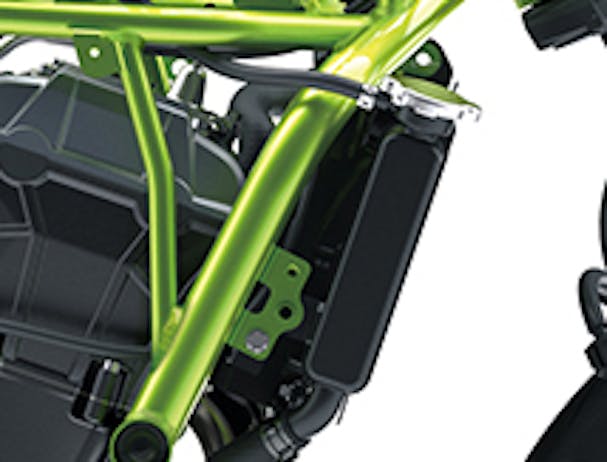 RADIATOR SHROUD
Patented radiator fan cover located behind the radiator directs hot air down and away from the rider, significantly increasing comfort when stuck in heavy traffic.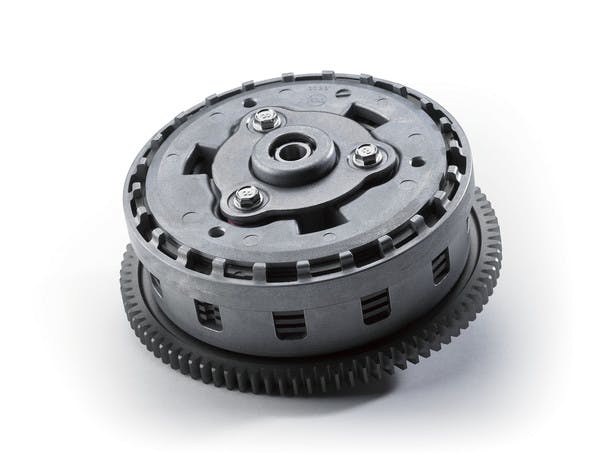 SLIPPER CLUTCH
Assist & Slipper Clutch was developed based on feedback from racing activities. The clutch uses two types of cams (an assist cam and a slipper cam), offering two new functions not available on a standard clutch.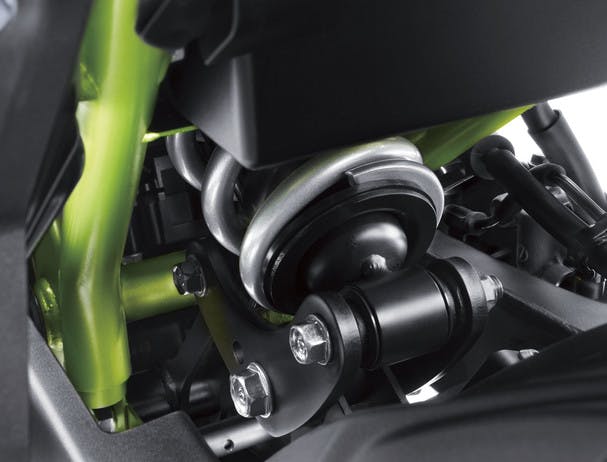 BACK-LINK SUSPENSION
Horizontal Back-link rear suspension offers a progressive character. Compared to link-less type suspension, it delivers a better balance of sporty performance and ride comfort.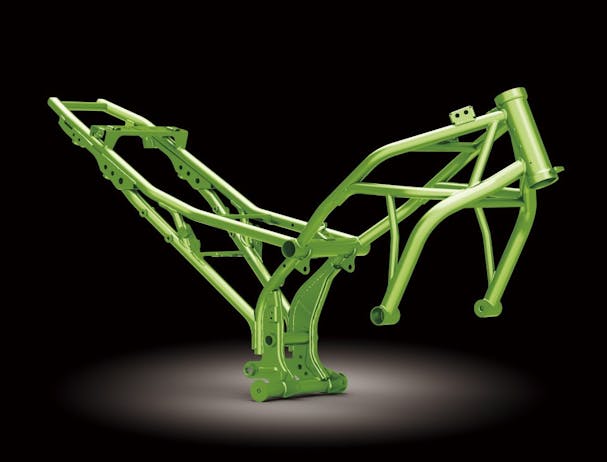 TRELLIS FRAME
One of the key components realising Z650L's light weight (noticeable as soon as the bike is lifted off its side-stand), the lightweight frame weighs only 15 kg and contributes significantly to the bike's light, nimble handling. Components of the high-tensile steel trellis frame follow the ideal pipe line. The lines of the frame were made as straight as possible, and when bends were necessary their angles were made as small as possible, resulting in a design that disperses stress extremely well.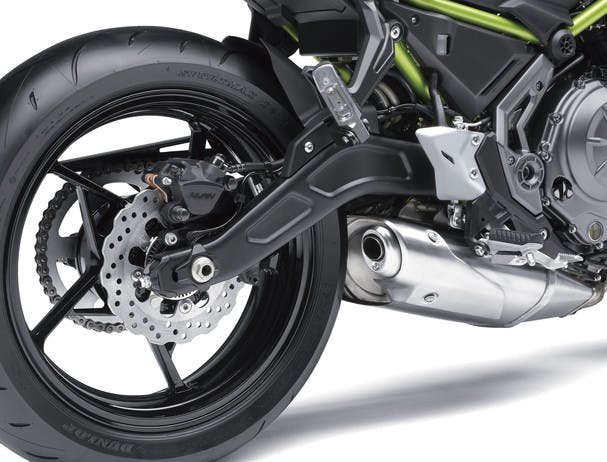 LIGHT, STRONG SWINGARM
Kawasaki's new in-house analysis technology was also used in the swingarm. Similar to the frame, the line from the pivot to rear axle was made as straight as possible.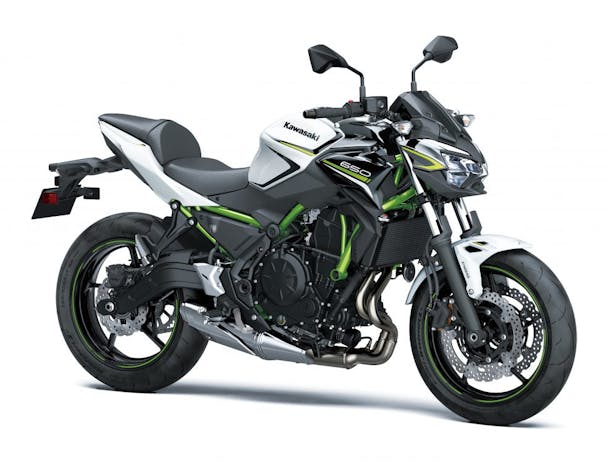 EASY MANOEUVRABILITY & HANDLING
The Z650L's low weight and low seat height both contribute to manoeuvrability, whether walking beside the bike, or foot peddling in a parking lot. The easy-to-manage engine response and strong low-end torque further facilitate low-speed manoeuvring complemented with the New Dunlop Sportmax Roadsport 2 Tyres.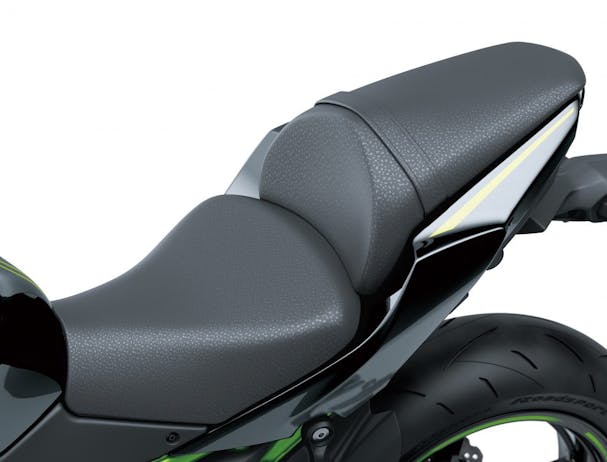 SPORT RIDERS SEAT
The sport riders seat is slim at the front facilitating the rider's reach to the ground. Seat bracket is rubber-mounted at the front to reduced vibration transferred through the seat.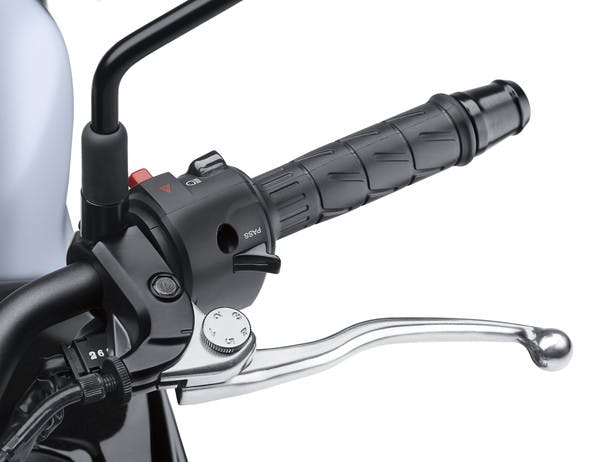 ADJUSTABLE LEVERS
Both the clutch and front brake lever are 5-way adjustable, able to accommodate a variety of hand sizes for increased comfort. Rider and passenger footrest feature rubber pads.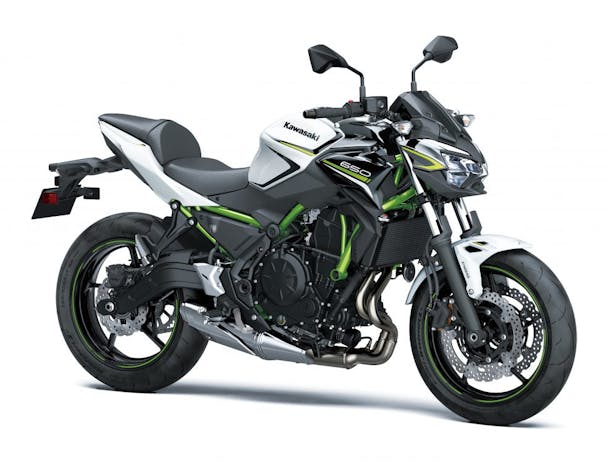 EYE CATCHING Z STYLING
From its front cowl adorned with meter cover to its compact tail cowl, the Z650L's head-turning design exudes a functional beauty.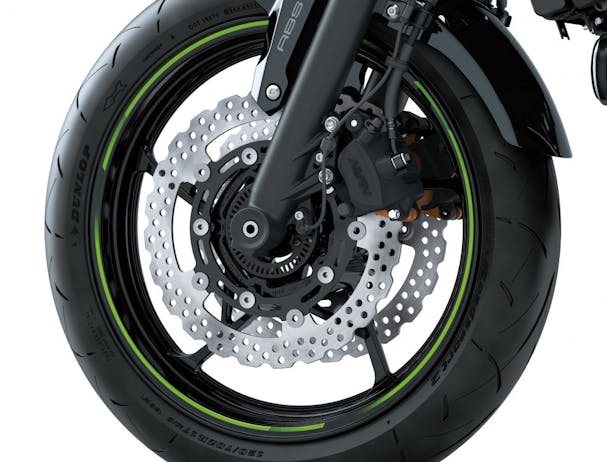 PETAL ABS DISC BRAKES
Dual 300 mm front petal disc brakes and 220 mm rear petal disc look great and deliver plenty of braking power while contributing to the bikes sporty image. Dual-piston front calipers, master cylinder and brake pads offer superb brake touch and control. In addition to the very effective petal disc brakes, customers looking for an added degree of reassuring braking performance are advised that the Z650L has standard front and rear ABS braking systems.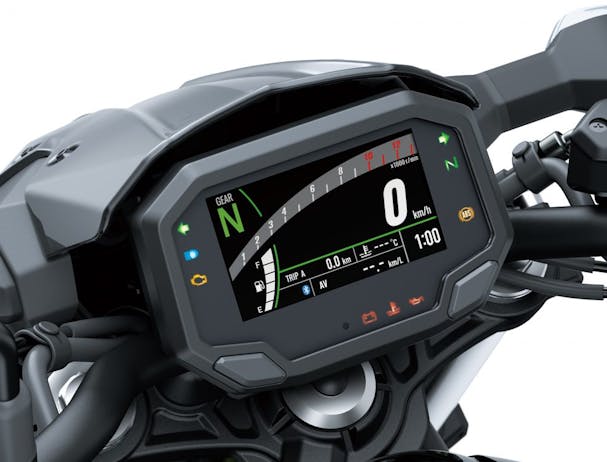 TFT COLOUR INSTRUMENTATION
The new 4.3" all-digital TFT colour instrumentation – a Kawasaki first in the 650cc class – gives the cockpit a high-tech, high-grade appearance. The TFT (thin-film transistor) delivering a high level of visibility. The screen's background colour is switchable (black or white), and screen brightness adjusts automatically to suit available light.The new meter also offers additional features unavailable on the previous model.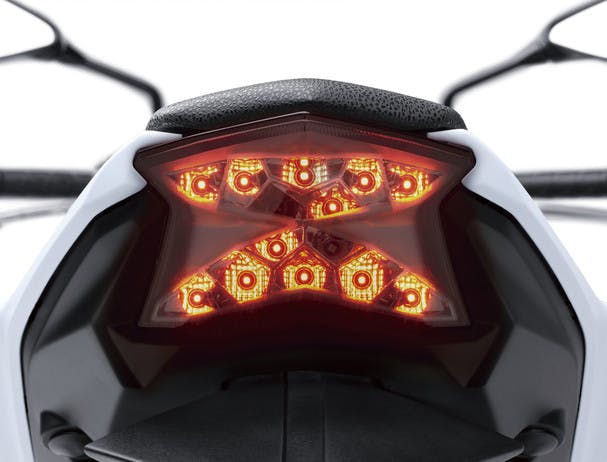 "Z" LED TAILLIGHTS
Ensuring the Z650L is not mistaken for anything other than Kawasaki Supernaked when viewed from behind, its sharp LED taillight lights up in "Z" pattern, contributing to the sporty image and the strong Z identity.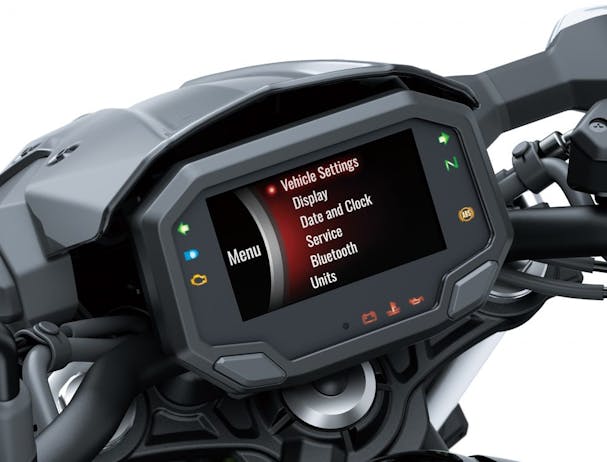 SMARTPHONE CONNECTIVITY
A Bluetooth chip built into the instrument panel enables riders to connect to their motorcycle wirelessly. Using the smartphone application "RIDEOLOGY THE APP," a number of instrument functions can be accessed, contributing to an enhanced motorcycling experience.