KAWASAKI W800 CAFE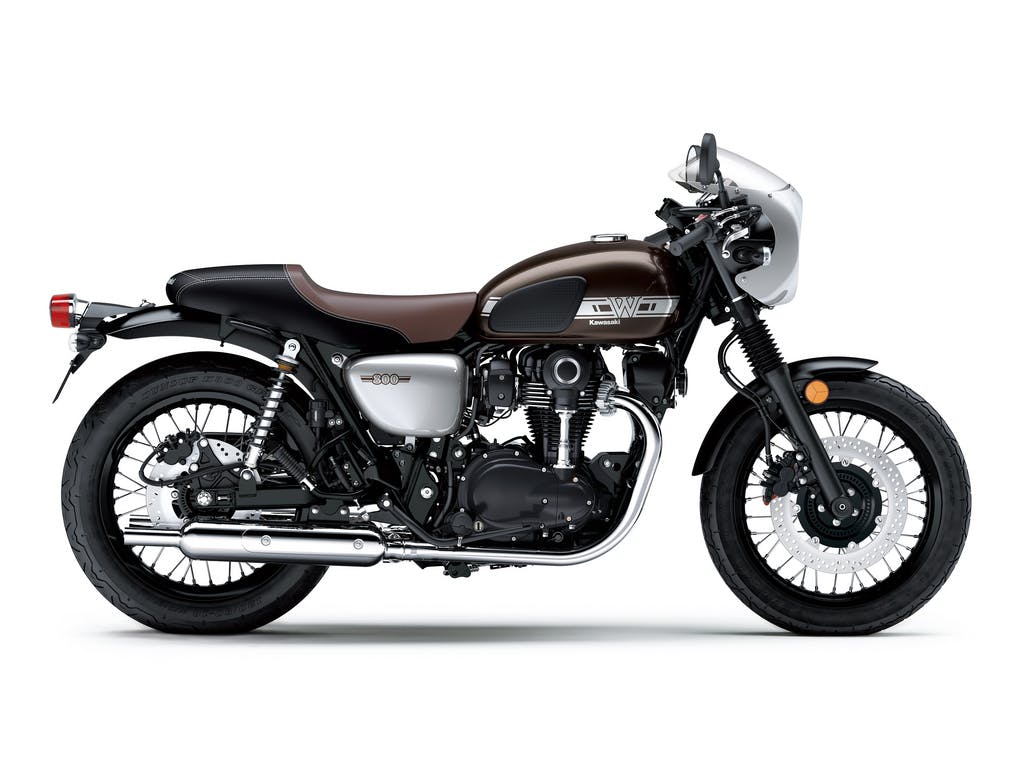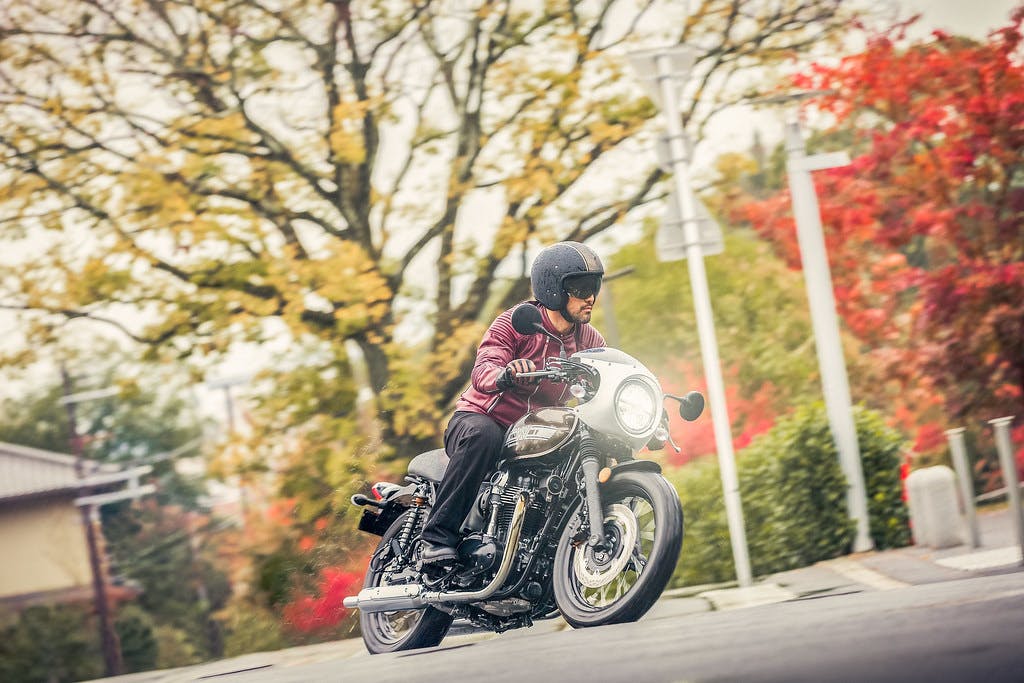 MODERNISED RETRO MODEL
When Kawasaki's original W, the W1, appeared in 1966 it was the largest-displacement Japanese model of its time. Not only did it mark Kawasaki's first step in becoming a manufacturer of large displacement motorcycles, its design goal of becoming the fastest bike in the world was a precursor to Kawasaki's Quest for Speed and led to the birth of legendary machines like the Z1, Ninja, ZZR1100 and Ninja H2/H2R. By today's performance standards the W1 would not be considered a fast bike, but in its day simply riding a big bike was enough to turn heads and earn the respect of fellow riders and pedestrians alike. For riders who prefer a leisurely ride at low speed, with the throbbing pulse and throaty roar of an air-cooled Vertical Twin engine playing counterpoint, Kawasaki is proud to present the new model that was designed to capture the look and feel of this iconic bike from yesteryear. The new W800 CAFE is the latest evolution of a brand that spans 50 years. With numerous parts updated compared to the W800 SE, the W800 CAFE the retro models have been thoroughly modernised to deliver rider-friendly machines with easy handling and good stability on the highway. But not all of the changes are visible – Kawasaki's dedication to preserving the image of the original model can be seen in the air-cooled Vertical Twin engine that meets strict modern emissions standards, the double-cradle frame with completely revised rigidity care of thicker pipe walls, and the carefully crafted exhaust sound of a Vertical Twin with a 360° crankshaft. For a taste of history, look no further than the W800 CAFE.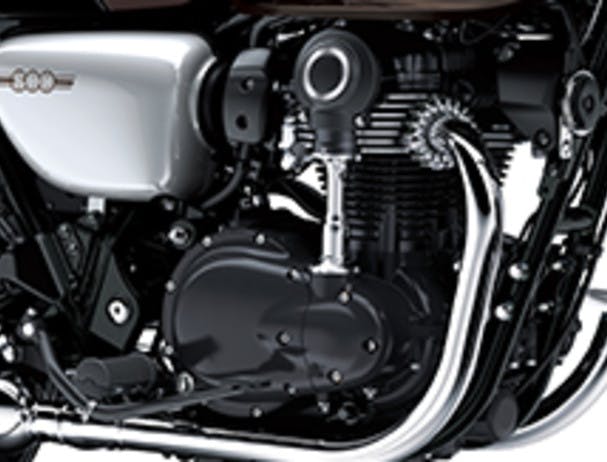 STRIKING ENGINE DESIGN
Iconic bevel-gear-driven cam and the clean, classic lines of this beautiful air-cooled Vertical Twin make it a key styling element of the W800 CAFE's design.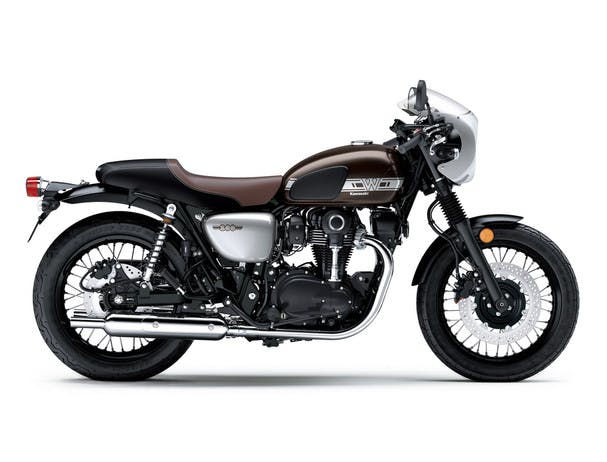 18 INCH DIAMETER WHEELS
 While maintaining the vintage ride feel of a true classic machine, 18" wheels front and rear contribute to handling slightly sportier than that of the original W800, whose 19"/18" front/rear combination offered unhurried steering.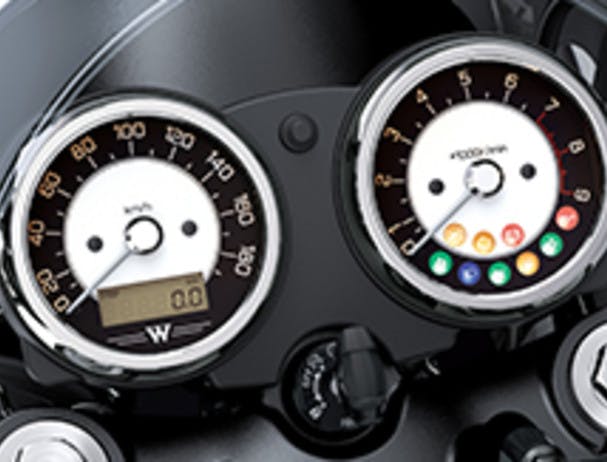 TRADITIONAL INSTRUMENTATION
Traditional instrumentation includes individual speedometer and tachometer with classic display. A multi-function LCD screen incorporates an odometer, trip-meter, and clock.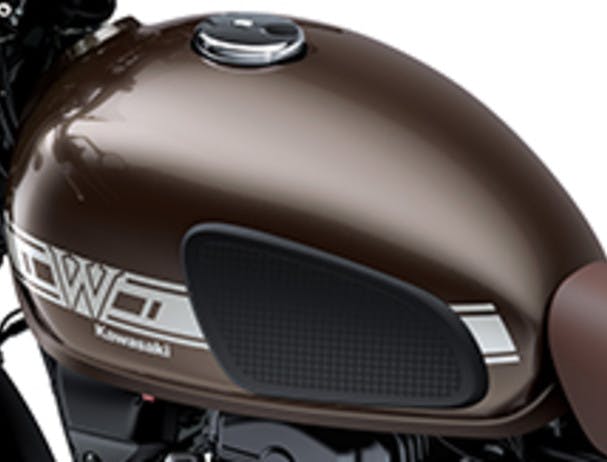 SCULPTED FUEL TANK
The voluptuous curves of the fuel tank naturally draw the eye, making it another key styling element. Its larger volume (increased from 14 litres to 15 litres) gives it more presence, creating a more powerful impression than its predecessor.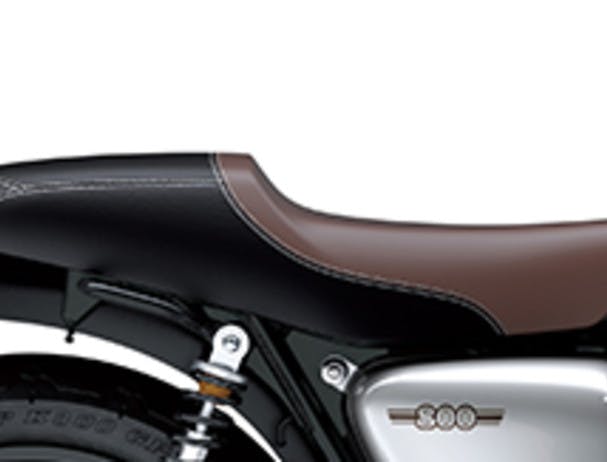 CAFE RACER SEAT DESIGN
The W800 CAFE features a stylish two-person cafe seat designed for comfort and sporty good looks.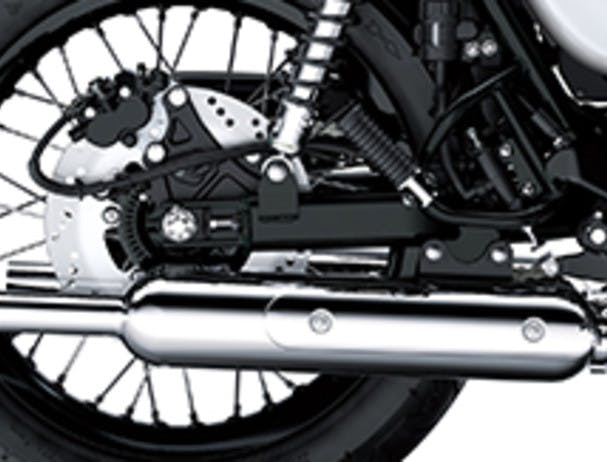 ELEGANT MUFFLER DESIGN
The twin mufflers were carefully tuned to bring out the characteristic note of the Vertical Twin's 360° crankshaft engine configuration.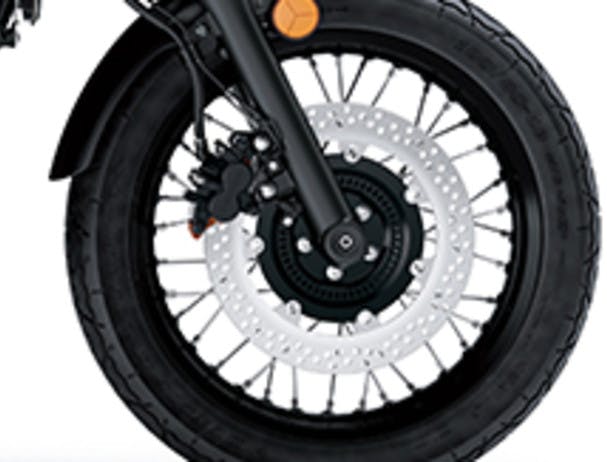 LARGE DISC BRAKES WITH ABS
Stronger stopping power comes care of a larger-diameter 320 mm diameter front disc paired with a 270 mm diameter rear disc (previously a drum-type brake). ABS is standard for the 2019 Model W800 CAFE.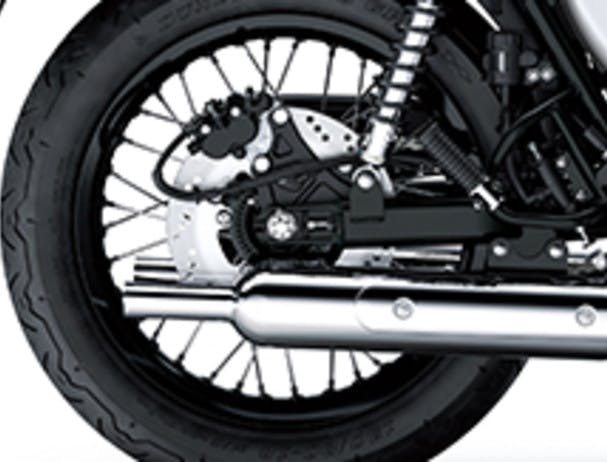 ALLOY RIMS
The black wider aluminium rims add to the W800 CAFE's composed highway handling and style. Lightweight aluminium rims are highly resistant to corrosion.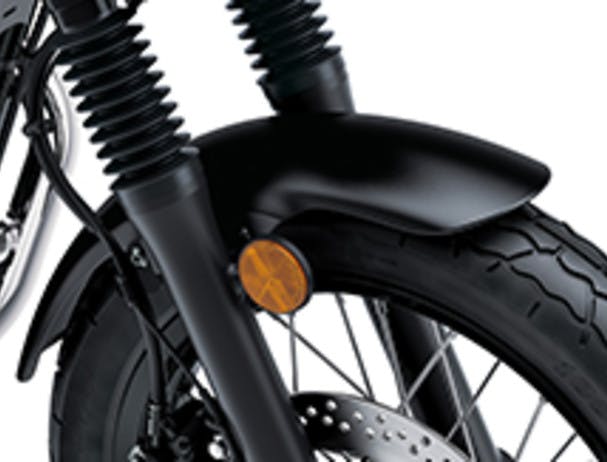 SIMPLE FRONT & REAR FENDERS
Simple front and rear fenders contribute to the bikes' sporty looks, while their simple design provides an excellent base for customisation.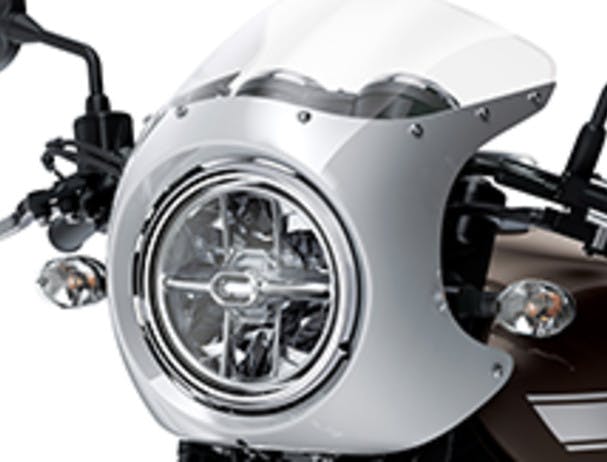 CAFE RACE IMAGE FRONT COWL
On the W800 CAFE, a cafe-racer-image front cowl contributes to racy looks. modern  designs, the large ø170 mm LED headlamp casts a bright, white light  or great night-time visibility.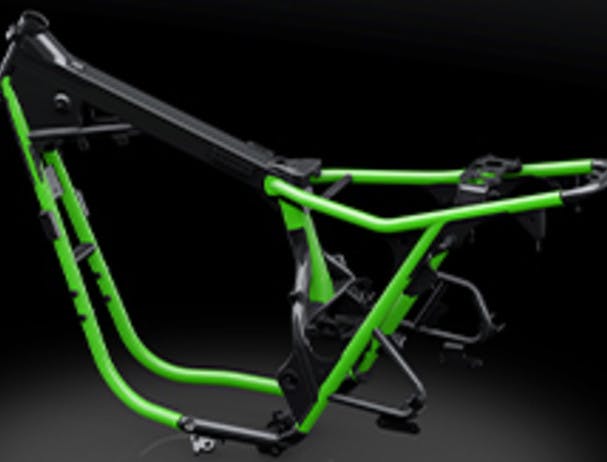 FRAME WITH REVISED RIGIDITY
While the double-cradle frame looks unchanged from its predecessor, it is in fact all new. The required rigidity of each and every piece was re-evaluated.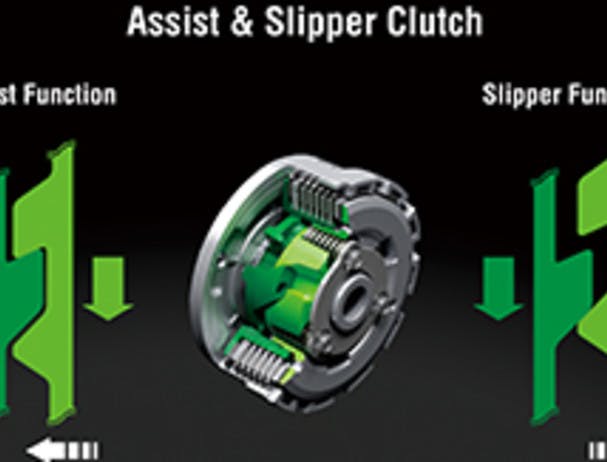 ASSIST & SLIPPER CLUTCH
The addition of an Assist & Slipper Clutch offers both a much lighter feel at the lever, as well as a back-torque limiting function that helps prevent rear-wheel hop when downshifting.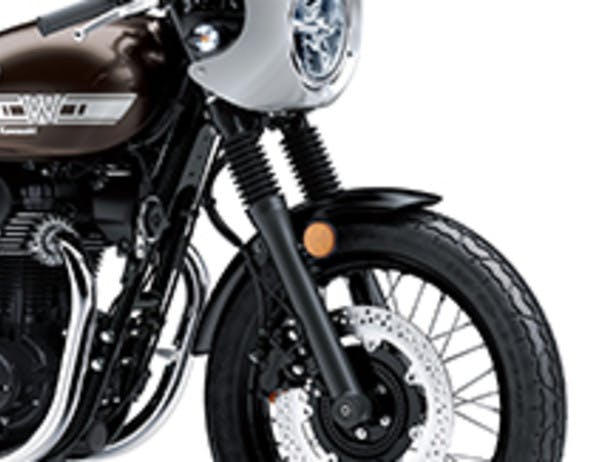 FRONT SUSPENSION
A larger front fork with stiffer springs, more rigid lower triple-clamp and stiffer rear shock complement the more rigid new frame. Telescopic front fork features stiff, 41 mm tubes and easily soaks up bumps on well-travelled city streets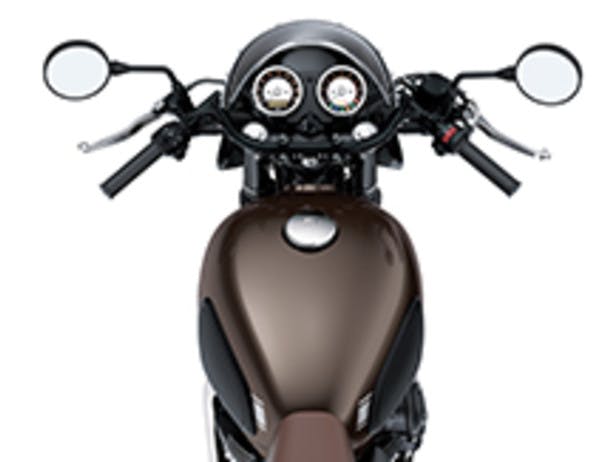 HANDLEBARS
The handlebars and seat on the W800 SE18MY and the W800 CAFE result in very different riding positions.