KAWASAKI VERSYS 1000 S (2021)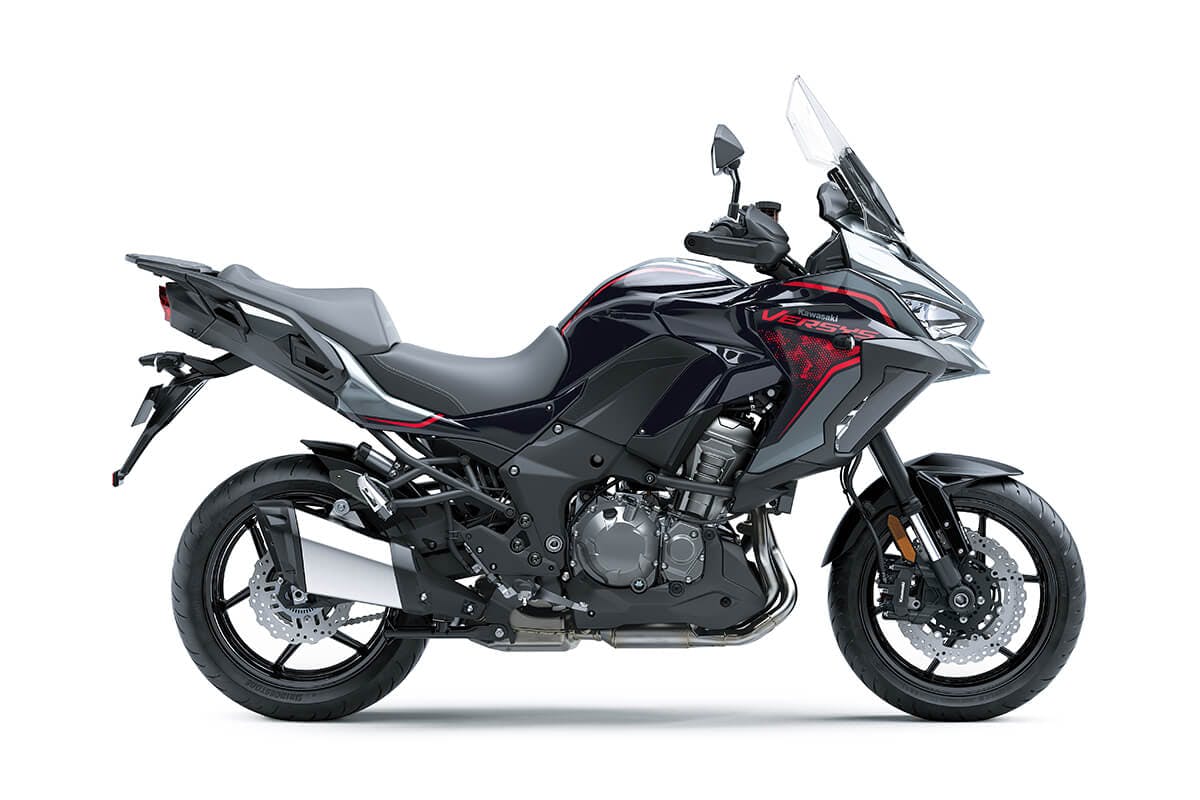 TAKE ON ANY ROAD, ANY TIME
Kawasaki's Versys 1000 was designed to give optimum riding pleasure through a wide range of street riding scenarios. If riding solo or two-up, around the corner or around the globe, this fun-to-ride road-sport bike 's combination of a extremely responsive In-Line Four engine tuned for responsiveness, and a nimble frame fitted with adjustable suspension is sure to keep riders smiling widely in their helmets. Its calming, upright riding posture gives a high degree of machine control and a very comfortable seat and strong wind safety make spending a long time on the saddle easy. The latest Versys 1000 S provides all of the Versys 1000 SE 's fantastic features minus KECS.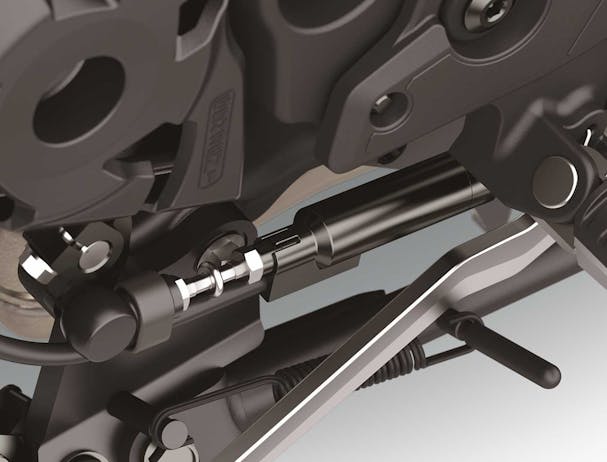 KQS (KAWASAKI QUICK SHIFTER)
A contactless fast-changer enables clutchless upshifts and downshifts for smooth acceleration and simple and quick deceleration to complement the thrilling engine design. The machine senses the actuation of the shift lever and gives the ECU a warning for the ignition.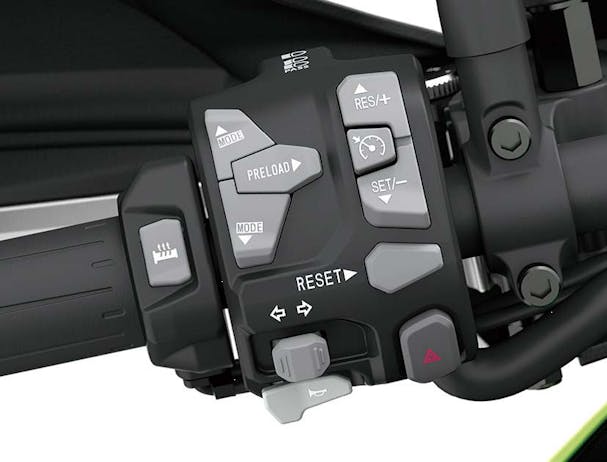 ELECTRONIC CRUISE CONTROL
The cruise control system of Kawasaki helps you to maintain your desired speed by only pressing a button. The rider must not continuously use the throttle until triggered. When moving long distances, this decreases discomfort at the right side.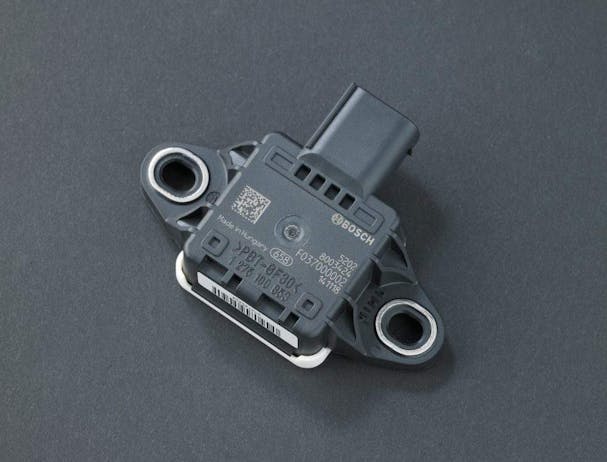 BOSCH IMU
Kawasaki IMU makes it possible to track inertia along 6 DOFs (free levels). Longitudinal, cross and vertical axis acceleration plus the rate of roller and pitch is calculated. The rate of yaw is determined by ECU with original program from Kawasaki.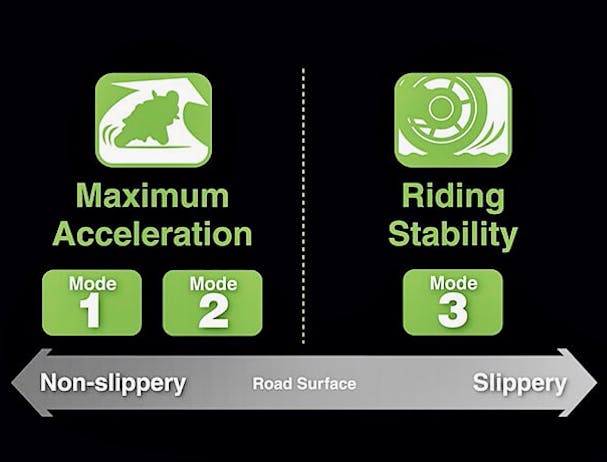 3 MODE KTRC (KAWASAKI TRACTION CONTROL)
Riders can choose from three modes. Mode 1 prioritises forward acceleration. Mode 2 offers a balance between acceleration performance and rider reassurance. Mode 3 provides rider reassurance by facilitating smooth riding on slippery surfaces.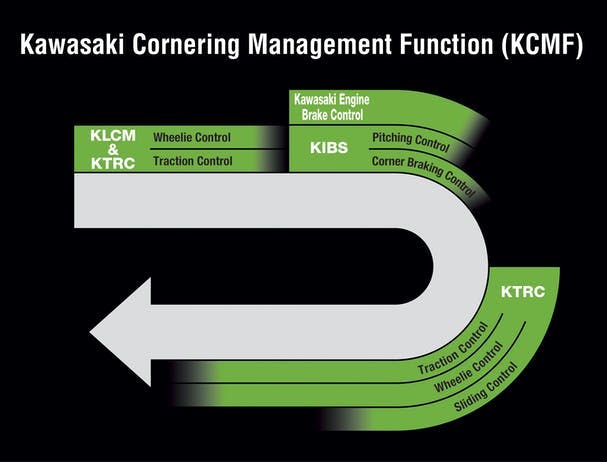 KCMF (KAWASAKI CORNERING MANAGEMENT FUNCTION)
The power of the state of the art electronics of Kawasaki has always been the advanced software that gives the ECU a clear real-time image of what the chassis does with minimal hardware.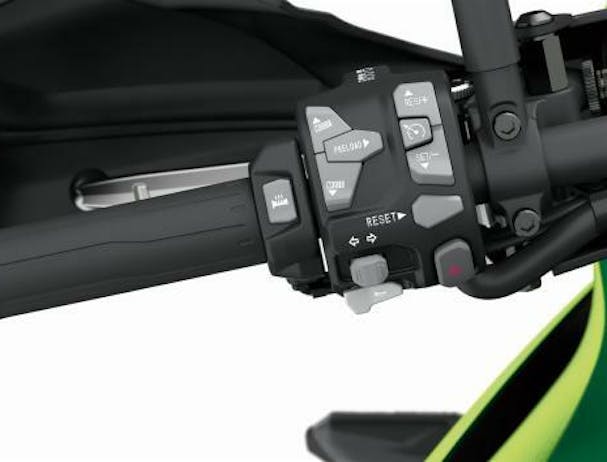 POWER MODE SELECTION
A collection of maximum or small power modes makes it easy for the drivers to set power supplies to fit their tastes. Although the output is the same at lower intervals, the low power mode reduced output to around 75% of maximum power and uses less glare.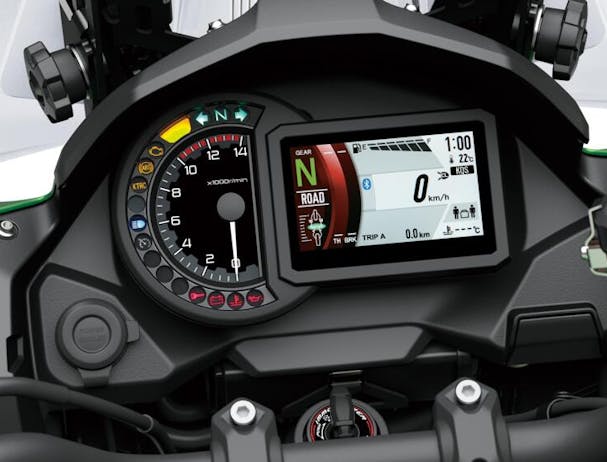 HIGH-CLASS INSTRUMENTATION
The screen of the VERSYS 1000 S allows for graphical display of details. Two selectable view modes allow drivers to prioritize their details according to their riding style.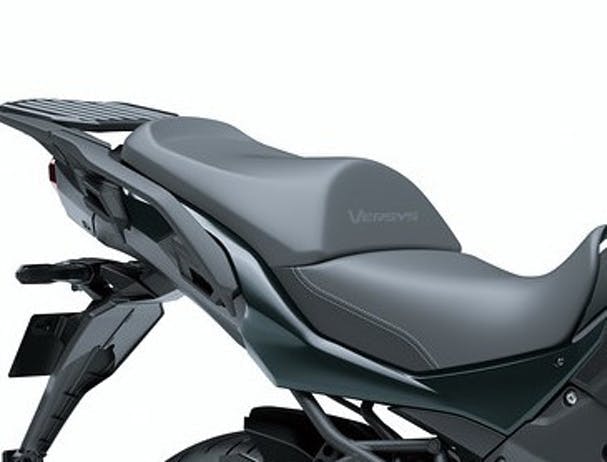 COMFORT SEAT
The Comfort Seat has the correct classification for thicker urethane cushioning, which requires long hours in the saddle while ensuring a comfortable knee bent for the bigger riders and makes easy reach to the floor thanks to the Available Accessory Low Seat (20 mm lower).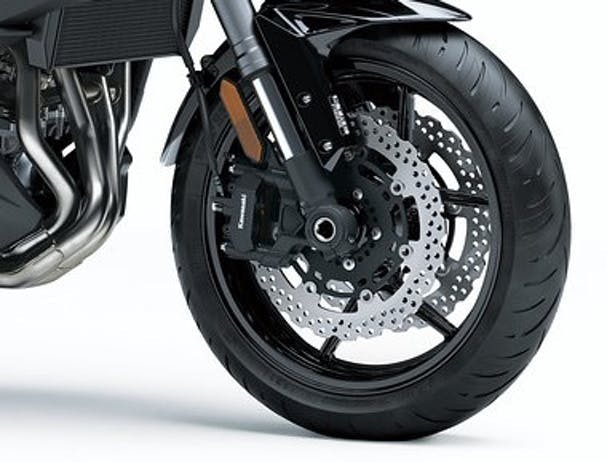 RADIAL-MOUNT FRONT BRAKE CALIPERS
The ø310 mm front petal discs are now gripped by highly rigid radial-mount monobloc calipers complemented by a radial-pump front brake master cylinder, contributing to superb feel and formidable stopping power.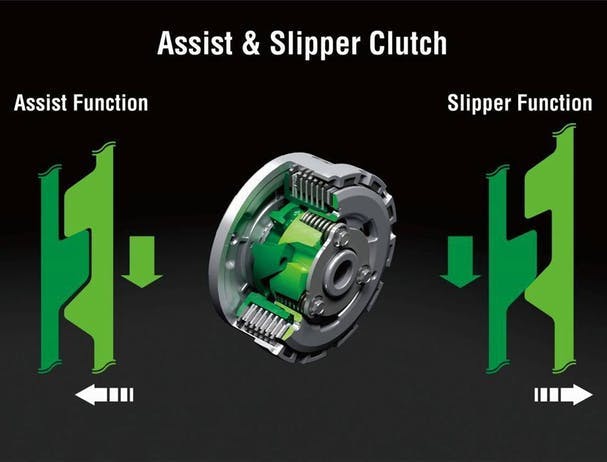 ASSIST & SLIPPER CLUTCH
Race-inspired clutch technology offers both a back torque limiting function as well as a very light feel at the lever.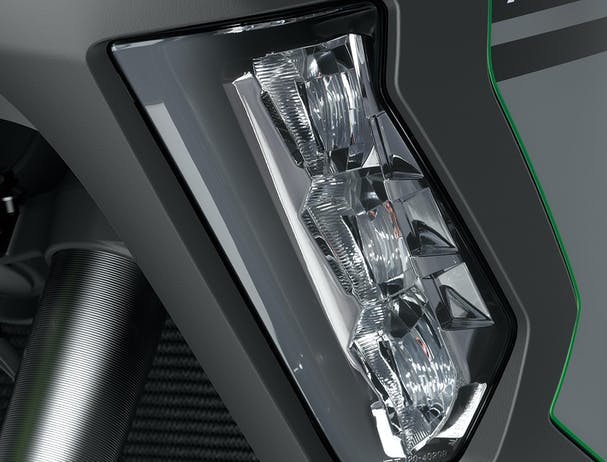 LED CORNERING LIGHTS
In the evening, lights inside the robes help to lights up the lane. Each of the three lights is set and triggered by a lean angle. The lights come in as the bike bends forward making a larger route for the bike. The bike shifts in the right direction.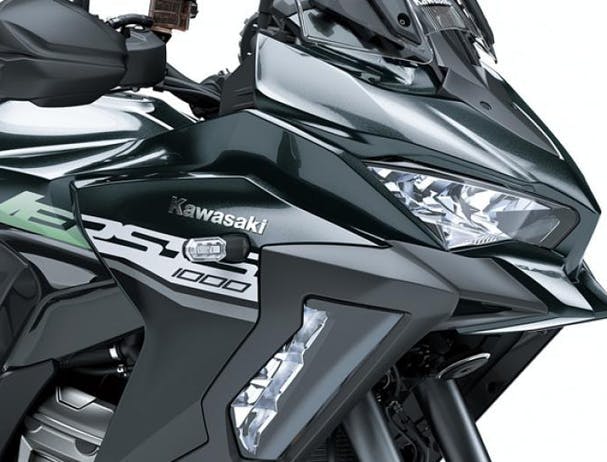 TWIN LED HEADLAMPS
Both medium, high beams as well as location light feature in each of the latest LED headlamps. The new headlights are highly visible and have substantially improved illumination for night driving.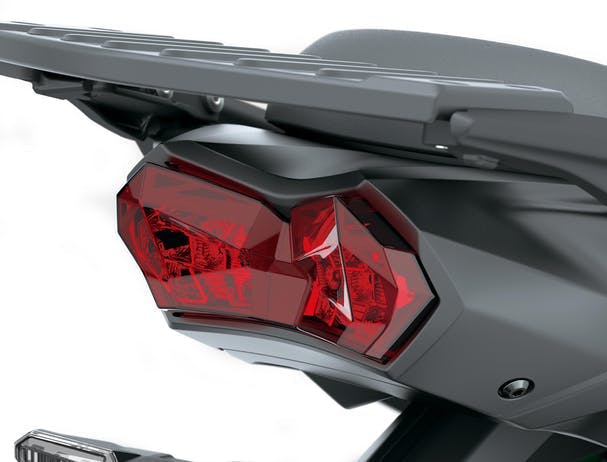 ALL-LED LIGHTING
From the new twin headlamps and compact LED turn signals to the new LED taillight and LED license plate bulb, the Versys 1000 SE offers an all-LED lighting package.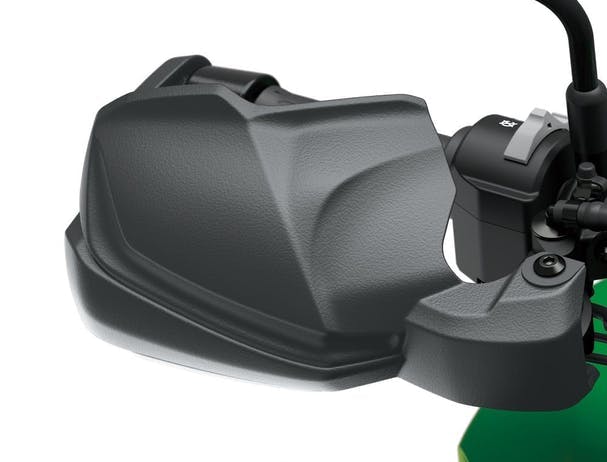 HANDY COVERS
Hand covers have additional wind safety, which provides warmth while traveling in cold climates. The rider's hands are often usually secured. Optional Extension Grip heaters provide cold days greater warmth. The handles are fully sealed and warmth promised.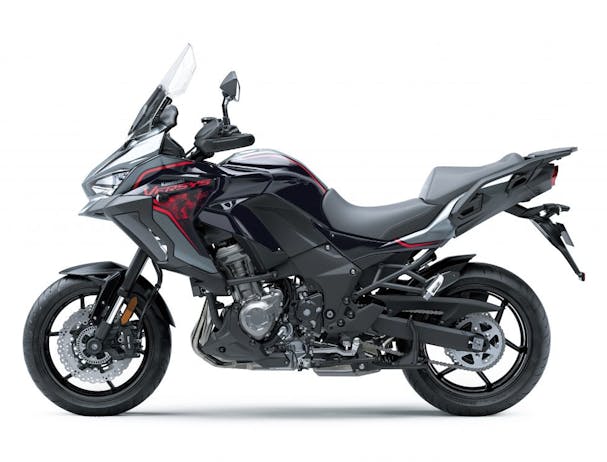 LONG -TRAVEL SUSPENSION SPORTY 17" WHEELS
Because real world riding occurs on streets that are often less than circuit smooth road imperfections (bumps, potholes) are far from rare, and some streets are not even paved. Kawasaki engineers chose long-travel suspension to enable riders to carve corners with aplomb.
SPORTY 17" WHEELS
Tyres selected for their road sports potential offer superb cornering performance for more fun in the hills, great high-speed stability, and a strong on-road image to go with the Versys 1000 S's sporty character.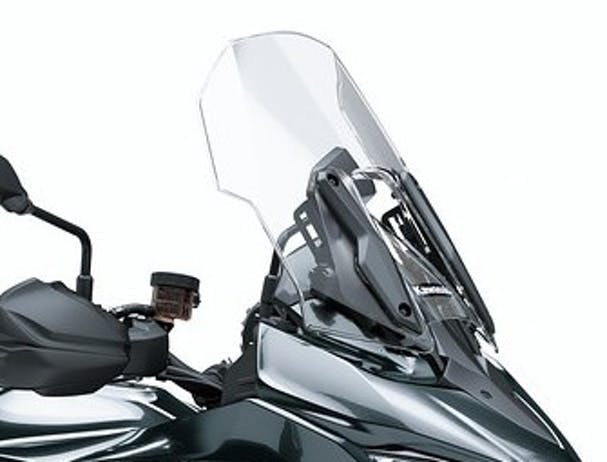 ERGONOMICS
The VERSYS 1000 S features a large windscreen, the range of adjustability is 40 mm. Height can now be adjusted from the rider's seat (without tools, using two knobs on the inside of the screen) to suit rider preference.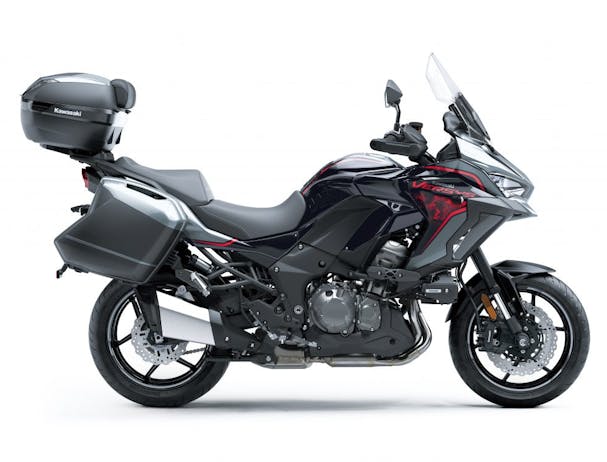 CLEAN MOUNT PANNIER SYSTEM - ACCESSORY
The mounting system for the accessory panniers enable simple, clean mounting, keeping the panniers much close to the bike center-line ensures the rear of the bike looks good with or without the panniers.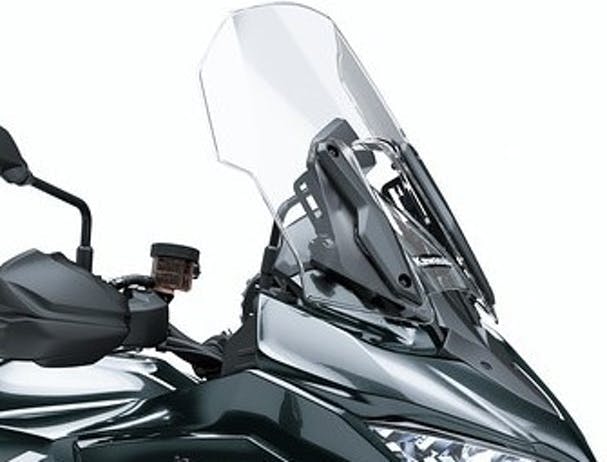 WIND PROTECTION
The VERSYS 1000 S model's large windscreen is equipped with a centrally located vent. Opening the vent reduces the negative pressure effect in the cockpit, which means less chance of the rider being pulled forward at high speed.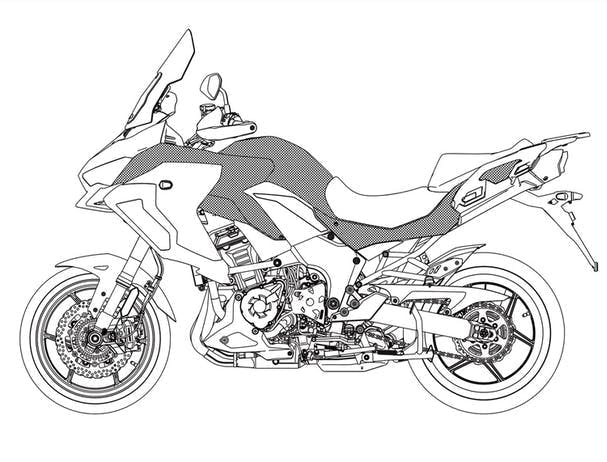 HIGHLY DURABLE PAINT
Kawasaki's new Highly Durable Paint and Highly Durable Matte Paint (used on the fuel tank, L/R side cowls, and L/R side covers) feature a special coat that allows scratches to repair themselves, enabling the paint to maintain its high-quality finish.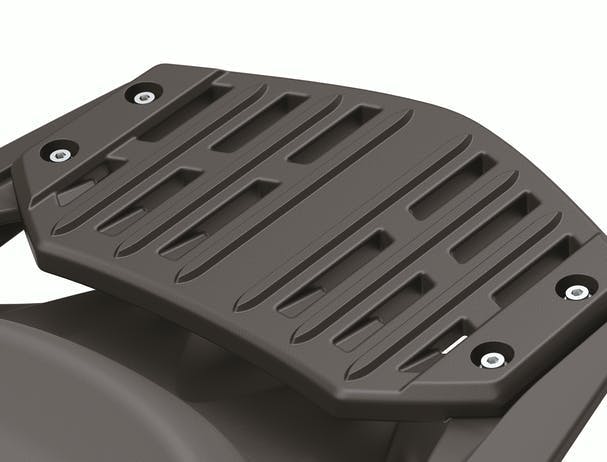 HIGH PAYLOAD & CARRYING CAPACITY
Substantial payload of 220kg. A rear carrier (6kg capacity) is fitted as standard equipment. An accessory top case (and mount) can be fitted. The top case is rate to 5kg and the 47L size is large enough to fit two full face helmets.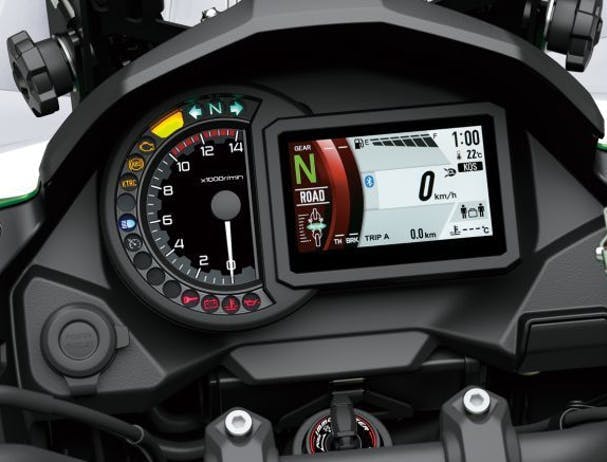 SMARTPHONE CONNECTIVITY
A Bluetooth chip built into the instrument panel enables riders to connect to their motorcycle wirelessly. A number of functions are available: Vehicle Info, Riding Log, Telephone notices, Vehicle Settings.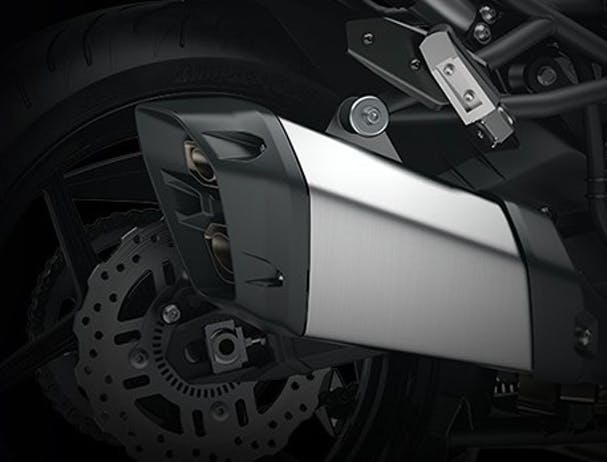 COMPACT MUFFLER
Compact sporty silencer contributes to the sophisticated new styling. Compact design also provides adequate clearance for the Optional Accessory Panniers.
CONVENIENT FEATURES
High capacity generator develops enough electricity to power a DC socket located in the cockpit. The DC socket, now a standard feature, can be used to power small electronic devices. The socket is complemented by prepared pre-wiring. A total of 40 W of power is available.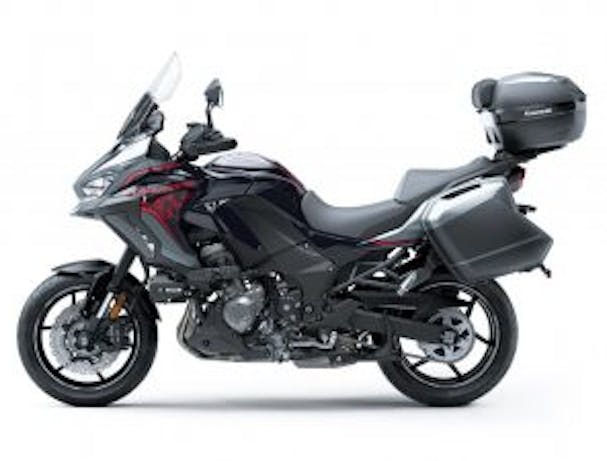 FUEL TANK
21-litre fuel tank contributes to the Versys 1000's touring potential. With engine and transmission settings, range (calculated) on one tank could be 400 km. Advanced ECU programming contributes to the Versys 1000 S's high fuel efficiency.