KAWASAKI NINJA ZX-14R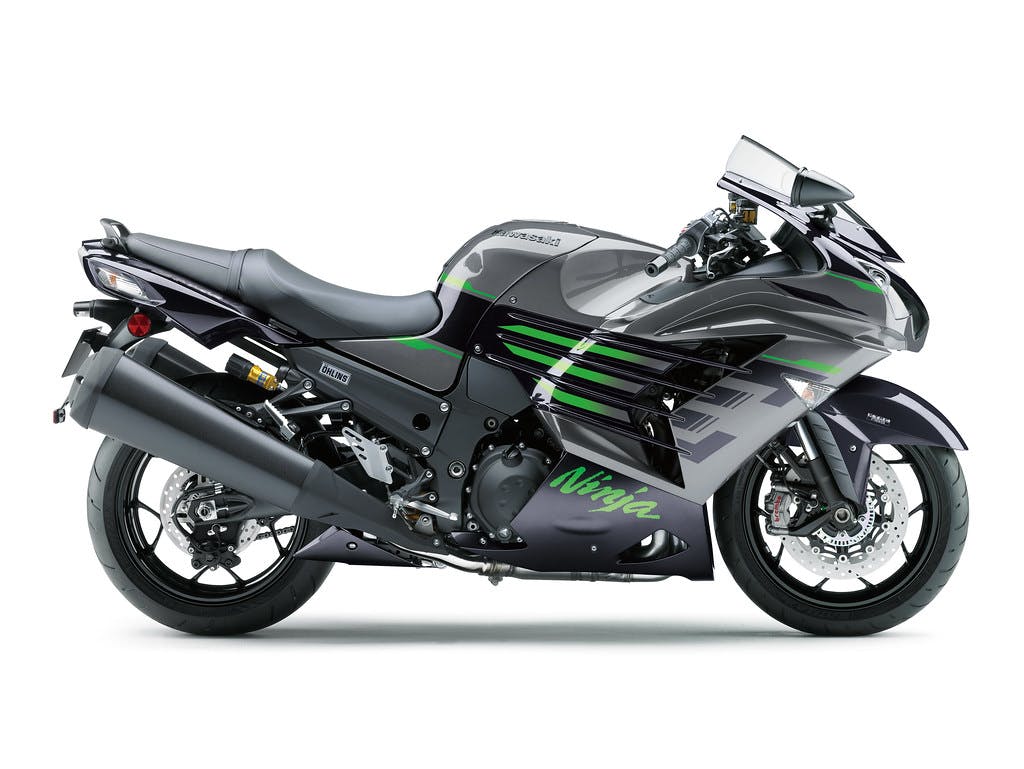 KING OF ALL SPORTS BIKES
The 2021 Ninja ZX-14R's ultra-powerful 1441cm³ inline four-cylinder engine puts it in a class all its own. Add in our most advanced electronics system, including traction control, ABS, and power mode selection, and with an innovative monocoque frame, and stunning bodywork and the ZX-14R is a phenomenon that you must experience to believe. The 2019 Ninja ZX-14R Special Edition (Brembo Öhlins) is the flagship model with many extra features; Brembo Radial Pump Front Brake Master Cylinder, Radial Mount Brembo M50 Calipers and 310 mm Brembo Discs with an Öhlins TTX39 Rear Shock Absorber, Golden Blazed Green with Metallic Carbon Grey paint, drilled green fork caps, drilled billet grey alumite steering nut and stainless steel rings on the dash meters which feature new dot pattern meter faces and two available background colours for the LCD Screen (black or white) can be selected according to rider preference.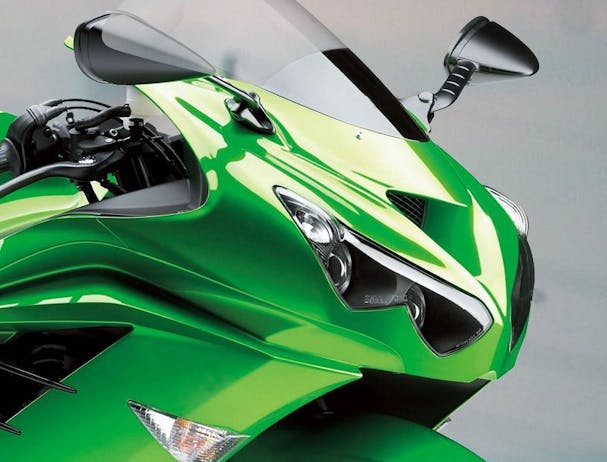 RAM AIR INDUCTION
A central Ram Air duct feeds cool, high-pressure air from the front of the fairing in a direct path through the air cleaner and into the engine for maximum power output - as speed increases, so does the air pressure, effectively force-feeding the engine.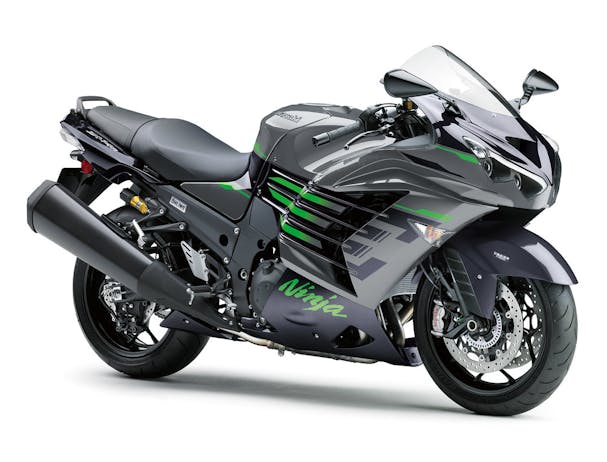 AERODYNAMICS
Sculpted by the wind, the Ninja ZX-14R's bodywork offers high aerodynamic performance that reduces drag, and contributes to stability and wind protection at highway speeds.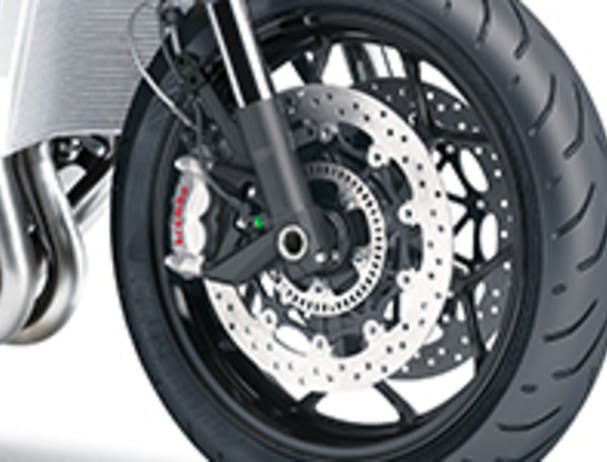 SPORT SUSPENSION
where chosen to deliver a firm, sporty feel. Settings are such that the majority of the suspension action takes place higher in the stroke (rather than closer to the bottom of the stroke with the suspension almost fully compressed).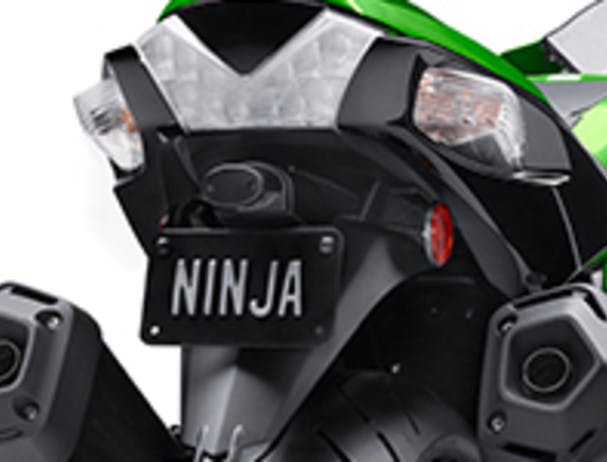 LED TAIL LIGHT
Aggressive, larger-volume tail features an LED taillight and integrated rear turn signals. When viewed from the rear, the tail cowl, rear tyre and twin silencers have good visual and spatial balance.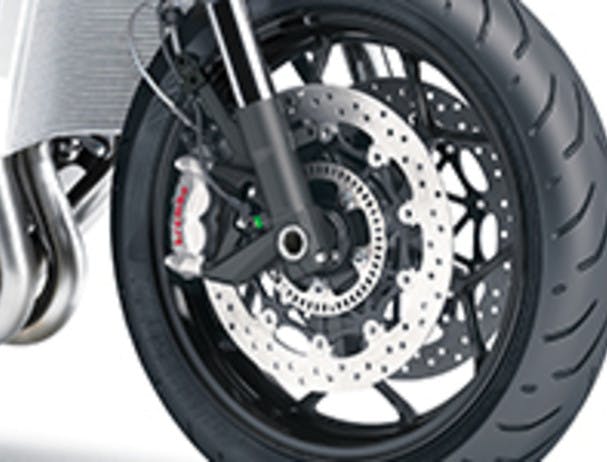 LIGHTWEIGHT WHEELS
Lightweight wheels reduce rotational inertia and unsprung weight, increasing the bike's flickability, and contributing to the sporty handling.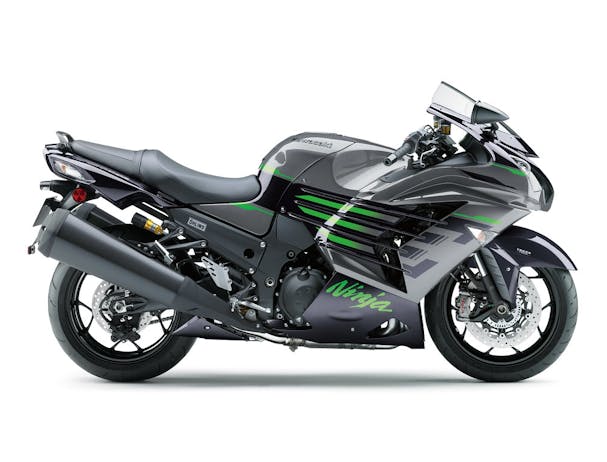 PRESENCE AND PRECISION
The Ninja ZX-14R exudes an aura of power and assurance found only in the world's most powerful machines.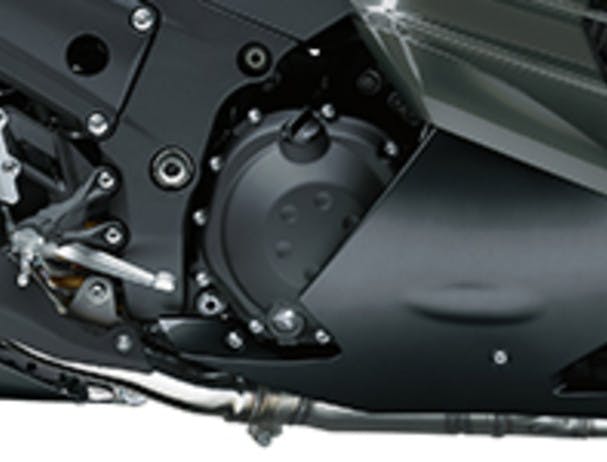 BACK-TORQUE LIMITER CLUTCH
Easily adjustable back-torque limiting clutch facilitates smooth downshifts and helps prevent rear wheel hop, which becomes more likely with the increased back-torque. In addition to assisting with contro.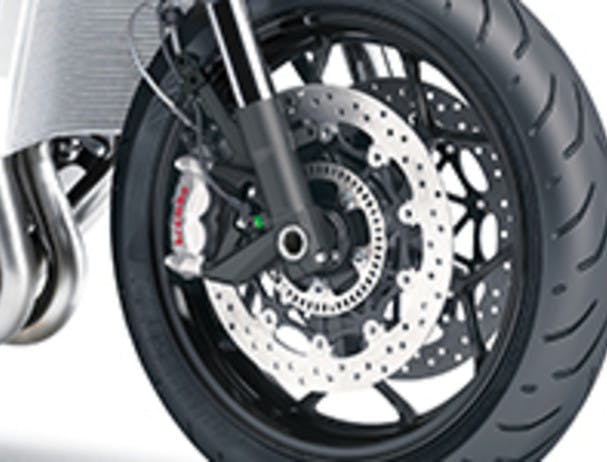 BREMBO CALIPERS
Dual radial-mounted M50 Bembo cast aluminium monbloc calipers grip the front disc. A a pair of massive ø310 mm Brembo semi-floating discs with a thickness of t5.5 mm deliver superb braking force.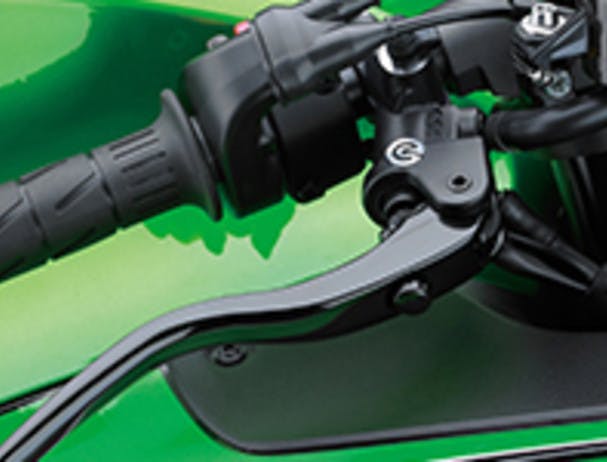 BREMBO MASTER CYLINDER
Brembo radial-pump master cylinder and reservoir receive extra attention before being shipped to Kawasaki. Each part is examined and adjusted to eliminate any ineffective (idle) stroke..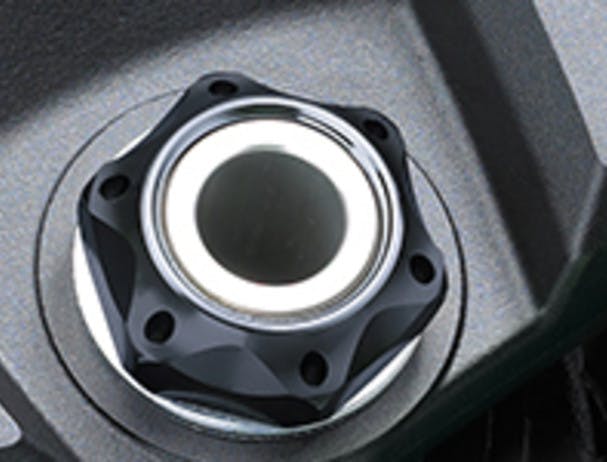 HIGHT QUALITY DETAILS
Specially designed, drilled billet steering stem nut adds another quality touch. The miniature work of art, representative of this model's high attention to the smallest detail, serves as a visual reminder of the Ninja ZX-14R's regal status..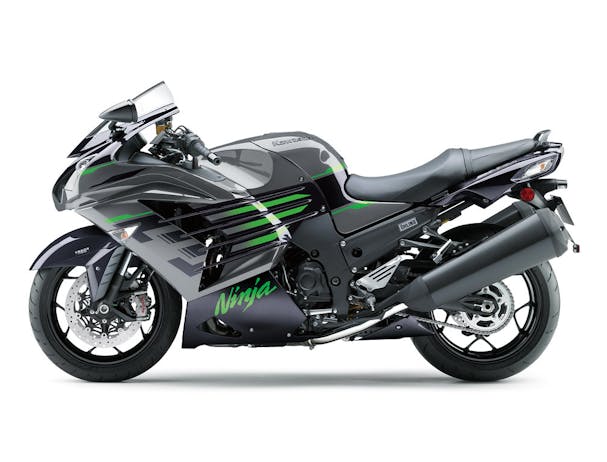 FIT AND FINISH
Machined finish on the fuel tank cap contributes to the high-quality image.  High-quality sculpted rubber tank pad protector, provided standard, protects the finish of the lustrous paint on the fuel tank.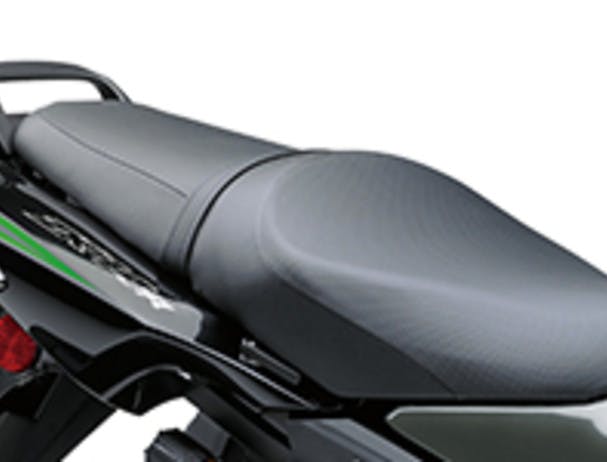 SEAT
The gunfighter-style seat contributes to both design impact and ergonomics. Its sculpted shape provides hip support during strong acceleration. Slimmer at the front, it also facilitates the reach to the ground when stopped at lights.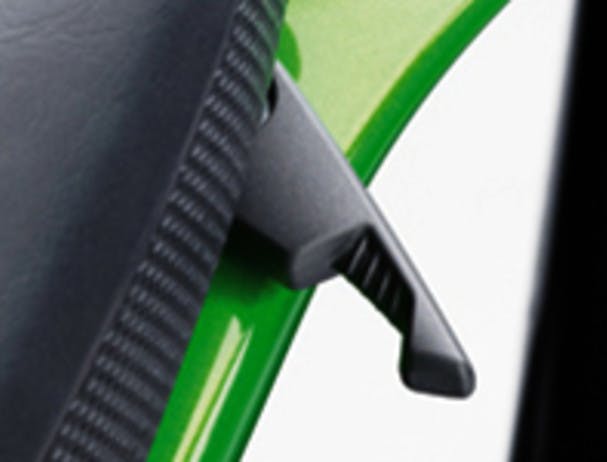 CARRYING CONVENIENCE
The Ninja ZX-14R features retractable luggage hooks that tuck in neatly at the rear of the front seat. These are complemented by two hooks on the passenger tail grip.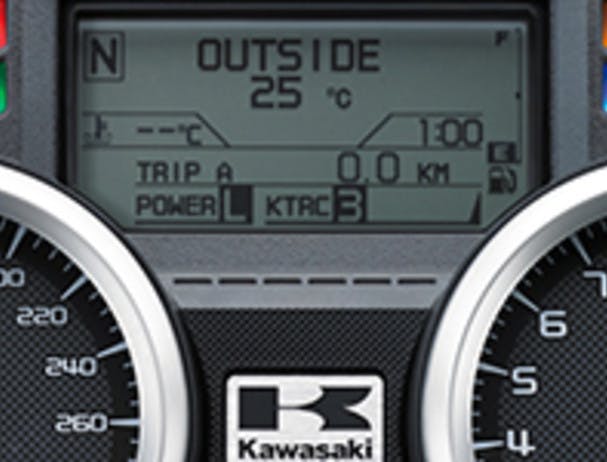 MULTI-FUNCTION DISPLAY
Features on the multi-function display include analogue-style speedometer, external air temperature, fuel gauge, gear position indicator, odometer, clock & trip meters.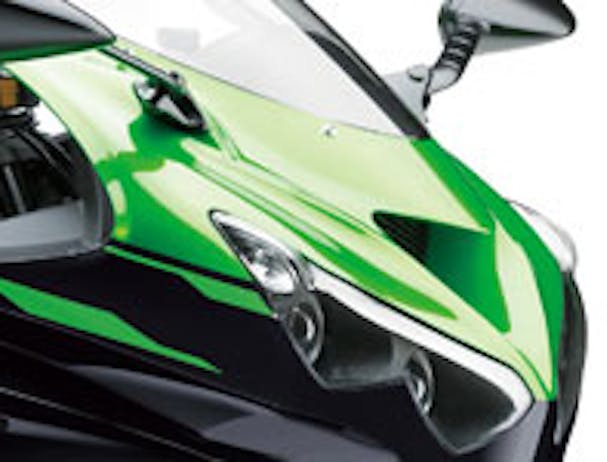 HEADLAMP
An aggressive design for the characteristic quadruple projector beam headlights contributes to the impact of the front cowling.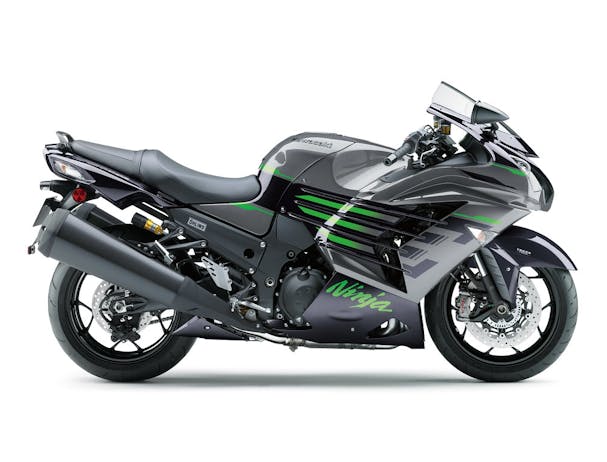 ADVANCED RIDING AIDS
While the Ninja ZX-14R's mighty engine performance was intended to be experienced unfiltered, riders may elect to take advantage of the some of the advanced electronic riding aids provided to suit riding conditions or preference.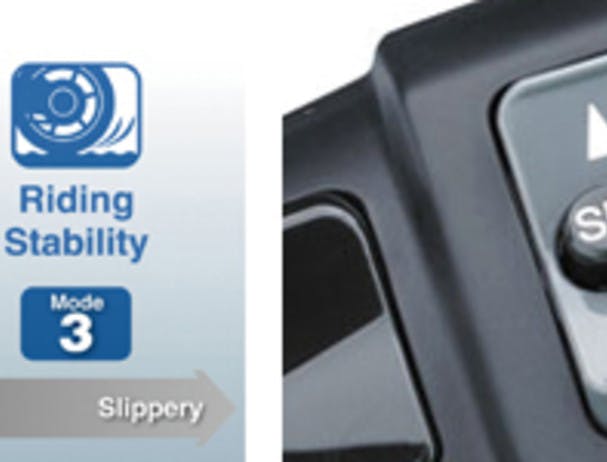 3-MODE KTRC (KAWASAKI TRACTION CONTROL)
Three modes cover a range of riding conditions, offering either enhanced sport riding performance or the peace of mind to negotiate slippery surfaces with confidence. Riders can choose from three modes.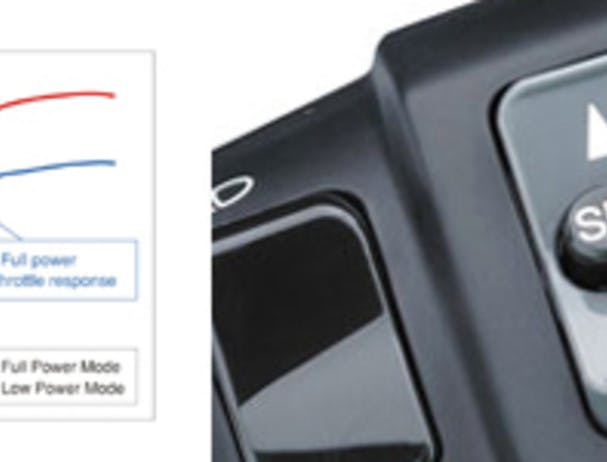 POWER MODE SELECTION
A choice of Full Power or Low Power modes allows riders to set power delivery to suit preference and conditions. Low Power mode limits output to approximately 75% of Full Power and uses a milder throttle response.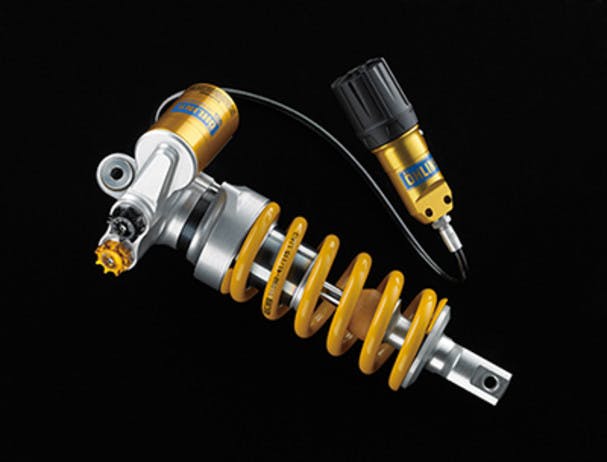 ÖHLINS REAR SUSPENSION TTX39 SHOCK ABSORBER
Enhancing the already mighty performance the Ninja ZX-14R Brembo  Öhlins Special Edition features a TTX39 rear shock. Working together with Öhlins, a top-of-the-line TTX rear suspension unit was developed especially for this model.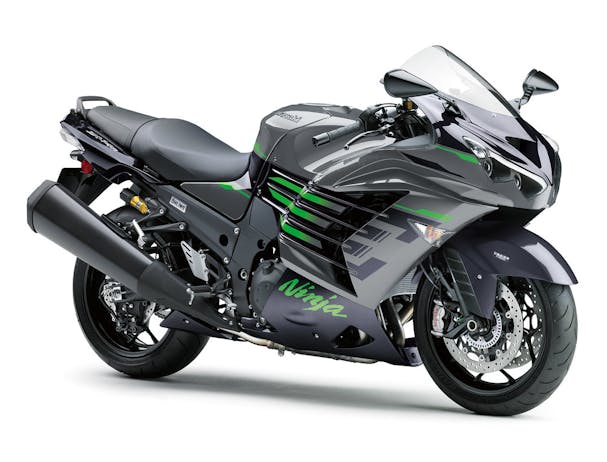 HIGH QUALITY
In addition to its premium performance features, the Ninja ZX-14R ABS Special Edition (Brembo Öhlins) is visually differentiated from the standard edition models by a number of premium features that add to its higher quality appearance.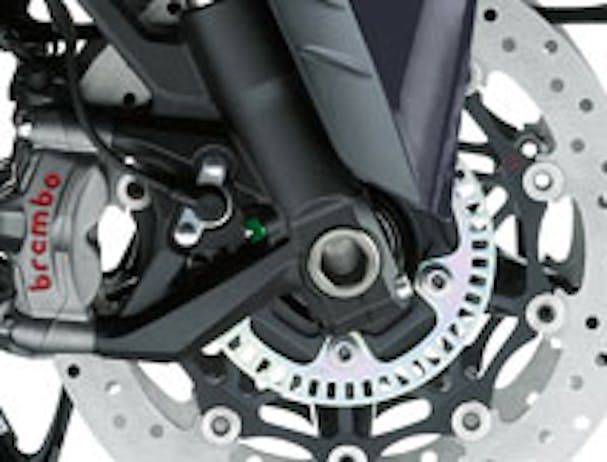 SPECIAL EDITION BREMBO ÖHLINS
Special Edition (Brembo-Öhlins) features Brembo M50 Radial Mount Calipers and 310 mm Brembo Discs.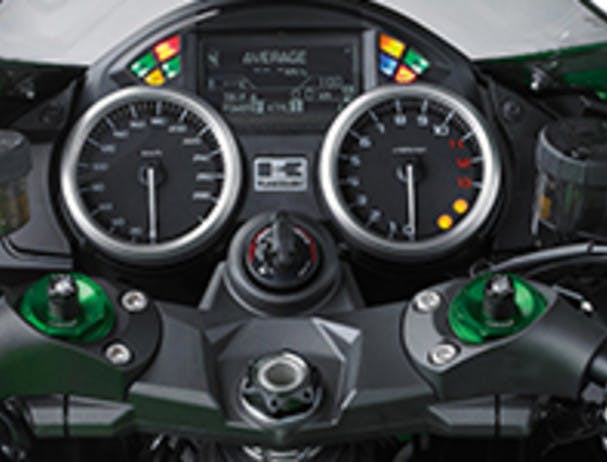 CLASSIC ANALOGUE DIALS
Nestled in the canopy is an instrument cluster with dual analogue-style speedometer and tachometer. New meter faces change from black to a dot pattern, contributing to a high-quality image.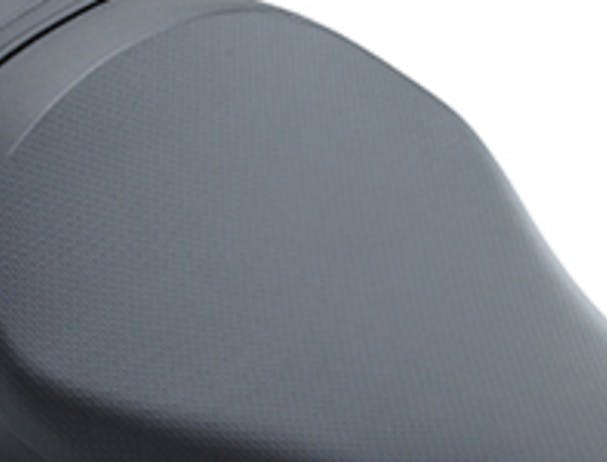 SEAT PATTERN
Dimpled pattern on the seat material adds to the premium image. Like the standard seat, the new material offers excellent grip, which contributes to the Ninja ZX-14R's sport riding potential.