KAWASAKI KLX150BF SE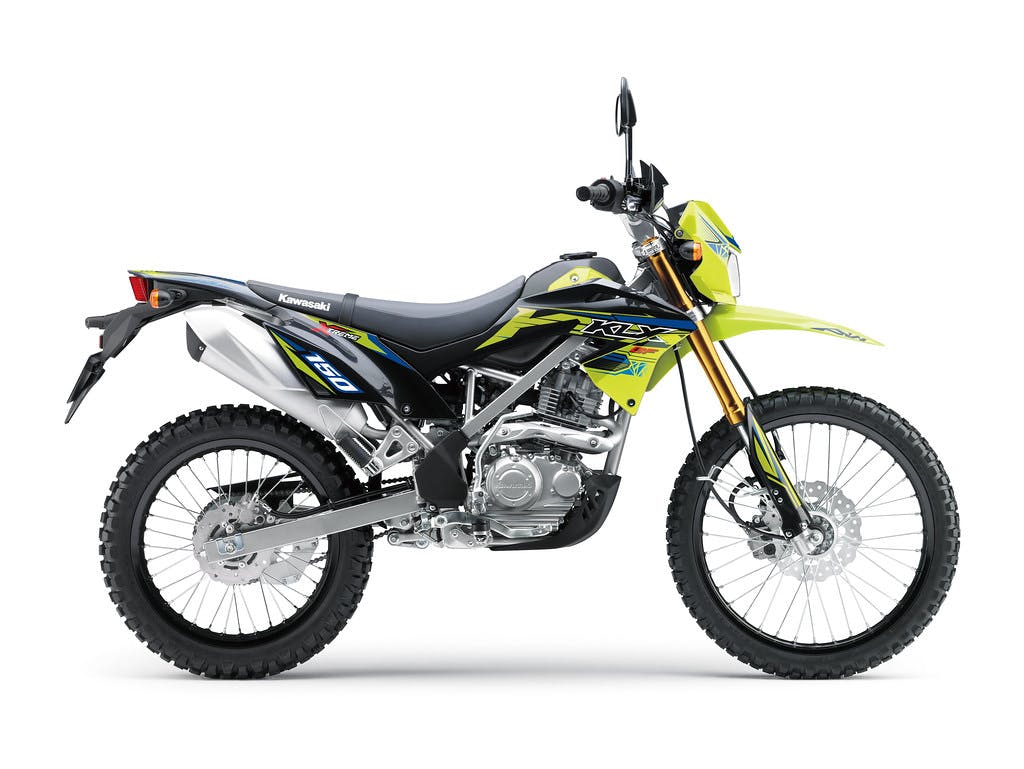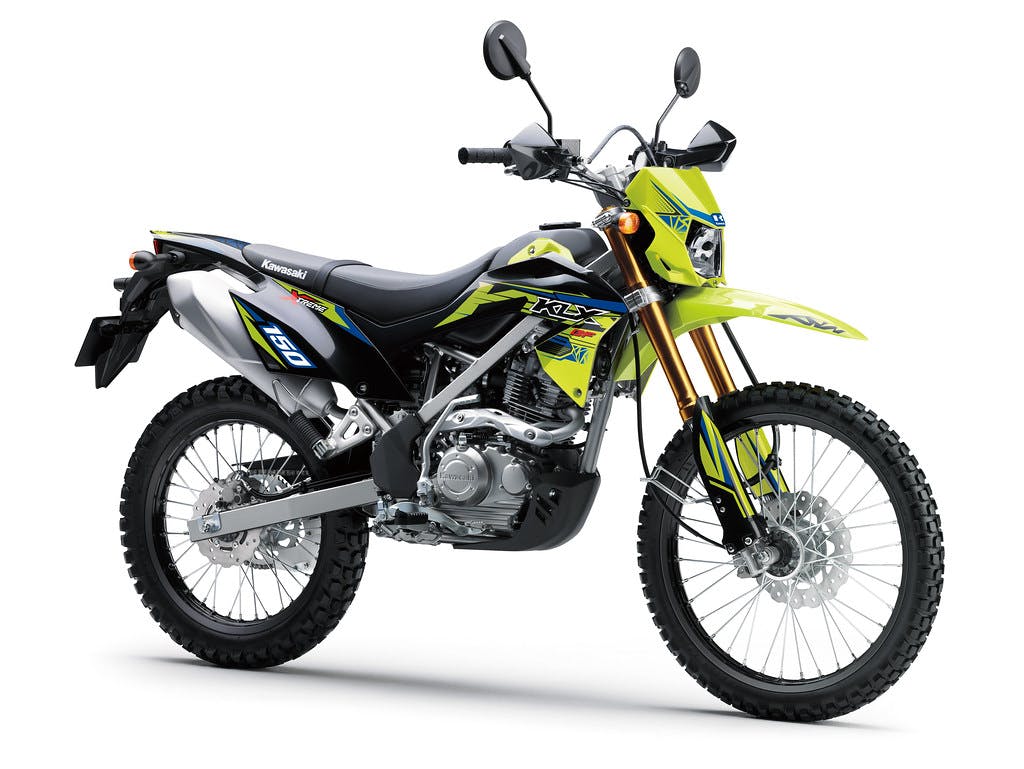 DUAL PURPOSE WITH SERIOUS OFF ROAD PERFORMANCE
A simple yet reliable single-cylinder air-cooled engine with an electric starter nestled in a sturdy, highly rigid steel perimeter frame offers easy-to-use, hassle-free fun. Complementing the powerful engine and box-section perimeter frame, the 21 "front and 18" rear wheels make it easier for the KLX150BF SE to overcome all obstacles encountered. The KLX150BF SE offers a slim, compact package seat, comfortable riding position, and low-strength controls, resulting in a bike that is easy to ride for new riders and satisfying experienced riders. A new gold finish on the inverted front forks, a new "X-TREME" graphic with a KX-inspired styling, adds more.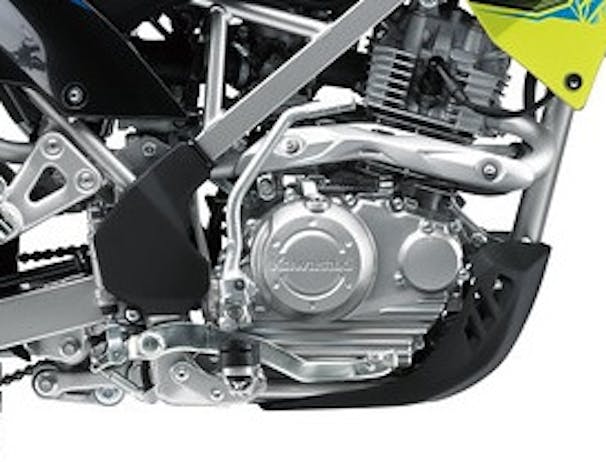 STRONG, RELIABLE ENGINE
The KLX150BF engine offers a simple, easy-to-use, and highly reliable power plant. The 144 cm3 4-stroke air-cooled single-cylinder engine offers a lightweight, reliable and powerful power plant. A large Keihin NCV24 carburetor ensures smooth throttle response and excellent fuel economy.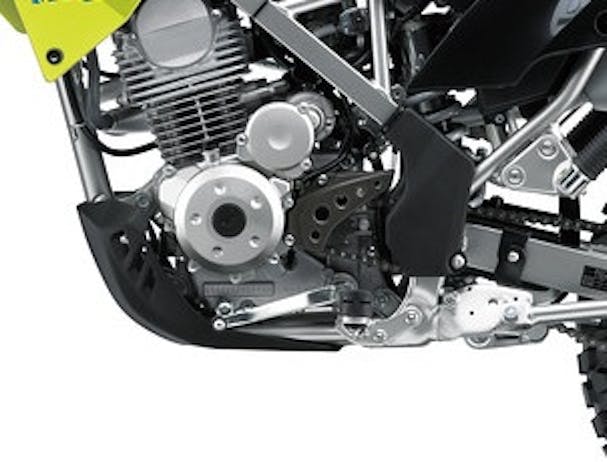 5-SPEED TRANSMISSION
5-speed transmission ensures there is a gear for every situation, enabling quick pick-ups when accelerating from a stop, and relaxed cruising ability when riding at higher speeds. Short final gearing care of large rear sprockets KLX150BF: 52/14 focuses the engine's performance in the low-mid rpm range.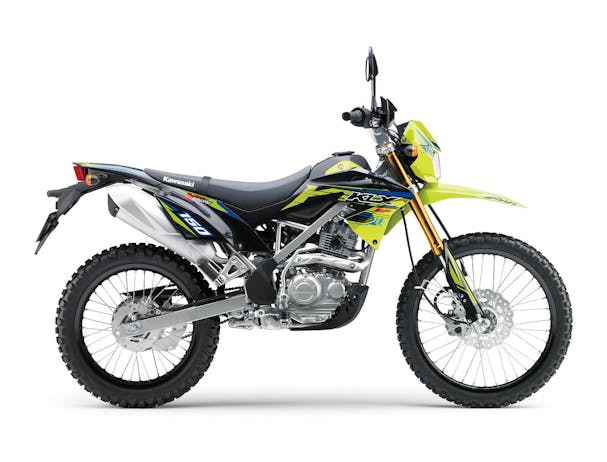 FULL SIZE WHEELS
Large 21 "front and 18" rear tyres provide a strong off-road capability. Large wheels are better suited to overcoming obstacles encountered by taking a bike off the road or tackling the unforeseen roads of the urban environment.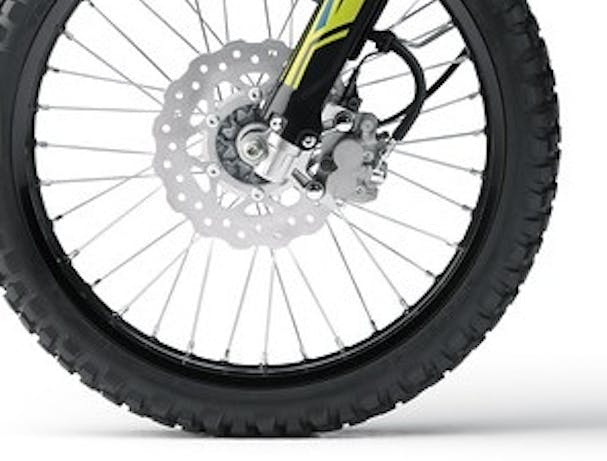 LARGE PETAL DISC BRAKES
The 240 mm front petal disk is mounted on a twin-piston caliper and, when combined with a 190 mm rear petal disk and a single-piston caliper, offers a strong, easy-to-control braking capability. Front and rear calipers use sintered brake pads with good wear characteristics.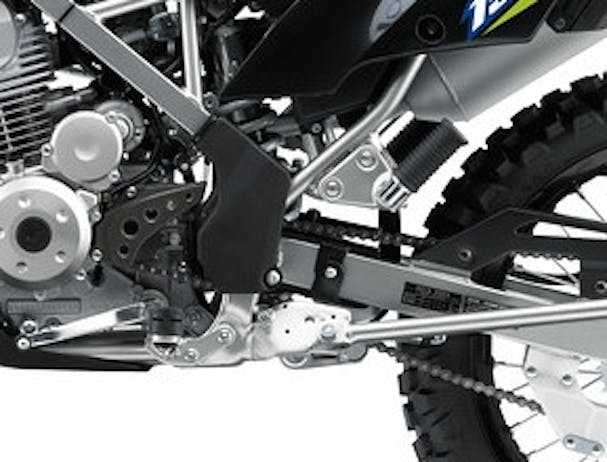 GAS CHARGED REAR SHOCK
Single rear shock absorber with pressurized nitrogen gas is 5-way adjustable for preload, allowing riders to adjust the weight of the bike.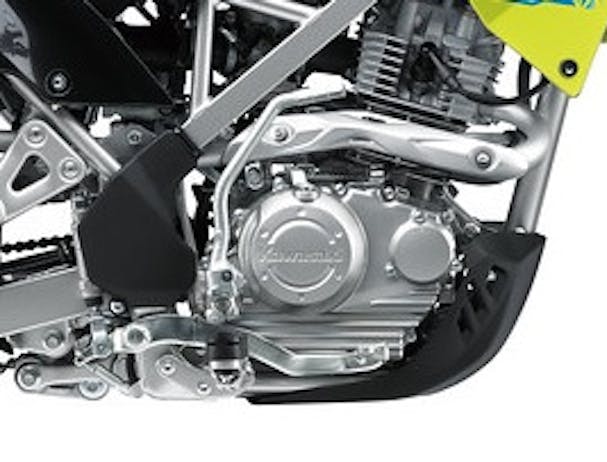 UNI-TRAK REAR SUSPENSION
Uni-Trak rear suspension with 192 mm of wheel travel provides excellent road holding capability and bump absorption. Shock settings fit the size of the large wheel.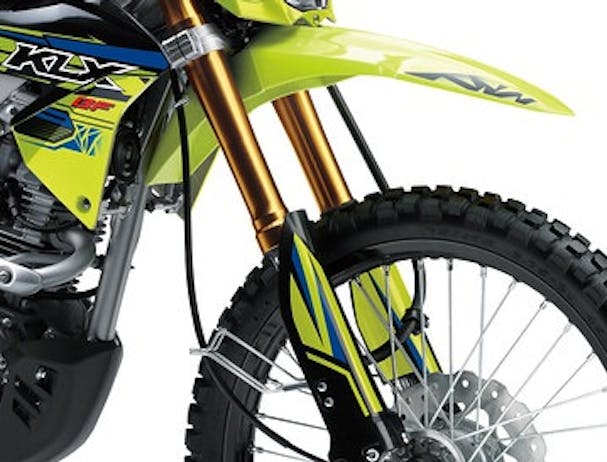 INVERTED FRONT FORK
The inverted front fork, with a diameter of 35 mm, offers a serious boost to off-road riding potential. Increased resistance to bottoming eliminates bottoming on off-road tracks. Wheel travel measures a large 175 mm. The new gold finish on the inverted forks enhances the appearance of the 2018 KLX150BF SE model.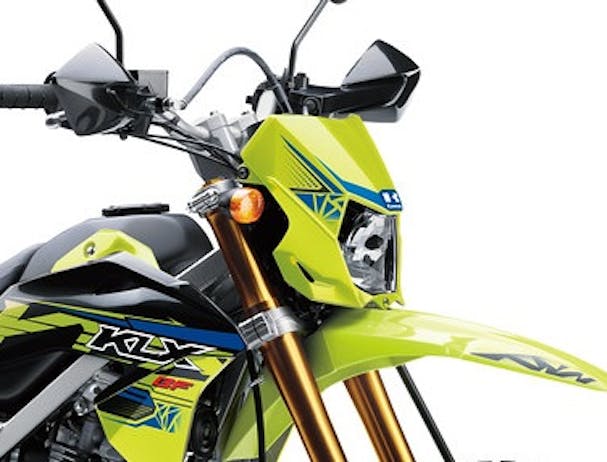 HALOGEN HEADLIGHT
Sharp headlight design features a 35/35 W halogen bulb. A new meter viewfinder contributes to an aggressive appearance.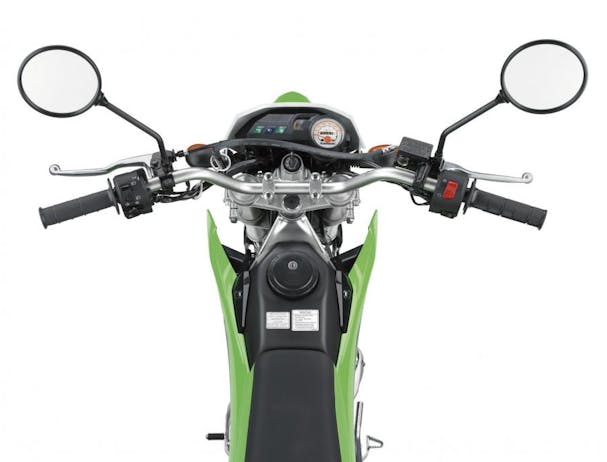 ERGONOMICS
Throttle grips are the same as those on our top-class MX racers. Raised pattern on half of the surface makes them easier to grip. Fat bar contributes to the aggressive, racy image while offering increased rigidity. The handlebar is rubber-mounted for reduced vibration transferred to the rider's hands.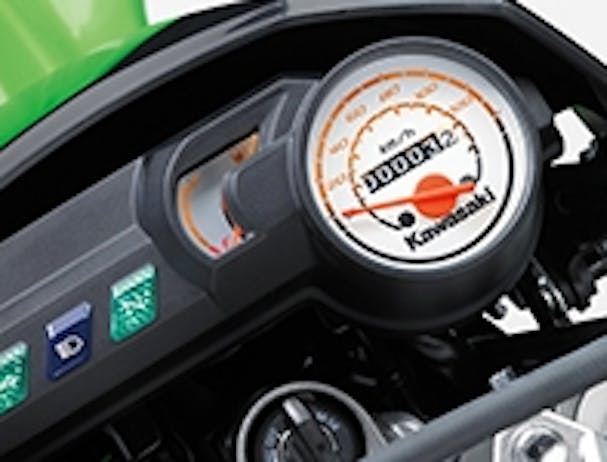 INSTRUMENTATION
Simple analog instrumentation includes a speedometer, odometer, fuel gauge, turn signal indicator, high beam warning light, and neutral light.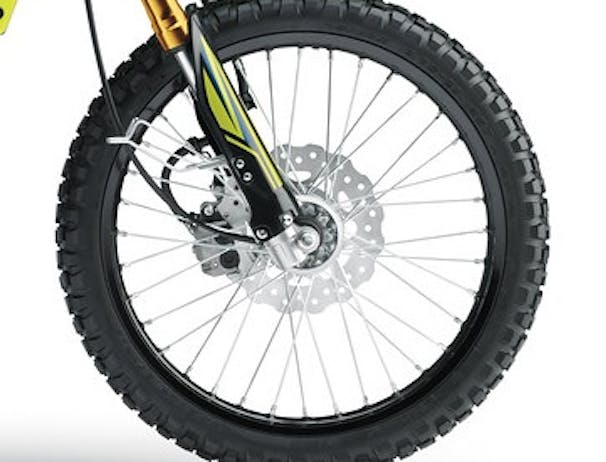 LIGHTWEIGHT ALUMINIUM RIMS
Lightweight, black aluminum rims enhance appearance and handling.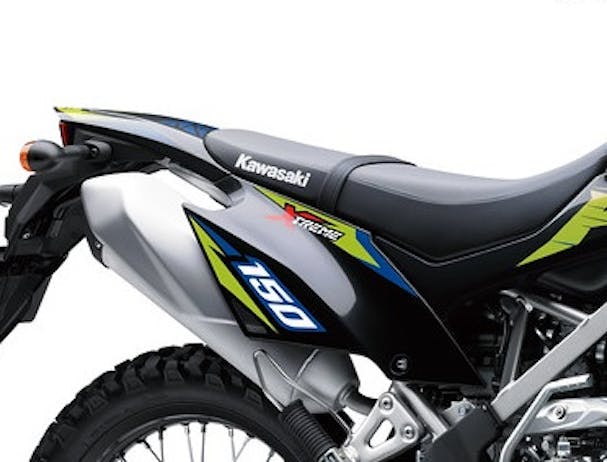 FLAT SEAT DESIGN
The flat design of the tank and seat gives the rider greater freedom of movement when changing the riding position and makes it easier to sit further forward. Like our KX racers, the KLX150BF features a two-tone leather seat.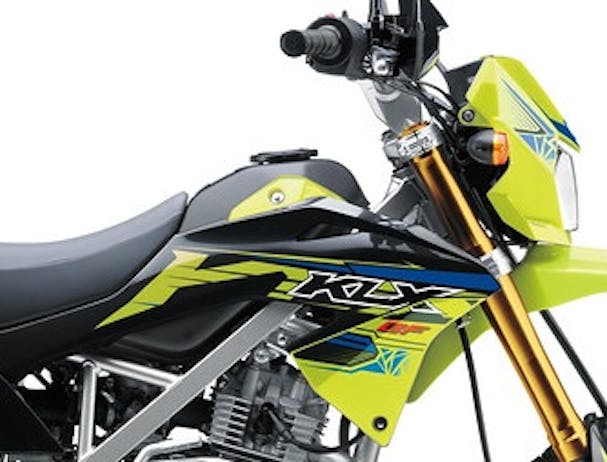 6.9 LITRE FUEL TANK
With a capacity of 6.9 liters, the fuel tank contributes to the KLX150BF long range, allowing riders to enjoy a full day of trail riding on a single tank.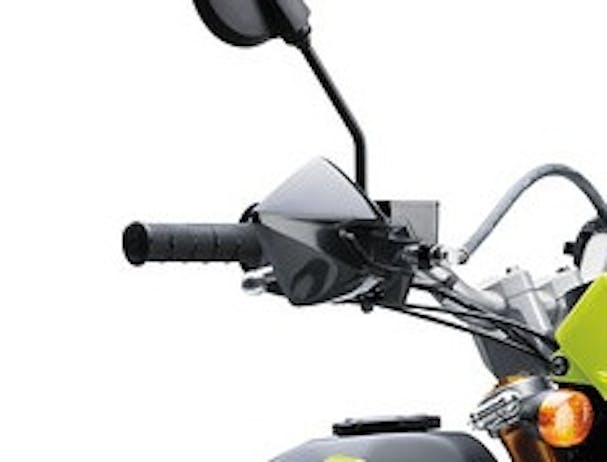 HAND GUARDS
Hand guards help protect your hands when riding off-road.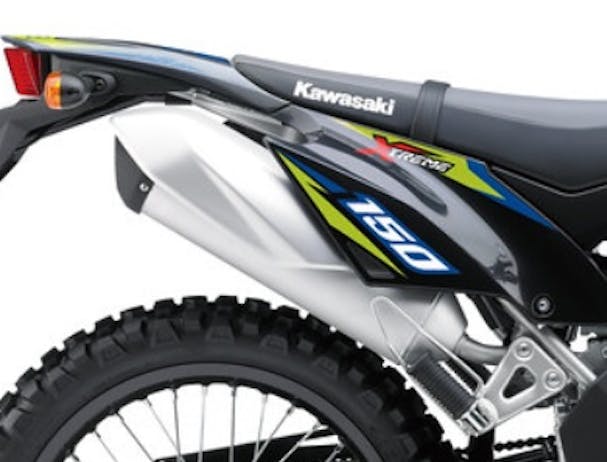 LOW EXHAUST EMISSIONS
Exhaust emissions clear Euro-III emission regulations. A larger catalytic converter (located at the door of the silencer) ensures that the emission regulations continue to comply with the shorter gearing. Silencer has an oval cross section, giving it a sharp aggressive design.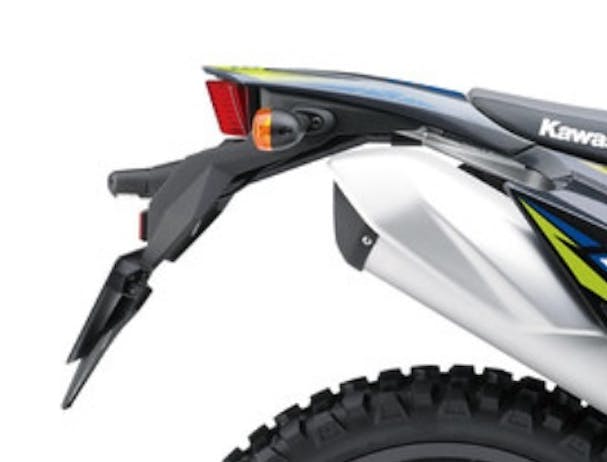 AGGRESSIVE TAILLIGHT DESIGN
Aggressive taillight design complements the bikes' racy image. The long rear flap integrates the rear turn signals for a compact, tidy design.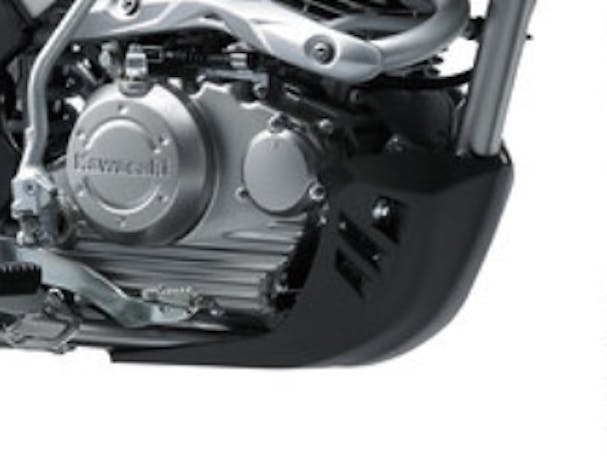 ENGINE GUARDS
Engine guards help protect the engine when off-road riding.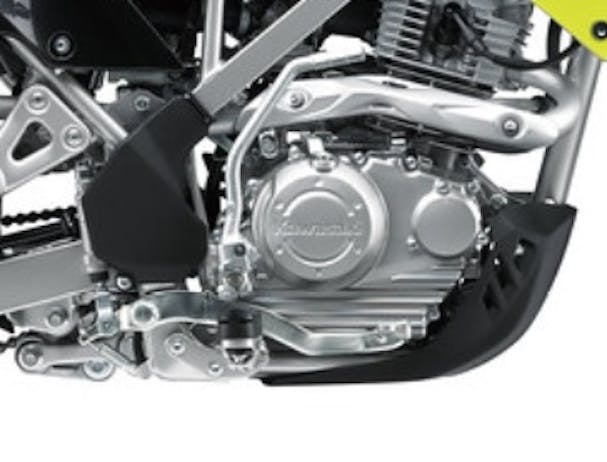 FRAME GUARDS
Frame guards help protect the frame when riding off-road.