HONDA MONKEY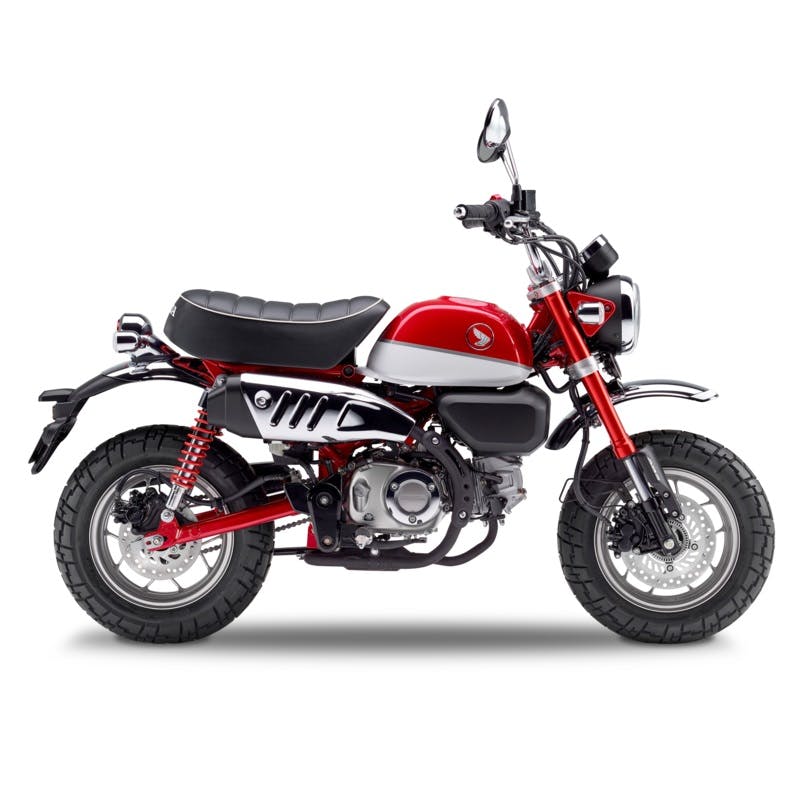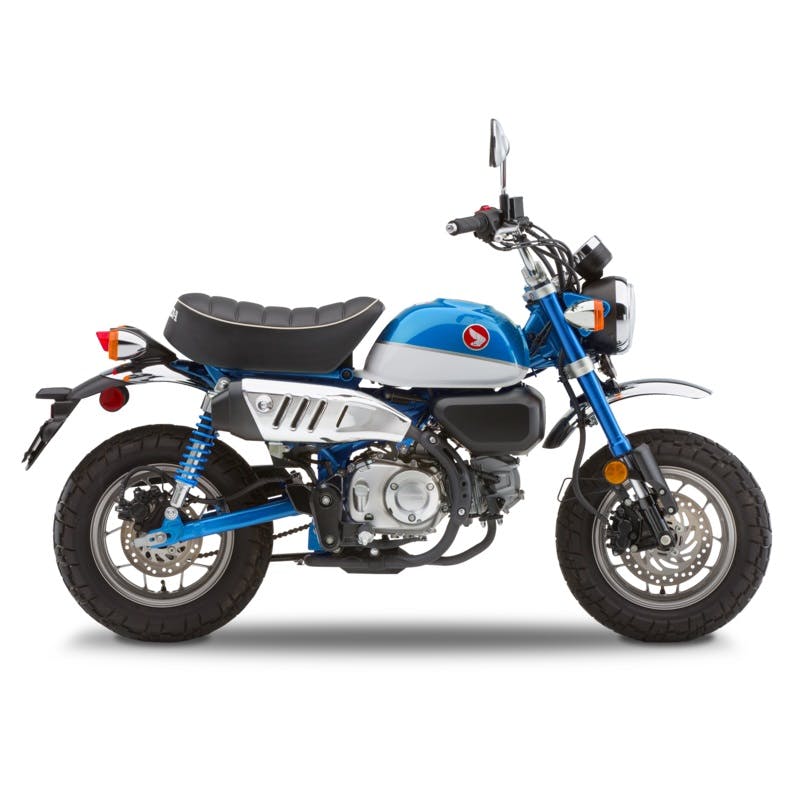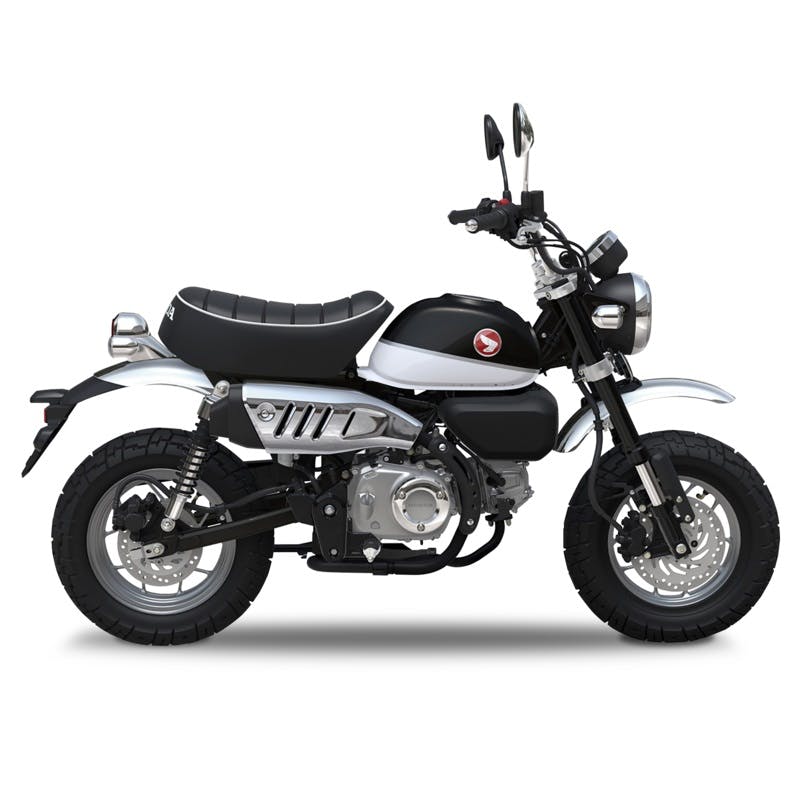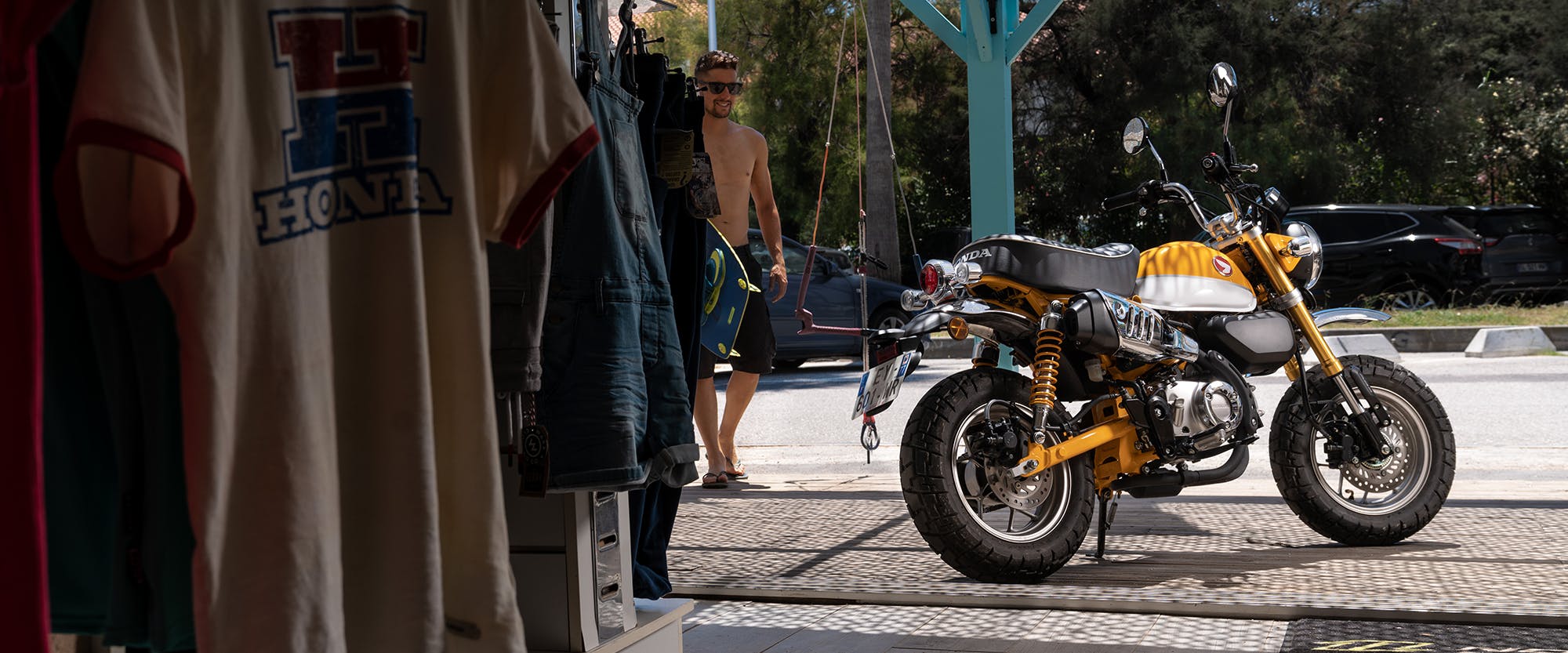 HONDA'S GENUINELY ICONIC MINI-BIKE IS REBORN
All are in love with the Honda Monkey. The original Monkey was a success in the 1960s; add a few decades of evolution, throw in a few bananas, and you have Honda's truly classic mini-bike re-imagined for today. With a style that draws heavily on the original, complemented by new, luxury features such as USD forks, twin rear shocks, LCD sensors, IMU-based ABS, and full LED lighting. The wet weight is just 107 kg. The Monkey was so much fun and so easy to ride, it did more to promote the idea of bikes to a broader audience than any other vehicle. With its chunky tires, mini-'ape' style handlebars, tiny fuel tanks, and big, squash bench, the Monkey's look is indistinguishable from its day, but – much like the love with which it is kept – still timeless. Who doesn't want a pocket-sized town with the name of the Monkey and the famous, resurrected, and ready for life in the 21st-century area?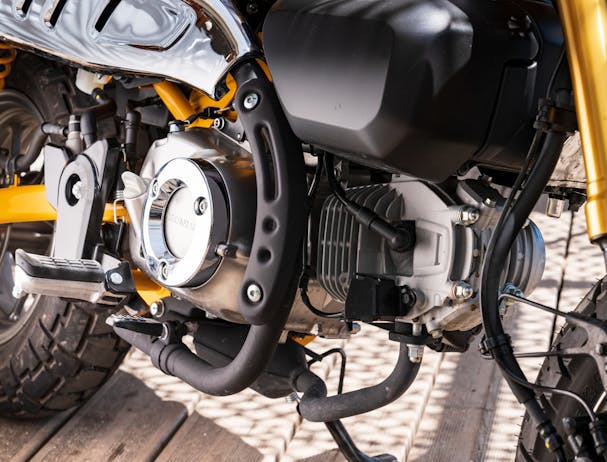 125cc FUEL-INJECTED ENGINE
The Monkey power unit is true to its heritage, the horizontal SOHC 125cc single-cylinder engine is simple and tuned to offer useful in-town output. Air-cooled, with a bore and stroke of 52.4 x 57.9 mm and a compression ratio of 9.3:1, fed by PGM-FI, produces 6.9kW at 7,000rpm and 11Nm at 5.250rpm.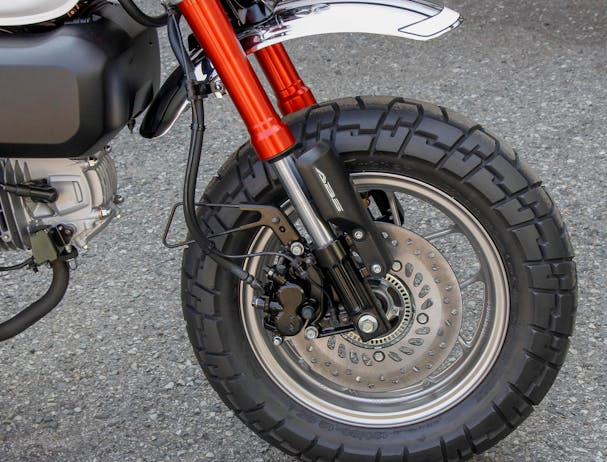 INVERTED FORK SUSPENSION
Like a top-of-the-line racing machine, the Monkey uses an inverted hydraulic front suspension for stability and road feel. Front forks have a durable aluminum finish and are accompanied by dual rear shocks with a 104 mm axle ride.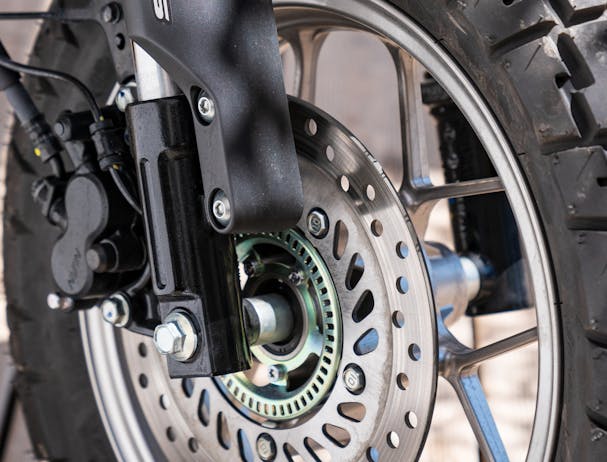 HYDRAULIC DISC BRAKES AND ABS
Monkey's single 220 mm front and 190 mm rear disks have stable stopping capacity, operated by IMU-based ABS. Our Anti-Lock Braking System (ABS) can be of great benefit in making safe stops in less than optimal conditions.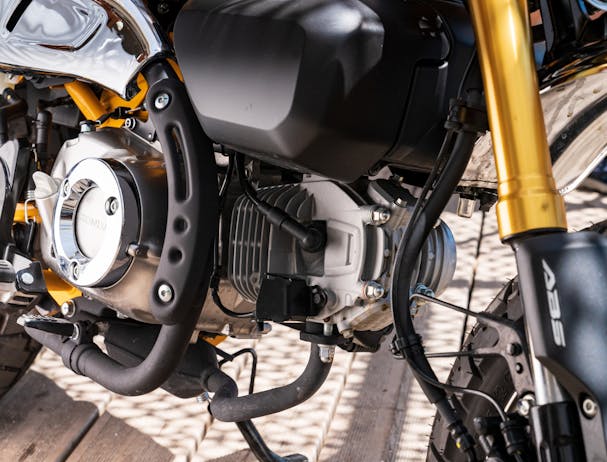 FOUR-SPEED TRANSMISSION
Yeah, the Monkey is adorable, but its four-speed transmission gives you all the endurance, power and reliability of a traditional bike.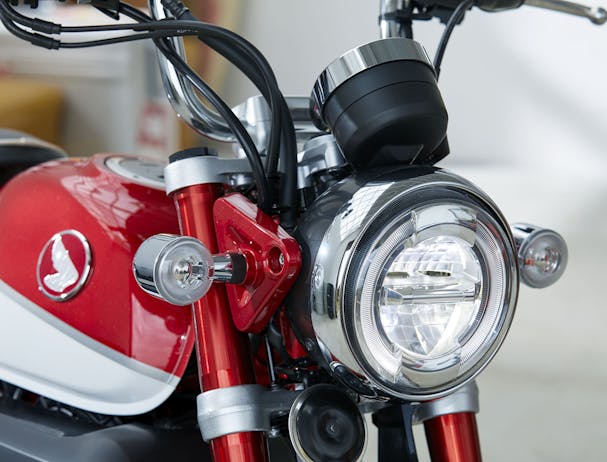 LED LIGHTING
The Monkey's round chrome headlight looks vintage, but its performance is absolutely up-to - date and offers outstanding lighting and vision, as does the lightweight, vibrant and transparent LED taillight.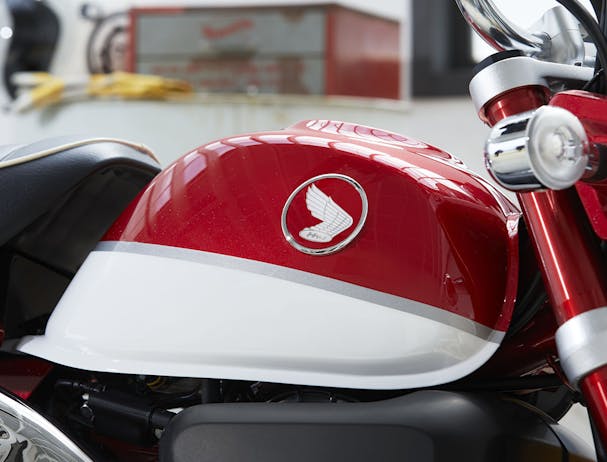 FUEL EFFICIENT
With its 5.6L fuel tank and excellent fuel efficiency, the Monkey may be small, but it lets you ride far on any tank.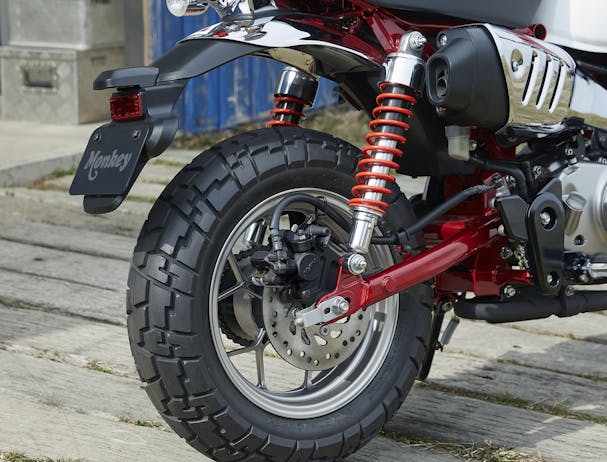 TWIN REAR SHOCKS
The Monkey 125 has a twin rear shock. Combined with thick tires and a cushioned back, they smooth out the roughest pavement in the urban jungle.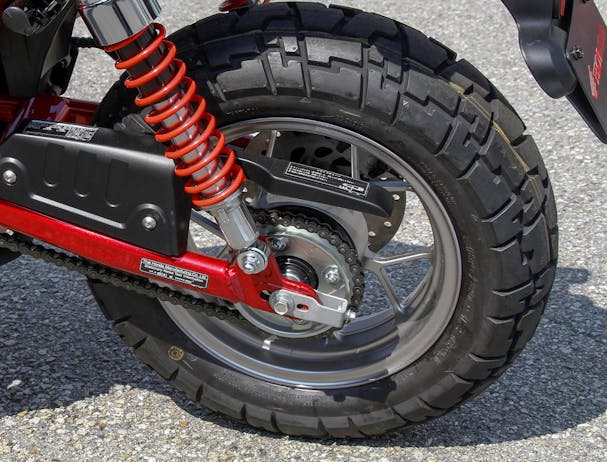 12-INCH WHEELS AND CHUNKY TYRES
The Monkey's high-aspect ratio tyres are incredibly stable, giving you plenty of traction and resisting bumps or uneven ground surfaces. Tough and heavy, the casting wheels are just what the urban rider wants.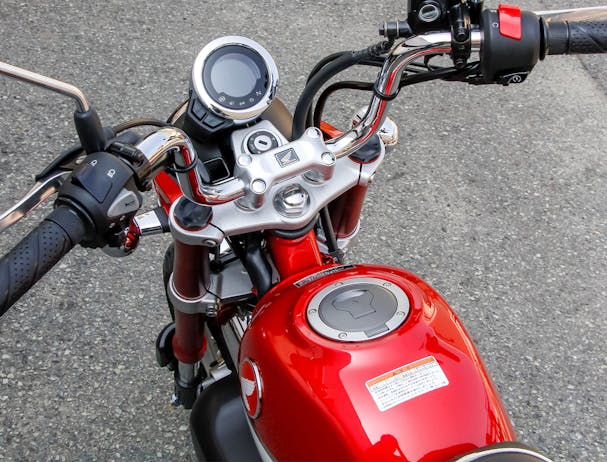 HIGH-RISE HANDLEBAR
Yeah, the Monkey may be tiny, but we've made it suitable for adult riders. Case in point, check out the high-rise handlebar, so you can kick back and enjoy the scenery as you fly.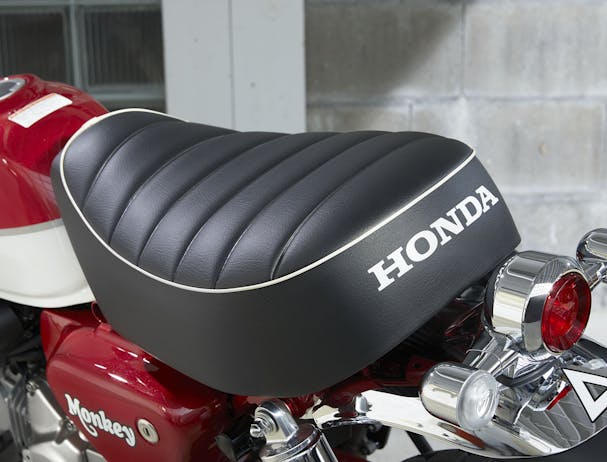 LOW SEAT HEIGHT
At just 776 mm, the Monkey's super-low seat makes it easy to stand by when you're driving or waiting at traffic lights.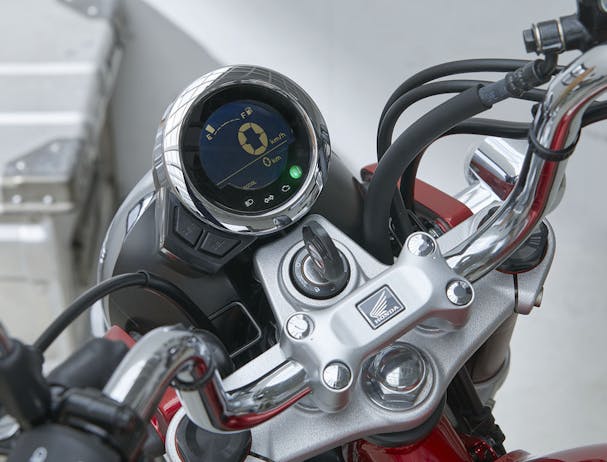 MULTI-FUNCTION DIGITAL DISPLAY
Retro meets modern. The round housing is totally 1960's, while the display features speedometer, odometer, tachometer, A&B trip meters, fuel gauge, and indicator for low/high beam. It even greets you when you first start the bike!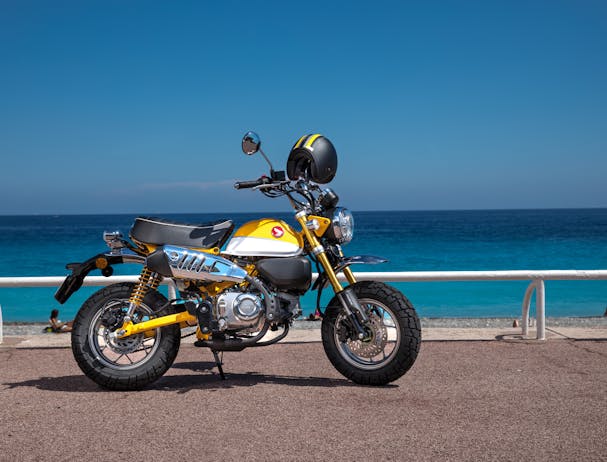 EASY TO PARK
Thanks to the Monkey's miniature stature, it's easy to park in the city and to store when you're not riding. There's always room for a Monkey!