HONDA CT125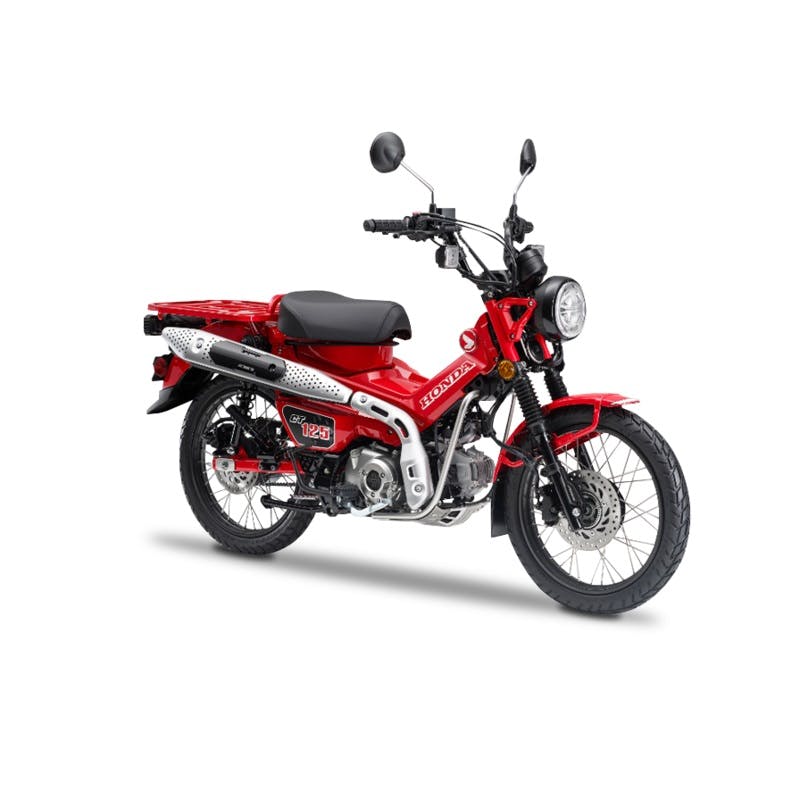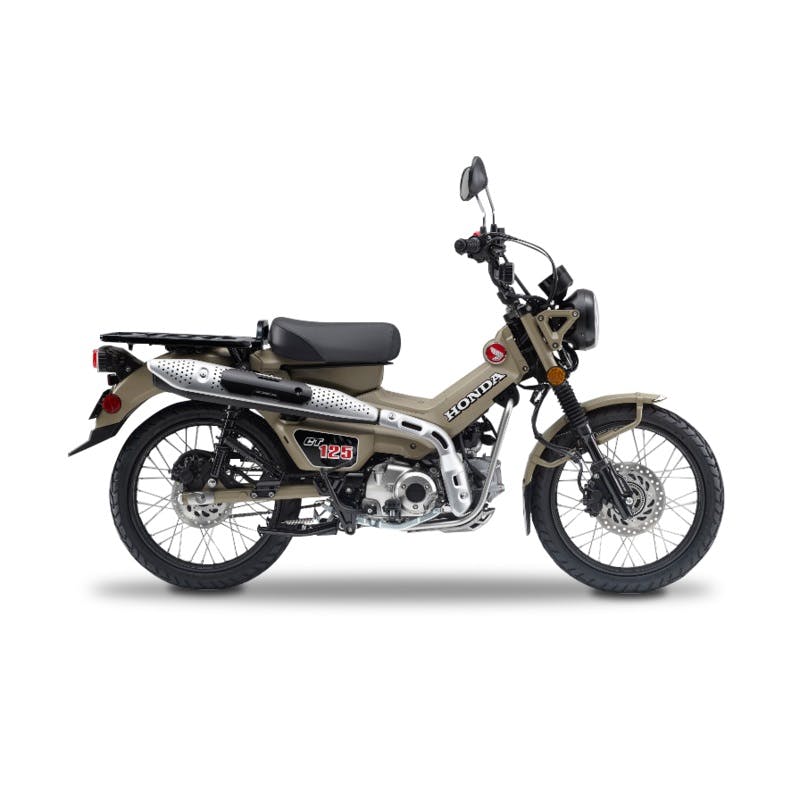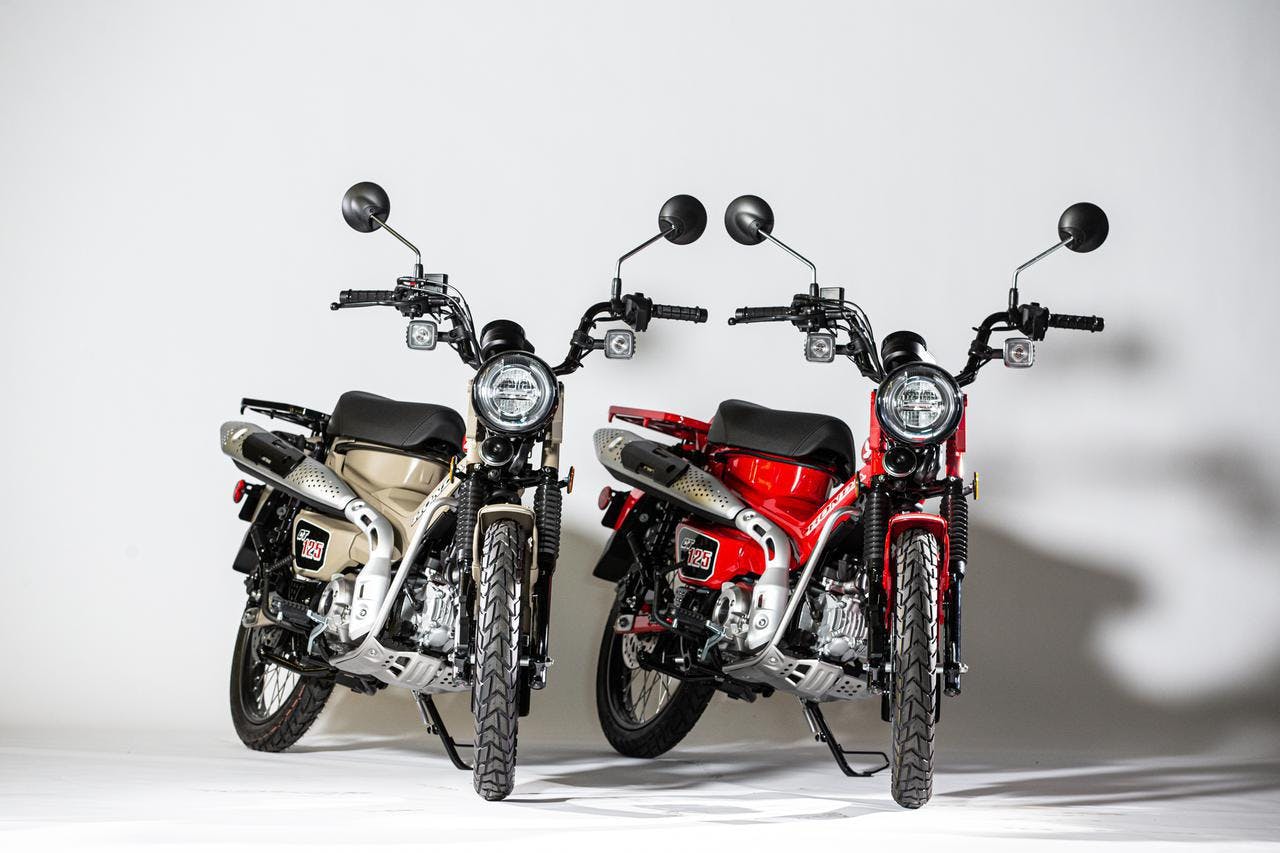 A NEW ERA FOR A HONDA CLASSIC
The CT125 joins the Monkey and the Super Cub as the latest model of old to get a modern-day re-vamp. Born as a concept, the new-era CT125 received so much attention, it was an easy decision to move it into production for the world to enjoy. Based off the iconic CT110 - a legendary Honda machine more commonly known as the 'Postie' bike - the CT125 boasts a 125cc, 1-cyl, 4-stroke engine, electric Start, ABS, LED lighting and a digital display. An ode to the postie of old, you can take it for a weekend cruise or use it as a commuter, its designed to be as versatile as the original for work or play. Its nostalgic charm is certain to turn heads anywhere it goes
0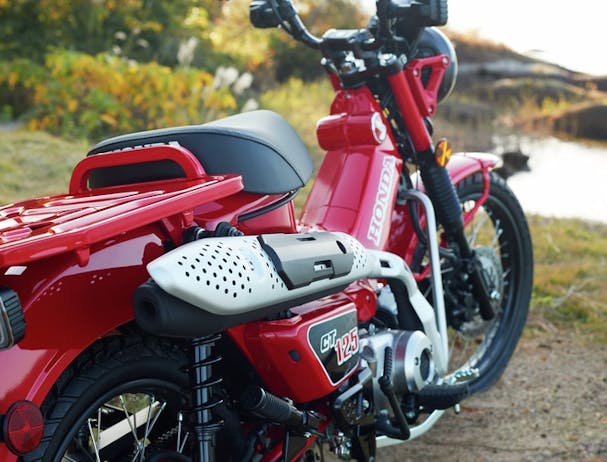 INTAKE AND EXHAUST
The CT125 adopts its own special intake and exhaust system, which has modified the location of the air cleaner and muffler from that of the other existing Super Cub series models.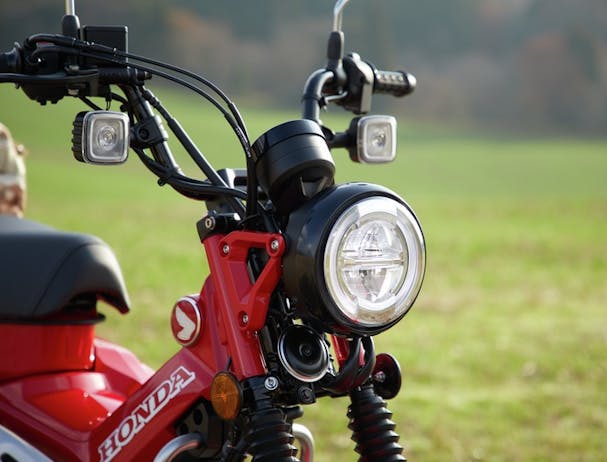 RELAXED TOURING OR DAILY COMMUTE
The CT125 engine performance characteristics depend on durability. Offering a versatile mid / low speed dynamic range; providing fun driving experience for faster cruising, as well as convenience for stop-and-go traffic on city roads.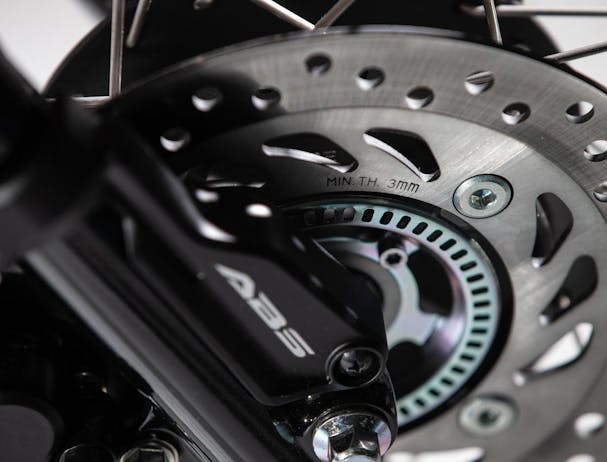 BRAKES
The CT125 is fitted with disk brakes on both the front and rear wheels. A 220mm front disk and a 190mm rear disk offer adequate braking power even when you've got your luggage on the back. The front wheel anti-lock braking system (ABS) is also available for added protection.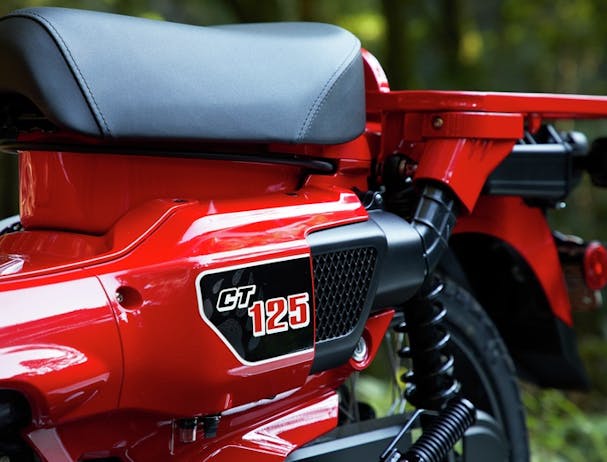 CHASSIS
The CT125 chassis has been developed to respond to a wider range of conditions and a larger range of passengers. It is based on the popular Super Cub frame kit, so that it is nimble and simple to manage, but with an expanded wheel base, seat height and an elevated handlebar.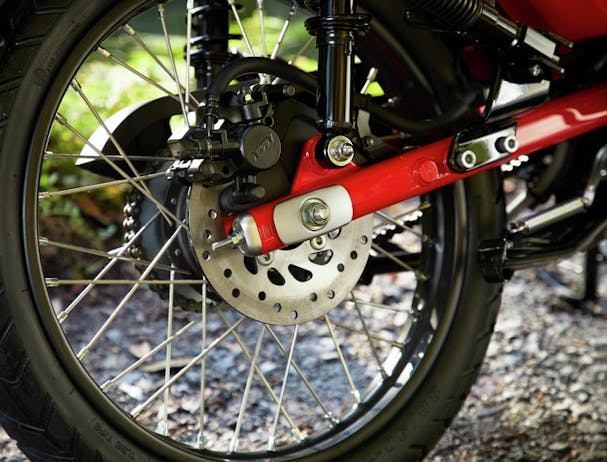 SWINGARM
The rear frame has been strengthened to ensure that the current head pipe and its surroundings are protected. The structure has been designed to strike the best balance between rigidity and stability in the handling of different traffic situations, including city streets or gravel paths.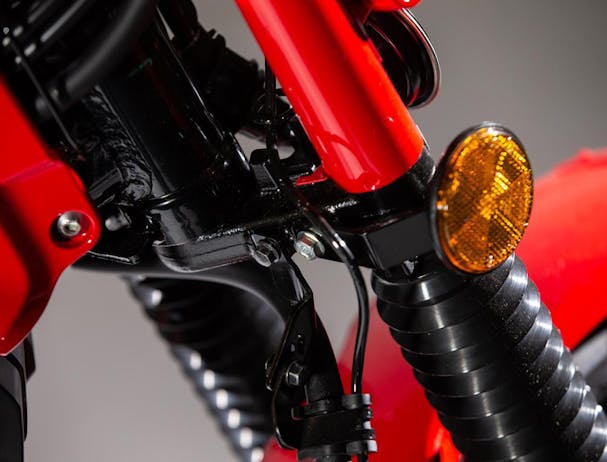 SUSPENSION
The CT125 offers improved movement and cornering stability by implementing the same form of top bridge and telescopic suspension widely used by standard motorcycles. The front suspension stroke was raised to 110mm, up to 10mm making it much more convenient to ride a gravel path.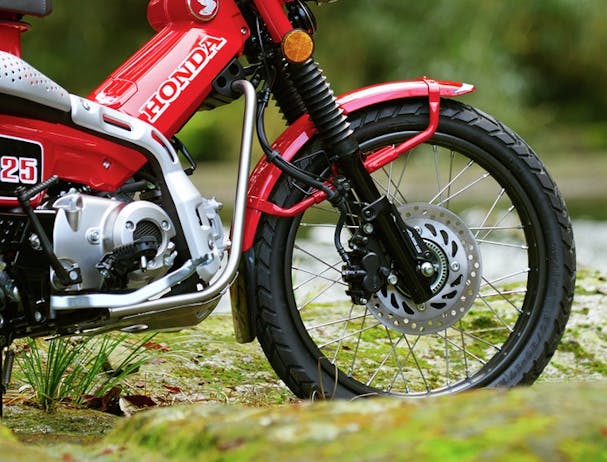 WHEELS
The front and rear tyres are 80/90-17 semi-block tyres, with the goal of delivering a good result that assures the comfort of every day biking in town as well as weekend touring on gravel roads. In addition, both the right and the left steering angles of the handlebar are set at 45 degrees to boost maneuverability.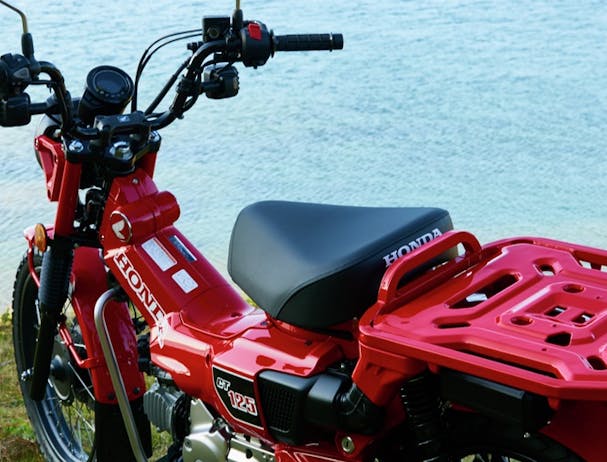 ECONOMICAL FUEL TANK
With a fuel tank capacity of 5.3L, combined with Honda's fuel-efficient 4-stroke air-cooled engine, you'll enjoy a very good cruise range so you can spend more time enjoying the trip and scenery before you have to brake and refill.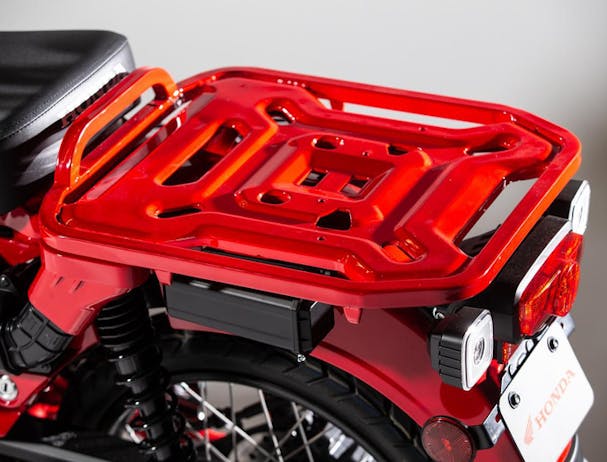 LARGER REAR CARRY RACK
The rear carrier which is 409mm wide and 477mm in length allows you to carry a variety of goods - tools, equipment or groceries.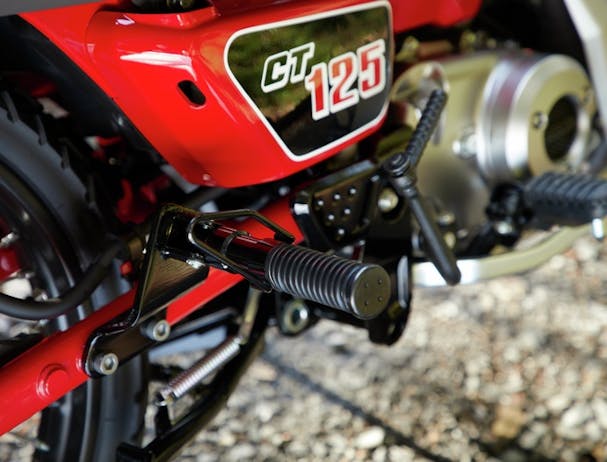 TANDEM STEP
Tandem steps are mounted to the CT125 to prevent you bumping your foot against the upper muffler and gives a little extra space or foot room. Pillion accessories optional.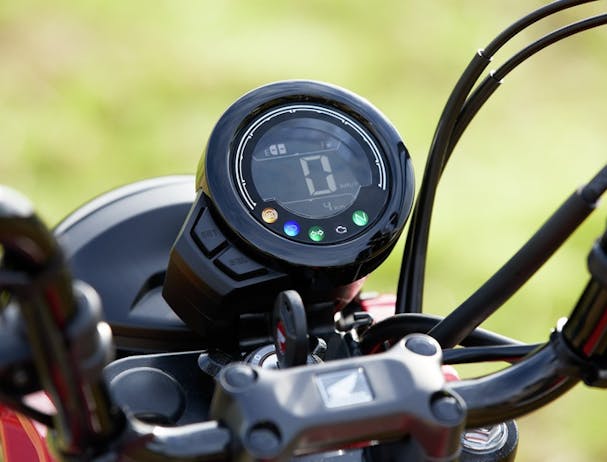 DIGITAL METER
Retro in style, modern in function. The compact digital instrument cluster features speedometer, odometer, A&B trip meters and fuel gauge.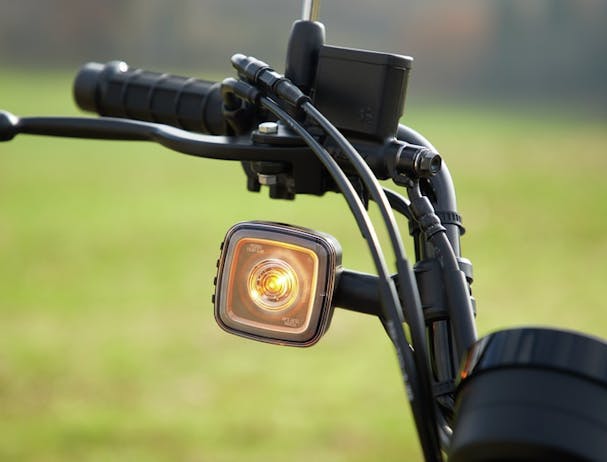 LED LIGHTS
All lighting on the CT125 is LED which makes them energy saving and ultra-durable. The large square indicators are a modern take on the original style CT lighting design.